Several times this week amid the novel coronavirus self-isolating have I been asked what's good to watch on Netflix, and several times have I told curious minds about Netflix's Feel Good. Written and created by Mae Martin and Joe Hampson, Feel Good is a British dark comedy about quirky, smooth-talking Mae (Martin), a young comedian who's recovering from cocaine addiction. The six-episode first season follows Mae as she navigates her relationships with addiction, her parents, and her body with the assistance of her newfound whirlwind romance with George (Charlotte Ritchie) a Very Straight teacher who seems to be everything Mae isn't (rich, pretty, popular, sheltered, and did I mention, straight?).
Feel Good has all the trappings of a dark comedy: an apologetic but lovable protagonist; her less-than-perfect but learning second fiddle; their insufferable friends and family; and a lens of nuance and forgiveness. I almost, almost want to compare it to Phoebe Waller-Bridge's Fleabag, though I won't beyond that single reference because male-protagonist titles such as Bojack Horseman and Louie rarely have to compete in that way. But the series is charming, witty, and perfect for riding out the days of social distancing to come, with Mae, George, and their shit friends reminding the audience that comedy and tragedy are two sides of the same coin.
Feel Good
RELEASE DATE:
March 19, 2020
CREATOR:
Mae Martin and Joe Hampson
STREAMING:
Netflix
'Feel Good' is a dark comedy that follows comedian Mae as she reckons with her addiction recovery, her connection to her distant parents, and her relationship with her straight girlfriend.
The trailer to Feel Good doesn't do it justice—I was completely wrong thinking I was going to sit through a few hours of intriguing but otherwise uninspiring memoir-ish episodes about an anti-hero's journey. Instead, the audience is dropped into Mae's life in a similar manner to how Mae finds herself in a relationship with George after seeing her at her comedy show night after night—all at once, and perhaps too soon, though it's clear Mae has done this before.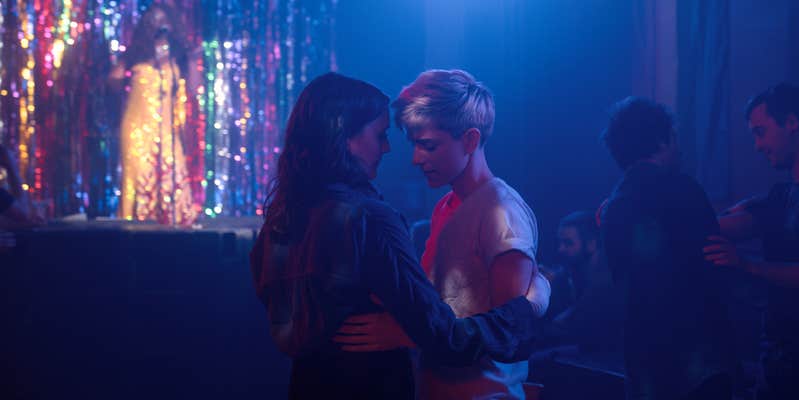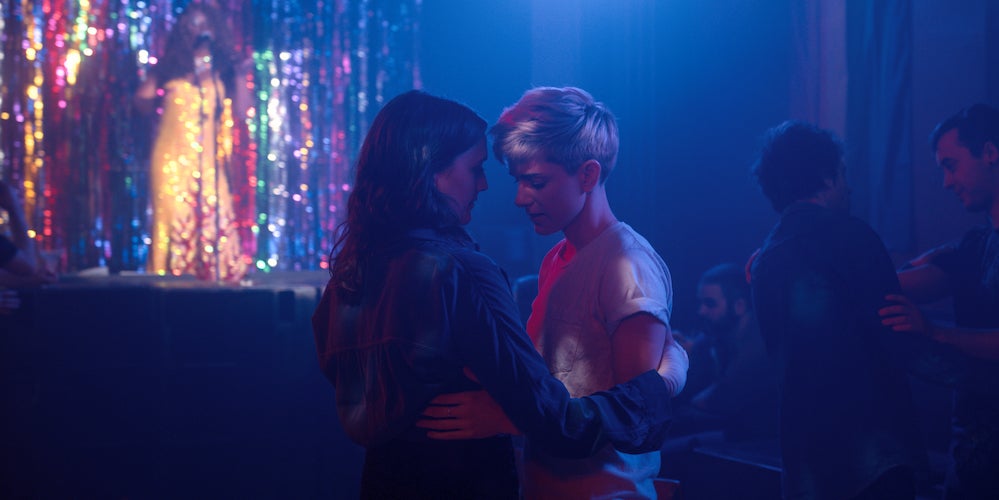 George finds out about Mae's addiction by accident, and Mae commits to finding a new Narcotics Anonymous group. She develops a sponsorship with Maggie (Sophie Thompson). As George struggles with coming out to her friends and introducing them to Mae, Mae, in turn, reevaluates her relationship with addiction and George, attempting to understand the boundaries George has put on their relationship while realizing she too has enabled roadblocks for herself.
The writing throughout Feel Good is impressive and smart, Mae's standup included, but not in an eye-rolling academic way: Mae exchanges pleasantries with George's roommate Phil (Phil Burgers) when he tells her he has depression; a montage of very cute honeymoon-phase clips of Mae moving in with George set to Fleet Foxes is yanked back into reality by Mae herself; Mae's mom Linda (the utterly fantastic Lisa Kudrow) can't stop talking about how ugly she is during a Skype call.
The punches are in the details but don't make up the plot themselves, adding a thick silver lining to Mae's enduring difficulties. My favorite running joke involves George's awful lifelong friends, particularly the pathetic Binky (Ophelia Lovibond) and Jared (Al Roberts), a boring man she can't seem to shake. Between getting engaged at another person's wedding and getting pregnant because they were too high, Binky and her fiancé are the Dreaded Straights, the cringiest of pairs who are quite awful individually, who George can't seem to find the confidence to shake.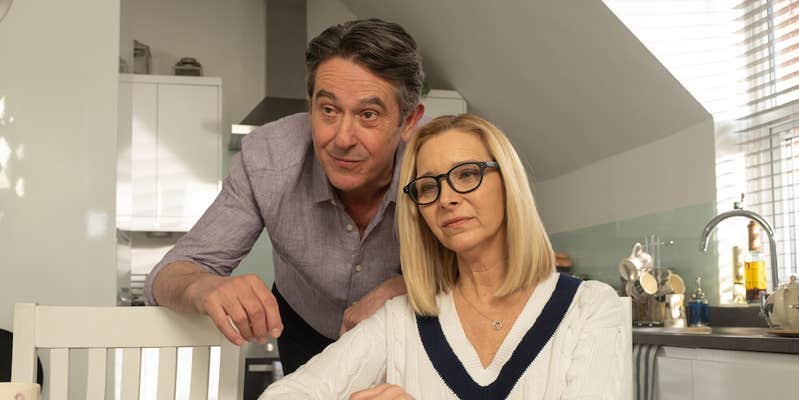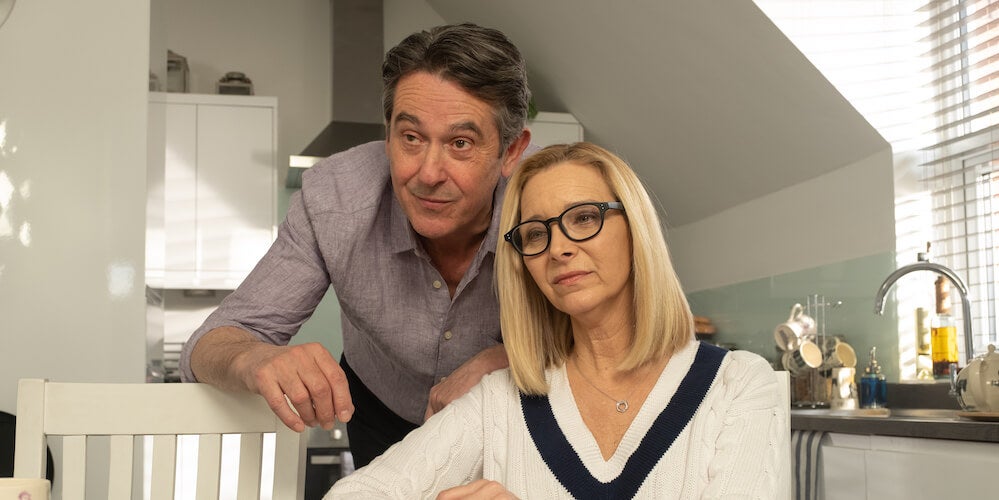 As funny as the writing of Feel Good is, it's also just as devastating. Mae's problems come to a head when George catches a brutally honest, impromptu set she puts on at the insistence of a comic colleague. Mae goes on a tear after the fallout, wronging rights until she's alone and looking for home again. The dialogue between Mae and George is heart-wrenching, projecting the experience of a bad romance still learning how to be.
Overall, Feel Good contains the depth and cool darkness that other series often miss in bridging comedy and tragedy. Mae is fragile, powerful, and redeemable. She strikes a balance between being needy and alone, a protagonist who is easy to cheer for and perhaps easier to forgive, even when she fucks up dearly. George is incredibly weak and pathetic, an assessment that may be too harsh, but she's easily humbled by the people in her life she underestimates, her shitty friends included. Its cliff-hanging ending might disappoint the stirring, cabin-feverish folks looking for a resolution amid a time of chaos, but Feel Good's action and drama are worth the open-ended plot for a second season.
Still not sure what to watch tonight? Here are our guides for the absolute best movies on Netflix, must-see Netflix original series, documentaries, docuseries, and movies.
Looking for something more specific? Here are our Netflix guides for the best war movies, documentaries, anime, indie flicks, true crime, food shows, rom-coms, LGBT movies, alien movies, gangster movies, Westerns, film noir, and movies based on true stories streaming right now. There are also sad movies guaranteed to make you cry, weird movies to melt your brain, old movies when you need something classic, and standup specials when you really need to laugh. Or check out Flixable, a search engine for Netflix.