It's OK for a show to be just OK. 
Elite, the Spanish-language prep school soap opera that returns for its second season this week on Netflix, is a fine show. It takes all of the well-worn teen drama tropes and remixes them for the 21st century. It is just as steamy, sexy, and catty as you want a show like this to be, but with an eye toward presenting a more woke world than its predecessors. 
Elite: Season 2
RELEASE DATE:
9/6/2019
CREATORS:
Carlos Montero, Darío Madrona
STREAMING:
Netflix
The unremarkable but tightly-drawn prep school soap returns for another crowd-pleasing season.
Each season of Elite features a central mystery, with a crime involving the students being dangled as a mysterious runner over the course of the season. Last season focused on a murder. This season gives us a mysterious disappearance. This is nothing particularly new, as both Pretty Little Liars and Riverdale have used similar dramatic tricks. Like other teen dramas, the show loses steam when it gets bogged down in the crime. Nothing here is as disastrous as the notorious second season of Friday Night Lights, but Elite is better when its characters are at parties and in bed instead of getting their mugshots taken.
The series has earned praise from several publications for its groundbreaking LGBTQ representation and diversity, and as a fresh take on the teen drama genre. While it is admirable that Elite features queer relationships and several of the main characters have a Muslim background, calling the show groundbreaking is a stretch. Gossip Girl, Degrassi, and Pretty Little Liars have all featured gay characters. Degrassi and The Bold Type featured Muslim women in prominent roles. It is more fair to say that Elite continues to normalize progressive representation, as we hopefully continue moving toward a point where simply presenting diverse characters isn't a remarkable achievement in itself.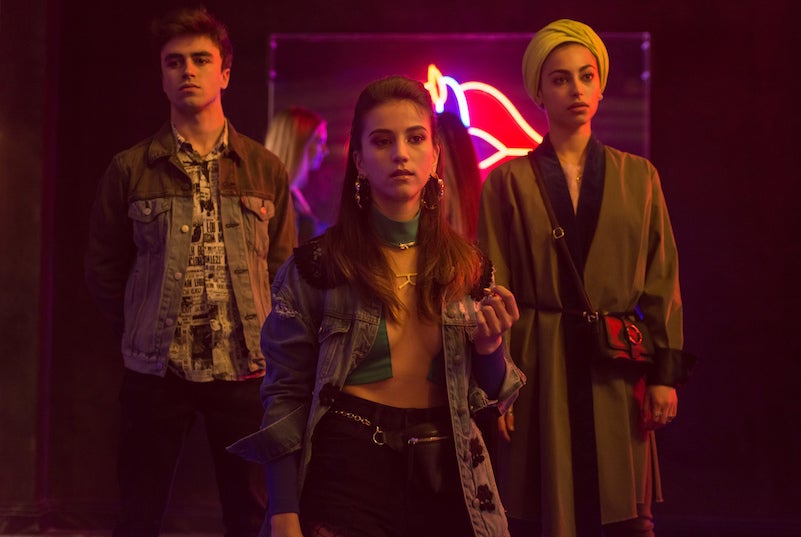 Elite has also been praised for its class consciousness. Granted, the show is initially presented as a class conflict, with three working-class students receiving scholarships to the elite Spanish prep school where the show is set. Again, it's great that the show takes care to highlight economic disparity, but "scholarship kid in the world of the wealthy" storylines have been go-to dramatic fodder since the Dickens era. 
Just as some fawning reviews overstate the show's political courage, the writing sometimes gets credit for being inventive when it is simply competent. There are plenty of films and TV shows out there about the sex lives of wealthy teens in blazers and plaid skirts, with Gossip Girl and Cruel Intentions probably the most beloved examples. Elite doesn't offer anything particularly new, but it does provide the good-looking cast and the pulpy plot turns you expect from a show like this one.
The cast isn't anything to write home about, though. It's hard to cast a teen drama, as you need to find beautiful people who can play teenagers convincingly. (Most high school-age characters are played by twenty-somethings on television) Friday Night Lights is perhaps the only teen drama (and before you write me angry emails, Freaks and Geeks is a comedy) to discover a whole crop of successful actors, rather than one or two stars who rise above the material.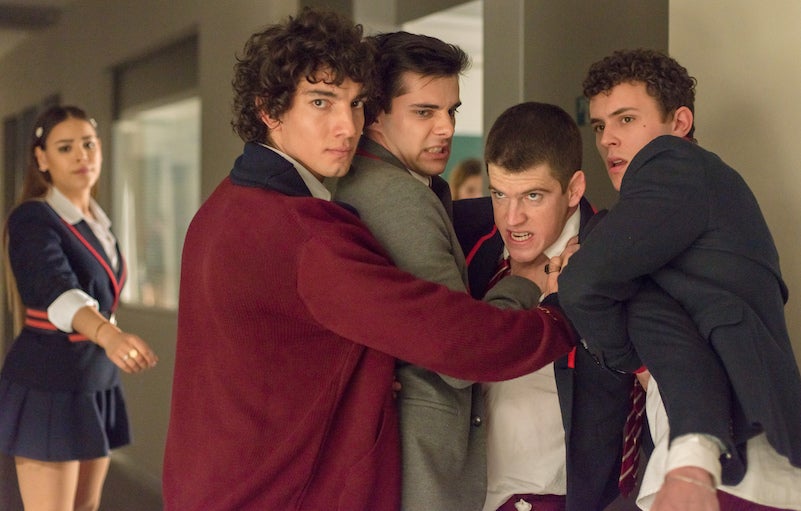 Elite only features a few performers who seem poised to transcend soap opera theatrics. Mina El Hammani's performance as Nadia continues to shine in season 2. Omar Ayuso finds lovely emotional depth as Nadia's brother, also named Omar, who smolders opposite his love interest Ander (Aròn Piper). It's not an accident that Omar and Ander's relationship has been expanded this season.
For the most part, though, the acting is replacement-level. Itzan Escamilla brings a forgettably pouty everyman flavor to Samuel, while Miguel Bernardeau's Guzmán is indistinguishable from every other prep school jerk we've seen before. Elite season 2 also adds a trio of new characters to expand the world a little bit. The most prominent addition is Rebeca (Claudia Salas), a self-consciously trashy nouveau riche type pitched as an answer to America's own Bhad Bhabie, who blends right into the sexy drama. She brings fun, catty energy that helps keep the plot engine going, but no one here is going to match El Hammani as the show's breakout talent. 
Overall, Elite season 2 offers more of what has made the show a success and wisely doesn't try to change a solid formula. In this era of politicized television, not every show has to be groundbreaking. Elite is good enough to make a generation of teens fall in love with it, just as Beverly Hills: 90210 and Gossip Girl did before it. That's all the show has to do to avoid cancellation, and Elite is best enjoyed by not asking it to do anything else.
Still not sure what to watch tonight? Here are our guides for the absolute best movies on Netflix, must-see Netflix original series, documentaries, docuseries, and movies.
Looking for something more specific? Here are our Netflix guides for the best war movies, documentaries, anime, indie flicks, true crime, food shows, rom-coms, LGBT movies, alien movies, gangster movies, Westerns, film noir, and movies based on true stories streaming right now. There are also sad movies guaranteed to make you cry, weird movies to melt your brain, old movies when you need something classic, and standup specials when you really need to laugh. Or check out Flixable, a search engine for Netflix.