Danielle Bregoli will call you out on Twitter for referencing the Dr. Phil appearance that led her to meme and rap fame. But it's easy to see why the new rapper hasn't completely left behind her inner "Cash Me Ousside" girl.
It's late April at the Rock Box in San Antonio, and Bregoli, 15, is about to perform for a crowded room of teens and a few parents who don't exactly support her message but are along for the ride anyway. 
It's obvious that Atlantic Records put smart money on Bregoli in an estimated multi-million dollar deal that capitalized on her meme stardom. Today she's Bhad Bhabie, and her music is rebellious and in-your-face. It's been shouted out by Billboard Music Awards, and she's beginning an international tour.
Backstage Bregoli kicks off her fuzzy, black slides to read a text message on her phone. All of the sudden, she's yelling at her manager.
"I'm not sending it to Dexter, bro, stop asking me!" Bregoli shouts at Adam Kluger before he cracks a joke to calm her down.
Kluger knocked on Bregoli's door two days after her infamous Dr. Phil appearance in September 2016 and refers to working with Bregoli as a "branding exercise." She certainly wasn't the first rebellious teen to appear on a TV doctor's couch, but her self-assured threats to fight the audience outside made her the most interesting. Her appearance on the show was dubbed "I Want To Give Up My Car-Stealing, Knife-Wielding, Twerking 13-Year-Old Daughter Who Tried To Frame Me For A Crime," and Bregoli offered no shortage of viral fireworks.
"When I signed her, she was like, a meme laughingstock, and it was very challenging to make her an artist [who is] respected for something," Kluger says.
The manager says he wanted to see if he could "build this super-teen villain, like very Eminem-esque," but for the new generation that doesn't remember what that was like in the late '90s.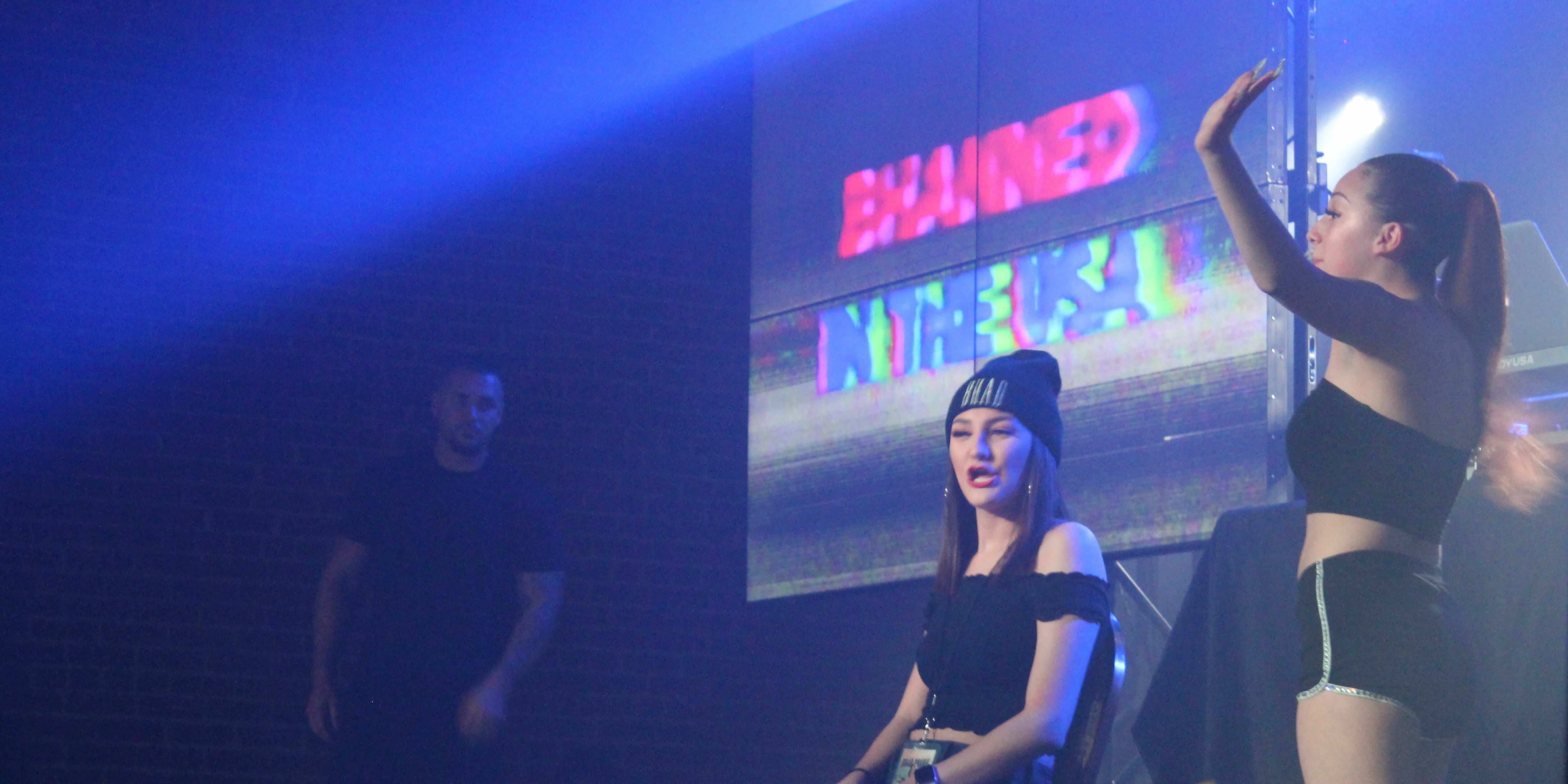 Bregoli is mad at Kluger for not telling her about a photo opp, but she's mainly heated that her security guard, Frank Delatto, just told her to put on more clothes than a sports bra for the shot. She pulls nervously at the laces of her blush pink tracksuit.
"My security is thinking he's management," Bregoli says of Delatto, who is Instagram-famous.
Someone has the courage to interrupt Bregoli and ask what colors she prefers for her background slides during the concert.
"White, green, blue, purple, pink, silver, octagon, I don't care," Bregoli says with a sense of humor that she's maintained since she took on this intrusive fame.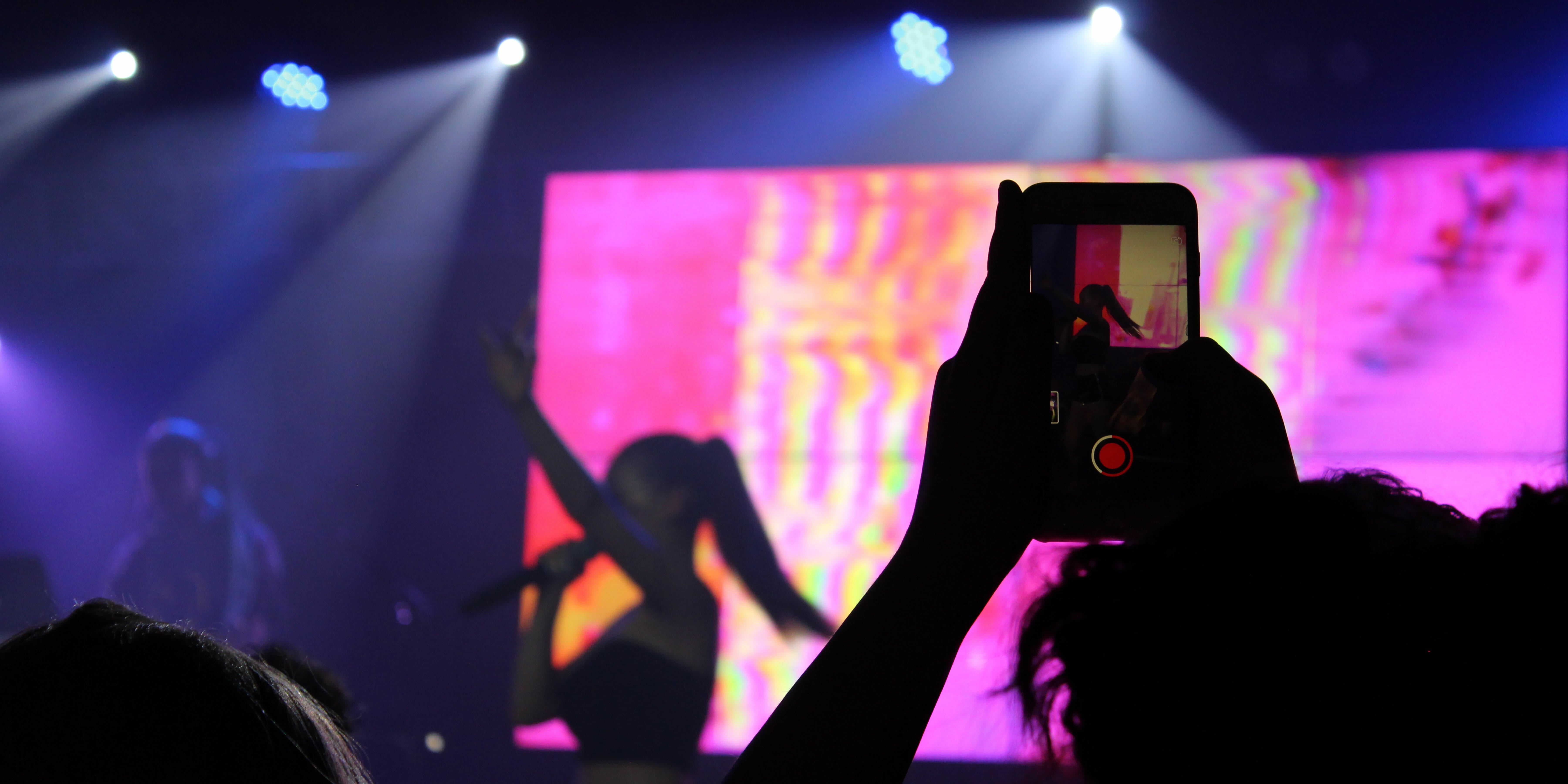 "It's been a lot of building, professionally and character-building," Kluger says. "But she's definitely charismatic and she really is having a good time now, because this is the first time she's actually seeing people that are all there that love her."

Bhad Bhabie is now getting a confidence boost from crowds who aren't just there to laugh at her meme, Kluger adds. Fans love Bregoli for the beat of her songs and her lack of a filter—she's fearless.
"I liked her attitude and how she didn't care about what other people thought of her," 13-year-old fan Navaeh Brown says about first seeing Bregoli on television. Brown thinks Bhad Bhabie's youth is motivating, because "no one else is doing what she's doing at her age."
Eleven-year-old fan Milanna Santiago likes to listen to Bhad Bhabie before bed, and her favorite song is "Hi Bich," even though she's afraid to say the title too loud next to her mother, Lisa Castro.
While some fans think Bregoli's fame will be short-lived, Castro thinks "she's just getting started." Parents at the concert aren't exactly listening to Bhad Bhabie's music on the way home from work, but they're certainly getting exposure every time they hear their children play "Gucci Flip Flops," which features established star Lil Yachty.
Meme to music
Bregoli says she's trying to move further into music and distance herself from the meme that got her famous. But she says her favorite meme is still her own, and her concert background slides display snippets of Dr. Phil footage with the purpose of hyping the crowd before she comes onstage. Despite Bregoli's desire to move away from the "Cash Me Ousside" persona, her fame is still thriving on it.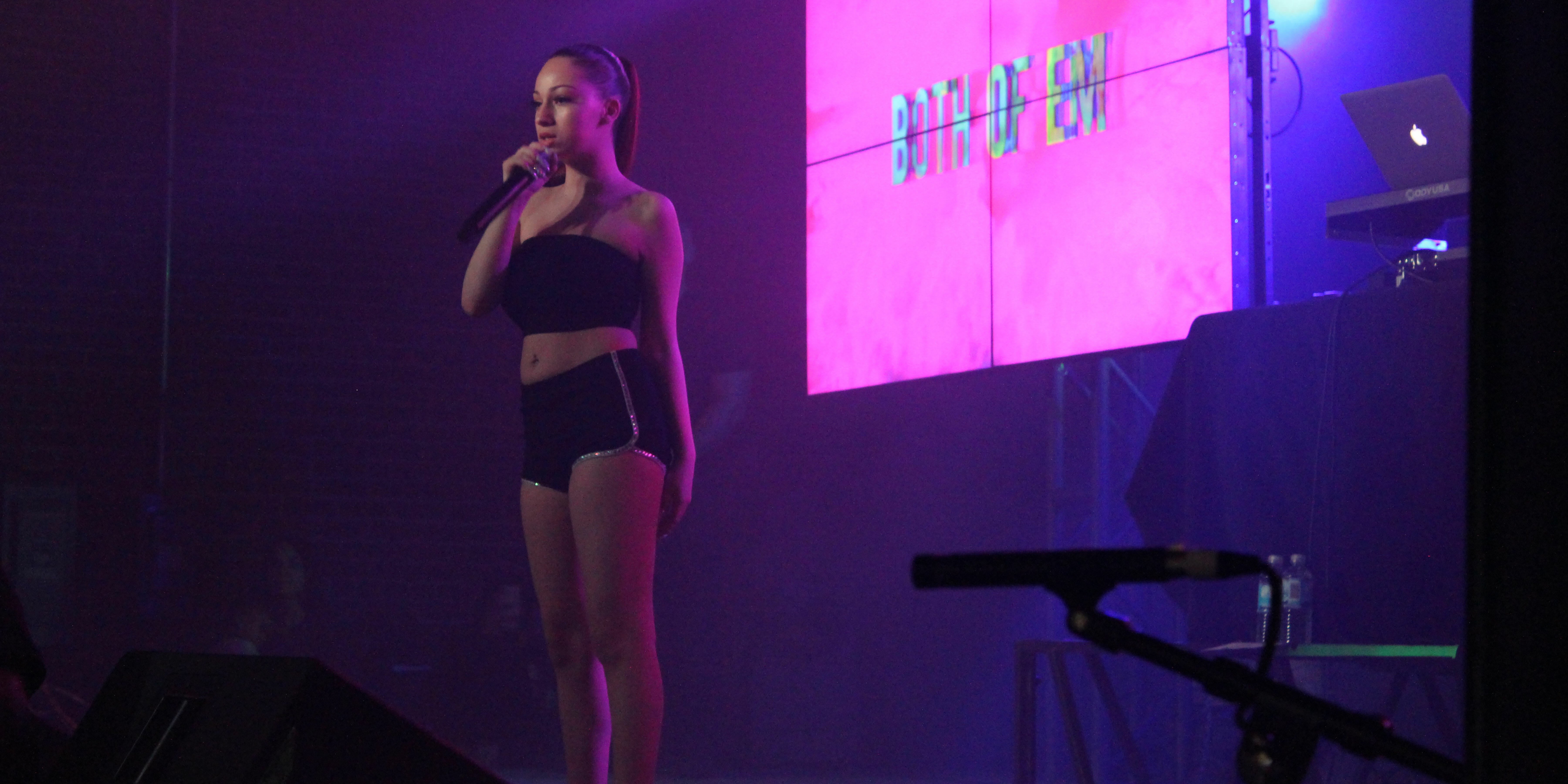 She's got the goods in the studio, at least. Bregoli's breakout single "These Heaux" reached "over 53 million views on YouTube within months," Billboard reports. "Hi Bich" was the highest-charting first-week debut on the Billboard Hot 100 in October.
"Being white, I never thought [rap music] was an idea I'd be able to pursue, but then people told me, like, 'You can, what are you talking about?'" Bregoli says.
Bregoli doesn't really want to talk cultural appropriation, the idea that as a white person she's co-opting and commodifying Black art, and says she "doesn't even know what that means." She doesn't keep up with politics on Twitter either, especially the new drama with Kanye West and President Donald Trump.
"I seen it, but it's like, I don't even pay attention to that," Bregoli says. "I ain't with that politickin' shit."
The young rapper doesn't "do the role model shit," either, so fans shouldn't expect her to tone down the language or attitude anytime soon.
Bregoli emerges around 10pm CT to a screaming crowd waving cell phones. Fans chant "Bhad Bhabie" at an intense level of adrenaline and post clips of Bregoli rapping on their Instagram Stories and Musical.ly accounts.
Bregoli comes out with high energy but is soon distracted by the venue's sound system, causing her to fall out of sync with her backing track.
"I don't like these speakers," Bregoli says during the concert. "You fucking it up, you not making it work. I need to be able to do shit."
Bregoli's performance and the way she interacts with her team gives us two insights—the new star is learning as she goes, and she doesn't have the luxury to be rude in private.
There's also a side of Bregoli that the public is failing to see. When asked who first believed in her music, the rapper instantly forgets her anger and points to her manager, saying "this guy." When she embraces her younger fans backstage, she carries the opposite demeanor of the combative teen who clapped back at Dr. Phil. If nothing else, Bregoli's determined to turn her music into a sustainable career.
Bhad Bhabie will be riding out the "Cash Me Ousside" fandom until it's no longer selling tickets, even if she's over it. But don't expect her to fade—she's not done making noise.