They say all you need to make a great TV show is a good idea. Then a show comes along to remind you that a good idea isn't good enough.
Netflix's The Chosen One (O Escolhido) is a Brazilian project that marks yet another attempt by the streaming service to expand its global reach. The series follows World Heath Organization doctors in Brazil who are tasked with vaccinating villagers in remote areas. One village is resistant to the idea. What seems at first to be mere luddite stubbornness turns out to be much more. 
The Chosen One (O Escohildo)

RELEASE DATE:
6/28/2019
CREATORS:
Raphael Draccon, Carolina Munhóz
STREAMING:
Netflix
This Brazilian genre thriller about vaccines and the urban/rural divide has a novel premise but poor execution.
Escalating tensions between the WHO doctors and the villagers is the fact that the town is home to an occult religion that might be a death cult. The town's militant opposition to vaccines could lead to deadly conflict, and the only person who might be able to stop a holy war is a mysterious healer and prophet known as Escolhido (Renan Tenca).
Even with its genre trappings, The Chosen One feels incredibly relevant, as the urban/rural divide widens both in Brazil and the rest of the world and anti-vax culture proliferates. Mixing these themes with supernatural elements is a smart idea that has proven successful for other series: Battlestar Galactica has tackled colonialism, True Blood has taken on bigotry, and The Expanse has explored class consciousness. Netflix was clearly hoping for another Brazilian hit with international appeal in the vein of dystopian sci-fi series 3%. But the content of The Chosen One doesn't match the promise of its premise.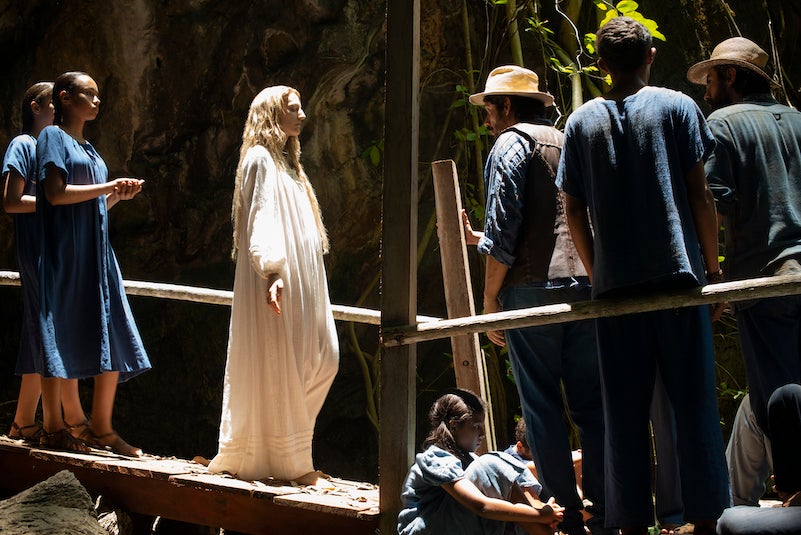 On American television, this story would be a good fit for premium cable. The closest analog from U.S. TV might be The Strain or True Blood; it doesn't take much to imagine Americans tuning in to this show. Unfortunately, the acting and storytelling are closer to a pedestrian network medical drama than a prestige thriller, and pairing a high-concept premise with lackluster execution is usually a recipe for disaster.
A list of the main characters demonstrates how blandly executed The Chosen One is. Lucia (Paloma Bernardi) is a strong-willed female doctor in a male-dominated environment, who finds herself daunted by sexism as soon as the opening credits roll. Damião (Pedro Caetano), a Black doctor from a poor background, immediately butts heads with Enzo (Gutto Szuster), a white doctor from a rich background. At one point after sleeping on the ground, Enzo remarks, "I miss five-star hotels," while Damião has recurring nightmares about the hard street life of his youth.
Though The Chosen One places issues of gender, race, and class front and center from the beginning, it fails to explore them beyond superficial character development. Bernardi's acting is particularly weak, distilling all the worst "strong female lead" tropes into a character whose condescending, uncompromising attitude turns you against her from the first minutes of the pilot. And of course, the only times she's seen not wearing her ubiquitous form-fitting tank top are when she's caught getting out of the shower with a towel wrapped around her. Some women cast in these regressive leading roles on American television can transcend their material through sheer talent, but Bernardi's soap opera-level abilities fall short of the Herculean task.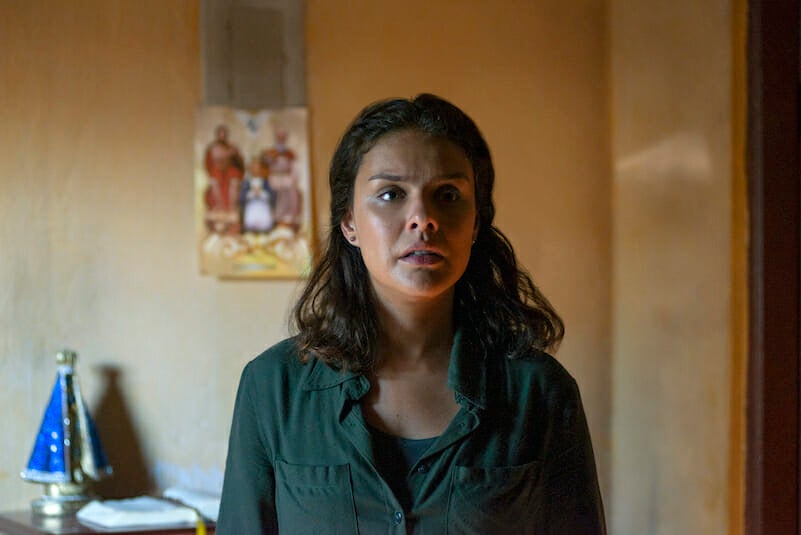 Likewise, The Chosen One's supernatural elements never come together. The budget evidently wasn't high enough to show the occult rituals and creatures often enough to keep things interesting. This isn't always a problem: True Detective season 1 famously showed little of its occult imagery, creating a fear of the unseen. But creating fear and suspense from what we don't see requires a level of writing and directing that's missing here. 
Beyond creative issues, The Chosen One also has technical shortcomings. While some international production companies, particularly in Scandinavia, the U.K. and Mexico, can produce Hollywood-quality content outside the big American studios, others simply don't have the resources. The Chosen One feels technically outdated, with a look more akin to a basic cable show from the '90s than a modern prestige project. It's hard to turn on a show expecting The Strain and get Walker, Texas Ranger or Nash Bridges in 2019.
The camera department even falls short on what should be easy wins. The beautiful, verdant jungle landscape and haunting old buildings of the main set are poorly photographed and clearly shot in a way that's meant to make up for skimpy production design and location budgets. Beautiful Amazonian shots that should be the basis for the show's visual palette are limited to a few establishing beats that look suspiciously like stock photography. Overwrought flashbacks shot in the flat, fuzzy black-and-white style of "dramatic reenactments" happen too often and mark a creative nadir for the show.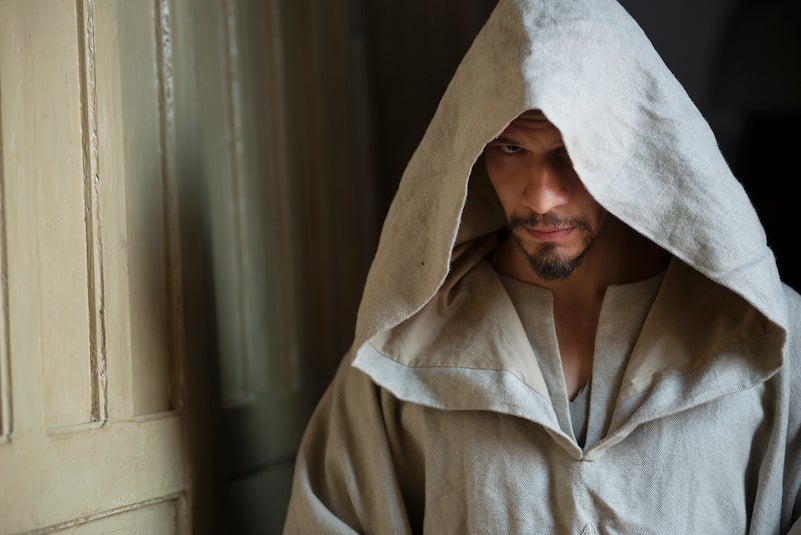 The Chosen One has some bright spots in which it lives up to its potential, but they're few and far between, quickly extinguished by poor scene partners and dull directorial choices. Mariano Mattos Martins's performance as the fanatical and mysterious Mateus elevates the material. His commitment and intensity hearken back to a show like True Blood, which would go with a heightened tone at the risk of alienating viewers. But here, Martins just feels like he dropped in from another, better show.
Ultimately, The Chosen One falls victim to the same problems that afflict a lot of foreign TV shows: They don't have the budget to look like glossy American broadcasts, nor do they have the inventiveness and vision of cable or streaming series. The result is muddled and uninspiring.
The Chosen One's audience will likely be limited to Brazilian viewers who enjoy reruns of Grey's Anatomy or True Blood, but would like something in Portuguese that tackles themes relevant to their country. Considering Brazil has a population of over 200 million, Netflix might get a nice return on investment here. But non-Brazilian audiences have no incentive to watch The Chosen One when they could just watch the shows it fails to mimic.
Still not sure what to watch tonight? Here are our guides for the absolute best movies on Netflix, must-see Netflix original series, documentaries, docuseries, and movies.
Looking for something more specific? Here are our Netflix guides for the best war movies, documentaries, anime, indie flicks, true crime, food shows, rom-coms, LGBT movies, alien movies, gangster movies, Westerns, film noir, and movies based on true stories streaming right now. There are also sad movies guaranteed to make you cry, weird movies to melt your brain, old movies when you need something classic, and standup specials when you really need to laugh. Or check out Flixable, a search engine for Netflix.