We need a moratorium on jokes about offending people. Specifically, we need comedians to stop complaining about people who complain about offensive jokes. It's a losing proposition all the way around and, in the case of Bill Burr's new Netflix special, Paper Tiger, a waste of valuable set time. If Dave Chappelle, one the sharpest minds when it comes to finding humor and absurdity in our differences, can't make these jokes funny, what hope is there for everyone else?
Bill Burr: Paper Tiger
RELEASE DATE:
9/10/2019
DIRECTOR:
Mike Binder
STREAMING:
Netflix
Burr tackles parenthood, marriage, PC culture, and his fear of robots with his typical blend of cynicism, straight shooting, and self-deprecation.
Now I've wasted my opening paragraph on a useless complaint, just like Burr does on Paper Tiger, his sixth standup special and fourth for Netflix. Despite opening on a sour note, Paper Tiger is a mostly solid set. The material is quintessential Burr; the only difference is the uneven hit-to-miss ratio for the jokes. But the high points are worth slogging through the lows.
Filmed at the Royal Albert Hall in London, Paper Tiger starts like Burr's 2017 special Walk Your Way Out, with a camera following the comedian as he walks onstage into the bright lights and applause from the crowd you can't see. He looks like a boxer heading into the ring, which fits Burr's pugilistic onstage demeanor. Between his standup and his Monday Morning Podcast, Burr is fairly open, and that honesty drives a lot of his comedy. He's also not afraid to make himself part of the punchline. So when he goes on rants about male feminists or asks, "When did First Ladies start acting like they got elected?" he can play both the provocateur and the dunce. He excels at reducing benign and thorny topics down to their roots to find a laugh, which he does throughout Paper Tiger.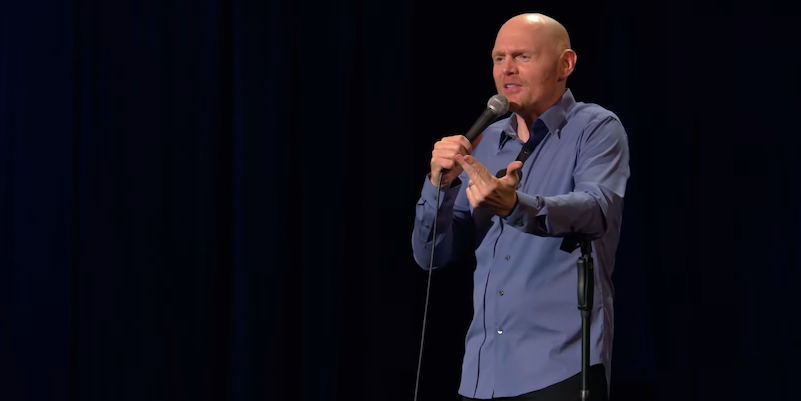 Burr usually does not pull his punches either, which makes it stand out when he noticeably avoids name-checking Louis C.K. during a clear reference to the disgraced comic's actions. He also leaves out Olivia Munn's name while referring to her sexual harassment allegations about Brett Ratner. At one point, he discusses the choice of adverb an accuser uses when describing a man as "masturbating vigorously." Maybe if I had been laughing at the jokes, I would have a different observation on Burr's observation.
The material on Paper Tiger varies from topical to random. One of Burr's strengths is his ability to tie all of the material to a single theme. His bread and butter is showing the underlying silliness and contradictions at the heart of people's actions. A cynic at heart, or at least onstage, Burr is quick to point out the ways in which we aren't as smart as we think we are. Sometimes that leads to oversimplification, like when he discusses the casting controversy in The Upside. Burr's response to people mad about Bryan Cranston playing a disabled man? "It's called acting." He questions if those same people get upset when Hollywood doesn't cast murderers to play onscreen killers. It's a simplification that leads to an easy laugh but compromises Burr's argument.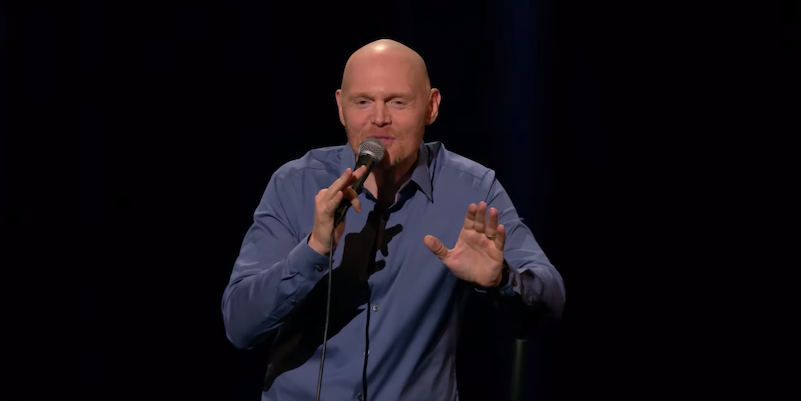 The best moments in Paper Tiger are also the most earnest. Marriage and parenthood are thoroughly explored territory, but when Burr tackles them, his vulnerabilities peek through and give the jokes a different tenor. At one point during his ruminations on Me Too, Burr asks, "What about women who like it rough?" He and the audience both pause to laugh and someone in the crowd yells, "Ask for consent!" The moment allows Burr to elucidate his point about how people hear what they want to hear instead of what is actually being said. He broaches this subject in a good Colin Kaepernick bit as well, but he especially gets the point across here.
Paper Tiger's strongest joke is about the evolution of technology. Burr starts by talking about watching a robot being interviewed, then backtracks to talk about blow-up dolls. It's ridiculous, hysterical, and sums up Burr's greatest strengths as a comedian. His new special is watching just for this bit.
Even when the jokes don't click, Paper Tiger is still interesting. Fans of Burr will definitely get their ROI here, though casual viewers are in for a bumpier ride. Still, Burr succeeds through sheer force of will, carrying his latest special through its occasional bum notes.
Still not sure what to watch tonight? Here are our guides for the absolute best movies on Netflix, must-see Netflix original series, documentaries, docuseries, and movies.
Looking for something more specific? Here are our Netflix guides for the best war movies, documentaries, anime, indie flicks, true crime, food shows, rom-coms, LGBT movies, alien movies, gangster movies, Westerns, film noir, and movies based on true stories streaming right now. There are also sad movies guaranteed to make you cry, weird movies to melt your brain, old movies when you need something classic, and standup specials when you really need to laugh. Or check out Flixable, a search engine for Netflix.