The Lonely Island–Netflix partnership has already produced beloved sketch series I Think You Should Leave, but surprise release "visual poem" The Unauthorized Bash Brothers Experience goes a little more niche.
The Unauthorized Bash Brothers Experience
RELEASE DATE:
5/23/2019
DIRECTOR:
Mike Diva and Akiva Schaffer
STREAMING:
Netflix
The Lonely Island's surprise '80s baseball tribute works better visually than musically.
In the 30-minute film, which was just announced on Wednesday, Andy Samberg plays Jose Canseco and Akiva Schaffer plays Mark McGwire, circa 1988, when the two home-run phenoms (aka the Bash Brothers) were playing for the Oakland Athletics. They were at the height of fame—and on a lot of steroids. Samberg's Canseco is more cocky, while Shaffer's McGwire more reserved. (The third member of the Lonely Island, Jorma Taccone, pops up in a few places, most notably a jaunty Joe Montana outro.)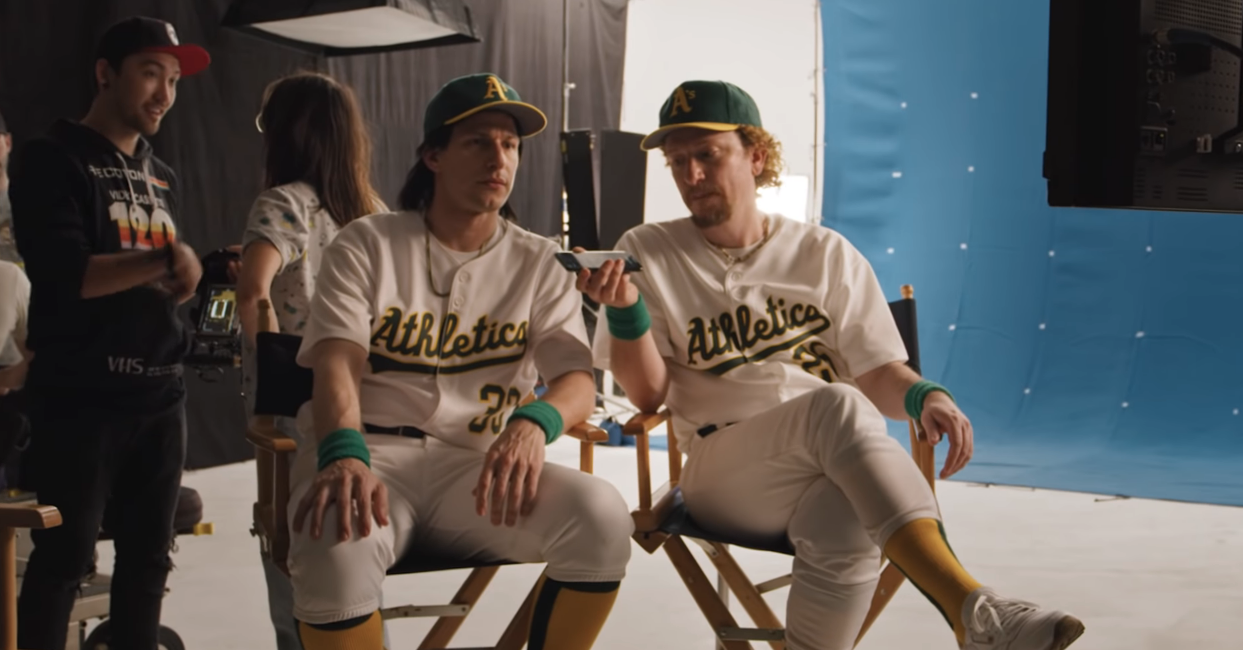 Sterling K. Brown cameos in the video for "Oakland Nights," sung by Sia, and you'll also spot Jenny Slate, Hannah Simone, Maya Rudolph, Haim, and Samberg's Brooklyn Nine-Nine co-star Stephanie Beatriz. The full album is on Spotify and YouTube, and the songs featured in the film are pretty solid, though there's nothing as instantly catchy as "Motherlover" or "Dick in a Box." As a "visual poem," however, it fares better. If there are any parallels to Beyoncé's Lemonade, it's the interstitial portions, which visualize the existential dilemmas of McGwire and Canseco, with spoken word layered over images of them falling into an abyss and meditating in a forest. Beyond that, it's a Lonely Island joint: songs about sex and dicks, references to '80s pop culture, and a scene in which a fetus floats through a trippy '80s gym-rat heaven.
The content seems to be leveled at a specific demo: people who are old enough to remember who Canseco and McGwire are and why they were so popular. If you only know Canseco as the guy who tried to become Trump's chief of staff by calling him "little buddy" on Twitter or wanted to nuke Mars, will you still enjoy Bash Brothers? Considering the overwhelming response last month to a tweet about how underrated 2016's Popstar: Never Stop Never Stopping is, as well as the popularity of Brooklyn Nine-Nine, possibly. And it looks like Canseco approves. 
@thelonelyisland just watched The Unauthorized Bash Brothers video! I can't stop laughing. Loved it. If you want to do a follow up video contact my Manager Morgan: 7023743735

— Jose Canseco (@JoseCanseco) May 23, 2019
But Bash Brothers isn't completely out of the blue: Samberg also starred in tennis mockumentary 7 Days in Hell and cycling spoof Tour De Pharmacy. The Lonely Island wasn't lying when it said "We Like Sportz." But the film's format is an interesting window into what Netflix could be doing with short-form comedy.
What are we laughing at? Sign up here for the Daily Dot's comedy newsletter, filled with news and insights from your host, Audra Schroeder.
Looking for something to watch tonight? Here are our Netflix guides for the best war movies, documentaries, anime, indie flicks, true crime, food shows, rom-coms, LGBT movies, alien movies, gangster movies, Westerns, film noir, and movies based on true stories streaming right now. There are also sad movies guaranteed to make you cry, weird movies to melt your brain, old movies when you need something classic, and standup specials when you really need to laugh