The consensus on GLOW is that it's one of the best shows on Netflix. The half-hour dramedy from Orange Is the New Black creator Jenji Kohan, based on the real women's wrestling league from the '80s, was lauded by many as one of the best series to arrive last year, and as one of the top shows of 2017. Season 2, out Friday, is being hailed by critics as an excellent follow-up.
Yet GLOW isn't getting the attention it deserves.
Netflix fatigue isn't just hard on new shows—it's murder for returning ones. It's become undeniably clear that Netflix doesn't care what you're watching, as long as you're watching, period. In an effort to grow the subscriber base, it's made sure viewers have as many options to choose from as possible. But the company's ongoing obsession with providing new content every week has forced some of its best content to take a back seat.
Netflix is already coming off a big month. With GLOW following the premiere of the Sens8 finale, revamped version of The Staircase, a second season of Luke Cage, along with an excess of other original shows, specials, movies, and other notable additions to its library, your queue is loaded. And because GLOW arrives at the end of the month, it's sandwiched in between Netflix's big June releases and its big July releases, including new seasons of Jerry Seinfeld's Comedians in Cars Getting Coffee and Kohan's own Orange Is the New Black.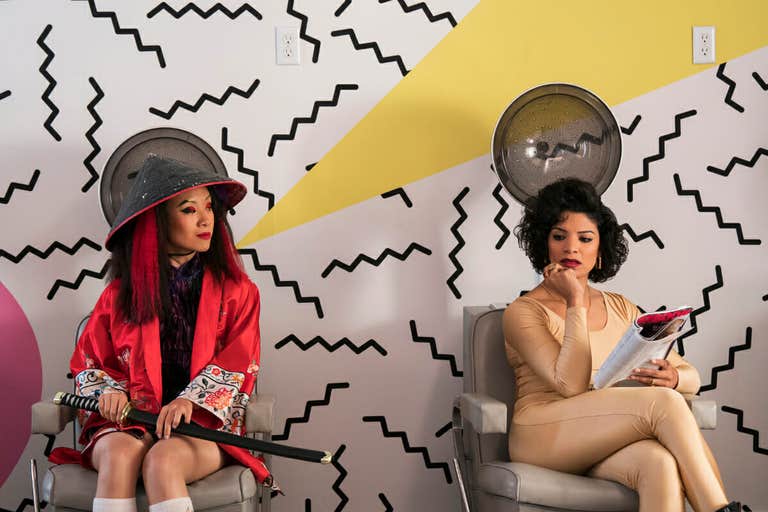 It's not that GLOW doesn't have space to breathe—it's that nothing on Netflix does. Forget "Netflix bloat," the company's practice of making shows that are too long, there are simply too many projects. South Park's "Netflix, you're greenlit" joke from last season was right. With a total of 700 originals spanning the gamut between movies, series, and specials coming in 2018 alone, one begins to wonder how even the best Netflix shows can rise above the clutter.
HBO's president of programming Casey Bloys disparaged this approach, telling CNN: "If you have 50 kids, you're not going to every soccer game. We go to every soccer game, and we're the snack parents at every soccer game. That's how we treat our talent." And while HBO may be less invested in some releases than others, Bloys' point is understandable from a marketing standpoint. Netflix is riddled with casualties along its ascent to peak TV. As more shows have been added, cancellations have increased. 
READ MORE:
My favorite Netflix shows continue to be the long-running titles that put the streaming giant on the map, like Unbreakable Kimmy Schmidt. Last year I referred to the show's third season as "must-stream TV." Now, it's on its last legs, with season 4 separated into two parts to qualify for the Emmys and a movie to follow.
The first half of the fourth season—which premiered last month—has been praised as some of the show's best work. It's also almost always toward the top of every list ranking Netflix original series. Netflix wouldn't be letting it go if the shine hadn't faded. Like GLOW, it was a female-centric half hour where women were also in charge behind the camera—in Kimmy Schmidt's case, co-creator Tina Fey, and in GLOW's, creators Liz Flahive and Carly Mensch.
What's made both series feel essential is their willingness to tell stories that other shows aren't. This season of GLOW tackles power dynamics and workplace sexual harassment in a time way before Me Too. And Kimmy Schmidt has long made its lead character's struggles with post-traumatic stress disorder in the wake of sexual assault a focal point of the show. Unlike Master of None, they don't feel didactic or heavy; they're both fun shows that also happen to unfurl serious subjects.
Both shows also take formal risks in their recent seasons. In GLOW, we get an entire episode set in the show within a show, which is to say a campy, fun sitcom that also features ladies' wrestling. On Kimmy Schmidt, one episode is shot entirely in the style of a true-crime documentary, a move which also introduces a new narrative twist and allows Fey and showrunner Robert Carlock to comment on toxic masculinity and the modern culture of red pill-loving man-boys.  
Kimmy Schmidt's fate also raises questions about the future of other Netflix shows. As Scott Porch of Decider pointed out in May, five other well-received recent comedies have been canned. (Disjointed, Girlboss, Everything Sucks!, Lady Dynamite, Haters Back Off.)
All five of these shows star women. Porch notes that since Netflix can always license comedies like The Office or Friends, which subscribers may be more interested in, the impetus to sustain original comedies is reduced.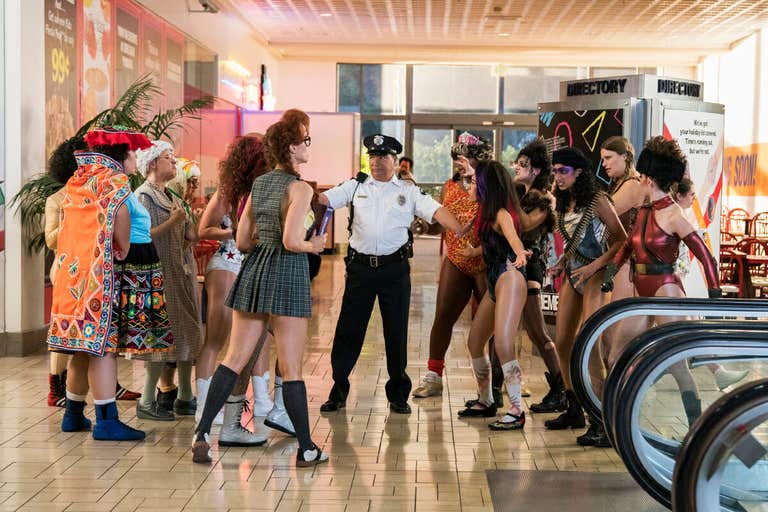 What the constant influx of new content on Netflix spells out for its older series is an ecosystem which may be impossible to survive in. There are exceptions, like OITNB, which Netflix renewed for seven seasons. (House of Cards, which has sustained interest through timely political parallels and scandals, will end this year despite a female-fronted plot reboot.) But for shows like little ol' Kimmy Schmidt, once Netflix's most promising comedy, what kind of future is there?
Maybe four seasons and a movie isn't such a bad way to go out. After all, how long can any series hope to sustain an impact in this age of peak TV? It's great when a cult hit like BoJack Horseman actually gets five seasons, or when the creators behind a smash like Stranger Things make the decision to end the show while it's still on top. But if you revisit 30 Rock—a show which ran for seven seasons with basically no viewers—you might start to feel cheated that Fey and Carlock weren't allowed more time to keep telling their latest story.
The death of Kimmy Schmidt proves that even in the streaming era, TV can't give us everything we want. Let's hope Netflix bankrolls GLOW for a few more seasons. The future of original comedy series on the platform depends on it.
Still not sure what to watch on Netflix? Here are our guides for the absolute best movies on Netflix, must-see Netflix original series and movies, and the comedy specials guaranteed to make you laugh.