In season 1 of Lady Dynamite, Maria Bamford attempts to work through a mental breakdown and find herself in comedy again. Her manager, Bruce Ben-Bacharach (Fred Melamed), is a sweet, needy boundary-stepper. Her mega-agent Karen Grisham (Ana Gasteyer) is comically cutthroat and foul-mouthed and celebrates getting Bamford work with a memorable sing-along.
Within this dynamic, Lady Dynamite offered a look at Hollywood's cult of personality and drew out the comedy and truth within. In season 2 (three episodes were made available for review), Bamford tries to balance work and mental health with a new relationship, opening up the storyline a bit. But the series gets even more surreal in its sendup of show business—and streaming TV.
When we meet Grisham again, she's had a near-death experience. Without spoiling—because it's truly incredible—the incident causes her to look inward, but not that much. She still says things like, "I own my aura, I own this town." Gasteyer tells the Daily Dot that new office decor and some orange robes are "about as spiritual as Karen Grisham can get. But she has to reinvent herself, and challenge her professional expectations of herself."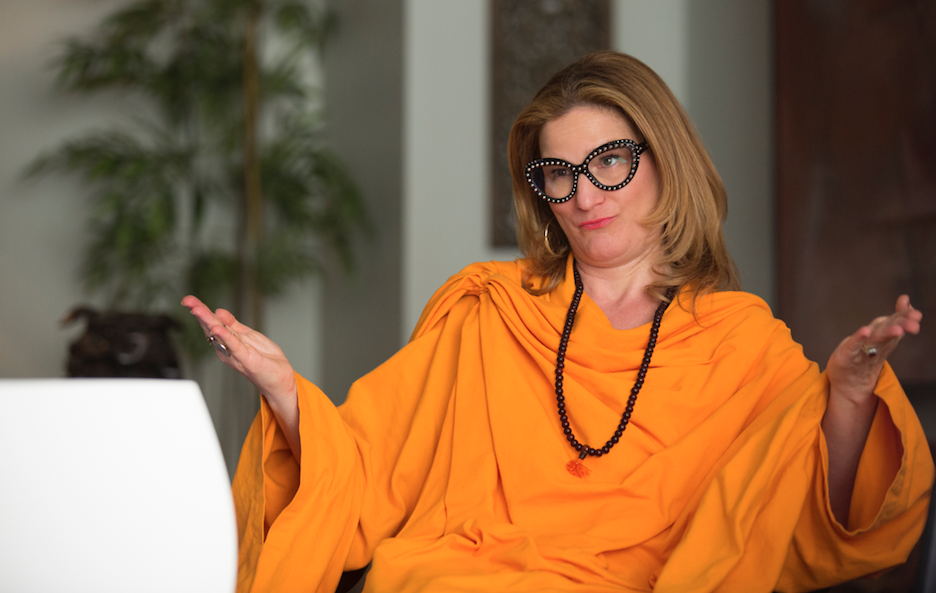 Season 2 involves Elon Musk's (fictional) streaming site, the logo of which looks a lot like Netflix's. It immediately greenlights Bamford's new sitcom about mental illness without even a formal pitch. (South Park also recently made this joke.) Now Grisham's a director on Maria Bamford Is Nuts (a stand-in for Lady Dynamite), which stars Bamford's real-life husband Scott Marvel Cassidy as her on-screen love interest. (Her fictional boyfriend Scott is played by the delightful Ólafur Darri Ólafsson.) It's another layer on Bamford's story-within-a-story, and though Lady Dynamite shrugs off conventional sitcom pacing with all these looping, meta storylines, it's become the show's framing device.
"Doing the show is so out of body," Gasteyer says. "It's a show that's like mid-shark-jump anyway, and then you're jumping the shark on your shark. Pam [Brady, co-creator] is so conceptually ahead of everyone."
The show gets even more conceptual in season 2, playing with past, present, and future. In one episode, Bamford is transported to a special meeting of powerful Hollywood women, led by Transparent creator Jill Soloway. Inside this future vessel, she's told how sexism fuels the industry, and what she must do to succeed in Hollywood. It's an exaggerated depiction, but the subtext lingers.
"It's an incredibly female show," Gasteyer says. "I think it's the best of what women have to offer. It's incredibly perceptive, it's multitasking the hell out of itself, it's good at juggling a bunch of different concurrent emotions and ideas. And I think it really celebrates not just incredible female performers… but I also think its sensibility also celebrates kind of what kicks ass about being a woman."
When Gasteyer read the character of Karen Grisham, she said she immediately "understood" her. "That said, I have no idea [where she came from]," she says. "We've all met a Karen Grisham or five along that way, and certainly coming up in '90s Hollywood there were a lot of women like Karen Grisham, and there still are. …They're deeply admirable on one level because they're plowing forward for themselves and other women. But it's a very ball-busting attitude and there's something really familiar to me about that even though I don't know exactly who that is."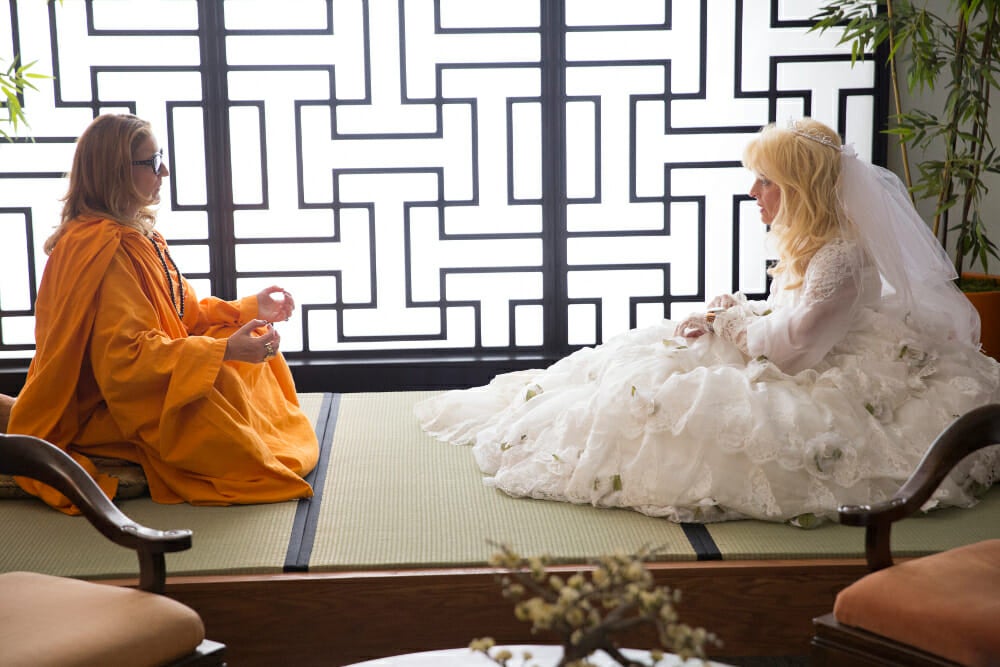 Gasteyer, who's had roles on SNL, People of Earth, and Suburgatory, says she's had to think about reinvention as she's gotten older and become a mother. Season 2 plays with the idea of women having to reinvent to survive, and Gasteyer adds that the show doesn't shy away from the distressing aspects of the business. We see that future-Maria might be on the verge of another manic episode because of her hastily approved series, which Grisham claims will de-stigmatize mental illness and also "end women's homelessness." Grisham tells Maria that she has to change her look and voice to be more accepted in Hollywood. Still, it's cathartic to play someone "so mercilessly mean and unapologetically mean."
"It's so fun because I'm a person who worries all the time about people and I'm way too aware of everything that's going on in the room," Gasteyer says, "and a person like [Karen] is conscientiously never worried about anyone. It's actually weird as an actor—and this is going to sound very method—but her objectives are always really clean because it's all self-serving."
In season 2, the storylines haven't been untangled anymore than in season 1, but there is a sense of comfort in its examination of comedy, anxiety, fear, and connection. We might be feeling a little lost right now, but Lady Dynamite offers a light—and a whole other world to step into. 
Still not sure what to watch on Netflix? Here are our guides for the absolute best movies on Netflix, must-see Netflix original series and movies, and the comedy specials guaranteed to make you laugh.