This post includes minor spoilers for Luke Cage season 2.
For Netflix's Iron Fist, the third time's the charm. His solo show was panned for its clunky fight scenes, dull storytelling, and racist subtext. Then when he showed up in The Defenders, his best moments involved being the punchline for Jessica Jones' insults. This left a question mark over his guest appearance in Luke Cage season 2. Could it measure up to the Power Man and Iron Fist comics, or was it just another unwanted crossover?
As it turns out, Luke Cage gave us our first genuinely entertaining depiction of Iron Fist. And the show did it by turning him into a comedy sidekick.
Iron Fist is an inherently goofy character—something his solo series didn't seem to understand. Showrunner Scott Buck combined tedious writing with an overly serious tone, resulting in a watered-down Batman Begins ripoff whose lead character came across as a clueless jerk. Luke Cage's Danny Rand is still recognizable, but he's viewed through a different lens in Luke Cage. The show plays his "I got my powers by fighting a dragon" origin story for laughs. It highlights Danny Rand's status as a trust-fund kid, forcing him to admit that his money has more impact than his fists. And while it positions him as Luke's dorky sidekick, it also depicts his spiritual side more effectively than Iron Fist ever did.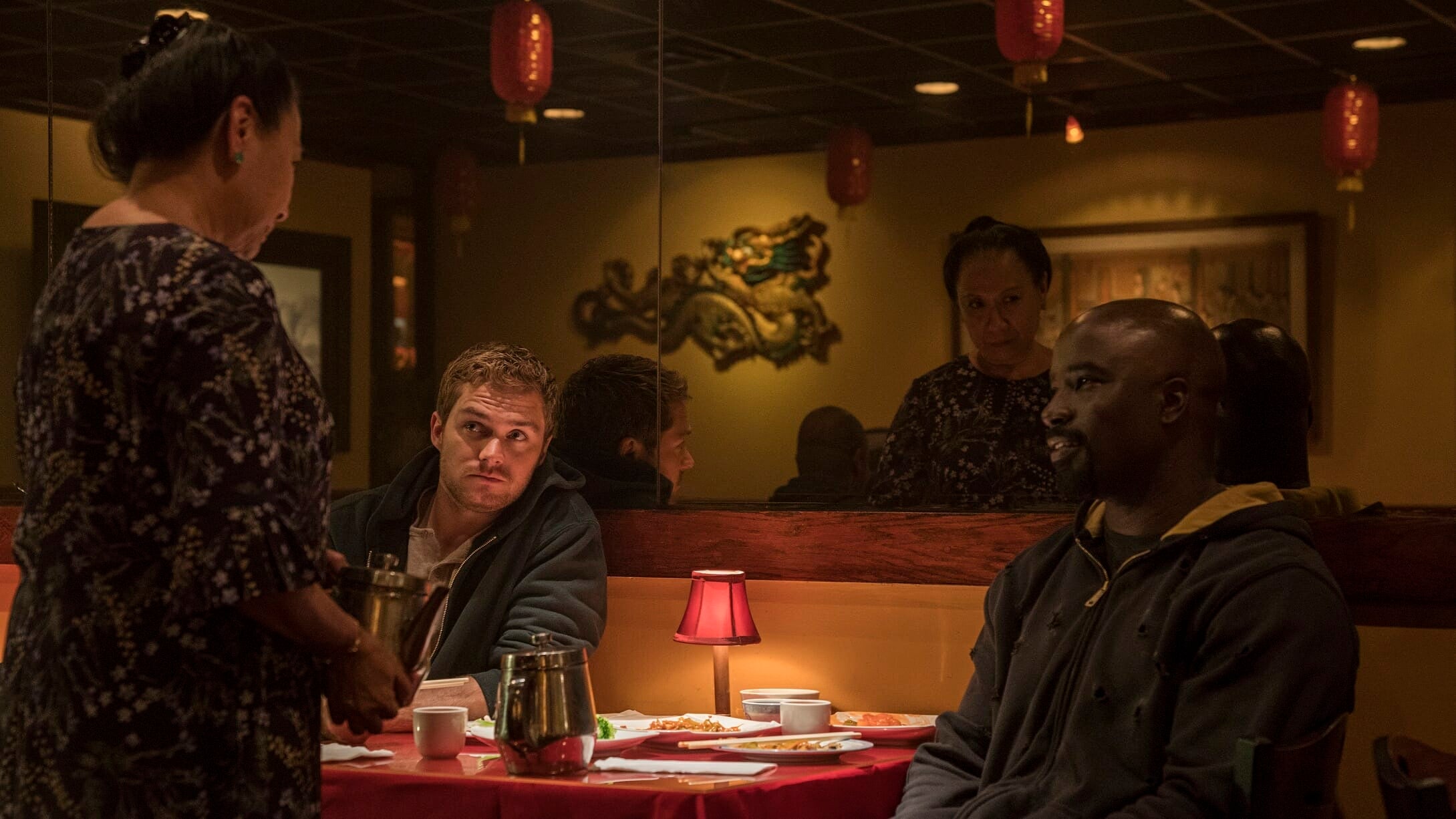 Luke's anger issues are a key theme in season 2, grappling with his moral boundaries as a vigilante. This conflict puts a strain on his relationship with Claire Temple (Rosario Dawson), with Danny Rand arriving as an unexpected source of advice.
This easily could have backfired, because no one wants to see Luke Cage learn about anger management from a white guy. Fortunately, season 2 avoided this problem by having both characters' personal journeys come into play. When Claire confronted Luke about his increasingly violent vigilantism, Luke's reaction was tangled up in his own masculinity issues, accusing Claire of trying to "castrate" him. This isn't an issue with Danny, who arrives as a neutral party. It's an interesting relationship drama in itself, actually. Luke's argument with Claire was a shock to the system, with Claire doing the emotional labor to make him realize he'd gone too far. This made him more receptive to Danny's input, framed as another man advising him on how to fight, rather than his girlfriend telling him to tone it down. But behind the scenes, Claire was the one who engineered the intervention by asking Danny to check in on Luke.
READ MORE:
When Danny teaches Luke how to get in touch with his qi, he's speaking from experience. Danny went through something similar himself, and he's now a more settled character than the guy we saw in Iron Fist. He can engage with Luke on a unique level as a superhero, and Finn Jones' guileless performance prevents him from seeming condescending. It helps that it isn't a one-way street. While Danny helps Luke find his inner calm, Luke gets Danny to acknowledge his privilege as a billionaire.
Danny Rand's Luke Cage cameo raises some questions for Iron Fist season 2. Namely, which version of Danny will we get? The boring, whiny guy from season 1 or the goofball from Luke Cage? The Defenders franchise features a lot of cross-pollination, and Iron Fist has a new showrunner for its second season. That's the good news. It may mean we get a more lighthearted Iron Fist next time around, hopefully with a more self-aware attitude.
The bad news is, Iron Fist can't replicate the main thing that made Danny Rand fun in Luke Cage. It can't make him a sidekick.
Luke and Danny are a classic odd-couple duo in the comics, and Luke Cage gave us a fun taste of that dynamic. But while Netflix's Luke Cage is a meaningful hero in his own right, Danny Rand just… isn't. Iron Fist demands that we take him seriously, but his problems seem ridiculous compared to Luke Cage or Jessica Jones. He's better suited as a comedic interlude in the grim lives of the other Defenders, not headlining his own show as a solo hero.