Within the first three minutes of Everything Sucks!, there is a Mighty Mighty Bosstones song, a slap bracelet, one of those folded paper fortune tellers, references to the Star Wars prequel and Bill Clinton, and a snippet of Spacehog's "In the Meantime." Later in the same episode, we get a Tori Amos tutorial.  
Everything Sucks!, Netflix's latest coming-of-age tale, really wants to let you know it's 1996. The 10-episode series, set in the real town of Boring, Oregon, fairs better when it's not blasting you with references. The premise isn't exactly unique, either: Three freshman friends and AV club nerds collide with the drama nerds. Luke (Jahi Di'Allo Winston) finds himself drawn to fellow AV clubber Kate (the wonderful Peyton Kennedy), who is struggling with her sexuality. They are outsiders trying to find their people. They are freaks, geeks.
Freaks and Geeks is an obvious point of reference here, and fans of Stranger Things might notice a similar kind of ensemble cast engineering. Series creators Ben York Jones and Michael Mohan told the Daily Dot they sold the show to Netflix before Stranger Things was even released, so they weren't consciously trying to copy it. Freaks and Geeks is a little more apt, says Jones: "Working with this cast, I can only imagine that's what it was like for Judd [Apatow] or Paul [Feig] when they were making Freaks and Geeks. Like, 'Oh my god, these kids are going to be huge one day.'" He says My So-Called Life was also important because it was one of the first teen shows to treat the characters with "reverence." Mohan adds that My So-Called Life made sure the parents weren't "one-dimensional," and they tried to give the parents in Everything Sucks! a similar depth.  

Indeed, the parents in the show, or at least the few we see, are extremely open with their kids. Kate's dad, who also happens to be the high school principal, barges in on her looking at an adult magazine as she tries to navigate her identity, and instead of giving her space (I involuntarily shouted "Get out!" at the screen, reverting to my high school self) he gives her a talk about accepting her body. Luke's mom gives him a very mature talk about sex and they banter more like two adults than mother and son.
The first half of Everything Sucks! is a bit ham-fisted with its references (someone actually utters "Zima? OK, nice" at one point) and one-dimensional bullies (actual drama queen Emaline starts a rumor that Kate is a lesbian, but her personality abruptly changes to fit a new narrative). However, it centers a little more once it focuses on the inner lives of the teens. Luke and Kate both live with single parents and find a connection there, but Kate is truly the show's standout, her face subtly registering every awkward moment and revelation. Luke is engaging to watch, but I didn't know any high school freshman who was that confident and independent. The rest of the gang isn't given much character development.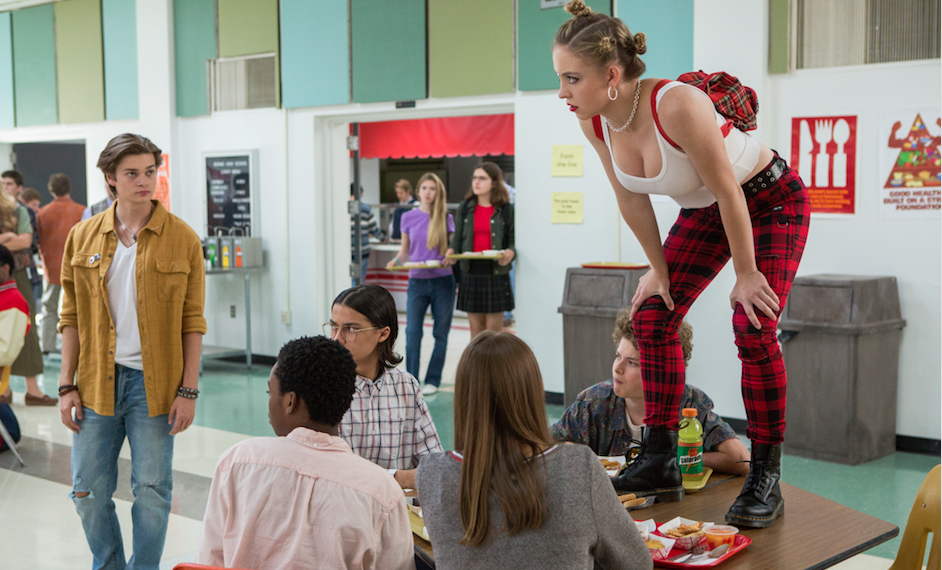 Jones, who plays AV club head Mr. Stargrove in the series, says they wanted to offer "different points of entry for different kinds of kids that were in high school. Our hope is that anyone who watches the show can latch onto and take the journey with any one of our characters. …The idea being, let's just make an ensemble acceptable for the people who felt like they were kind of invisible in high school." (He says they found the town of Boring after Googling "boring high school" when they made their pitch deck and discovering the real town in Oregon.)
The last couple of episodes tonally shift from the first half and present a clearer sketch of that feeling of invisibility and need for acceptance. Kate and Luke's storylines reach a more satisfying end by episode 10, it just takes Everything Sucks! a little too long to figure out what it wants.
https://www.youtube.com/watch?v=hf_YjzEvYeQ
Still not sure what to watch on Netflix? Here are our guides for the absolute best movies on Netflix, must-see Netflix original series and movies, and the comedy specials guaranteed to make you laugh.