The year is only halfway over, but I think we can easily say that Black Panther was one of the best films of 2018. It changed the game for superhero movies with complex, likable characters and a storyline with depth and emotion. On top of all that, the dialogue was witty and sharp. Black Panther has many laugh-out-loud lines and even a reference to a meme. While most of the memes popped up right after the film was released in February, people are still making and sharing Black Panther memes several months later. Here are the ones you need to know about.
The best Black Panther memes
What Are Those??
One of the funniest scenes in Black Panther is when Shuri, T'Challa's tech genius sister, references the "What Are Those??" meme. The meme originates from a 2015 Instagram video recorded by Brandon Moore that went viral on Vine (RIP). In the video, Moore asks a police officer, "what are those??" before pointing the camera at the officer's clunky work shoes. The video turned into a meme about unstylish shoes, and it worked perfectly in the film when Shuri questioned her brother's choice of footwear. Shuri is knowledgeable about the latest technology, so it makes sense that she is also familiar with popular internet memes.
Fake Black Panther Attacks
During Black Panther's opening weekend, there were a few fake social media posts going around the internet that claimed Black moviegoers beat up white people during screenings of the film. People mocked the fake news by turning it into a dark meme. Some of these included images of people with noticeable bruises or open wounds, but the best memes were text-based.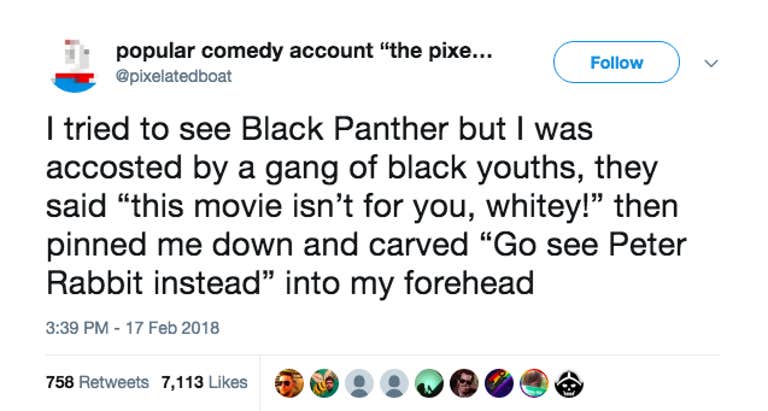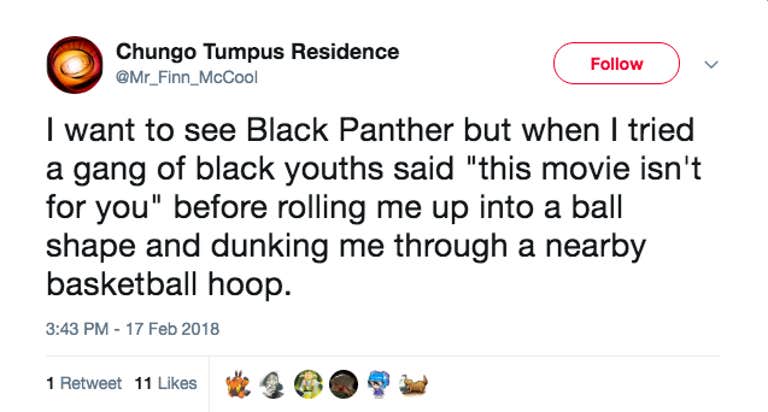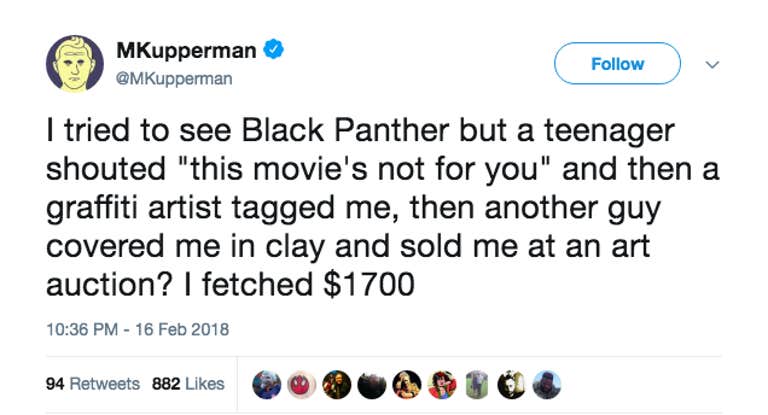 READ MORE:
Erik Killmonger Memes
Erik Killmonger (Michael B. Jordan) is Black Panther's nuanced villain. He arrives in Wakanda questioning its traditions and rules. Although he is often ruthless (hence his name), he thinks for himself. Killmonger now has a big online fanbase, no doubt helped by the fact that Jordan is terrific in the role. In the film, Killmonger has a lot of good lines, and a couple of them turned into popular memes.
1) Hey Auntie
When Killmonger reveals himself as a Wakandan, T'Challa & Shuri's mother, Ramonda (Angela Bassett), expresses shock. That's when Killmonger quietly delivers this line: "Hey Auntie." The internet went crazy for it, and many people called it their favorite line in the film.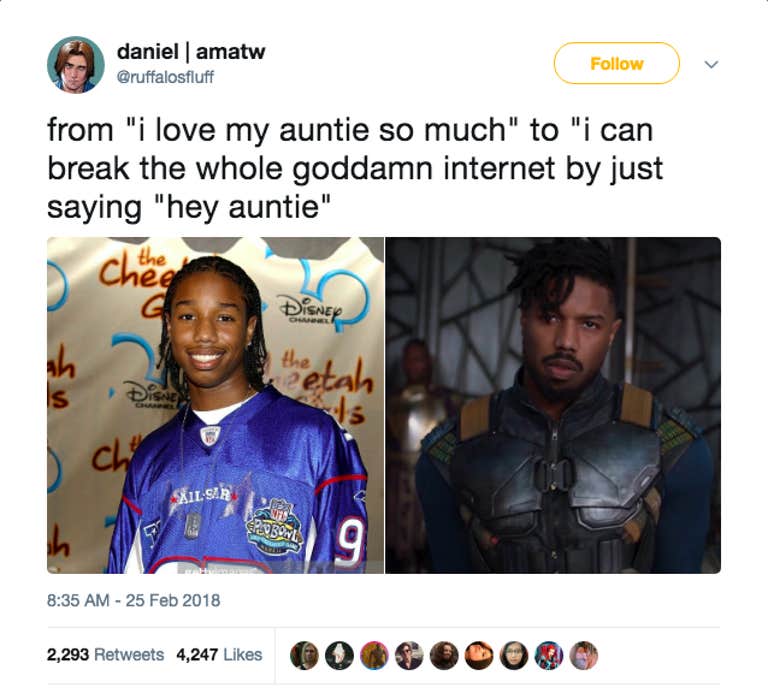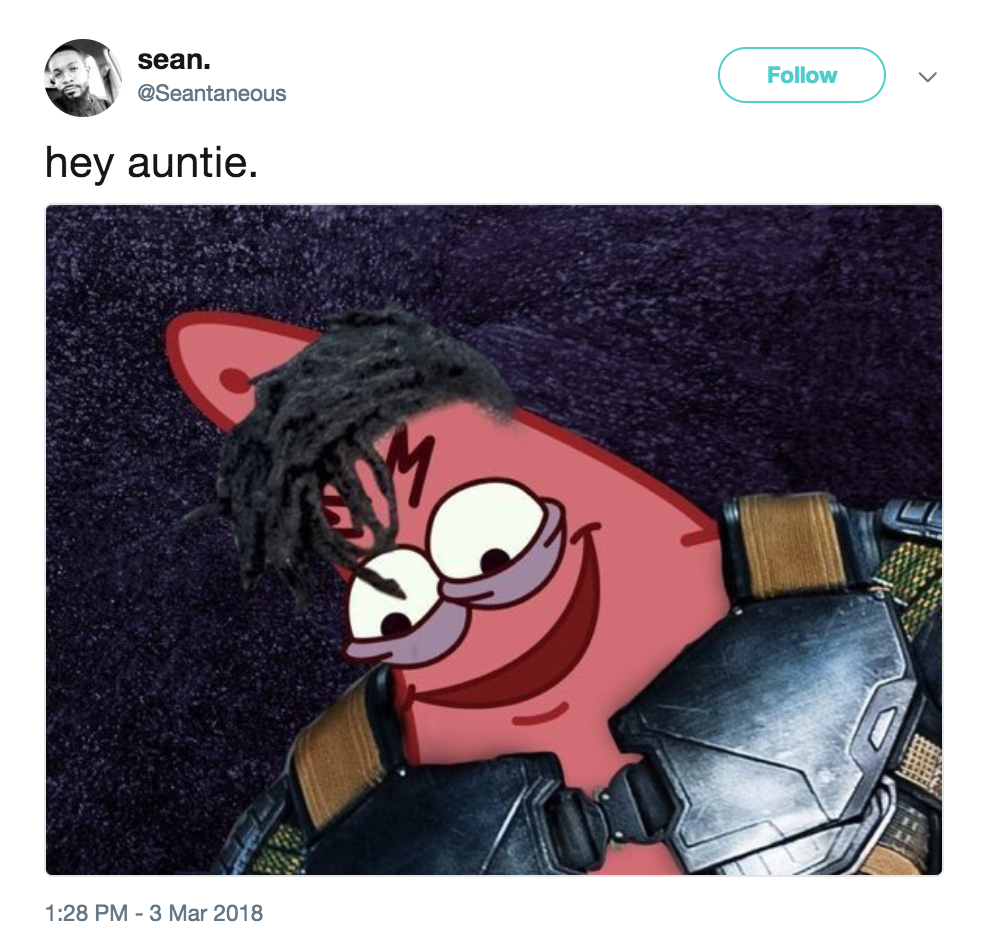 2) Is This Your King?
After Killmonger reveals who his father is and challenges T'Challa to the throne, the pair battle in a ritual event. "Is this your king?" Killmonger yells out to the people of Wakanda as T'Challa keeps falling down.
That line was turned into a meme in late March when it snowed on the first day of Spring. Twitter user @TheyWant_Nolan turned the line into a clever pun, asking "Is this your Spring?" with a screengrab of Michael B. Jordan reciting the line.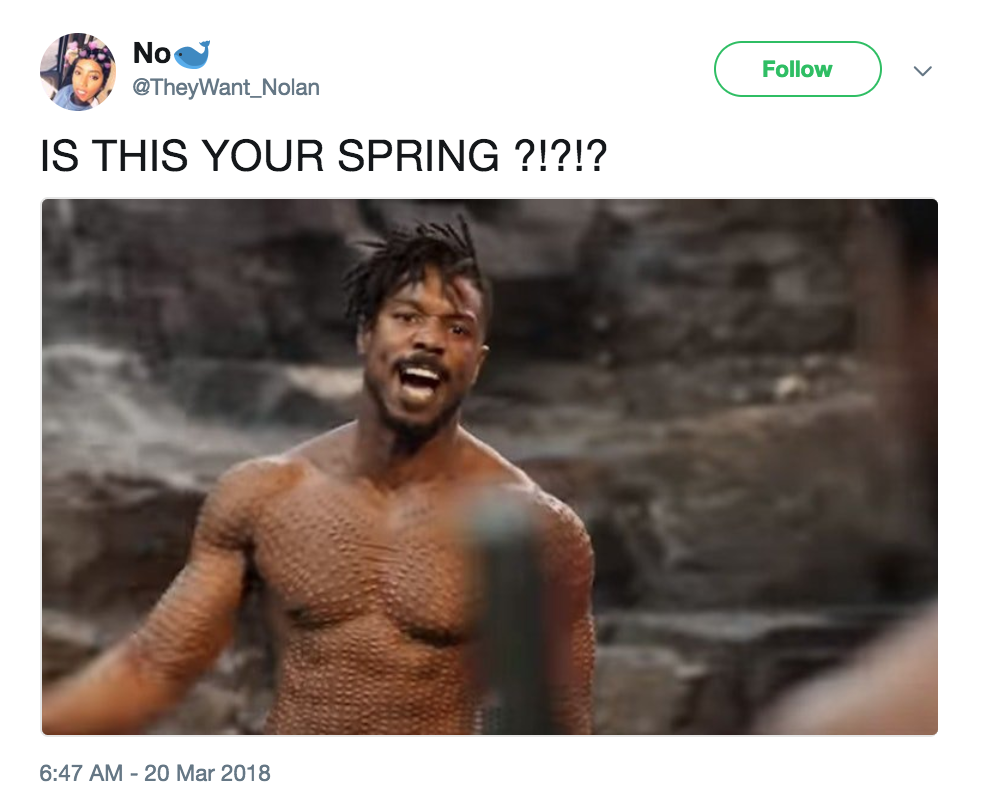 Soon, other people began swapping out the word 'king' to show their disdain for people or things that disappoint them.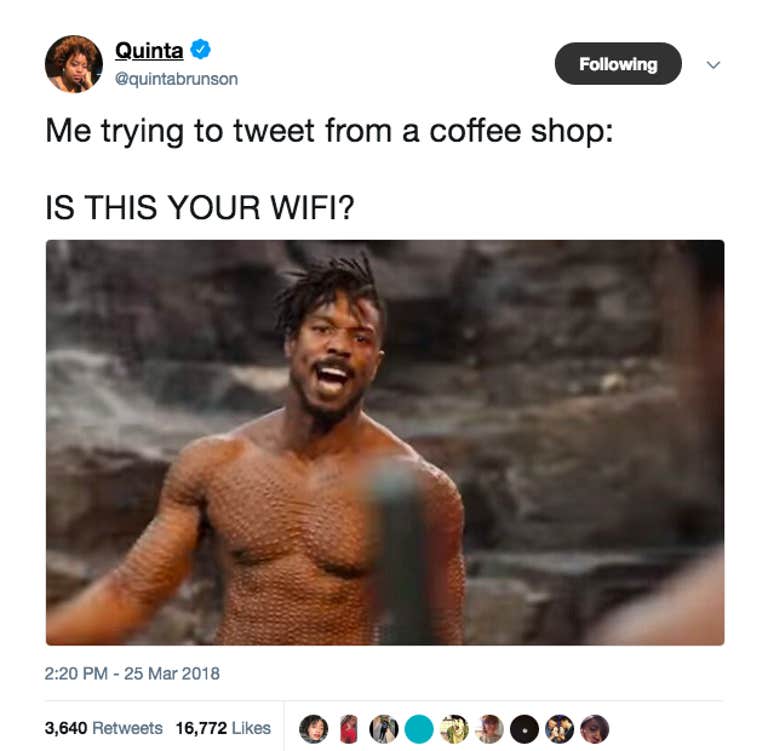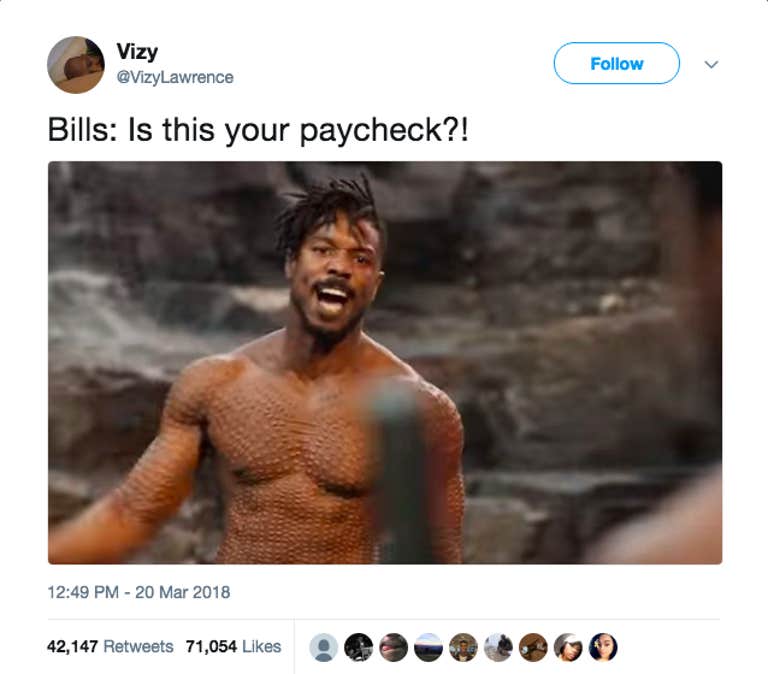 And here's a photo of a cat dressed up like Killmonger captioned with the original line. Naturally, it went viral.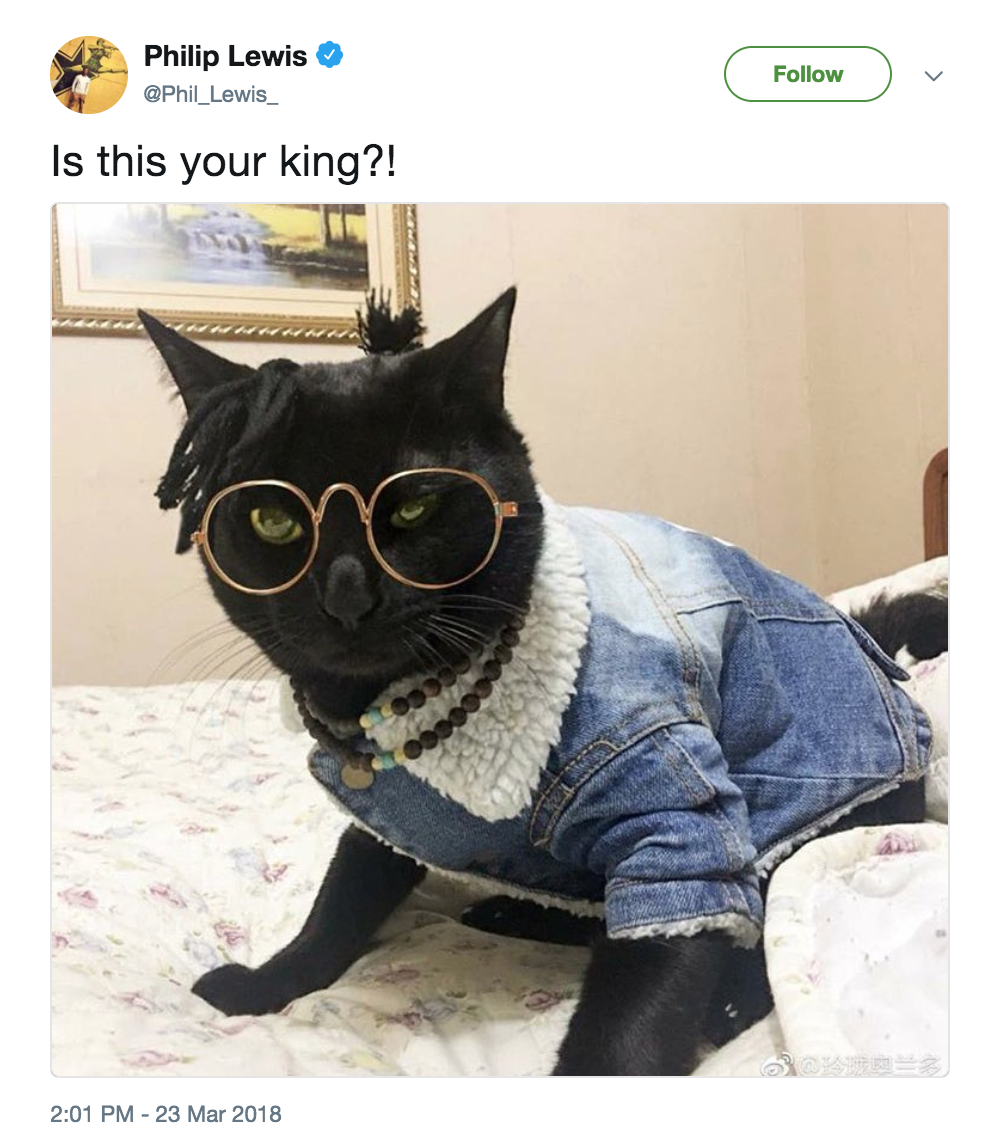 Black Panther Spoilers With No Context meme
A lot of people saw Black Panther opening weekend, and they wanted to talk about it on Twitter. But since it's rude to reveal spoilers before everyone has a chance to see a movie, people got around the issue by tweeting out spoilers "without context." Most of these spoilers were in the form of GIFs and memes. It turned into a "guess the reference" game.
Here are some of the spoilers—without context.
https://twitter.com/dracomallfoys/status/966346888210538496
Black Panther spoiler but i don't give you context pic.twitter.com/7QHz5Jdbk6

— Matthew A. Cherry (@MatthewACherry) February 20, 2018
black panther spoiler but without context pic.twitter.com/PHLr3UPvCs

— yas (@yaziegal) February 22, 2018
This joke format was also used on several other films this year. It's just another version of the movie title meme, where people caption a photo or meme with a movie title, the director, and the year it was released.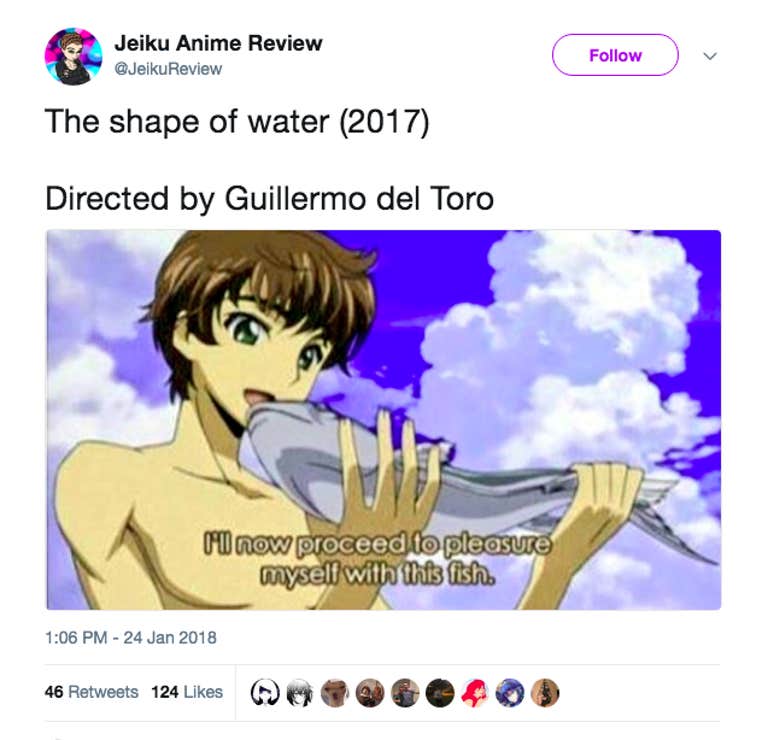 Black Panther Distracted Boyfriend meme
The Distracted Boyfriend, everyone's favorite meme in 2017, has seen many iterations since it first went viral on Twitter. The setup of the original meme, which shows a man obviously checking out another woman in front of his girlfriend, works perfectly with some of the main characters in Black Panther. In this version of the meme, W'Kabi (Daniel Kaluuya) is shown being distracted by Killmonger and turning his back on T'Challa, his former friend.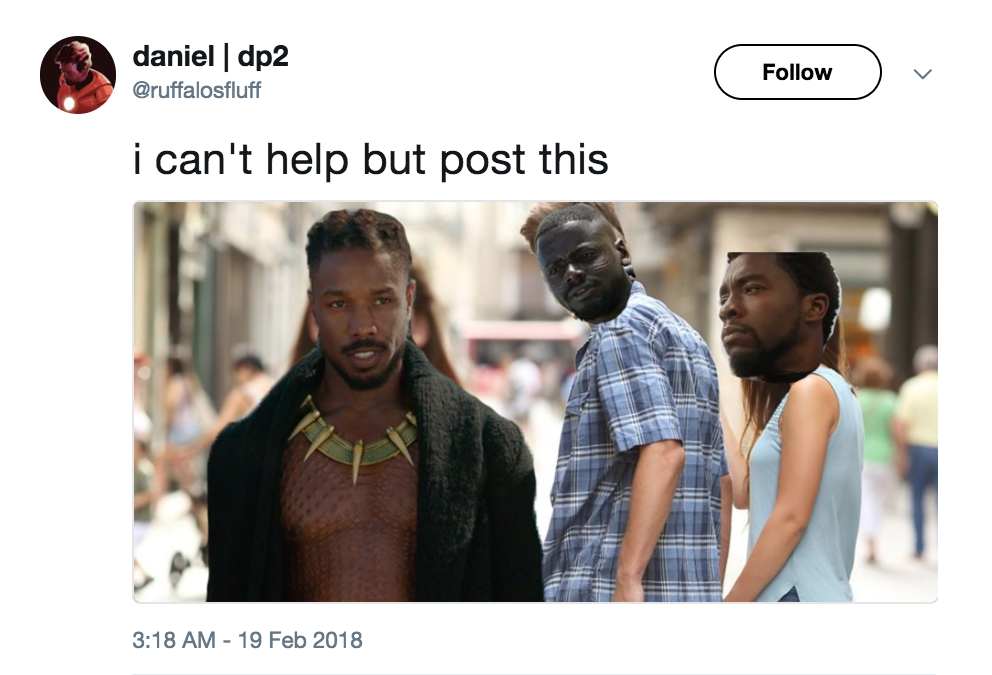 READ MORE:
Chadwick Boseman tired of 'Wakanda Forever' meme
Since he started promoting the film, Chadwick Boseman has done more "Wakanda Forever" salutes than he can probably count. In the beginning, Boseman looked enthusiastic as he crossed his arms over his chest and called out the motto of the fictional African country. But as the weeks went on, and as he made more and more public appearances, Boseman appeared a little tired of "Wakanda Forever." The internet noticed, and it became a meme.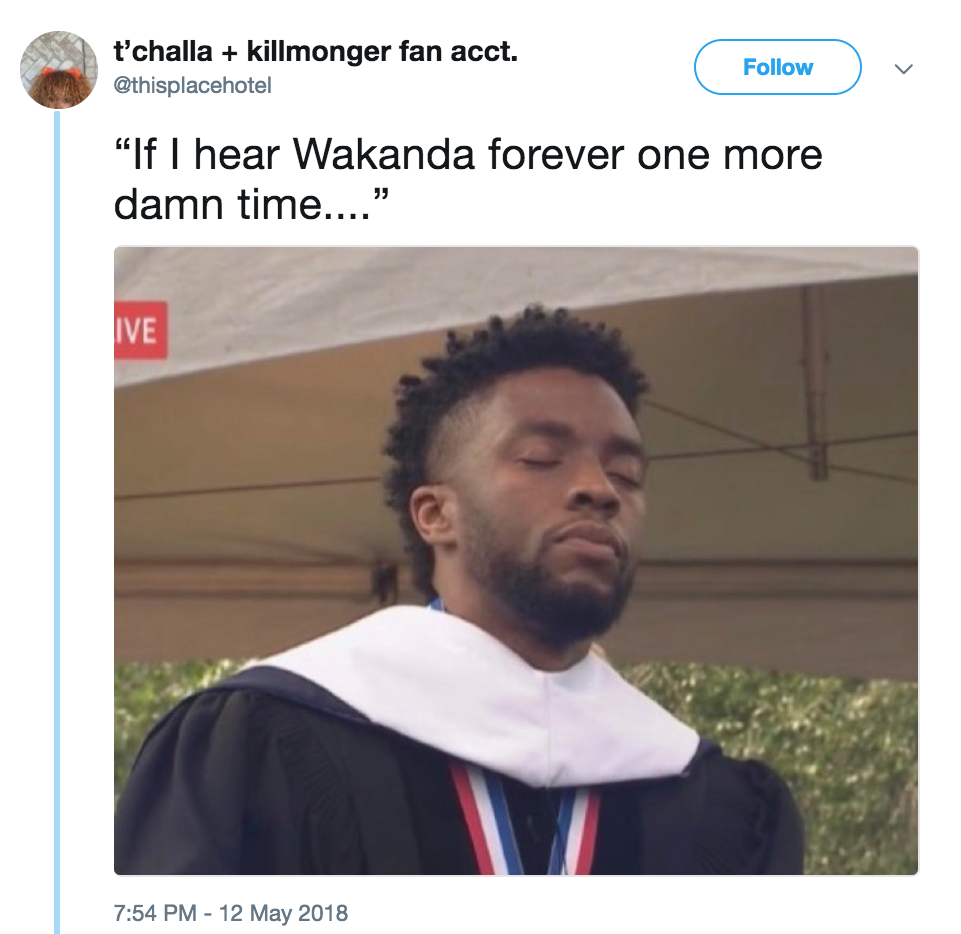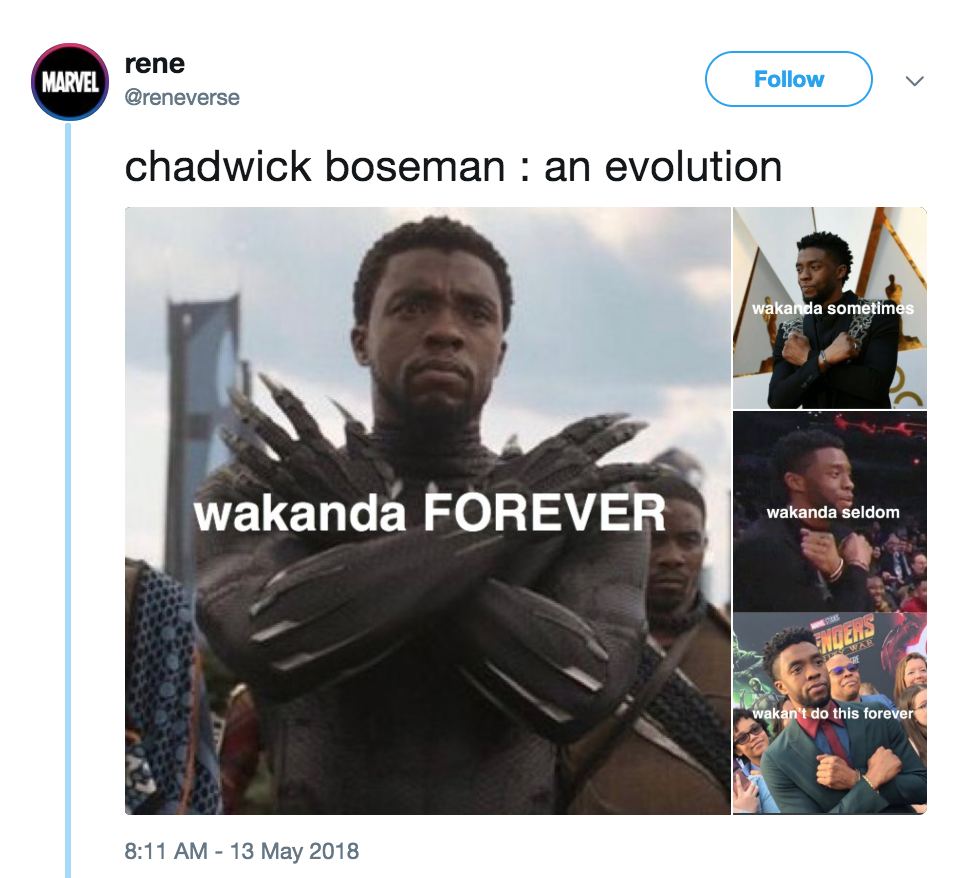 In an interview with Stephen Colbert in May, however, Boseman defended his seemingly lackluster "Wakanda Forever" salutes. "It's a salute, you know," he said. "If I was in the military and I did this [salute] every day, I'm not gonna do it the same every time. Sometimes it's more pedestrian."
Editor's note: This article is regularly updated for relevance.