X-Force will make its live-action debut in Deadpool 2, and Fox wants to give the members their own spinoff. But what does that mean, beyond another superhero team? Based on their Marvel Comics backstory and the trailers for Deadpool 2, here's what we know so far.
What is X-Force?
As you can probably glean from the name, X-Force is an X-Men spinoff. The first team appeared in New Mutants in 1991, launching a comic of their own a few months later. It was an immediate hit, resonating with fans who enjoyed darker, more violent material. And by "immediate hit," we mean, "the second best-selling superhero comic ever."
The first issue sold 5 million copies, which may say more about comics in 1991 than it does about the quality of X-Force #1. The X-Men were huge, as was X-Force (and Deadpool) creator Rob Liefeld. These days, Marvel is lucky if the first issue of a new comic breaks 100,000—and that's for A-list heroes like Iron Man. X-Force was a brand new team of relatively obscure characters.
The X-Force concept is characteristic of Liefeld's high-octane style, offering an edgy alternative to the main X-Men comics. While the X-Men are known for political themes and convoluted soap opera storylines, X-Force was an action-focused offshoot. They're like a black-ops team, with more morally ambiguous (or straight-up murderous) missions than the X-Men.
The team roster changes a lot, with Cyclops's time-traveling son Cable as the founding leader. He's probably the best-known character, leading a team full of B- and C-list characters like Cannonball, Domino, and Archangel. Deadpool isn't actually a regular member of X-Force itself, although he's regularly partnered with Cable elsewhere.
Who are Deadpool's X-Force members?
Deadpool 2 adds a lot of mutant characters to the cast. Colossus and Negasonic Teenage Warhead return from the first movie, joined by a new character played by Shiori Kutsuna—rumored to be Negasonic's girlfriend. We've also seen a couple of villains and unattached mutant characters, like the kid played by Hunt for the Wilderpeople's Julian Dennison. Then there's the X-Force team itself.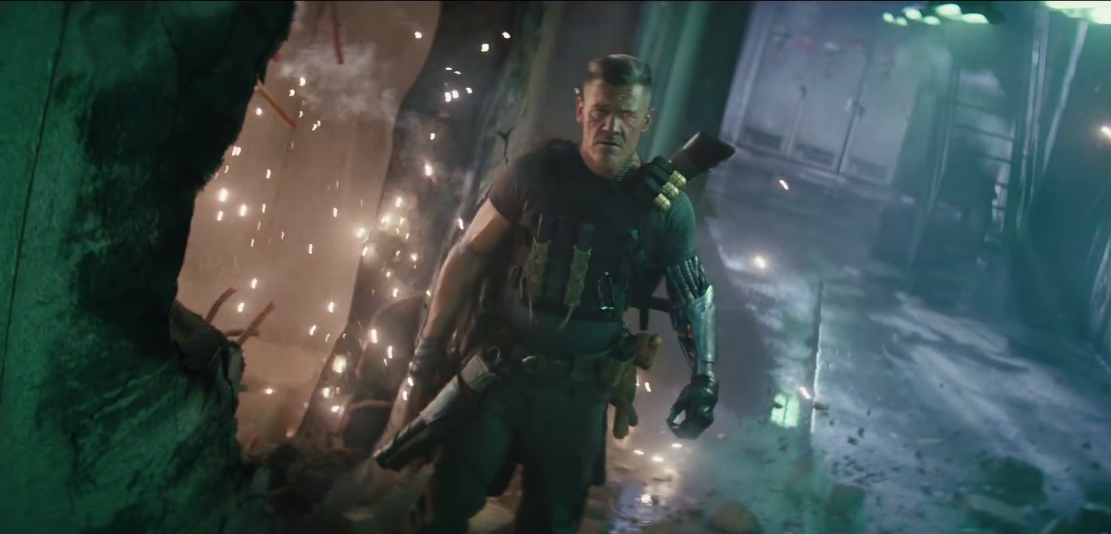 We don't know the film's full cast yet, but the trailers gave us a good look at the X-Force lineup. Time-traveling cyborg Cable (Josh Brolin) is obviously the biggest name, following his partnership with Deadpool in the comics. The rest of the squad are less well-known.

READ MORE:
Domino (Zazie Beetz)
Judging by Deadpool 2's marketing, Domino is the most prominent member of the team. She's a recurring character in the X-Force comics; a mercenary with impressive combat skills (of course) and the power to alter the probability of events. In other words, she can sway the odds of a fight in her favor. She's supernaturally lucky.
Bedlam (Terry Crews)
Bedlam (aka Jesse Aaronson) is a pretty obscure figure in Marvel canon, meaning he'll now be remembered forever as Terry Crews. Not a bad legacy! After being orphaned at a young age, he wound up in a mental hospital where his mutant powers manifested. Hence the name.
Shatterstar (Lewis Tan)
If you've seen Iron Fist, you'll know actor and martial artist Lewis Tan as the drunk villain who fights Danny Rand in China. If you're a little further into Iron Fist fandom, you'll know him as the guy many people wanted to play Danny Rand instead of Finn Jones. (There's some controversy over the fact that Netflix rejected Tan in favor of an actor who didn't know how to fight.)
Shatterstar has all the expected abilities of an enhanced supersoldier, plus the power to channel shockwaves through a pair of swords. He's also bisexual, known for his relationship with fellow superhero Rictor. Rictor isn't in the movie, but Shatterstar's presence raises an interesting question: could Deadpool 2 be the first superhero movie with canonically queer characters? Between Shatterstar, Deadpool, and possibly Negasonic Teenage Warhead, there are several options here.
Zeitgeist (Bill Skarsgård)
Actually, call that maybe Zeitgeist, played by maybe Bill Skarsgård. The X-Force team includes a white guy wearing some kind of mask over his lower face, but Fox hasn't confirmed who it is. We're relying on expert Marvel sleuths from sites like Comicbook.com to identify the character.
Appearing sporadically in the X-Force comics, Zeigeist is a mutant whose powers involve, well, acid vomit. We look forward to this factoring into Bill Skarsgård's public image as an unlikely heartthrob, following his role as Pennywise the Clown in It.
So from left to right in the picture below, we have Domino, probably Zeitgeist, our man Deadpool, Shatterstar, and Bedlam.
Fox is planning to make an X-Force spinoff movie, starring Deadpool and Cable. According to The Hollywood Reporter last month, X-Force is due to start filming in October, directed by Drew Goddard. Whether this survives the Disney/Fox merger remains to be seen. The X-Men franchise is in a weird place right now, with Dark Phoenix and New Mutants both being delayed. Deadpool may be the franchise's biggest hit now Hugh Jackman is gone, so you can see why they'd push ahead with more spinoffs.