There are some teen dramas that don't feel like they're about teens at all—partially because they star actors in their mid-twenties, and partially because they feature overtly precocious characters. Netflix's The Chilling Adventures of Sabrina, now in its third season, doesn't suffer from that problem. The high schoolers in the show, led by Kiernan Shipka as the titular Sabrina, always feel like high school students with typical worries like crushes and after-school activities—even when they're casually going on adventures to places like Hell or taking down Pagan witches.
The Chilling Adventures of Sabrina Season 3
RELEASE DATE:
Jan. 24, 2020
CREATOR:
Roberto Aguirre-Sacasa
STREAMING:
Netflix
The third season of 'The Chilling Adventures of Sabrina' sees Sabrina and her friends on thrilling adventures to Hell and back.
Chilling Adventures of Sabrina's second season ended on a very dramatic note. Sabrina's warlock boyfriend, Nicholas Scratch (Gavin Leatherwood), decided to use his body as a flesh Acheron to trap Satan himself, otherwise known as Lucifer Morningstar. Lilith (Michelle Gomez) then carried Nicholas to Hell to hold him—and Lucifer—as a prisoner. It seemed like the end for Nicholas and Sabrina, but Sabrina announces to her friends that she plans to get her boyfriend back. And that's where season 3 begins: Sabrina asking her mortal friends to trek with her through Hell to save her boyfriend. It seems impractical, and slightly selfish, for Sabrina to ask her friends to risk their lives for her love life, but it's one of the plot points that makes Sabrina feel decidedly like a teenage show. Sabrina puts her boyfriend over just about everything else this season, which feels appropriate for a teenage girl. 
Of course, Sabrina's focus on Nicholas doesn't come without a price. To satisfy the demons, Sabrina attempts to claim her birthright at the throne, as Lucifer's daughter. But she must compete for the crown alongside Caliban (Sam Corlett), a prince made out of clay whom one character aptly describes as looking like Thor. The competition is straight out of a fantasy movie plot—it does feel vaguely similar to Harry Potter—and it adds some cohesiveness to the season. Sabrina and Caliban must race to find a trinity of objects, one of which takes Sabrina to the town of Riverdale. Unfortunately, there's no crossover with any of the main cast of Riverdale, but Netflix seemingly hints that one could happen in the near future. In a later episode, we see a man in a Southside Serpents jacket.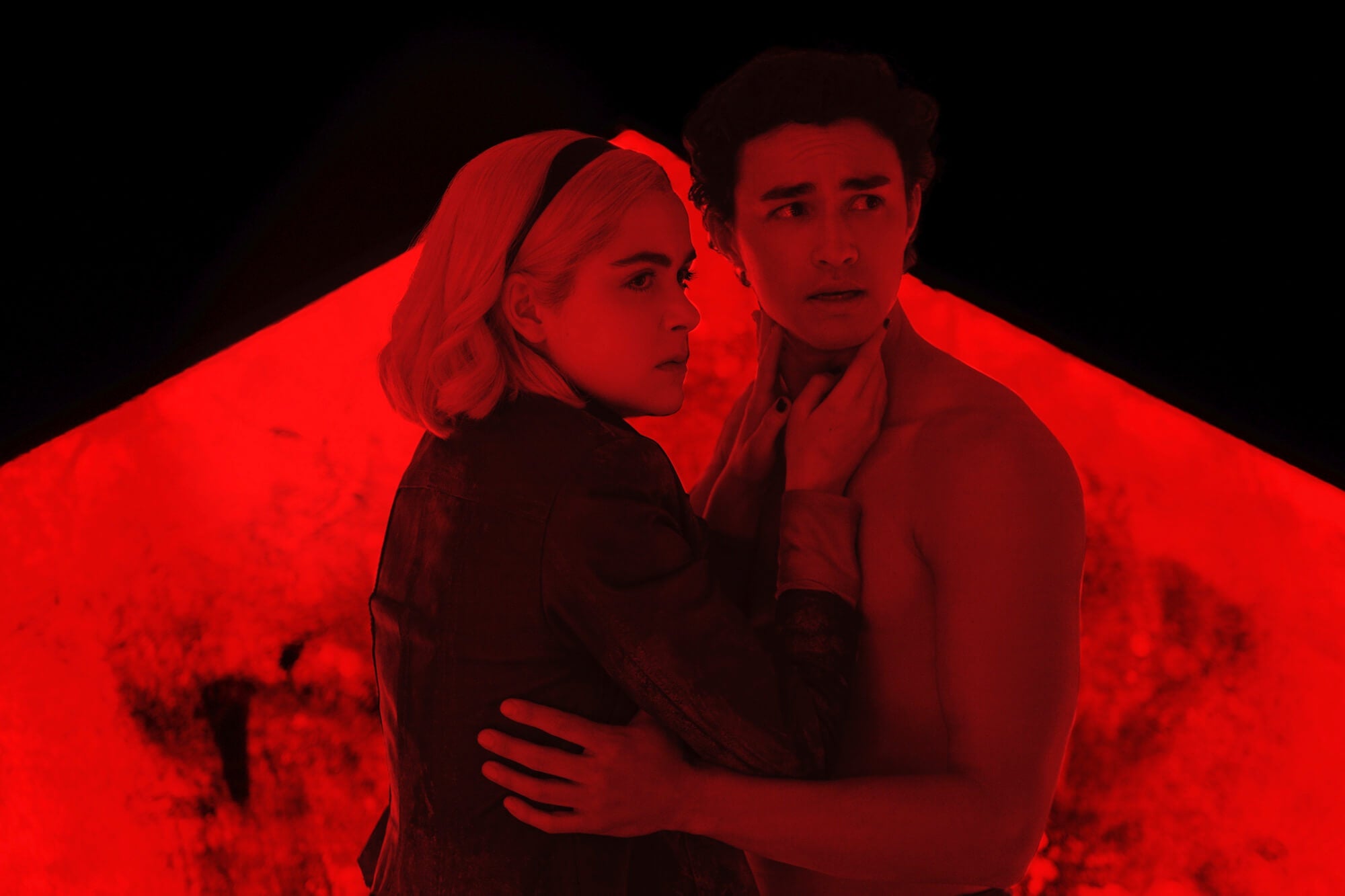 While the second season of Sabrina went a little off track at the end and lost some of its magic, season 3 injects more fun into the series. Shipka, along with the rest of the cast, seems to have a lot of fun on the show (just look at their Instagram pages for proof), and they deliver absurd and silly dialogue with ease. Among Shipka's best lines? "Hell's under new management now" and "Hell needs a makeover, fellas." The show never takes itself too seriously, even when the entire world is at stake. The eight-episode season moves along swimmingly. Besides Sabrina's attempts to become Queen of Hell for the sake of balancing the cosmos, the main story focuses on the aftermath of the Academy of Unseen Arts without Satan or Father Blackwood. Zelda Spellman (Miranda Otto) becomes the stand-in leader of the magic school, while her sister, Hilda Spellman (Lucy Davis) assists her while also balancing her personal life. They soon realize that everyone is weak and lacking in magical powers without Satan at the helm of Hell, a problem that becomes urgent to fix once Pagan witches arrive and start wreaking havoc in Greendale. 
Chilling Adventures of Sabrina's latest season is fun and full of adventure, but it's not without flaws. The Pagan witches, called the "old ones," are seen as outsiders to the Satanic witch community. They aren't really depicted as real, complex people—just witches with only bad intentions, which is kind of problematic. Sabrina's coven is then viewed as the "good" witches. The last episode clearly leaves room for another season—Sabrina found a creative way to solve her problem of wanting to stay on Earth while also keeping tabs on Hell. It seems like a bad idea. A very bad idea. But definitely one a teen witch would make.
Still not sure what to watch on Netflix? Here are our guides for the absolute best movies on Netflix, must-see Netflix original series and movies, and the comedy specials guaranteed to make you laugh. 
Looking for something more specific? Here are our Netflix guides for the best war movies, documentaries, anime, indie flicks, true crime, food shows, rom-coms, LGBT movies, alien movies, gangster movies, Westerns, film noir, and movies based on true stories streaming right now. There are also sad movies guaranteed to make you cry, weird movies to melt your brain, old movies when you need something classic, and standup specials when you really need to laugh. Or check out Flixable, a search engine for Netflix.