Welcome to International Women's Day.
In 2018, women are fired up. The past two years have seen two successful Women's Marches across the globe. A record number of women are running for office. For the first time in probably forever, sexual predators are being held publicly accountable for their actions, with even powerful men like Harvey Weinstein, Louis C.K., Sen. Al Franken, and Jeffrey Tambor having to face serious career repercussions. Even our very definition of womanhood is expanding, making more room for transgender women, queer mothers, sex workers, and women of color in feminism.
On the other hand, the last two years have been incredibly antagonistic toward women. The Trump administration has repeatedly applied pressure on Planned Parenthood in attempts to defund access to both women's healthcare and abortion, with Republican lawmakers gleefully mirroring his beliefs in Congress. Trans women of color still face tremendously high rates of violence, which have gone on underreported from the mainstream media. And ironically enough, increased visibility on sexual harassment from both #MeToo and Time's Up means women have had to grapple with the reality that Me Too's own leaders, as well as queer and feminist women supporting the movement, may be complicit in sexual abuse as well. Not to mention, removing these predators hasn't necessarily meant woman have filled these vacated roles and received reparations for the careers they lost.
This makes International Women's Day a difficult one to celebrate. While women have more autonomy than ever before and are clearly gaining more power in the public sphere, this isn't the case for every single woman. But you wouldn't necessarily know that: More often than not, reporters forget to check in with women and see how the world's most pressing issues are impacting them.
Women's invisible role in the news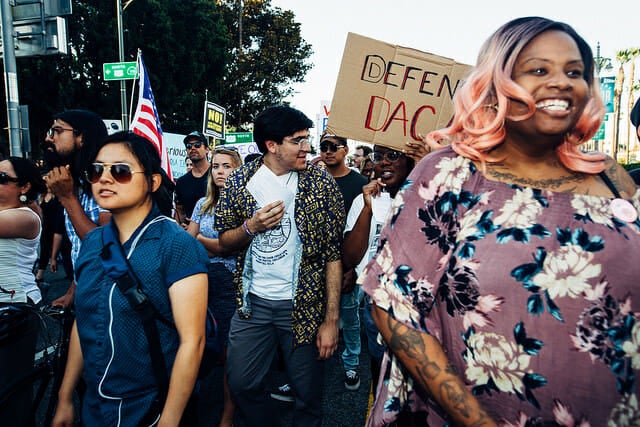 On March 5, the New York Times podcast The Daily interviewed six teenage girls that survived the Parkland high school shooting. Unlike many of the teenage activists from Marjory Stoneman Douglas High School who have publicly called for gun control change, these girls largely skirted the public eye, instead focusing on recovering from the shooting.
When interviewed, all six collectively agreed that they are suffering from PTSD.
"All of us have lost our friends and classmates, and [the school is] just like, 'No, it's normal, it's fine,'" one girl told the Times. "But it's not fine."
"I can't close my eyes without seeing the gun, seeing Alyssa's body," another student explained.
Interestingly enough, while the mainstream media has focused closely on Parkland, very few outlets have taken an in-depth look at the shooting's impact on the high school's teenage girls. Most reports have instead focused solely on the trauma that first responders went through when they first came to the scene, conflating PTSD with a disorder that only firefighters, police officers, or military personnel experience—not necessarily teenage girls thrown into crisis scenarios.
In fact, the U.S. Department of Veteran Affairs notes that over half of all American women are exposed to at least one traumatic experience in their lives. As a result, 10 out of 100 women in the U.S. report experiencing PTSD, with women at a higher risk for the disorder than men. Several preexisting factors more commonly found in women than men are to blame for the high rate, including a previous experience with sexual assault, the likelihood of women having a mental illness, or issues finding a proper social support network after experiencing trauma.
You wouldn't know this though by looking at the news.
https://twitter.com/lukewaltham/status/971318000363204608
This #InternationalWomensDay let's talk about Autistic women. We're overlooked, underdiagnosed, & living in the dark. We're susceptible to abusive relationships b/c we have been taught not trust our reality. We're mothers, sex workers, trans, queer ppl that deserve some love

— Reese Piper (@TheNudeReporter) March 7, 2018
tomorrow is international women's day

that means that tomorrow, more than usual, i will 👏 not 👏 stand 👏 for 👏 any 👏 shit

— Jacqui Collins (@jacquicollins_) March 7, 2018
Parkland isn't the only situation where issues that affect women aren't given the proper coverage they deserve. As anxiety continues to build now that President Trump's deadline on ending DACA has passed, most establishment news coverage continues to treat Dreamers as politically divorced from other intersectional concerns, such as LGBTQ rights for queer women of color. In reality, President Trump's attack on DACA impacts these groups the hardest, because if Dreamers face deportation from ICE, then they're not just thrown out of the U.S.—they may be deported into regions that are fundamentally hostile toward women based on their sexuality or gender identity.
Catalina Velasquez, whose family hails from Colombia, came to the U.S. amid civil war in the country. Her parents were later deported after seeking asylum, but she remained, transitioned genders, and became the first transgender Latina immigrant to head the D.C. Office of Latino Affairs as its commissioner. But Velasquez knows being deported to Colombia wouldn't be safe, as transphobic violence from her father "wouldn't be out of the question." In many cases, the U.S. is the only safe haven transgender Dreamers have.
"It's a death sentence," Velasquez said to NBC News. "You can't send a trans or queer person back to Iran or Honduras and expect them to survive, much less thrive."
Other female Dreamers have made similar points, arguing that women who came to the U.S. from other countries were given the support they needed to push back against systemic misogyny and thrive. Ripping Dreamers out of the U.S. and sending them back to their home country—one that most Dreamers never knew, let alone remember—could fundamentally throw thousands of vulnerable women into harm's way.
"You have to think about single, working mothers," Dreamer Mirella Ramirez-Munoz, 21, told Bustle. "This uncertainty we're currently facing is counteracting the stability we've worked so hard to achieve. Many DACA recipients have started their own families, they have houses, cars, businesses—with or without papers, those are things we've built that should not be taken away from us."
The world through women's eyes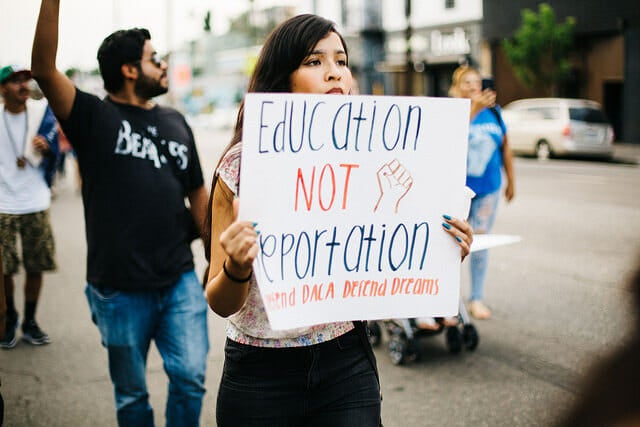 Earlier this week, Oregon officially closed the "boyfriend loophole," banning convicted domestic abusers from owning a gun in the state. This is progress. And yet the connection between gun ownership and female abuse victims is rarely at the forefront of news reports on gun control.
The number of stories women are missing from is endless. Women suffering aren't given the visibility they need to share their stories because the intersection between their womanhood and their role in current events is simply downplayed. Gun violence, homophobia, immigration, and racism all impact women more often than men, a fact that is overlooked because women are still given fewer opportunities to be heard. Men still lead the conversation. Men still dominate media.
Last year, the Women's Media Center found that at nation's 2o top news outlets, men produced over 62 percent of the news we hear and read. A report the center released this week has even grimmer news: Women of color represent less than 8 percent of U.S. print staff, 12 percent of local TV news staff, and 6 percent of local radio staff.
International Women's Day is an opportunity to draw attention to the ways women are being discussed—and not being discussed—in the news. The inequality disparity between genders is still vast, especially in the workplace, especially in the newsroom. It's time we demand change from the media. It's time we see how women across class, race, gender, and ability are impacted by the world around them.