When President Trump took office, immigration activists prepared for the worst. Though President Obama had come to be known as the "Deporter-in-Chief" and both parties have made a point to appear tough on immigration in recent years, immigrants—particularly in Latinx and Muslim communities—knew the next four years would be difficult. With new and more horrific ICE news rolling in daily, this has proven sadly prophetic.
Though Trump's legislative ineptitude has saved America from a border wall and the mass deportation of Dreamers so far, what he has done is use his executive powers to make life a nightmare for many immigrant communities. And the centerpiece of this non-stop harassment campaign against America's immigrants has been ICE.
Under Trump, Immigration and Customs Enforcement has expanded and become more hardline, adopting jackboot tactics and testing the limits of public decency and civic duty. From camping out at courthouses to targeting victims of domestic abuse, ICE plumbs new depths of authoritarian inhumanity with each passing month. Since the organization enjoys the full support of President Trump, ICE agents have time and again pushed the boundaries of what we deem acceptable in America, and their actions have repeatedly gone beyond an inhumanity that many thought impossible.
Though there are going to be many stains on this era in American life and many low points in Trump's presidency, the expansion and empowerment of ICE will cast one of the darkest shadows over this moment in history. ICE made an estimated 143,470 arrests for the fiscal year 2017—a three-year high—and yet we still don't yet know the full scope of abuses the agency has done under Trump. If the first year of his term is any indication, ICE will continue to be a national embarrassment and destroy people's lives.
Timeline: ICE news under President Trump
Feb. 8: ICE Agents waiting outside of an Alexandria, Virginia, shelter inside of Hope United Methodist Mission Church detain seven homeless men just before 7am One of the men detained, Marvin Roach, says of the incident, "I've never seen anything like this. It happened really fast. It was like a kidnapping."
Feb. 9: 33-year-old transgender woman Irvin Gonzalez is arrested by ICE while attempting to obtain a restraining order against an abusive ex-boyfriend at an El Paso, Texas, courthouse. ICE learned of her whereabouts while she was staying at a shelter for victims of domestic abuse. Gonzalez believes it was the abusive ex who tipped off immigration authorities.
Feb. 22: ICE agents in Austin, Texas, conduct a series of raids in which they detain more non-criminals than criminals. Of 51 people arrested, 28 are officially identified as "non-criminals."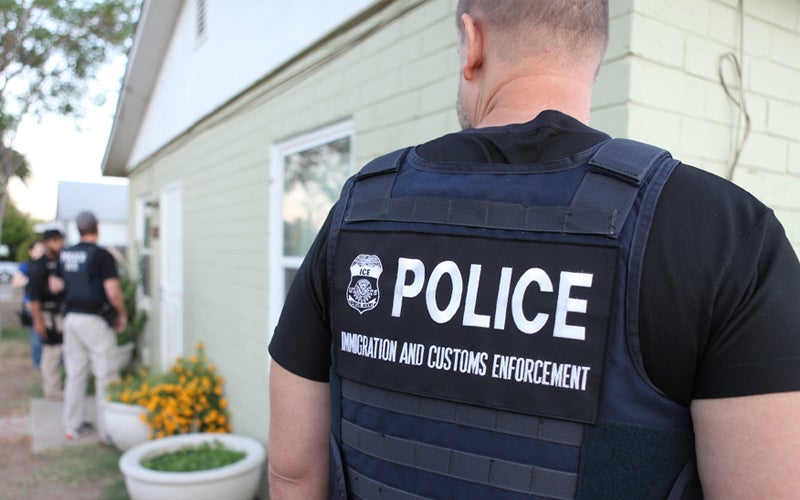 Feb. 28: Romulo Avelica-Gonzalez of Los Angeles is detained by ICE agents while taking his daughter to school. Avelica-Gonzalez was dropping off his 12-year-old daughter when he was arrested; his 14-year-old daughter recorded the incident from their car. ICE agents leveraged a 20-year-old case of driving under the influence to justify his detention.
March 21: NPR reports on four Denver women who have dropped domestic violence charges against abusive partners out of fear of ICE deportation. The women are part of a nationwide trend.
March 27: In a pre-dawn raid, Wilmer Catalan-Ramirez of Chicago is arrested by ICE agents. The agents, who had no warrant, justified the raid because Catalan-Ramirez appeared in their "gang database" despite never having been a gang member. Catalan-Ramirez was reportedly slammed to the floor and handcuffed during the raid, exacerbating pre-existing injuries and causing severe eye damage. He has since been awarded a settlement by the city of Chicago.
April 28: Data obtained by the Washington Post reveals that half of immigrants detained by ICE in early Trump administration sweeps had only traffic offenses or no criminal record.
July 6: A plainclothes ICE agent allegedly pulls a gun on a woman during a road-rage incident on a California highway. The woman reported that the agent told her to "pull the…over or I'm going to shoot you," and then proceeded to point a gun at her and put on a bulletproof vest. ICE agents have no traffic jurisdiction.
Aug. 28: The ACLU releases a statement protesting an ICE request to the National Archives and Records Administration that would allow them to destroy or retain various records of activity within the agency. These records include details regarding solitary confinement, sexual assault, and deaths in custody.
Sept. 13: Two Arizona Motel 6 locations are raided after franchise employees hand over their guest lists to ICE. This is thought to be a part of broader cooperation by the motel chain with immigration officials. ICE agents have been accused of paying off employees in exchange for their assistance.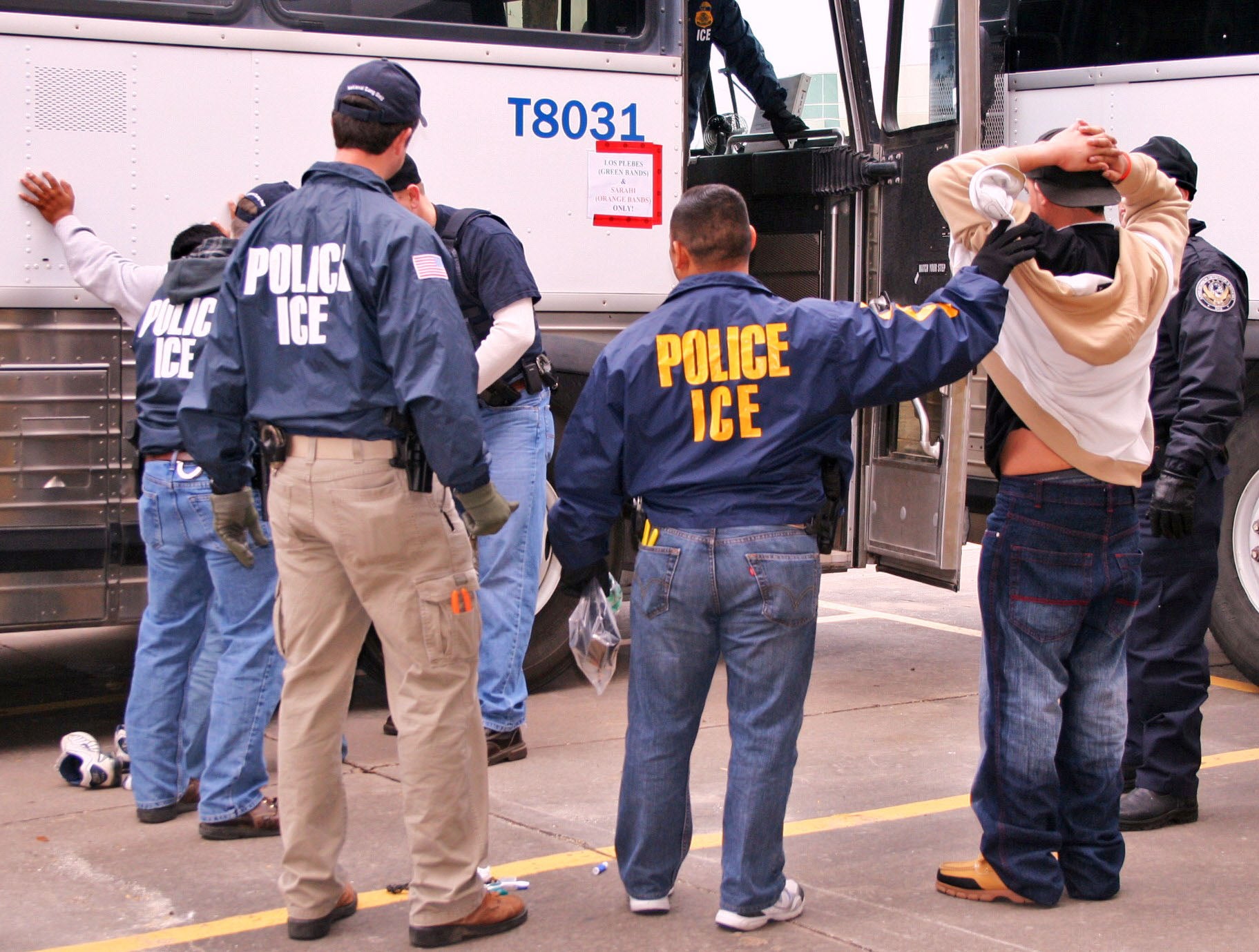 Sept. 20: An ACLU observer captures video of what appears to be a clear case of racial profiling and intimidation outside of an Oregon courthouse by ICE agents. Isidro Andrade-Tafolla and his wife were followed after leaving a courthouse in what ICE officials insist is a case of mistaken identity. Two plainclothes agents confronted them, never identifying themselves during the incident. Andrade-Tafolla is a government employee and U.S. citizen. Reps. Suzanne Bonamici and Earl Blumenauer (D-Ore.) have called for a federal investigation into the matter.
Sept. 28: ICE agents conclude a four-day raid deliberately targeting so-called sanctuary cities, including Los Angeles, San Francisco, Philadelphia, and New York. In total, 498 people are arrested. Critics view the raid as retribution for the anti-Trump agenda advanced in these areas.
Oct. 16: U.S. Rep. Robin Kelly (D-Ill.) and state Rep. Barbara Flynn Curry (D) publicly accuse ICE agents of racial profiling and wrongly identifying themselves as police officers at a community event. One undocumented immigrant who spoke recounted seeing ICE agents wearing vests marked "POLICE" outside of a grocery store.
Oct. 16: The Intercept publishes emails between ICE officials and then-Homeland Security director (and now Chief of Staff) John Kelly directing ICE to portray illegal immigrants as criminals to justify raids. The emails encourage ICE officials to come up with "egregious cases" of criminal behavior among some of those detained to build a narrative that would justify their detention of non-criminals.
Oct. 30: The Detroit Free Press reports that two brothers are deported to Mexico after they serve as witnesses in a murder case and assist police in solving the crime. The brothers were reportedly told that their cooperation made them eligible for a special visa that would allow them to stay in the U.S. prior to their deportation.
Nov. 20: ICE Officials admit to using a gang database as a tool to indiscriminately round up illegal immigrants. In saying that they use this gang database, ICE also admitted that they "stack" these databases with people who are not gang members and/or have not committed any crimes. One ICE agent went as far as to tell CBS that the only evidence they had against one person captured through the database was that they had been known to "flash gang signs." Another person was apprehended simply on the grounds they were a "gang associate."
Nov. 28: Plainclothes ICE agents drag Genaro Rojas Hernandez out of a Brooklyn courthouse while he is speaking to his lawyer, Rebecca Kavanaugh. A scuffle ensues in which court officers allegedly assist ICE officers in making the arrest, restraining several Legal Aid employees nearby.
Nov. 29: Broadly releases a report on mistreatment of pregnant women in ICE custody. Jennye Pagoada Lopez details her miscarriage while in custody despite having a high-risk pregnancy, saying she came the U.S. seeking asylum after her relatives were murdered by gang members. Hers is just one of 10 instances of grave mistreatment of pregnant women in ICE custody detailed in the article—even though ICE has a policy against detaining pregnant women.
Dec. 19: A Florida judge blocks the deportation of 92 Somalis following accusations of inhumane treatment by ICE agents. During an attempted deportation flight from Louisiana to Somalia, several detainees suffered broken bones and bruises after being "shackled for hours." The flight itself was reportedly unusually long, having been rerouted to Senegal and then Miami.
Jan. 10: ICE agents raid 98 7-Eleven convenience stores in 17 states; 16 of the stores visited were in the New York City area. Agents characterize the operation as "a warning" to other companies employing undocumented immigrants.
Jan. 11: The Intercept reported that ICE is sending detainees into solitary confinement for refusing to complete voluntary work assignments. 24-year-old Shoaib Ahmed from Bangladesh said he was locked in solitary for 10 days in November at the Stewart Detention Center in Lumpkin, Georgia. Another detainee was placed in confinement for 30 day encouraging others to stop working, and detainees at a different facility sued the contractor CoreCivic for being threatened with confinement if they didn't work. Ahmed said he was taken outside one hour a day and taken to the showers three time a week, all while in handcuffs.
Jan. 15: ICE deported Jorge Garcia, a 39-year-old Detroit father. Garcia spent nearly 10 years under a stay of removal under the Obama administration and had been in the U.S. since he was 10 years old. His wife Cindy said they had spent $125,000 in legal fees since 2005 trying to get him legal status. Garcia's wife and his two children, ages 12 and 14, are citizens; Garcia's supporters say has no criminal record and that he pays his taxes.
Jan. 31: ICE detained a Philadelphia man while he was in the middle of his citizenship application interview with his American husband. Jose "Ivan" Nunez and his husband were petitioning for an I-130 form for family immigration sponsorship when his husband was asked to leave the room, leaving his husband to be arrested.
Feb. 1: ICE raided 77 businesses across Northern California in late January, issuing notices of inspection, or I-9 hiring records that require businesses to supply documentation to show that their employees can legally work in the U.S.
"HSI has not made any arrests resulting from the I-9 audits conducted in January," ICE spokesperson Richard Rocha said in an email to the Daily Dot. "As a reminder, HSI routinely conducts I-9 audits at many businesses and it does not indicate suspected unauthorized employment issues. If information is uncovered that reveals patterns and practices of unlawful employment, HSI would then likely conduct a formal criminal investigation."
Feb. 8: Seattle police accidentally transferred a Honduran immigrant in ICE's custody after he called them to report an intruder. Upon running Wilson Rodriguez Macarreno's ID, they learned he had an outstanding warrant, and arrested and transported him to an ICE facility for processing. ICE later told police it had been entering administrative warrants into the department database as if they were criminal warrants. Immigrant rights experts say administrative warrants aren't vetted to assess probable cause for arrest before being issued. Macarreno had come to the U.S. in 2004 to flee violence that killed both his brother and friend and missed his court date because he didn't have an address at the time.
Feb. 14: A detained immigrant told Rewire she was placed in solitary confinement for 60 hours at her Hutto, Texas, detention center after being interviewed by the FBI about her sexual assault allegations against a guard. Laura Monterrosa, who is seeking asylum and has been detained since May, attempted suicide in January after she was forced to interact with her abuser, who she said is still employed at the facility. Monterrosa told Rewire that if she doesn't stop working with her advocates outside the detention center nor recants her allegation, she will be placed in solitary "indefinitely."
Feb. 16: ICE completed a five-day raid in the Southern California area resulting in the arrests of 212 undocumented immigrants. According to ICE, 88 percent of those arrested either had criminal convictions, had been issued final removal orders, or had been previously removed from the U.S. ICE also issued notices of inspections to 122 businesses, similar to the 77 notices issued weeks prior.
Feb. 21: Supreme Court Justice Elena Kagan denied an emergency appeal from deportation for 27-year-old Yancarlos Mendez, who was detained by ICE after serving a 30-day jail sentence for driving without a valid license for the second time. Mendez is the sole provider and primary caregiver to 6-year-old Ricky Solis, the son of Mendez's fiance Sandra Mendoza, who is paralyzed from the waist down.
March 7: ICE detained a reproductive justice activists after she went to her deportation officer for a regular visit, thinking they were going to readjust her bond. Advocates for Alejandra Pablos say she was targeted after being arrested in January following a protest outside of a Virginia DHS building in January.
March 13: A San Francisco ICE spokesperson with a long-time track record in federal government quit after ICE required him to "perpetuate misleading facts" in regards to a California Bay Area raid that Oakland Mayor Libby Schaaf had warned immigrant communities about. James Schwab said the figures pushed by ICE and the Trump administration intending to smear Schaaf were incorrect, and that ICE asked him to "deflect" questions from the media.
March 22: ICE agents concluded two raids, one throughout Texas and Oklahoma and the other in Florida, Puerto Rico, and the U.S. Virgin Islands, resulting in the arrests of 360 people. Based on the agency's preliminary data, fewer than half of the 360 people arrested have criminal convictions, though the agency states official numbers can "vary slightly."
March 26: The Intercept reported that ICE used private Facebook and track a criminal suspect. Facebook said the information is obtained by ICE legally through a government request. According to Facebook's count, it complied with 85 percent of 32,716 requests for data between January 2017 and June 2017. Of the legal subpoenas received from U.S. agencies, 57 percent included a non-disclosure to not alert affected users.
March 28: ICE detained more than 30 people at a home suspected to be a "drop house" in Phoenix, Arizona. While ICE stated it was responding to "suspected human smuggling activity," a neighbor living near the home said she saw kids her age, 17, and younger, crying at the scene.
March 29: Internal ICE memos obtained by the Daily Beast show that ICE has reversed its policy on not detaining pregnant people, now requiring them to be detained and have their release be determined by an agent on a case-by-case basis. Despite its previous policy, women who were previously pregnant have said they were detained by ICE during their pregnancy.
Editor's note: This article is regularly updated for relevance.