When Samuel Cervantes, 20, began attending the University of Texas at Austin, he felt uncomfortable with his status as an undocumented immigrant. His parents brought him to the United States from Monterrey, Mexico, at the age of 5, and at the time, he thought it was a trip. Regardless, his new Texas home felt like Mexico, aside from everyone speaking a different language. 
Then in high school his parents told him the truth—he was undocumented. They helped him apply for the Deferred Action for Childhood Arrivals program, or DACA, which shields undocumented immigrants who arrived in the U.S. as children from deportation. Still, Cervantes never took on the "undocumented" label, or shared the information with his peers. He simply felt ashamed.
Last year, Cervantes, a government and communications junior, found solace in the University Leadership Initiative (ULI), a campus organization led by undocumented students that advocates for the school's undocumented community, whether by rallying against anti-immigrant legislation like Texas' SB4, the bill that requires local officials to work with ICE or face federal punishment, or informing students about what to do if ICE agents knock on their doors.
So when President Donald Trump announced the end to DACA on Tuesday—putting 800,000 undocumented people at risk of deportation, 125,000 of whom are in Texas—Cervantes didn't feel overwhelmed with anxiety like he had when he was younger. He was no longer riddled with fear. With the community and advocacy he's built with ULI, he now knows he is not alone.
"I felt that being called an 'immigrant' was an insult, but when I came to the University of Texas, I needed to find a pool of students that I could just talk to and relate to, because you can only hold on to your story for so long before it starts eating you up on the inside," Cervantes told the Daily Dot. "I went to a meeting with ULI, and I saw how welcoming and open everyone was about their status, and not only seeing undocumented people be out but also see a lot of allies alongside made me want to be part of the organization and the movement."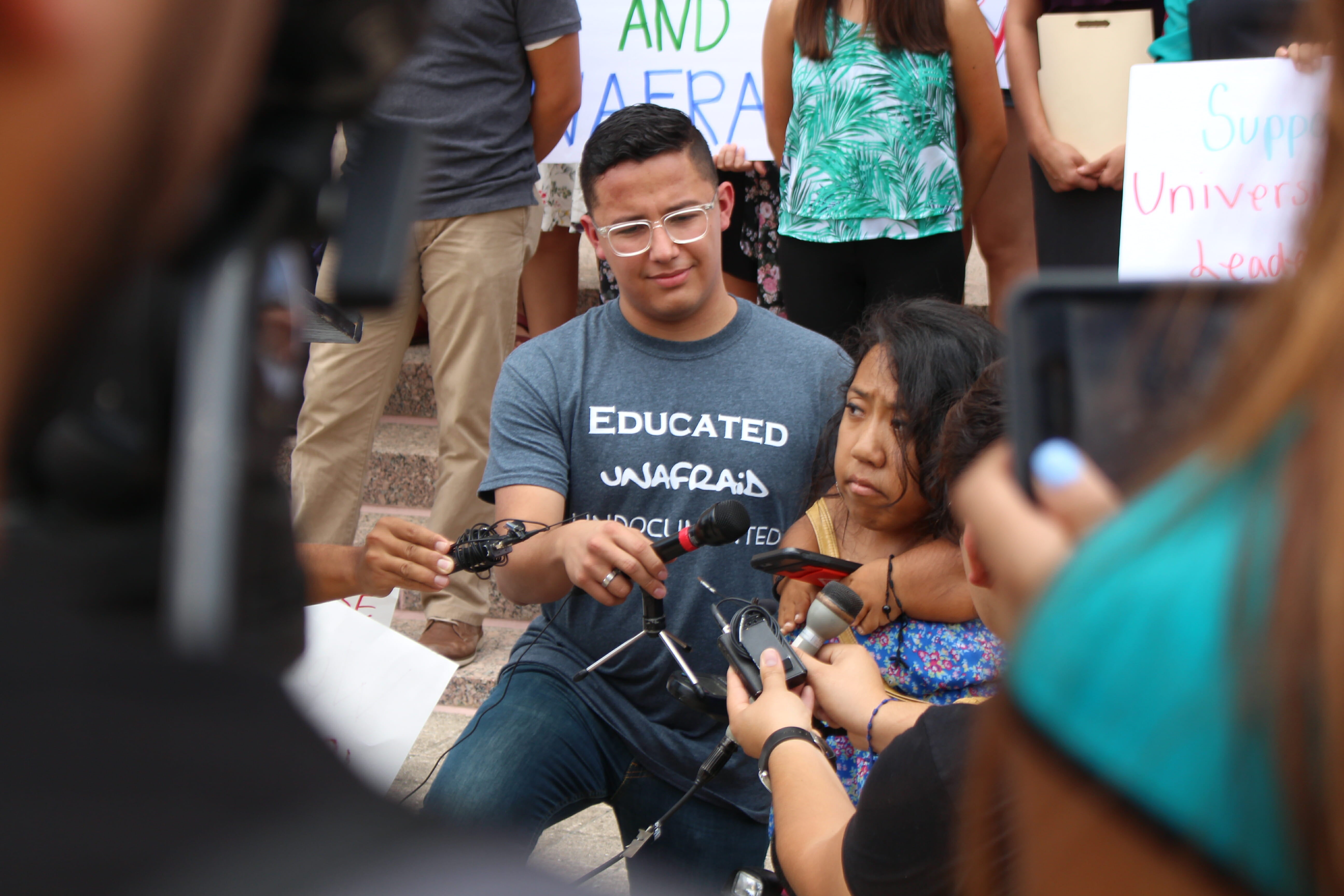 On a local level, ULI assists in hosting bimonthly "Know Your Rights" workshops with the Austin chapter of Texas Here to Stay, a statewide network of undocumented Texans advocacy organizations that was created as a direct result of Trump's election. Through these clinics, undocumented students and Austin-area families are informed about their rights regarding local law enforcement and ICE, and have access to legal guidance from volunteer attorneys who can help them update their legal status if possible.
"Looking to the future, [we're] trying to create a stronger network of allies and undocumented students because we don't want people to go back into the shadows. That's what I'm scared of, because it took four years for people to get the courage and come out and be vocal, and I would hate for them to regress into a time in which they did not feel comfortable with their identity," Cervantes told the Daily Dot before a press conference on Tuesday. "We really want to make sure that people, regardless of DACA or the conclusion of [DREAM Act-type] legislation, we want people to be proud of who they are."
That pride could be felt about five hours south of Austin in Pharr, Texas, an hour before Attorney General Jeff Sessions' DACA-ending announcement, at the Texas attorney general's office. Undocumented students from the University of Texas at Rio Grande Valley (UTRGV) and local immigration advocacy organizations chose the location for their rally since Texas AG Ken Paxton is one of the 10 state attorneys general who threatened to sue the federal government if Trump didn't rescind DACA by Tuesday.
As Sessions made his announcement, the mood outside the office turned from mostly energized and optimistic to agitated and solemn. But that didn't deter students like 24-year-old graduate student and DACA recipient Abraham Diaz from continuing to speak out. Like Cervantes, Diaz has the support of his community and knows now is not the time to hide or be paralyzed by fear.
"When I got involved [in Minority Affairs Council], I took it upon myself to try to spread the information that I had already gathered in my first two years of going to college, and I've not only found the best colleagues in my life, but also the support that I needed, the information, the camaraderie from my friends in the same situation," Diaz told the Daily Dot.
Academic processes most students take for granted weren't just hard, but often inapplicable to Diaz and many undocumented students like him. In high school, he realized he couldn't complete the Free Application for Federal Student Aid, or FAFSA, because of his status—he didn't have a Social Security number to use on the form. Diaz graduated from the top of his class with honors and participated in his school's honor society, but his high school counselors weren't informed about the state resources available to undocumented students or didn't talk about them openly.
"Eventually, I was able to get the hang of it and adjust to the situation, but maybe there were other students weren't capable of this, and their families don't know the process, the resources, the language, the laws," Diaz said.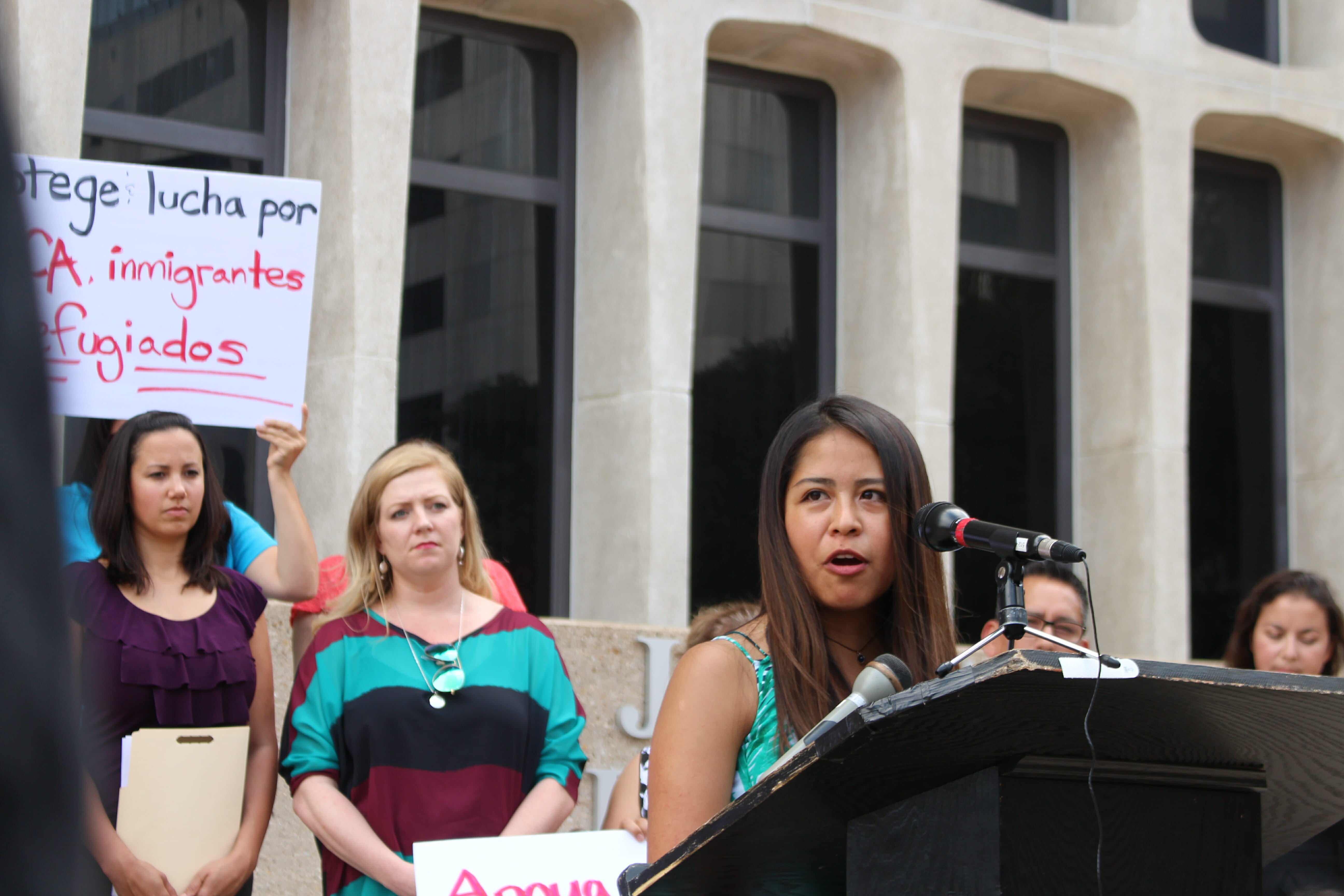 Now each year UTRGV's council hosts "Dream University," an event where college applicants receive guidance from university staff, community members, and educators on applying for financial aid, using the ApplyTexas college application website, how to go about adjusting documentation status, and more. Last semester, the council also began hosting its own "Know Your Rights" activities for students. As a part of United We Dream, the nation's largest immigration youth-led organization, the council fights for tuition equity and resources for undocumented students under its Dream Education Empowerment Program. It also takes part in National Educators Coming Out Day to inform professors of how to better support undocumented students, and works alongside UTRGV counseling centers to help DACA recipients and undocumented students connect with mental health professionals.
Countless other universities across Texas and the U.S.-Mexico border have similar organizations advocating for "DACAmented" and undocumented students: Arizona State University has the Undocumented Students for Education Equity, San Diego State University has Education Without Borders, and New Mexico University's group is a part of a statewide network called the New Mexico Dream Team. While some grassroots college organizations took hold before the 2016 election, younger reactionary movements have burned just as bright to help undocumented students navigate life under the Trump administration.
University of Texas El Paso (UTEP) student and DACA recipient Claudia Yoli is a founding member of the Education Not Deportation Campaign (END), a community coalition organizing to resist deportation, to ensure that UTEP is safe and inclusive for all students, and to designate the university as a sanctuary campus. Launched in February, END was formed in response to Texas' SB4 and has organized demonstrations, hosted its own rights workshops, and supported voter drive initiatives.
END too protested Sessions' announcement with the help of students, faculty, staff, and community members, creating petitions to support sanctuary policies and immigrant rights on campus. Though the federal government is no longer processing new DACA applicants, END is helping raise funds for DACA recipients who are eligible to re-apply for the program before the Oct. 5 deadline.
"Trump's continuous racist rhetoric, which demonizes immigrants, does not take into account that DREAMers are children of undocumented workers who did not choose the conditions under which they entered the United States. This racially motivated political assault has rekindled our commitment to supporting DREAMers and their families," Yoli told the Daily Dot. "It is time for Congress to do its job and pass comprehensive legislation that protects DREAMers from deportation and provides a pathway to citizenship."
Whether or not that happens, it's clear DREAMers won't be quietly receding to the shadows.