The over priced world of streaming can be stressful but you'll always get a good answer when you ask how much is Hulu. Whether you're itching to see what the Handmaid's Tale hype is about or looking for a seamless way to watch Sunday Night Football games, Hulu has you covered for less.
From streaming with ads to full featured streaming TV, no other service offers this kind of pricing or options.
Before you make a purchase let us help show you the ropes. What you'll pay depends on which version of Hulu you select and what add-ons you opt for. Here's everything you need to know about this popular streaming service.
How much does Hulu cost?
Hulu packages go for as little as $5.99 to $60.99 a month. There are four different packages: Hulu, No Ads, …with Live TV, and live TV No Ads.
Each option is available to try risk-free before you commit to a monthly subscription. Each package has a variety of optional add-ons and freebies, and we'll touch on those in each package below.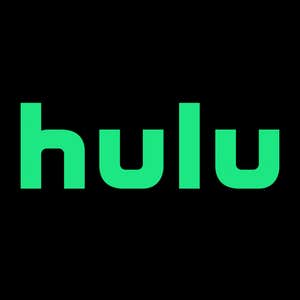 | | |
| --- | --- |
| Hulu with ads | $5.99/mo. or $59.99/yr. |
| Hulu with no ads | $11.99 |
| Hulu Live TV + Hulu with ads | $64.99 |
| Hulu Live TV + Hulu no ads | $70.99 |
---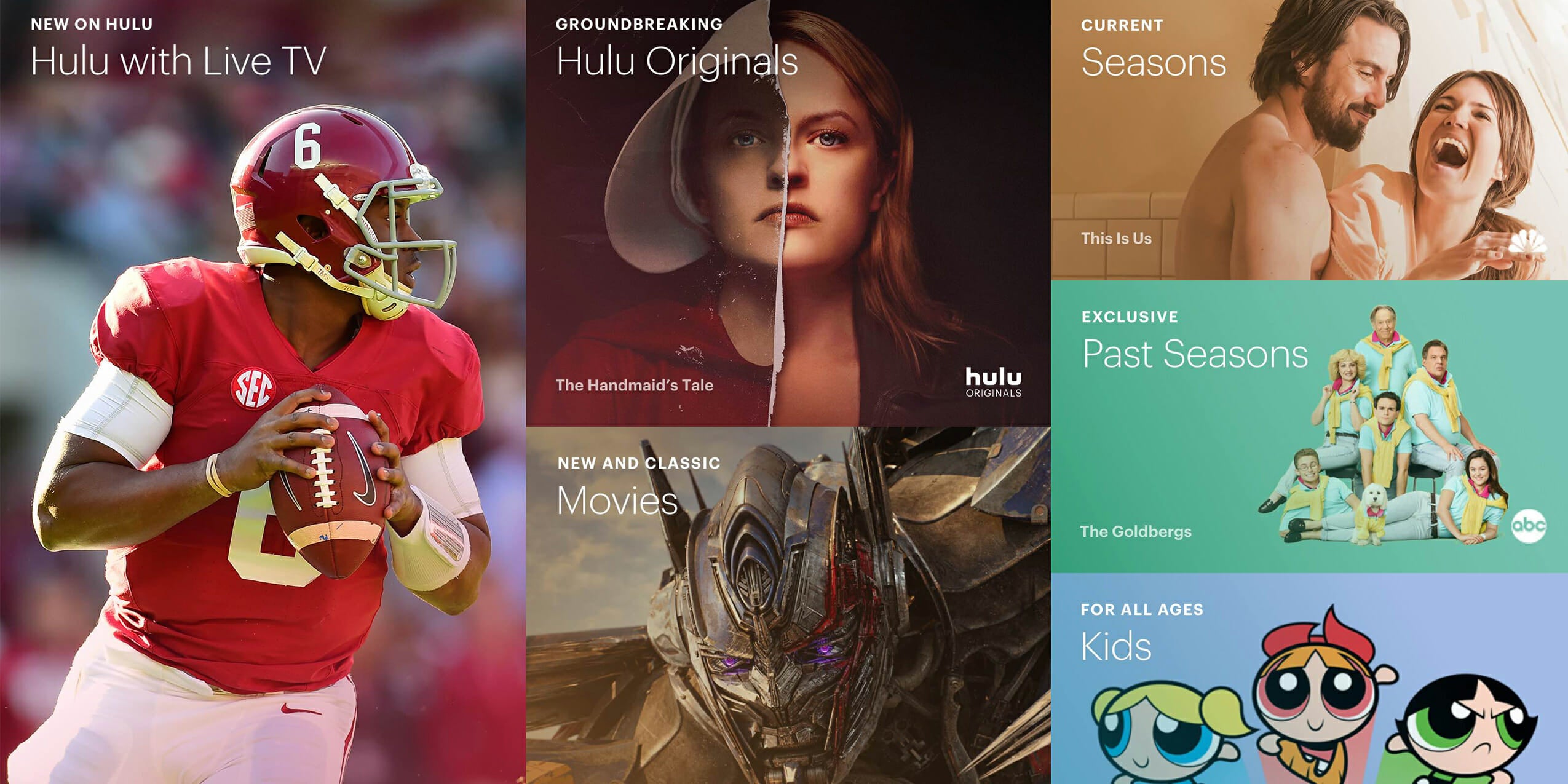 What makes Hulu great at any price
Hulu is one of the best deals in streaming whether you what a cheap streaming service or advanced stream TV package.
Each package gives you access to the incredible Hulu streaming library. This is one of the largest around, packed with tens of thousands of TV shows and movies spanning every genre imaginable. Instantly access great content from channels like AMC, TBS, and Comedy Central, including new releases.
Subscribers get network and cable hits including Will & Grace, The Good Place, and This Is Us. There's even a massive anime section with major titles such as Attack on Titan.
Its FX on Hulu partnership, makes this a must have for FX fans. This partnership has brought 40 of FXs biggest series to the service in their full glory. There's no excuse left for not finishing Sons of Anarchy or being able to quote It's Always Sunny in Philidelphia.
That's just the shows from other companies. Like every streaming service Hulu makes its own incredible streaming content. Make time in your viewing schedule for shows like Castle Rock, Harlots, The Handmaid's Tale, and I Love You America with Sarah Silverman.
This great content is available for all Hulu subscribers, no matter which package you select.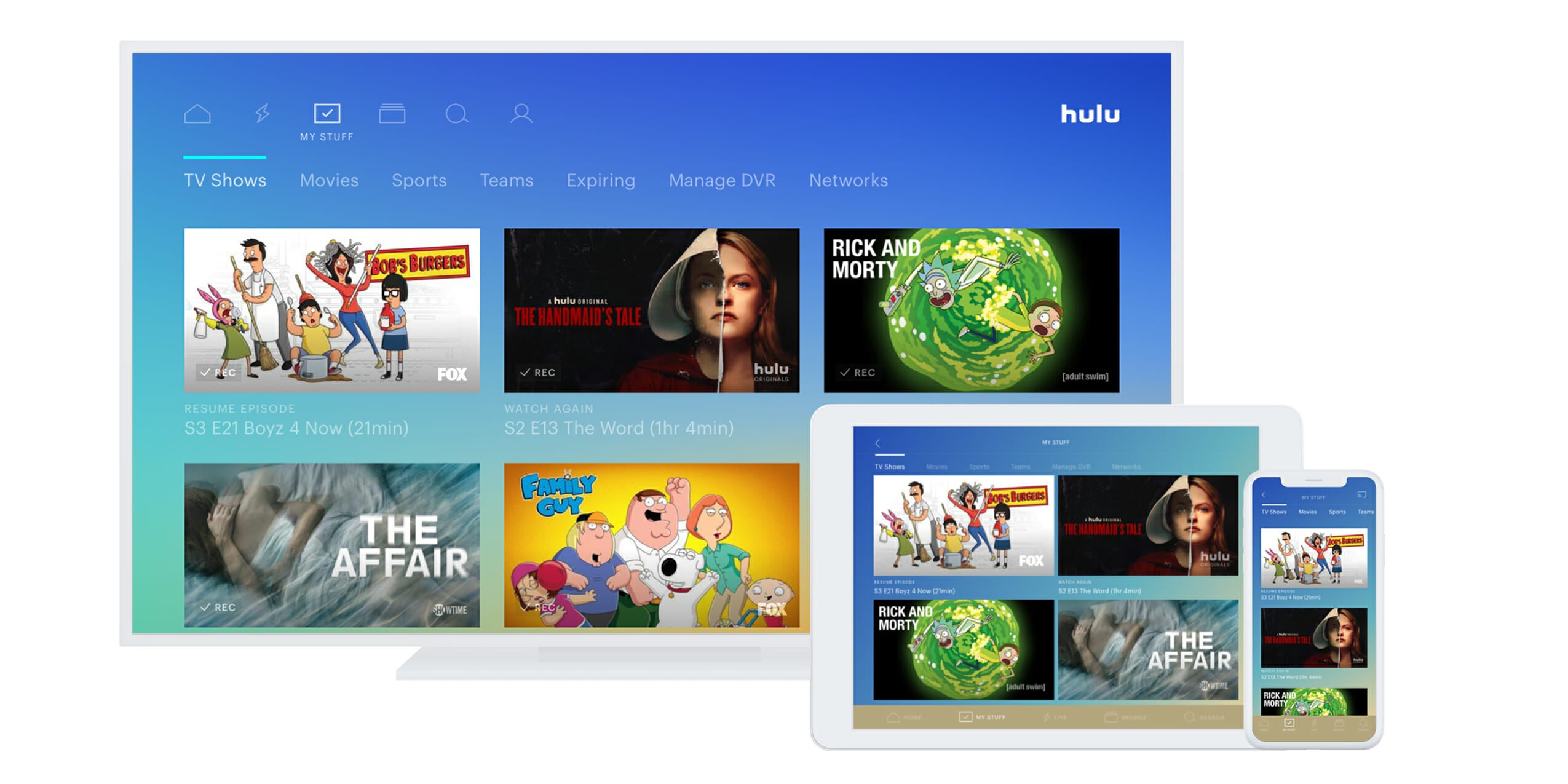 Hulu supports a wide range of devices. You can find a complete list here, but these are the major devices.
Android and iOS devices

Apple TV

(4th generation or later)
Echo Show (1st and 2nd generation)
Fire TV devices and

Amazon Fire Stick

Mac or PC browser
Nintendo Switch
PlayStation 3 and PlayStation 4

Roku

and Roku Stick
Xbox One
What's the difference between Hulu's different packages?
Hulu
The standard Hulu package includes the services massive streaming library for the low cost of $5.99 per month. While everyone else is raising their prices, this actually represents a $2 price drop for Hulu. The only downside of this equation is the ads.
The only downside of the basic streaming package is the ads, though not as many as broadcast TV. You should expect about one to two minutes of commercials whenever network shows would normally go to an ad-break.
That being said, when you're watching movies there are almost never ads. Once in awhile you'll find a movie that has them, but they're few and far between. Unless you can't imagine TV without ads or need streaming TV, this package will work for most people.
Hulu (No Ads)
Are you someone who can't live with all those annoying commercials? For $11.99 a month, you can almost entirely do away with ads altogether.
That means you can stream full seasons of exclusive series like Seinfeld, new episodes of popular hits, original series, and movies, without having to sit through ads. It's everything you love about Hulu, except … you know, no commercials.
There is one catch. If you're streaming Grey's Anatomy still has occasional ads due to complicated streaming rights. Still, $11.99 is a great deal for all this content and no ads.

Sometimes, breaking up with your cable company leaves one with sour grapes. But don't sink back into a poisonous relationship just because you miss channel surfing. There's a better way with Hulu with Live TV.
This $64.99 a month package offers 50-plus channels of live streaming TV along with Hulu's streaming content. The channels included in this package depend on the availability in your area. However, you can expect major options like FX, MSNBC, Food, Fox News, and more.
That includes an incredible number of sports options for live games from both college and pro leagues including the NCAA, NBA, NHL, NFL, and more.
Every Live TV package also includes 50 hours of free DVR for all users, so you'll never miss a moment. Want to stockpile even more shows? Bump up your DVR storage to 200 hours for an additional $14.99 per month.
Live TV subscribers can also upgrade their streaming to the No Ads service for an additional $6 per month.
You can find the the complete list of Hulu Live TV channels here.

How can I stream premium channels on Hulu?
If you're looking for prestige shows that only premium cable channels provide, you can add a subscription to channels like HBO, Cinemax, and Showtime any time. Here's how much premium channels cost.
HBO is an additional $14.99 per month
Showtime is an additional $10.99 per month
Cinemax is an additional $9.99 per month
Each of these services come with one week free trials before you commit to purchasing these add-ons on top of your steaming subscription.

Hulu cost per month: Is it worth it?
Unlike regular cable services, with Hulu there are no fussy contracts to sign. If for any reason you want to cancel your subscription, you can do so without calling your cable company and bracing for a long conversation.
More importantly, Hulu offers free trials so you can dip your toes into them and see if they're right for you. Most cable packages don't give you that option without signing some sort of contract.
Add in the fact that Hulu membership starts at $5.99 a month and its deal that's too hard to pass up. Even the company's top tier options, like the $64.99 Hulu with Live TV is on the lower end of streaming TV options. No matter what you're looking for Hulu has something in your price range.
Need ideas for what to watch? Here are the Daily Dot's guides best movies, best shows, best documentaries, best anime, and best originals on Hulu.
The Daily Dot may receive a payment in connection with purchases of products or services featured in this article. Click here to learn more.