Amazon CEO Jeff Bezos on Sunday posted a screenshot of a slur-filled email he supposedly received from a customer who told him they canceled an order because of the company's public support of Black Lives Matter.
The email was shared by Bezos on Instagram. In it, the customer—whose name was only seen as Dave after Bezos blurred the rest of it—uses a racial slur several times and said he was not the "only one" who was unhappy about the company's messages of support.
"I canceled my order and I know for a fact that I won't be the only one," the customer wrote. "Maintain your stance and we will watch your profits decline and laugh about it. My business relationship with you is over."
Bezos's said the racist customer was "the kind of customer I'm happy to lose." Amazon's website has a Black Lives Matter banner on it that links to a blog post about the company's support.
The sharing of the email comes as Amazon has faced criticism about its statements of support given its ties to law enforcement.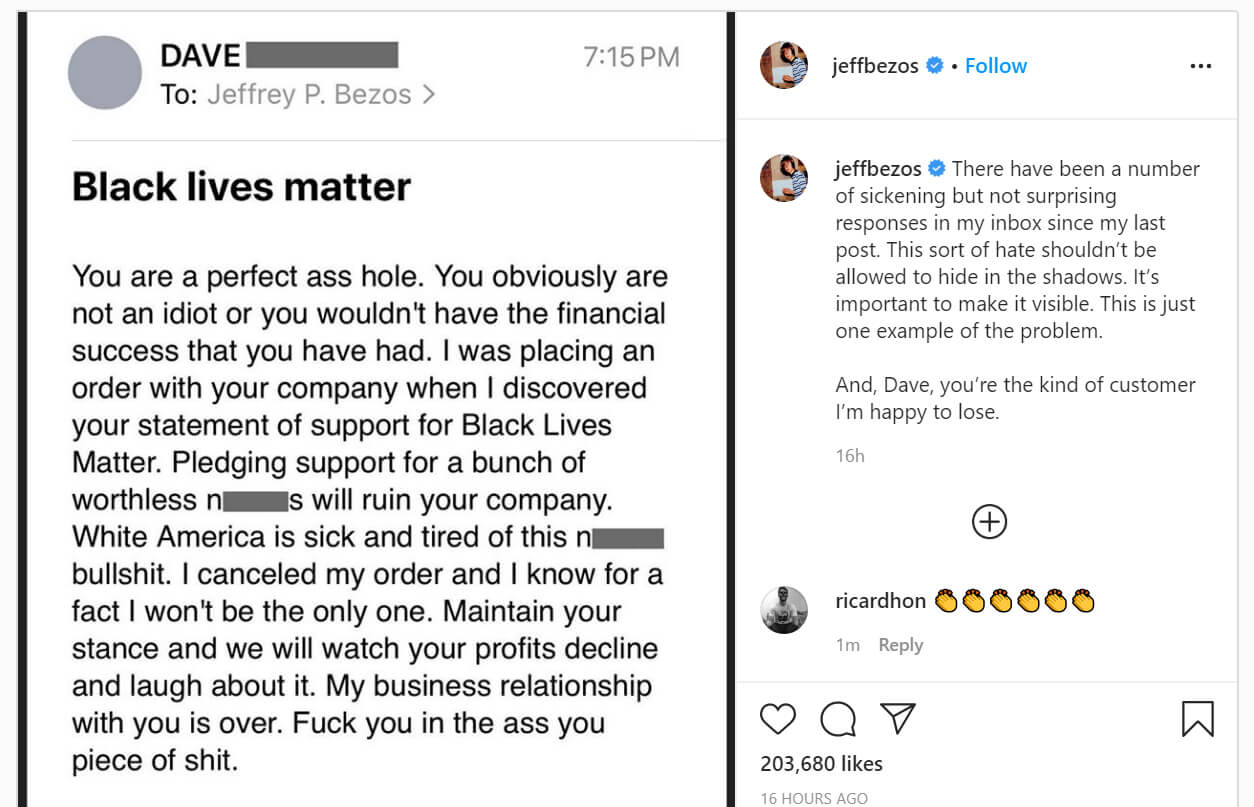 Like many other companies, Amazon put out a statement last week about standing in "solidarity with the Black community," which was criticized by a number of people online.
Many people pointed to the company's ties with law enforcement and its firing of a Black fulfillment center worker who organized a strike over the company's response to the coronavirus pandemic.
The company has law enforcement partnerships with its Ring doorbells and its facial recognition technology, Rekognition. Facial recognition has been found to have a racial bias.
On Saturday, Bezos also shared an email from a customer who wrote "ALL LIVES MATTER" because of the Black Lives Matter banner on Amazon.
READ MORE: