Google Home smart speakers can give you a summary of the latest news, control your lights and other smart home accessories, and now, stop everyone in your house from shouting, "Dinner's ready!" or "Take your laundry out of the dryer so I can use it, please." All you have to do is learn to use the intercom feature, also known as Broadcast.
Broadcast lets you record a message and send it to your smart home device where it plays aloud. You can broadcast from one Google Home device to another, or from your phone to your smart speakers. It works with pretty much anything that runs on the Google Assistant, including Google Home, Google Home Mini, Google Home Hub, and Google Home Max. Depending on which device you have, the people who hear your message can record and send a reply, too.
Here's what you need to know about using Google Home as an intercom, including how it works and what it can and cannot do.
How to use Google Home as an intercom with Broadcast
How to broadcast from a phone or tablet
To record and broadcast a message from your phone or tablet, open the Google Home app and look on the home screen for the Broadcast button. Press it, and Google asks, "What's the message?" Then, it automatically starts recording you. After you speak, there's a delay while the Google Assistant transcribes what you said, which you can see on your phone or tablet. Then the message sends to your Google Home device where it plays.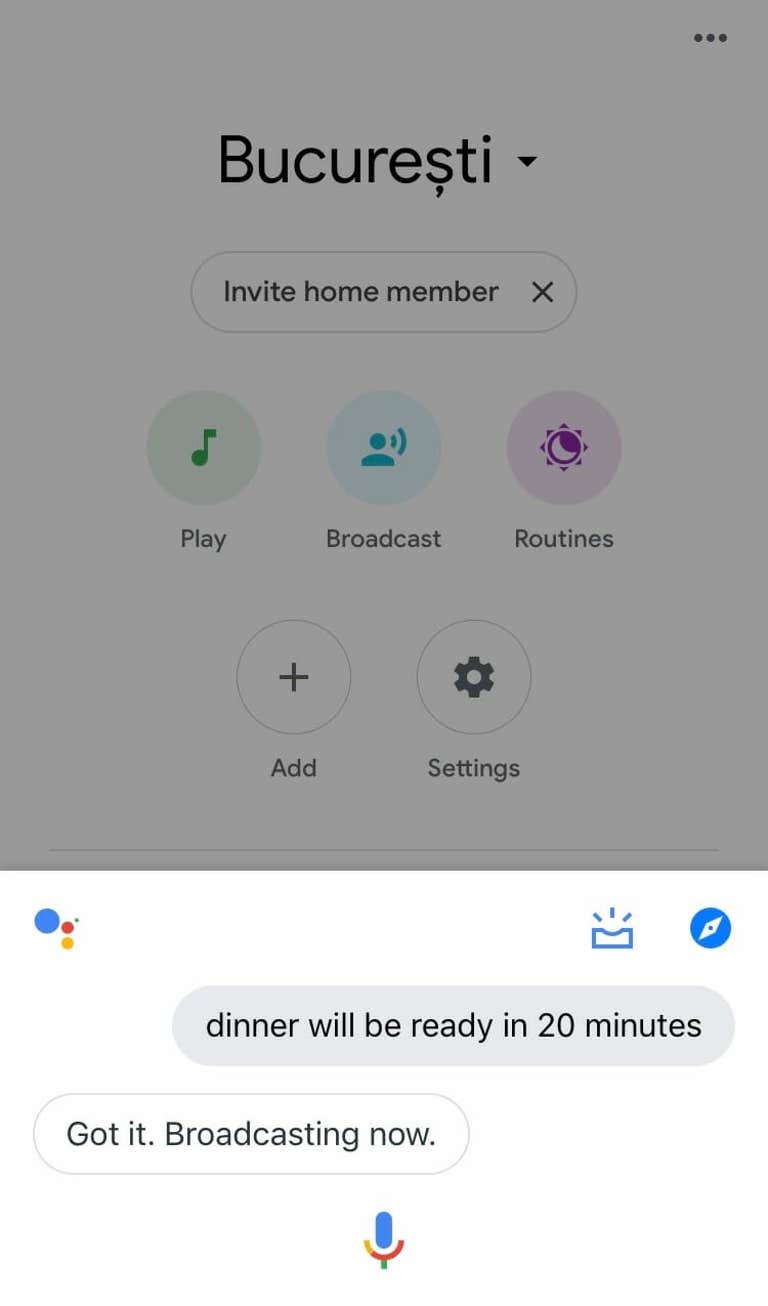 How to broadcast from one Google Home device to another
To broadcast a message from one Google Home device to others, say, "Hey Google" or "Ok, Google," followed by one of these commands:
Broadcast

Announce

Shout

Tell everyone
Then, simply say your message as the device records you.
When you broadcast in this way, your message plays on all Google Home devices, including the one you're using to record the message. It doesn't make a whole lot of sense, but that's how it works.
How to send a reply
If you're on the receiving end of a broadcast, you can reply, although it only goes to the original device that sent the message. Note that if the original device was a phone or tablet, the reply goes to the Google Assistant app, not the Google Home app, so make sure you have it installed.
READ MORE:
To reply, say, "Hey, Google, reply…" and say your message, or "Ok, Google. Send a reply," and wait for the prompt before saying anything else.
If you're in front of a Google Home Hub, a reply button appears on the display, which you can tap to initiate a response.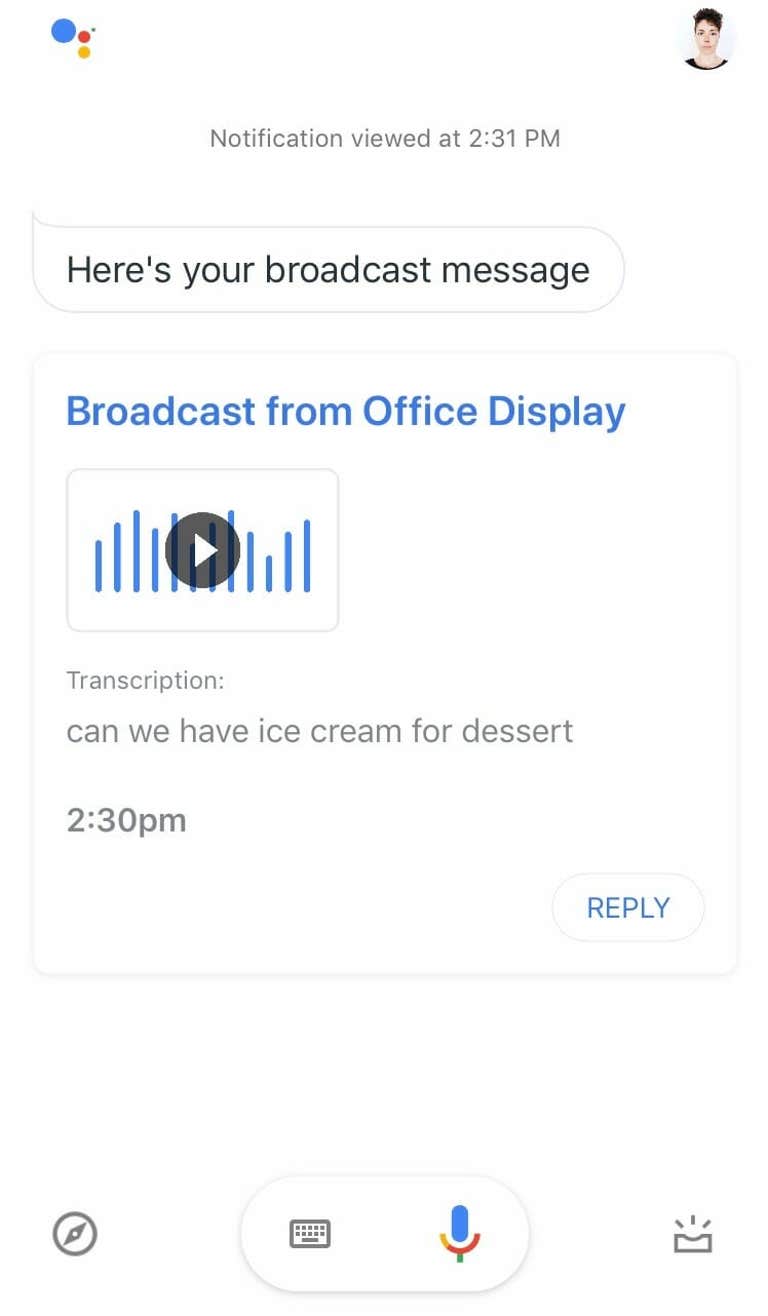 Tips for better Google broadcasts
Here are a few tips and helpful things to know about using Google Home as an intercom.
1) Think first, speak second
Think through what you're going to say before you start recording a broadcast. Google doesn't give you an opportunity to preview your message or change it once you record it.
2) Reply quickly
The advice to think first, speak second isn't easy to follow when it comes to replying. After you receive a message, you only have a short window when you can send a message back, about 10 to 12 seconds.
3) Use special broadcasts
A few special Google Broadcast commands play a prerecorded sound or message instead of your recorded voice. For example, if you say, "Hey, Google. Broadcast 'wake up,'" you get a rooster crowing and the Google Assistant telling everyone to rise and shine.
4) Broadcast from anywhere
When using your phone or tablet to broadcast a message, you don't have to be on the same Wi-Fi network as the Google Home device. You can broadcast from anywhere.
5) Recognize that it's not a real-time intercom
There's a reason Google calls its feature Broadcast rather than Intercom: It's not a true intercom system. Intercoms let you have a real-time conversation, so two or more people can talk back and forth somewhat freely (although intercoms typically let only one person speak at a time). Broadcast doesn't. Plus, there's a noticeable delay, so you wouldn't want to use it for anything truly urgent.
Still, it's a useful tool that can decrease the amount of shouting in your home.
See more Google Home tips, such as how to use Google Home to make calls, to get the most out of your device.