Longtime influential news heavyweight, Matt Drudge is facing growing criticism from fellow conservatives and a former ally, Alex Jones, over a growing "anti-Trump" narrative in his headlines and stories on his news aggregator the Drudge Report. 
Now, far-right free speech site Gab—home to neo-Nazis and Trumpworld grifters kicked off mainstream social sites—is trying to replace the site with its own competitor Gab Trends. 
In a Twitter thread, Gab wants the far-right to believe Drudge is being controlled by big tech and is throwing out a conspiracy that he could no longer be operating the Drudge Report. 
https://twitter.com/getongab/status/1186820965814149120
https://twitter.com/getongab/status/1187183181839114241
Andrew Torba, the CEO of Gab, appeared on InfoWars' War Room with Owen Shroyer last week to discuss his freshly launched news site, which is apart from the Gab social media site.
Despite the owner's free speech ethos, he took further aim at Drudge over his "anti-Trump" headlines.
Still, Torba openly admits to mimicking Drudge's format of the Drudge Report. 
Gad Trends, a news aggregator launched a week ago, is a "people-powered newsroom," which is crowdsourced with a Gab-owned web browser, Dissenter, which orders links based on engagement from Gab users, then links the most popular stories to the trends board.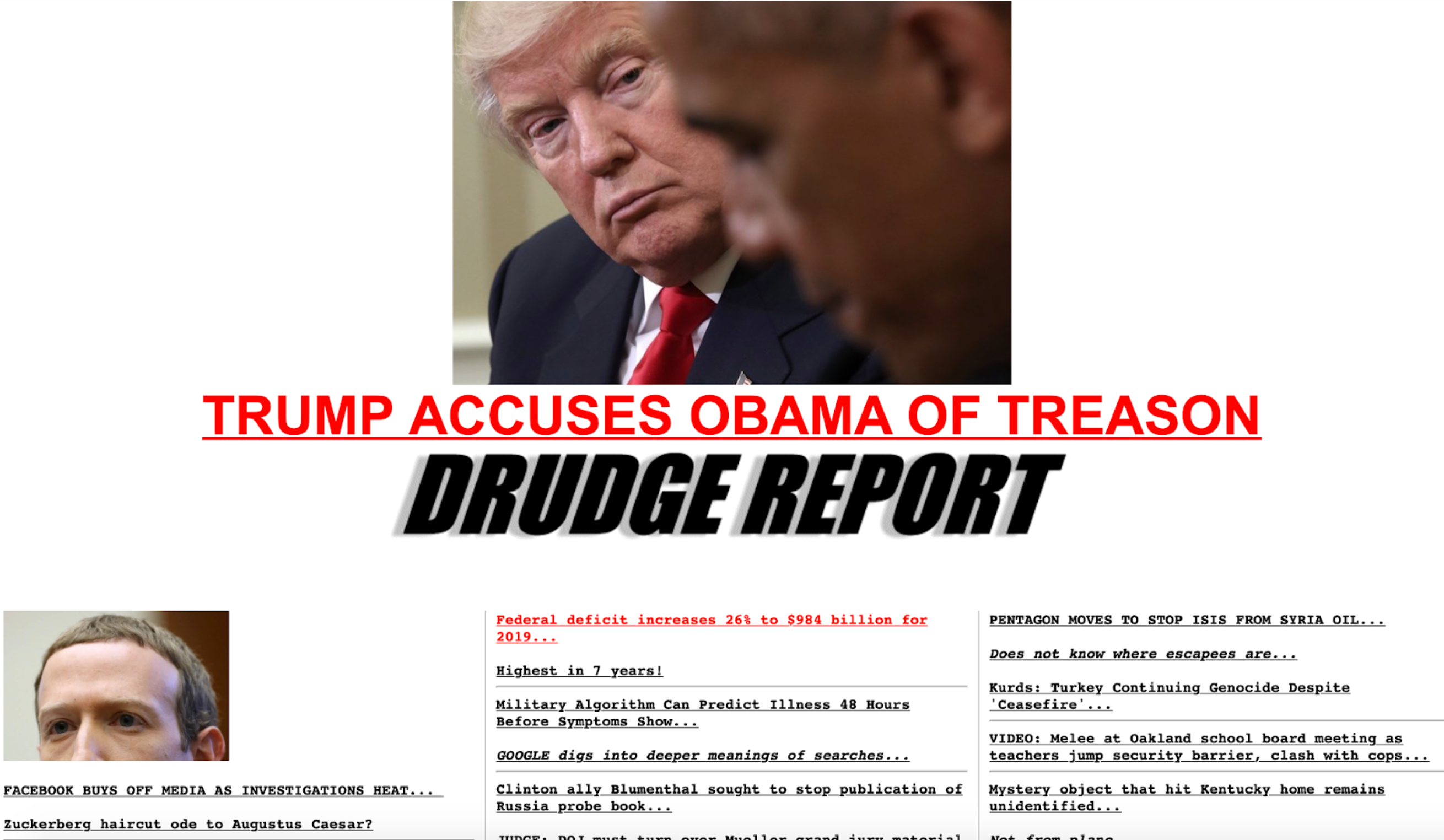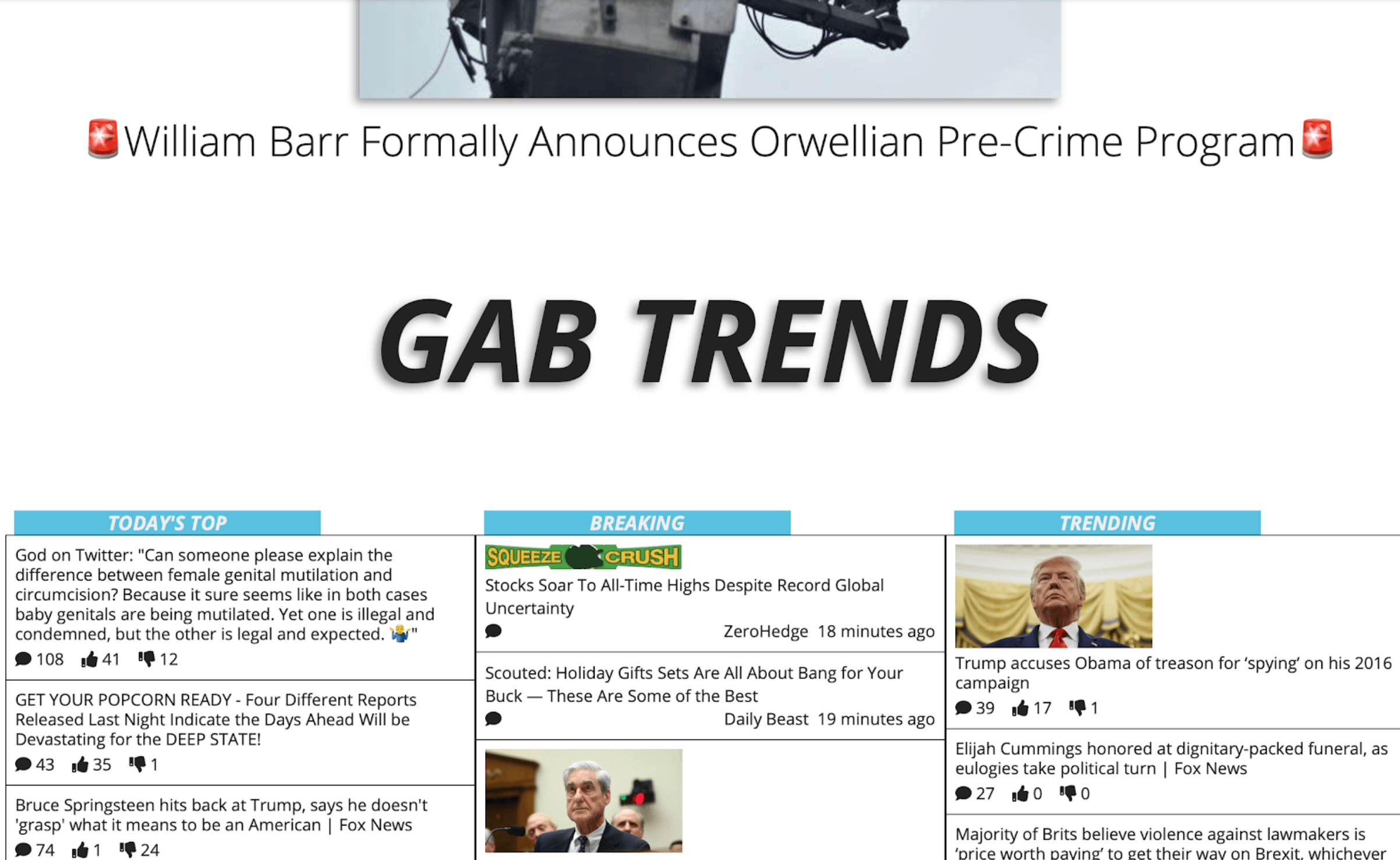 "We built this in a weekend, GabTrends.com where you can see links across the internet of what people are talking about or what people are discussing, in this Drudge-like format. If somebody were to build the Drudge Report today, what would that look like? Well, you take Matt Drudge out of the equation," the Gab CEO stated when explaining his new platform, which isn't that much different than Reddit.  
The news aggregator bills itself as built to "decentralize" the way in which news is consumed by making a "level playing field for mainstream, alternative, and citizen journalists to share their story with the world." 
Broken into two parts, the first half of the news board features top trending stories from predominantly right-wing news sites including the Gateway Pundit and Zero Hedge. "Around the Web" links to stories from both left- and right-leaning news outlets. 
The People's Scorecard, which measures engagements on the site, had just 1,000 engagements on the posted links to the site.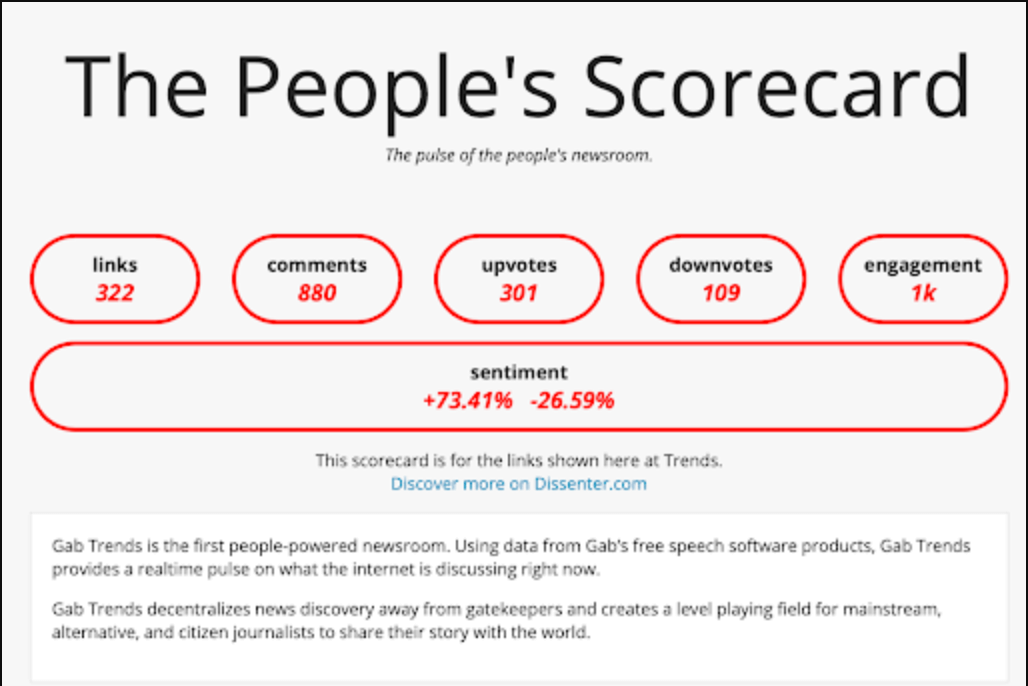 Torba said that "it's disappointing" to him that over the past year, there has been a "change in tone" from the Drudge Report. 
"Matt Drudge, for whatever reason, nobody knows, there's a lot of different speculations out there, that you know big tech kinda come in and subverted the Drudge Report," Torba said when he rolled out Gab Trends.
Torba continued on his tear against Drudge, saying he is "shilling for Mayor Pete." 
The idea for Gab Trends came from people on Gab discussing how Drudge dropped his longtime advertising partner for a new firm, Granite3.
Torba claims the owners of the firm have ties to Google. 
Due to this connection, the Gab CEO believes Drudge is pushing the iPhone and Android applications for the Drudge Report and is being controlled by the very enemies who have tried to deplatform InfoWars and other conservatives. 

"I would open Drudge and think I was looking at CNN or Huffington Post," Torba said. 
Drudge notoriously praised Alex Jones, the founder of InfoWars in a 2015 interview, for "making his own playground" independent from others.
But Shroyer declared that the "taste of Drudge has changed." The InfoWars host also said that Drudge might want to "ride off into the sunset" and signaled to others to compete against the Drudge Report.
Shroyer went on to say he thinks Drudge might not even be operating the news aggregator anymore. 
"My first theory or conclusion was that Drudge hired new people to help him aggregate and put out content on Drudge Report," Shroyer continued. 
Torba also blasted Drudge over being "in the shadows."
He went on a full attack, saying "his narrative has changed," "he's gone anti-Trump," "he's shilling Mayor Pete," "he has a new advertising relationship," and finally claimed that Drudge is "shilling his Apple and Google apps when in the past he's called Silicon Valley a gulag," the Gab CEO added.
Both Torba and Shroyer attacked Drudge for "making fake news" through the promotion of the Anonymous book written by a senior Trump administration official. 
The Daily Dot attempted to reach Matt Drudge for comment but did not receive a response. 
But Gab isn't the only one to go after Drudge and his headlines. Conservative commentators have joined in on the criticism. 
Conservative talking heads such as Sebastian Gorka, Joe Pags, and Mark Dice also took aim at the conservative news mogul. Conservative radio talk show host Joe Pags even went so far as to state that Drudge has "gone completely TDS [Trump Derangement Syndrome]." 
But with over 14 million page loads over this past month, Drudge has little to worry about with the launch of Gab Trends. 
The platform has only 850,000 users as of December of 2018. 
READ MORE: