Gab, the social media site that promotes itself as the free-speech alternative to Twitter, announced on its site Wednesday, and via email on Saturday, that it would move to an invite-only model due to an alleged influx of bots attacking Gab's infrastructure.
From the site's initial post: 
Gab has made the decision to do a total and complete shutdown of open registration until we can figure out what is going on with the flood of spam and bot accounts attacking our community.

In the past 24 hours alone we have had over 50,000 bots join the site and automatically follow every user while also attacking our product infrastructure. We must be vigilant against these attacks on our community and will be shifting to an invite-only system until further notice.

This will give us time to continue building out the core Gab experience, ensure that Gab is used by real people, and build out additional solutions for the bot and spam problem. We will have more information shortly.
The site is known as a repository for hateful, bigoted speech, like that of mass shooter Robert Bowers, who killed 11 people at the Tree of Life synagogue in Pittsburgh, Pennsylvania last October.
The later email further clarified that Gab Pro members—those who pay for a membership— can send invite codes to their "friends, fans, and family."
Many responses to the original post were positive and understanding. User @FEDUPCITIZEN7 said, "Do what you have to do. This is war. We're patient and with you." @tageine said, "Torbs MUST be doing SOMETHING right! Keep pissing them off Torbs! The job WILL get EASIER in about 18 days with the next government FURLOUGH!"
One of Torba's posts suggested that the attack was from a "State actor" or a paid entity. Many users took an anti-Semitic tack, saying they believed Jewish people or the state of Israel were behind the bots.
Users said they were experiencing problems commenting on posts and got 404 messages, allegedly due to the bot attacks. But some were skeptical about the bot problem, suggesting it was a false flag.
"Seems convenient that you got porn bots to give you what you wanted in the first place. Invite only," said @patriotcane.
"Like clockwork. Torba's using this 'crisis' as an excuse to shove whatever dumb idea he wants down our throats. Like Rahm Emanuel, he'll 'never let a crisis go to waste.'" wrote user @ProudPaleo.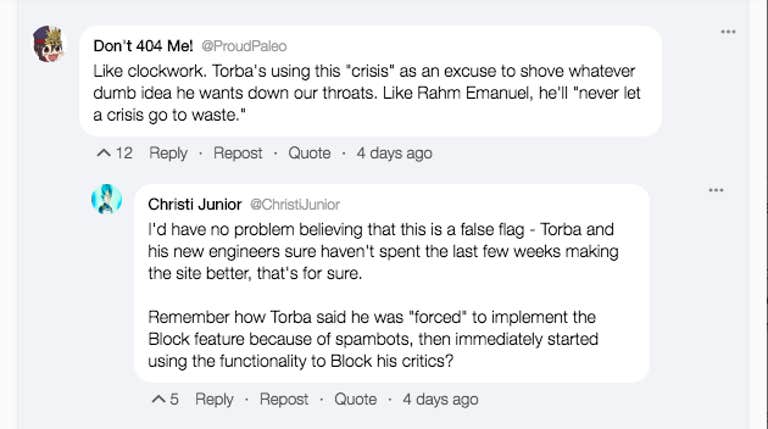 @ChristiJunior wrote, "I'd have no problem believing that this is a false flag – Torba and his new engineers sure haven't spent the last few weeks making the site better, that's for sure. Remember how Torba said he was 'forced' to implement the Block feature because of spambots, then immediately started using the functionality to Block his critics?"
Previous reporting from the Daily Beast shows that the company suffered financially after being tied to the deadly Pittsburgh synagogue shooting last year; payment processors refused to work with the platform, and revenue from paid subscriptions went down 90 percent, according to the company's SEC filings.
Gab tweeted about the article, instead implying the bot attack had something to do with a "deep state" operation.
https://twitter.com/getongab/status/1091091446285791232
Gab was able to fundraise $1 million through a campaign on StartEngine in September and has found a new payment processor, 2nd Amendment Processing.
As the Gab team began booting the alleged bots from the site, they used the language of "building a wall" and "deportation" to refer to removing the offending accounts.
According to post responses, many of the bot accounts were spamming porn.
It's not the first time Gab has said it had a problem with that kind of behavior.
In December of last year, Gab dealt with another spam porn attack. In an email to the Daily Dot, Gab founder Andrew Torba said that people were "creating brand new accounts and spamming extreme and hardcore porn across the site, in violation of our spam and NSFW guidelines."
Torba said then he believed that the spammers were political actors.
"While we do not know who is behind the attacks for certain, we suspect it is a political activist group potentially being paid to do so. The reason we believe that they may be getting paid to do this is because of the sheer amount of time and effort they put into doing it. In this particular instance, this person has been doing this for months; often for 12+ hours a day, recreating new accounts and continuing to manually spam porn across the site," he said in an email to the Daily Dot.
In that instance, Gab dealt with the spam problem by automatically marking NSFW content that wasn't marked, and setting boundaries on who could comment on posts with photos. Accounts had to have a set number of "points"—obtained when other users upvote your content—as well as the age of the account, and other variables.
When the Daily Dot pressed for further details, Torba declined to comment further and did not respond to multiple follow-up emails. Torba did not respond to questions from the Daily Dot about the current bot attack.