Ever wonder who has the fastest internet in the world? If you thought Google Fiber was fast, just wait until you see these unbelievable results.
Roughly 90 percent of data consumed in the entire world today has been created in the last two years alone, according to IBM. That number is only expected to increase when 5G comes along and expands the Internet of Things (IoT), enables smart cities, and allows for augmented and virtual reality applications.
Researchers around the world have been testing new methods of using fiber optics to generate internet speeds that can cope with the astonishing influx of connected devices, which are set to reach 50 billion by 2020. Here are the internet speed records they've set in the process.
The fastest internet speed in the world
Single laser, single core record: May 2011
By 2011, speeds of 100 terabits-per-second had already been reached, but only using multi-laser setups that are both expensive and impractical. Researchers at the Karlsruhe Institute of Technology in Germany reached broadband speeds of around 26 terabits per second using a single fiber laser. At that speed, you could transfer every file from a 3TB hard drive in less than a second.
The record stood for years before new advancements in fiber completely changed the game.
Commercial hardware record: January 2014
Back in 2014, scientists in the U.K. created the world's fastest ever real-world internet connection using commercial-grade fiber optics cables with speeds of 1.4 terabits per second, or .175 terabytes a second. Those speeds would allow you to download 44 uncompressed HD films (at 4GB each) in one second, or the entire English version text of Wikipedia in .06 seconds.
The test was done on a 255-mile underground link between the BT Tower in central London and Ipswich on the east coast of England.
The accomplishment was a joint effort between French telecom companies Alcatel-Lucent (now owned by Nokia) and BT. They used seven different 200 gigabit-per-second connections to achieve the blistering speeds.
It stands as the fastest trial using commercial equipment.
READ MORE:
Single laser, multi-core record: August 2014
A few months later, researchers at the Technical University of Denmark (DTU) reached transfer speeds of 43 terabits of data per second (5.375 terabytes per second) using a multi-core optical fiber and laser transmitter. The university was one of the first to test out seven core glass thread fiber made by Japanese telecom company Nippon Telegraph and Telephone Corporation.
At those speeds, you could download 1 gigabyte of data in about 0.2 milliseconds. The average blink of an eye takes somewhere between 100 and 400 milliseconds, according to data from Harvard.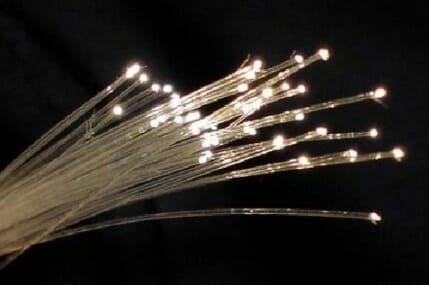 READ MORE:
Fastest internet speed in the world: October 2014
In October of the same year, researchers at the Eindhoven University of Technology in the Netherlands and the University of Central Florida used multi-modal fiber lines to reach speeds of 255 terabits per second, or about 32 terabytes per second. They similarly used a seven core hexagonal arrangement and were able to keep the size of the cable to just 200 microns, or about .008 inches thick. This wasn't just a lab test either—the connection was measured on a one-kilometer stretch of fiber.
This feat would make it possible to transfer a 1GB movie in .03 milliseconds, or one terabyte of data in just .03 seconds.
If that doesn't already sound impressive, 255 terabits per second is roughly the total sum of all traffic flowing across the internet at peak times. Researchers described the new type of optical fiber as "allowing 21 times more bandwidth than currently available in communication networks."
Multi-core optical fiber could potentially replace the single-mode variants we use today, but it would require replacing millions of miles of fiber, so don't expect to download all of Wikipedia in milliseconds anytime soon.