When the 2019 Kentucky Derby kicks off May 4, attendees, jockeys, trainers, and—one assumes—the horses will hope for better weather than what befell the 2018 Derby. The 2018 running instantly became known for its horrid conditions, as non-stop rain produced the wettest Derby on record. Despite the relative monsoon, Justify stampeded his way through the muck to beat the field and became only the second-ever 3-year-old to win without having competed as a 2-year-old.
Luckily for most viewers at home, the forecast will play no part in how they watch the most exciting two minutes in sports. And thanks to the Kentucky Derby's partnership with NBC Sports, the event will be accessible for almost anyone with a live TV streaming service.
Here's everything you need to know about the 2019 Kentucky Derby, including the horses, start time, and how to watch for free.
Kentucky Derby 2019 horses:
Note: Omaha Beach, the morning-line favorite, was scratched from the race due to a medical issue.
Roadster

Improbable

Maximum Security

Game Winner

Tacitus

By My Standards

War of Will

Code of Honor

Vekoma

Spinoff

Win Win Win

Anothertwistafate

Haikal

Long Range Toddy

Cutting Humor

Tax

Bodeexpress

Country House

Gray Magician

Master Fencer

Plus Que Parfait

Signalman

Sueno

Bourbon War
What channel is the 2019 Kentucky Derby on?
NBC will air the 2019 Kentucky Derby on Saturday, May 4 from Churchill Downs in Louisville, Kentucky. Coverage of the Kentucky Derby begins on the network at 2:30pm ET, with the actual race occurring later in the evening. NBC Sports' Premier League host Rebecca Lowe will co-host her first Kentucky Derby alongside veteran sportscaster Mike Tirico. NBC will also broadcast the other two races that make up the Triple Crown of horse racing, the 2019 Preakness Stakes (May 18) and the 2019 Belmont Stakes (June 8).
What time is the 2019 Kentucky Derby?
The racing of the Kentucky Derby will commence at approximately 6:50pm ET. From there, viewers will understand why the race picked up the nickname "the most exciting two minutes in sports." Since the event moved to a 1.25-mile track in 1896, the Kentucky Derby winners have finished as fast as 119 seconds (Secretariat in 1973 finished in 1:59:40, and Manarchos in 2001 finished in 1:59:97) and as slow as 135 seconds (Stone Street in 1908 finished in 2:15:20). Make sure your stream's queued up at race time because if you blink you might miss it.
How long is the track at the 2019 Kentucky Derby?
The track at Churchill Downs measures ten furloughs, which is 1.25 miles or 2 kilometers. According to the Derby, the length was shortened from its original 12 furloughs (1.5 miles) in 1896 because it was thought that that distance was too much for 3-year-old thoroughbreds to run that early in the spring.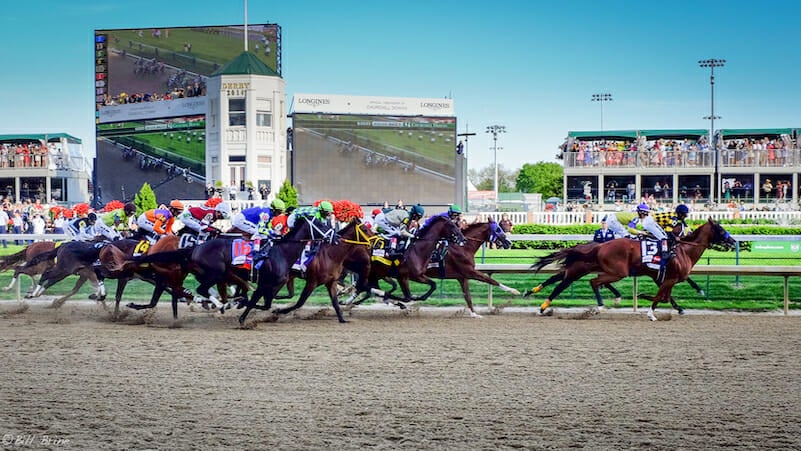 2019 Kentucky Derby live stream: How to watch for free
NBC has broadcast the Kentucky Derby since 2001, and thankfully for streaming-service customers, the network's visibility on nearly every major streaming platform makes accessing the race easy. All of the following services offer a one-week trial, allowing you to watch the 2019 Kentucky Derby for free.
Sling TV offers three different channel packages. For NBC and its NBC Sports Network, you'll need either Sling Blue ($25 per month) or Sling Orange + Blue ($40 per month), and both packages are currently 40% off for your first three months. That said, the availability of NBC varies depending upon your location, so be sure to double-check by putting in your ZIP code here.
With Sling Blue, customers don't just benefit from NBC and NBC Sports Network's coverage of the Kentucky Derby, English Premier League, and national broadcasts of the NHL. You'll also receive NFL Network, FS1, FS2, and select regional FOX Sports affiliates (as well as non-sports channels like CNN, TNT, and AMC). With Sling Orange + Blue, you'll get all of that plus Disney Channel, Freeform, and ESPN's diverse catalog of sports content. Depending upon your tastes, Sling TV provides the sports you crave at perhaps the best price point of any service. (Here's a complete guide to Sling TV channels and our Sling TV review.)
---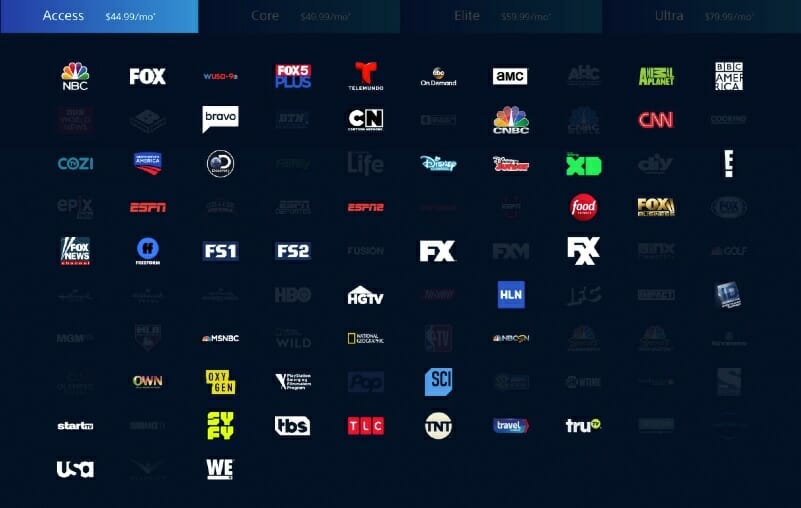 Don't worry: You don't need to own a PlayStation to subscribe to PlayStation Vue. The four-tiered subscription service is accessible to anyone. To watch the Kentucky Derby, subscribers only need to have the entry Access plan, which goes for $44.99 per month. That package provides NBC and NBC Sports Network, as well as ABC, CBS, FS1, FS2, and TNT, which features extensive NBA and UEFA Champions League coverage. However, PlayStation Vue is running a limited-time offer for its Core package (the next step up from Access) until May 6, allowing new subscribers to get their first two months for only $39.99 per month (the subscription price increases to $49.99 per month thereafter). Core gives customers the aforementioned channels plus NFL Network, NBA TV, and the SEC Network. Luckily, PlayStation Vue doesn't hold subscribers to annual contracts, so dissatisfied Core users can always downgrade to Access to save a few more bucks. (Here are all of the PlayStation Vue channels.)
---

Cost: $54.99 per month (after a 7-day free trial)
Hulu devices:

Roku, Apple TV, Google Chromecast, Amazon Fire Stick and Fire TV, Xbox One, Xbox 360, Nintendo Switch, and iOS and Android devices

Hulu local channels:

ABC, CBS, Fox, NBC, the CW (check your

local availability here

)
Hulu with Live TV gives customers all four of the major broadcast networks, which includes the channel that subscribers will need to watch the Kentucky Derby, NBC. For $45 per month, customers receive the aforementioned channels—which show everything from college football to PGA tournament action—as well as cable sports giants like FS1, FS2, and nearly every ESPN channel imaginable. (Here's the complete list of Hulu Live TV channels.) For the price, the breadth of content, and the ability to record up to 50 hours of programming, Hulu with Live TV is a bonafide steal for Derby and sports fans. Subscribers will also receive access to Hulu's full on-demand catalog for free (a $5.99/month value). 
---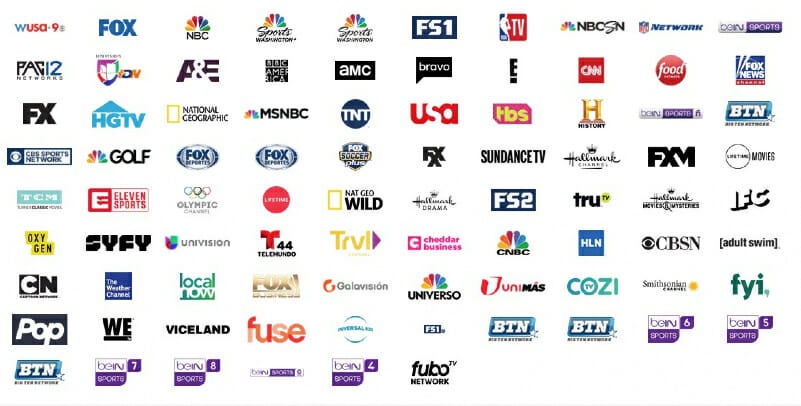 FuboTV is one of the pricier streaming services available, but it gives sports fans an unparalleled selection of various leagues and competitions from around the world. Customers not only get to watch the Kentucky Derby, but also NBC Golf and NBC Universo, which is NBC's Spanish-language channel. In addition to these offerings, FuboTV provides NBA TV, the NFL Network, and every beIN channel for international soccer matches (including Spain's La Liga and France's Ligue 1). It's a highly diverse catalog that brims with options and 30 hours of free DVR to record everything. Record the Derby and then use the remaining 29 hours and 58 minutes to your heart's content. (Here's the complete FuboTV channels list.)
---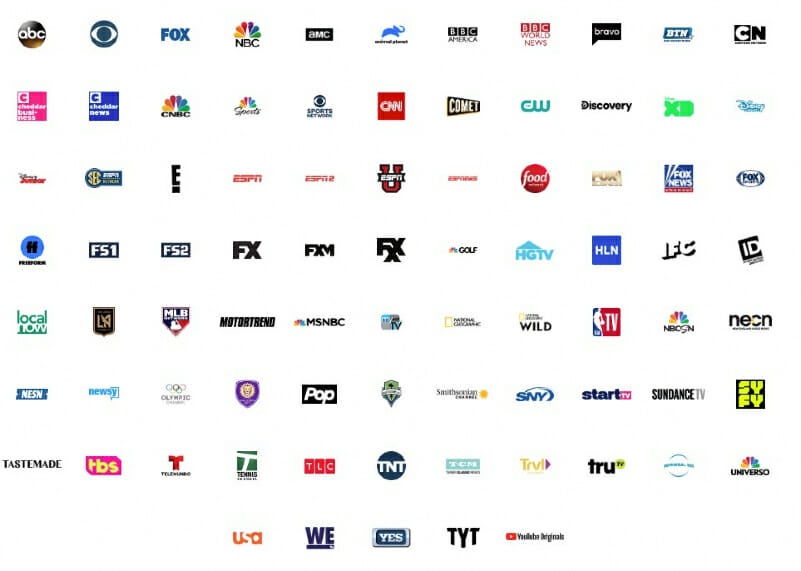 Do you have other plans on Derby Saturday? Fear not: YouTube TV gives customers unlimited cloud storage and DVR personalization capabilities, so you can record the nearly five hours of Kentucky Derby coverage, beginning on NBC at 2:30pm ET. Beyond offering NBC, NBC Sports, NBC Golf, and NBC Universo, YouTube TV offers the other three major broadcast networks (ABC, FOX, and CBS), ESPN, FS1, FS2, CBS Sports Network, MLB Network, NBA TV, among many other sports channels. And if you're splitting the YouTube TV bill ($50 per month) with several roommates and/or family members, YouTube TV allows up to six people to be registered on one account—with each person gaining the ability to personalize their DVR. (You can find the full list of YouTube TV channels here.)
The Daily Dot may receive a payment in connection with purchases of products or services featured in this article. Click here to learn more.