Vanderpump Rules has managed to become one of the most beloved—or reviled, depending where on the reality television spectrum you fall—shows in recent history. Once a mere spin-off of the Real Housewives of Beverly Hills, today VPR stands on its own merits, those merits being tequila shots, screaming in alleyways, love triangles, Taco Bell, fluid friendships, and a very flexible definition of feminism. Now the cast is back for season 8, and we'll be doing weekly Vanderpump Rules recaps.
Our recaps will give you the need-to-know details and rehash relevant backstories so you'll leave with an intimate knowledge of our SURvers' neverending saga. Oh, and there will be GIFs. See You Next Tuesday!
Vanderpump Rules recap, season 8, episode 16: "Witches of WeHo Whine"
We're back from Vegas, thankfully. The trip disappointed on every level and the only real storyline that comes back from the strip is that Max slept with the Scheana lookalike, which is forced into this week's episode despite having absolutely no relevance whatsoever. There's a brief mention of Schwartz losing his and Katie's new marriage license, and we swiftly move along. Perhaps even the producers have grown weary of his foibles? Are they no longer cute to those who used to slide them in to break up general Jax-ish behavior? Had they hoped Vegas would result in better television? We'll never know, but I will assume.
While nothing about Vegas truly mattered, the only whisper of a related plot is that Kristen was not invited to the trip, and she will not be invited to an upcoming (re: next week's episode) event: Beau will be proposing to Stassi. And this week, the three girls have an event to promote their wine brand (Witches of WeHo), which (witch?) promises to be uncomfortable at best, a screaming match at worst. Much hand-wringing is done throughout the episode about how the event will go, and I'll get right to it: It doesn't not go badly. Kristen, Katie, and Stassi are awkward around each other and thus awkward around the people who work at the bar they're throwing their party at; the vibe is not good.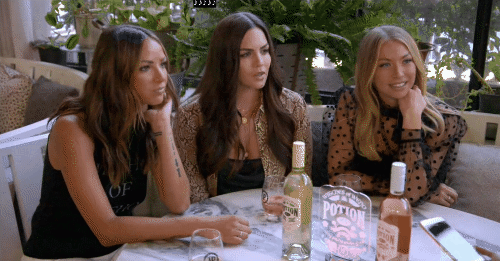 It feels like an all-around bad time, which perhaps culminates in a terrible interview the three give in an attempt to promote their wine. Everyone looks like they're in physical pain.
Things truly culminate though when Kristen attempts to talk to Beau and calls him out for failing to be her friend anymore at Stassi's request. And Stassi is over it: Beau is her boyfriend, her future husband, and Kristen doesn't get to overrule that and play the "but we can still be friends" card. And that might seem slightly overbearing if it weren't for Stassi and Kristen's past. And finally, Stassi completely admits, in plain terms, that this is at the crux of her issue with Kristen trying to remain friends with Beau, and likely her problem with Kristen in general.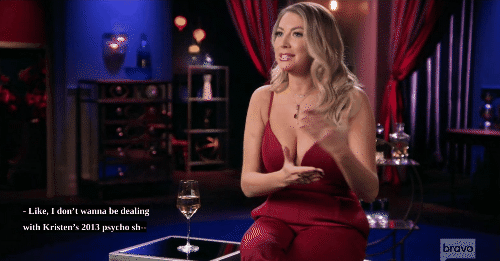 Perhaps it's ancient history to Kristen, but of course, it isn't to Stassi. Kristen slept with Jax—twice—while he was seriously dating and living with and making life plans with Stassi. And then Kristen lied about it. And then she lied that it was only one time. She couldn't stop lying about it. Even when she came clean, she wanted to be immediately forgiven.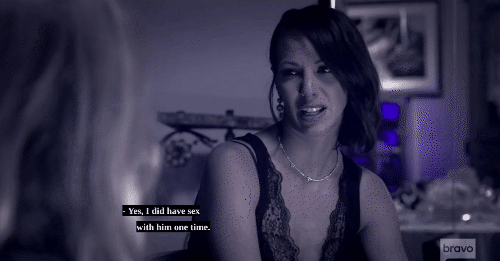 It was lunacy! It was madness! And Stassi forgave her, or at least really tried to. But now they're on the outs, and Stassi doesn't feel good about Kristen trying to keep ties with Beau, especially when it kind of seems like Kristen is backsliding into old behavior. Honestly—fair! The fact they ever got back to a friendship is pretty damn surprising, you can't expect that level of trust to come all the way back, especially when you aren't even friendly. Now I don't see evidence of Kristen backsliding quite as hard as Stassi might be claiming, but that moment in her life was traumatic, no question, and if it's all coming back to her now and making her not trust Kristen as someone she can safely have in her life or around her boyfriend, that's not being jealous or possessive, that's called learning from the past. Sorry Kristen, I feel for you, but I can't say I wouldn't feel the same way.
Also, when the confrontation happens, you gotta love Kristen's refusal to take part (any more than she has, given that she brought up the issues with Beau in the first place) at a wine party. A wine party! Have you seen the show?! That's where maybe 40% of arguments happen!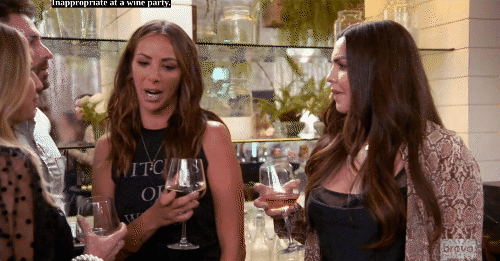 Of course, Stassi explains all of this in incredibly understandable terms in her confessional. At the party, however, we're treated to a classic Stassi meltdown. She cries and screams at Beau, in what I have to imagine is a pinot grigio haze, all while cast members look on to this demonstration. Eventually, she storms out, leaving Beau confused (because again, she hasn't fully explained to him why this is so traumatic for her) and worried about the upcoming (as in the next day) proposal.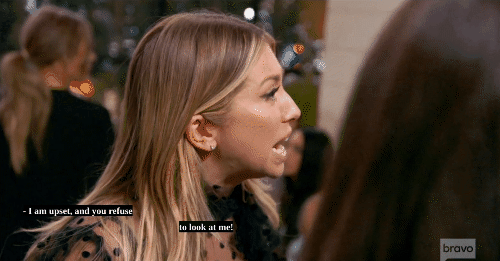 Another topic of conversation is Scheana's inability to be honest with the people around her. To Lisa, she claims she's happy being unattached; to her male friends, she says the only reason she's mad at them is they aren't good enough friends; to Dayna, she lies about bringing a psychic to her apartment without warning to contact her deceased mother. Wait, what?
Yes, truly, that ludicrous moment actually happens and it is excellent on so many levels. Level one: Scheana has a psychic who she believes has connected her to relatives who've passed away. Level two: Scheana thinks it's appropriate to bring said psychic to the home of a new friend who's fairly recently lost her mother, unannounced, while cameras tape it all. Level three: She makes up a weird lie about not having given the psychic the apartment information, and then has a conversation with the psychic directly in earshot of the apartment.
However, it must be said that her intentions seem good. Yes, she's completely out of touch with what's acceptable behavior, but hey, this girl has been on reality television and living in L.A. for years, she can't be expected to know what's OK. She thought this was a kindness to Dayna, but… damn, Scheana. Damn. Dayna handles it relatively well, but does firmly put Scheana in her place, giving her the verbal equivalent of a shake of the shoulders and a "snap out of it!"
But big grand gestures are how Scheana connects with people (or at least tries to). She bought Adam the penguin, she bought Max the Apple Watch. For Dayna, she bought the psychic. Clearly, she cares. And you know, at least Dayna was honest with her about the inappropriateness of the gift, unlike the dudes who, by all accounts, took the gifts and jet.
Dayna is still "exploring" her feelings for Brett, who sucks more and more as the season goes on. It just constantly feels like he's on a casting call for a reality show instead of just on a reality show. There's a brief aside between him, Dayna, and Danica during a night out—hold on, let's just appreciate a scene of VPR featuring beautiful, young, drunk people at an honest to God L.A. club. I haven't seen this in literal years; sure, I love a good wine and cheese chat sesh inside an overpriced condo with the original crew, as they are wont to do these days, but damn, I forgot how much I loved watching debauchery like this.
So they're at the club: Brett is wearing a deep, deep V; Charli is channeling Christina Aguilera's Dirty album; James appears out of the darkness, a la Gollum. But during the conversation between Dayna, Danica, and Brett, Danica basically says she doesn't think Brett should date Dayna because Dayna hooked up with Max (which, have you seen this show?), and Dayna magically manages to somehow steer a conversation that's very awkward for her toward Scheana's struggle to be honest with people. Wow, Dayna, you are a magician; for some cast members, that would have devolved into a meaningless fight, but you Houdini'ed your way out of that one. Then the three return to the club to dance and get drunk, as if a conversation about how two of them dating was a bad idea never even happened! Incredible.
So, again: poor, poor Scheana. In addition to everyone questioning her motivates, she also feels like she isn't being treated well by her friends. She calls Brett and Max out for not texting her after her egg retrieval surgery, which… wow, goes so much deeper.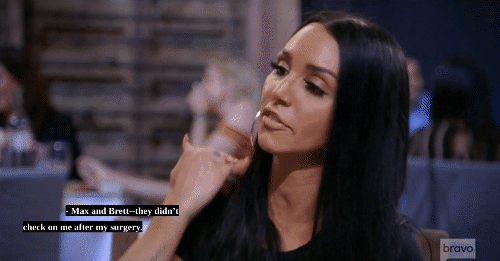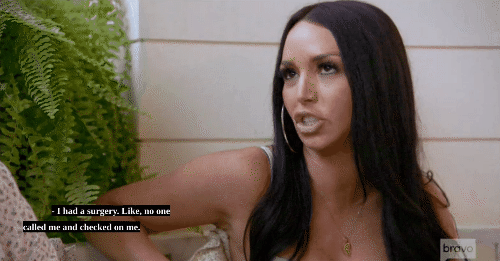 As Scheana explains it, she's sick of putting effort into her friendships "to the point that it's embarrassing" and not getting the same treatment back. Hold on to that thought, Scheana! It is correct! Stop buying people things! This goes back to the early years when Scheana knocked out her teeth and had to get them fixed and complained that Stassi didn't check up on her. She wants to be babied, she wants to be loved, she wants to be adored—she wants to be the person that everyone rallies around, and her try-hardness gets in the way. But I'm increasingly defensive of Scheana because… who among us?! You know what they say; you can't buy love, nor can you barter for it with a really good psychic.
READ MORE: