Vanderpump Rules has managed to become one of the most beloved—or reviled, depending where on the reality television spectrum you fall—shows in recent history. Once a mere spin-off of the Real Housewives of Beverly Hills, today VPR stands on its own merits, those merits being tequila shots, screaming in alleyways, love triangles, Taco Bell, fluid friendships, and a very flexible definition of feminism. Now the cast is back for season 8, and we'll be doing weekly Vanderpump Rules recaps.
Our recaps will give you the need-to-know details and rehash relevant backstories so you'll leave with an intimate knowledge of our SURvers' neverending saga. Oh, and there will be GIFs. See You Next Tuesday!
Vanderpump Rules recap, season 8, episode 13: "Prank Wars"
It is the morning after Tom Sandoval's birthday, and the cast members are way, way hungover—in the most relatable way. These are not cute, 25-year-old hangovers, declared at brunch in between guzzling mimosas; 25-year-old hangovers are performed in the daylight; its victims wear flowy dresses and faux-complain about their behavior the night before. No, no. This is not that. These people—we people—are past that. These hangovers require robes, eye masks, burgers, and inside time. Watching Stassi struggle to move from her horizontal state is relatable, and… also sort of foreboding. Who among us isn't wearing sweatpants and spending a lot of time on our couch lately? 

Speaking of age… Jax Taylor, Jason Cauchi, is 40 years old. I don't have anything clever or cunning to say about that, but, there it is. Huh. How about that? It's shocking, really, that he's still on this reality show, and it's truly insanity-making to think about the various Jaxes we've witnessed through the years. Model Jax, who cowered to (and cheated on) Stassi; Jax who leaned all the way into his chauvinism; broken-nose Jax; other-broken-nose Jax; sweater-line Jax. So many Jaxes. And we've landed on suburban Jax, with a wife and a home in Valley Village. (Which, to be honest, I thought was a fake name: I thought it was a play on Value Village, inferring that the Valley is inferior. But that's really what it's called!)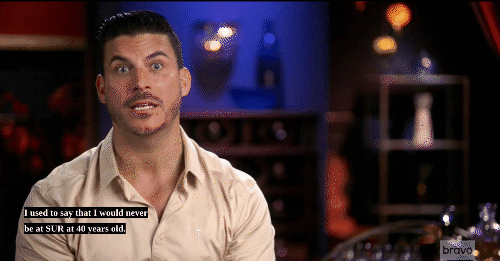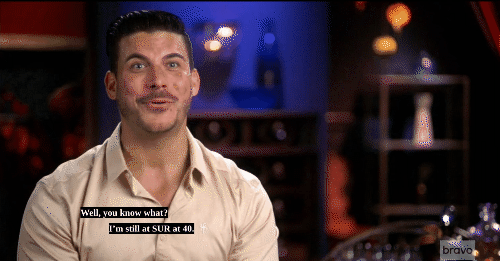 Life comes at you fast, buddy.
For Jax's birthday, Sandoval wants to TP his house. Why he's so obsessed with this idea, I do not know, but what I do know is that this scene hasn't aged well: Watching him gleefully throw toilet paper, what we now know as a precious resource, is pure torture. As I de-ply my double-ply toilet paper, turning it into single-ply, I find myself agreeing with Jax: It's not that funny.
Of course, Sandoval also buys Jax an incredibly thoughtful gift: a samurai sword signed by Randy Jackson, obviously. In his confessional, you can see how proud he is of the gift and how much joy it brought him, how meaningful it is. And then, the producers ask him what Jax got him for his birthday, which is mere days before Jax's. The answer is, of course, nothing. Realization flashes over his face. Oh… maybe… maybe Jax is not a good friend… ? Maybe he is not worthy of the antics it takes to get someone a samurai sword signed by Randy Jackson?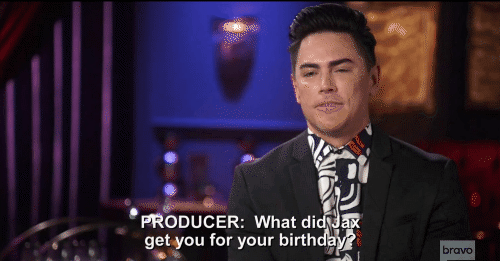 The gift, of course, does not overshadow the TP-ing, which did not go over well with Jax. Jax is obviously doing whatever he can to hold onto his grudge against Sandoval. Later in the episode, at Jax's birthday party, he and Randall will discuss a plan to prank Sandoval, wherein fake cops will come to Sandoval's house and arrest him for vandalism. The prank itself goes off well (according to everyone, Randall is an expert prankster; he is downright full of mirth at even the idea of a prank), and even Sandoval is entertained. Katie, however, is not; seeing a friend handcuffed is jarring and upsetting, and she didn't find the whole thing funny. And she says so, and leans into one of the roles she often plays in the group: the fun police.
Now Katie is not actually the fun police, but someone sometimes has to be, and given that she is married to the goofy guy who needs constant reining in, so it goes. And as we've seen in episodes past, this triggers Tom Schwartz into publicly dragging her; he finds her gross, they don't have sex, she disgusts him, he announces. Everyone is very drunk of course, the entirety of this is going down after a night of drinking—in fact, look at this photo of Katie drinking what I can only assume is jungle juice moments before the prank even happened: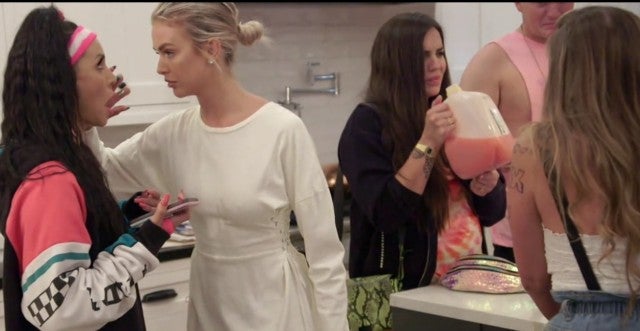 But this move is Schwartz's go-to when he's aggravated with his wife, and while there were moments in the early seasons where I, too, was annoyed with Katie and felt bad Schwartz had to deal with her rage, this isn't that anymore. She's not out of control, she's expressing a feeling, and it's disgusting how easily that sends him into this spiral of insults. At least once a season, he speaks to Katie, his wife, as if she's someone he despises, and sides with absolutely anyone but her. And this time, he's not even siding with anyone: Sandoval, Beau, his usual allies, aren't able to defend him. Has Schwartz finally reached a tipping point? Is this all, finally, not cute anymore?
In other news, Brett interviewed Scheana for his YouTube channel and called her middle-aged and dogged her for playing the field. He also told her to scoot her "tush" away from him. Scheana at least sort of defended herself in response, but I cannot understand how or why she even entertains these fools.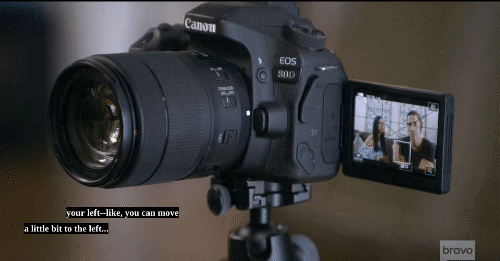 The girls also held a wine night at Katie's house—well most of the girls. Well, all the girls, except Kristen, who stayed home alone with her dogs (yet another very quarantine-era activity that deeply resonated with me).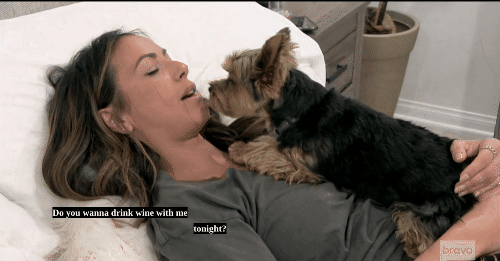 At the gathering, Lala decided to come to yell at Raquel some more, as she had last week. It's unclear why she has it out for Raquel: Yes, Raquel is wide-eyed and gullible and probably in an unhealthy relationship, but what is it to Lala? In her confessional, Charli suggests that maybe Lala is still attracted to James, and thus secretly hates Raquel. That seems almost impossible, but honestly, I can't seem to understand why Lala seems hellbent on incessantly, publicly screaming at Raquel. It's such a waste of her time, and yet she can't stop herself. Also, the face Ariana is making while Lala screams at Raquel is all of us.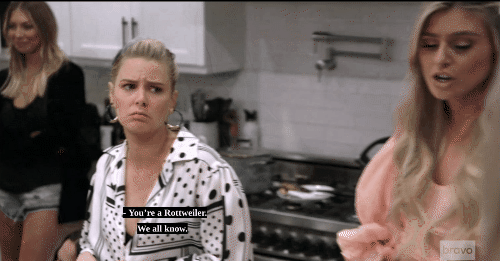 While it's a compelling theory, I don't think Charli is right. There's just something about Raquel that triggers Lala. Maybe it really is that she sees her former sidekick James as a fellow alcoholic who needs to be dragged along into sobriety, and Raquel's compliance and desire to readily believe anything James tells her just sets Lala off.
Whatever it is, it would appear that according to Instagram, their beef is currently squashed. So don't lose too much sleep over it!
READ MORE: