Vanderpump Rules has managed to become one of the most beloved—or reviled, depending where on the reality television spectrum you fall—shows in recent history. Once a mere spin-off of the Real Housewives of Beverly Hills, today VPR stands on its own merits, those merits being tequila shots, screaming in alleyways, love triangles, Taco Bell, fluid friendships, and a very flexible definition of feminism. Now the cast is back for season 8, and we'll be doing weekly Vanderpump Rules recaps.
Our recaps will give you the need-to-know details and rehash relevant backstories so you'll leave with an intimate knowledge of our SURvers' neverending saga. Oh, and there will be GIFs. See You Next Tuesday!
Vanderpump Rules recap, season 8, episode 12: "All Daugs go to heaven"
We made it to the other side! Welcome, it's nice over here! The wedding is over, like over over, and we are back in Los Angeles. As Jax and Brittany open wedding gifts (dish towels; she's elated, he's annoyed) it becomes clear that Jax doesn't know the difference between a PowerPoint and a bulleted list. Sure, fine.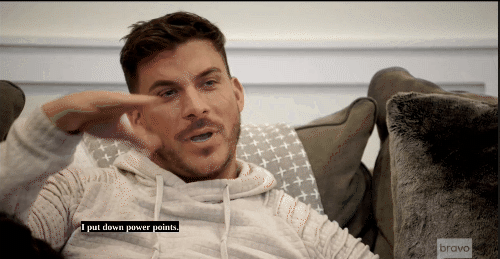 This throwaway scene is followed up by what will propel the episode: Daug, Tom Schwartz and Katie's lizard, has died, and they are holding a memorial at… the Mondrian. Yes, the seen-and-be-seen, influencer-filled, ritzy AF pool club in L.A.
I'm not going to lie, the event bothers me. I can't tell if it's being manufactured for laughs or if Schwartz is truly mourning the lizard. It's weird. It confirms what I think is starting to irk me about VPR: These kids—er, people—are no longer just humans with genuinely dramatic, angsty, wild lives being caught on camera; they're playing to the cameras now. They know what would be a funny moment for producers to break out, they know what's meme-worthy. Damnit, they know what will make a good GIF. I don't want this to be the case, but it feels like we're watching a group of people losing their grasp on reality, becoming caricatures of themselves who see TomTom and SUR and the Mondrian as some sort of blur between real-life places and sets. Weddings and birthday parties are scenes. Fights become monologues. It all has a gauze of phoniness around it.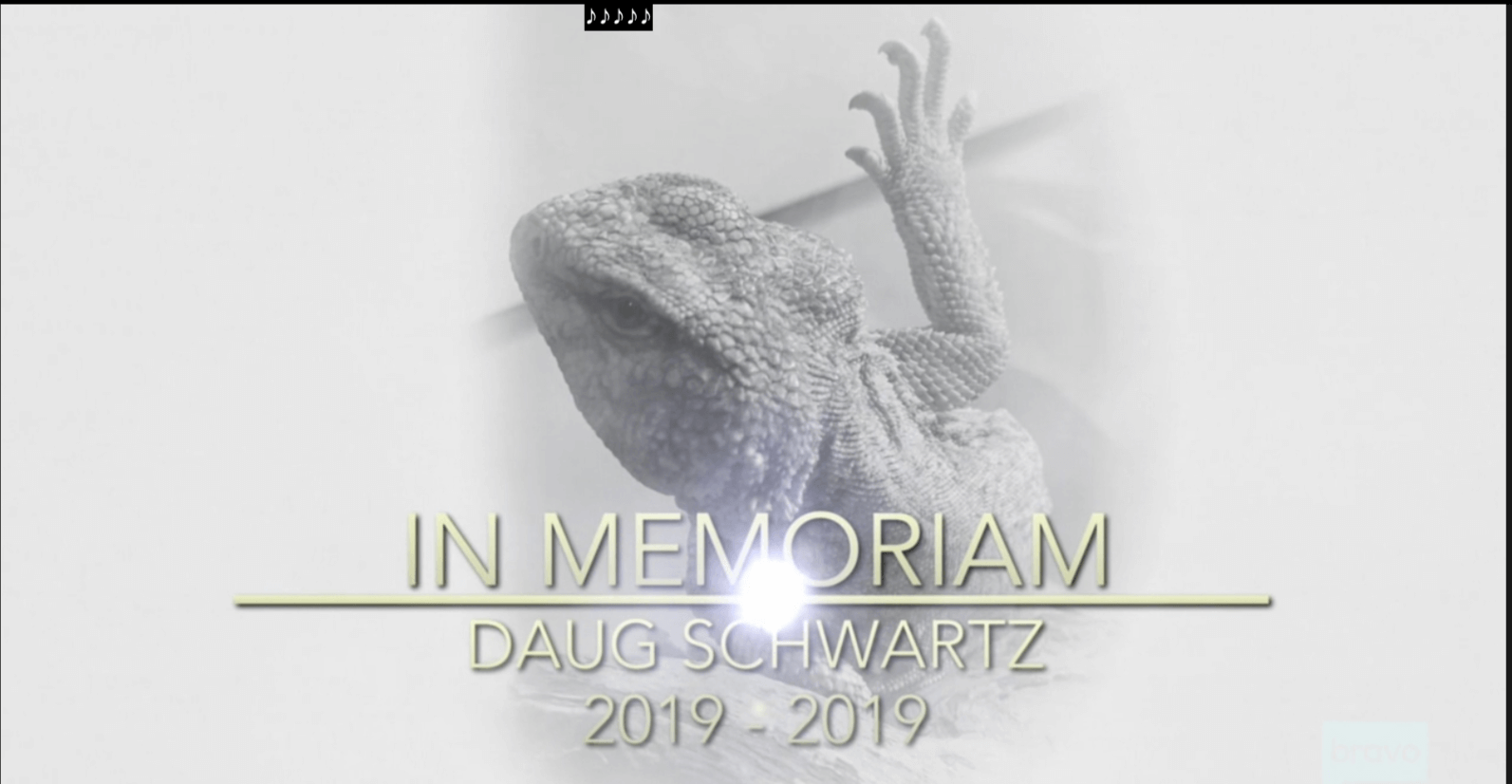 Anyway. The lizard funeral serves as the "set" for Scheana to sit down with Katie and Stassi to talk about what happened with Kristen at the wedding. First things first, this group of three is giving me flashbacks. It's been so long since we've seen these three speaking! Scheana clearly spent her time in Kentucky siding with Kristen (to Kristen) and now is getting the gossip from Katie and Stassi and appearing like an unbiased third party who's simply going to relay information to Kristen (which she does, and which makes Kristen mad, of course). She's loving it. Scheana will never be a best friend anyone confides in unprompted, she will always be in the middle, a pawn who thinks she's the queen.
After all the faux "reality" at the Mondrian, we see James pay a visit to Lisa Vanderpump, who admonishes him for the horrible text messages he sent girlfriend, Raquel. And I realize why I "like" James, despite, you know, everything about him: His is the only story that feels totally genuine. He tells Lisa that he's just gone to his first AA meeting, and he's terrified. Of course, this is the same James who acts contrite to his friends and then in confessionals, says he meant none of it and reveals himself as an asshole. Which he is! He's a deeply flawed, often funny, often hurtful, admitted alcoholic, who also really seems like he at least wants to try and improve himself and his life. He doesn't fit neatly into a category like so many other cast members of the VPR crew have willed themselves to.
More James-related drama surfaces at Tom Sandovals "extra" themed birthday party (which means that everyone is supposed to dress like an "extra" version of themselves; sure, OK). Lala, who's just made up with Raquel, pulls James' girlfriend aside to tattle on him for allegedly drinking (after just vowing to quit). Lala also brings up a rumor from seasons past: James hooked up with his former friend Logan, who's gay. Now, during a filmed phone conversation with James, Logan admitted these rumors were a lie he made up, but now Lala is saying that that admission was a lie and she was there to witness the supposed hooking up. Raquel defends James, and the brief truce between the two is over. Honestly, this is a rumor that I totally forgot about and am here to see play out… so long as it doesn't devolve into homophobic or character-bashing territory. Maybe that's hoping for too much.
The episode ends with Kristen, once again, approaching Stassi and Katie. This time, she claims she's doing so not in the interest of their friendship, but to talk about their wine line, Witches of WeHo. She believes she is doing all the work and they, particularly Katie, aren't holing up their end of the deal. Earlier in the episode, the producers savagely put together a montage of Lazy Katie that was pretty convincing, to be honest.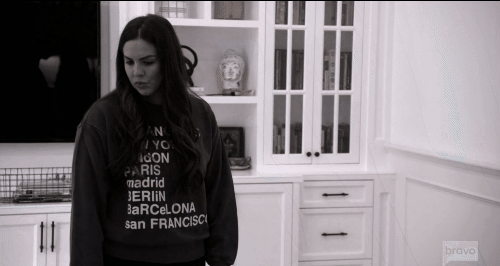 Obviously, all of this is a ruse, and when they talk about the contract they are all in, they are obviously talking about their friendship and its end. Stassi and Katie's heels are dug in and they aren't budging; in fact, they're kind of White Fanging Kristen… just, without the good intentions. They just want her out and they'll say whatever will send her fleeing. Which, they do.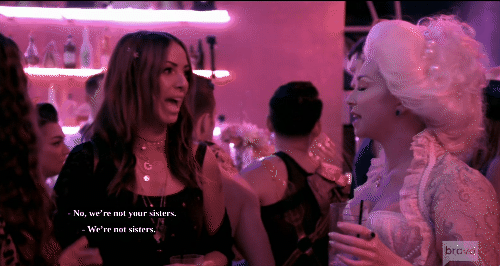 I suppose this is the one other very genuine storyline playing out this season: It really doesn't feel like their's is a story arc that gets wrapped neatly in a bow at the end. This leaves me confused: If I want genuine drama and hysterics from these people like they used to bring, why am I also sort of sad at the collapse of this friendship!? Is it because it's what propelled the original seasons!? A better question is probably: Have I been in self-isolation too long!?
READ MORE: