Vanderpump Rules has managed to become one of the most beloved—or reviled, depending where on the reality television spectrum you fall—shows in recent history. Once a mere spin-off of the Real Housewives of Beverly Hills, today VPR stands on its own merits, those merits being tequila shots, screaming in alleyways, love triangles, Taco Bell, fluid friendships, and a very flexible definition of feminism. Now the cast is back for season 8, and we'll be doing weekly Vanderpump Rules recaps.
Our recaps will give you the need-to-know details and rehash relevant backstories so you'll leave with an intimate knowledge of our SURvers' neverending saga. Oh, and there will be GIFs. See You Next Tuesday! (Er, Wednesdays to be exact.)
Vanderpump Rules recap, season 8, episode 4: "Don't do it, Brittany"
This week's episode opens with a montage of the VIP VPR crew preparing to head to Miami where Jax and Brittany are hosting their bachelor and bachelorette parties. The opener features this shot of the art in Scheana's home, which is very "live laugh love dance" and includes artwork referencing her terrible tattoo.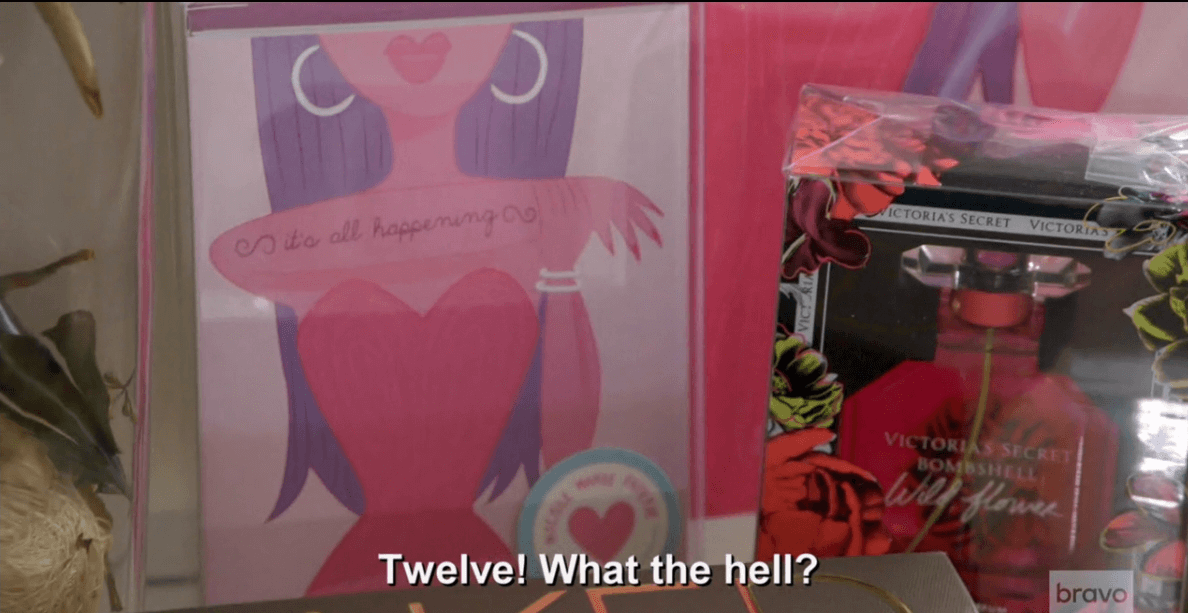 We also see Kristen moving into her home. And whoooOOOoooOOOooo comes bounding out of her car to help Kristen move into her new home? Ariana! These two have come so, so far: In the first couple of seasons, Kristen was dating and living with Tom Sandoval, who cheated on her and ruined their relationship… though, in fairness, she also cheated on him… with Jax… his best friend… in their apartment… while Tom was asleep in the next room. She was just able to keep that under wraps for a bit longer. In any case, Tom and Kristen tried to continue dating, but when Ariana entered the picture, sparks began flying between her and Tom and when he and Kristen eventually broke up, the two quickly began dating.
And then, for multiple seasons, Kristen absolutely lost her goddamn mind. The era of "Crazy Kristen" began; she was constantly scheming, constantly (unsuccessfully) battling Ariana; she was a gazelle-like Dr. Evil. And now, here she is, calm, cool, and relatively collected, unpacking boxes with her former enemy.
During the chore, she reveals she slept with Carter that morning. No surprise there, but the admission will come back around as a primary point of discussion.
Last week's fight between Stassi and Sandoval follows them to Miami. In order to smooth things over, Tom (Sandoval) reality-tv-show-apologizes to Stassi in the lobby of the hotel, meaning he, in fact, does not apologize but tells her again why she was wrong to host her book signing at TomTom without going through him. Only this time, he speaks very calmly and mumbles an "I'm sorry" in there. Stassi sees right through this, and no peace is made.
Later, when the men and women separate, Beau tries to talk to Sandoval about the fight. Thank God for Beau! I know I say it every week, but every week, I mean it: Sometimes I feel like one of the reasons we watch reality television is that we see these sorts of conversations play out and we're screaming all the things the person in the right should be saying. Instead, illogical, defenseless arguments prevail. But Beau says the thing: If Sandoval should be mad at anyone, he should be mad at Schwartz! At every turn of this TomTom debacle, it's actually his business partner, who greenlit the party and apparently didn't set it up properly, who failed. But because of Sandoval's historic beef with Stassi (and perhaps his fragile ego, which has issue literally serving up to someone else's success), she became the target.
And maybe, fair: In retaliation to his rage texts, she rage-screamed at him at his bar. It's as if he knew she'd be easily provoked into becoming a monster as well… all while cameras rolled… whereas Schwartz would have totally deferred immediately… it's as if every move is calculated for our viewing pleasure…
Right.
Anyway: While Beau tries to reason with Sandoval outside a strip club, it becomes increasingly clear that the TomTom manager isn't capable of reasonable conversation and that his own feelings of superiority and past issues with Stassi will overshadow logic. Also, since he's wearing something of a costume for the guys' night out, he looks like a 1940s, mustache-twirling villain.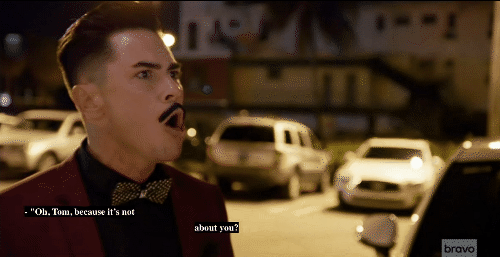 Later, there's a montage where the men (mostly Jax) recount the strip club to their significant others the next day claiming awkwardness spliced with video of their willing debauchery. Except for Beau: His discomfort at the strip club might be slightly forced (you know, based on the cameras, and thus evidence), but he's the only one even halfway pulling it off.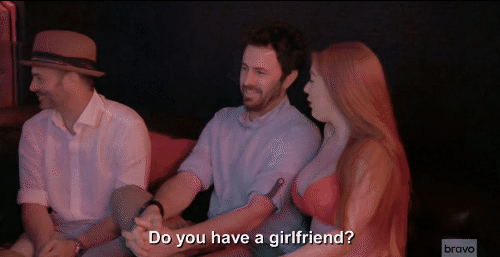 The fight between Sandoval and Stassi spilled over into the girls' group, as well. Stassi is also upset with Ariana for defending her boyfriend and says Ariana made some sort of dig at her over her book. At one of the many, many events of the weekend, Ariana is confronted over this, and she, too, points out that it's actually Schwartz's bad as well… which means his wife, Katie, is now upset, too. (Although, let's revisit that Stassi's defender, Beau, also used the same defense against Sandoval as Ariana: It was Schwartz's bad. Ariana gets the cold shoulder from Stassi and Katie over this, but no one can touch our angel Beau.) Also, it's becoming clear we're about to witness a Stassi and Katie versus Ariana and Kristen dynamic this season; the lines are being drawn, and I can feel it in my bones.
The two season-long fights (or at least, what I expect to be season-long fights) are the prevailing plot lines. (The other being Katie and Stassi versus Kristen and her non-breakup with Carter.)  While the ladies don't fight the entire episode, there's plenty of talk about Carter and the complicated relationship and everything concludes with a dinner ruined by what sound like friendship-ending epithets being hurled between the girls. It's all capped off when Kristen says they should be more understanding of her situation because she stuck it out when Tom Schwartz was cheating on Katie.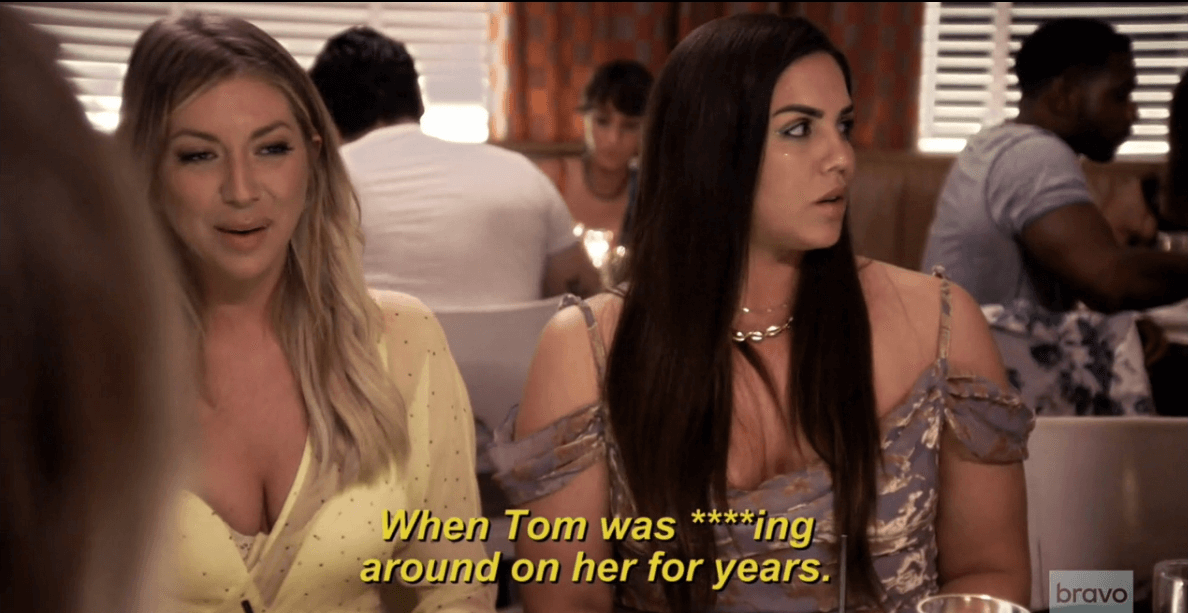 Them's fighting words. Because Schwartz is so lovable and because his missteps have been somewhat shuffled aside in VPR history, this is something we do not speak of. But now we've said it.
There are a few things happening in the background of this episode that matter: Brittany breaks down over criticism of her impending marriage to Jax (even if it wasn't intended to be so; it's clear that our Kentucky sweetheart is still incredibly sensitive to jabs about her choice to stand by a man who publicly cheated on her and treated her terribly).
Jax is still holding a grudge over his best man Sandoval not fawning over him properly (for instance he rented a three-story boat with an open bar, not a yacht, for Jax's bachelor party).
Scheana complained about Dayna… and also made this face.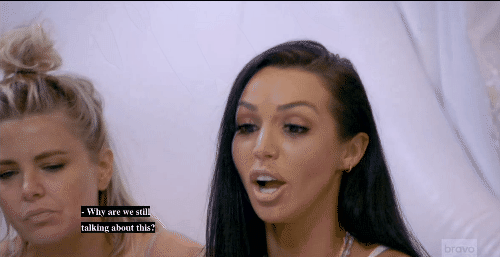 And of course, it wouldn't be a weekend of drinking with Kristen if our doe-eyed giraffe didn't drunkenly fall. (For reference.)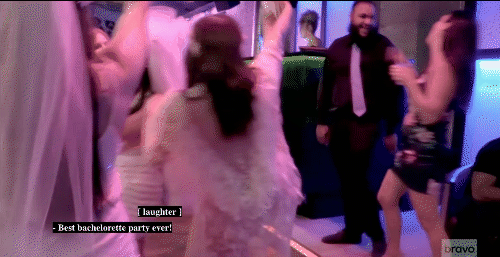 The B-plot (C-plot?!) of this episode is Lisa Vanderpump puttering around TomTom and SUR talking to the newbies and about all the important people who are in Miami.
The episode ends with most of the girls watching as Katie and Stassi fight with Kristen, and it becomes increasingly difficult to decide who's in the right here. Kristen is playing the victim and asking for kindness and sympathy and coddling, but she's also telling her friends to sort of "stay out of it"—which you can't do if you're also asking to be babied through a breakup. You have to actually break up in order for that to happen. Of course, Katie and Stassi are nearly violently screaming at her about her behavior… behavior they must remember they demonstrated years ago.
That's the problem, though: For them, this sort of thing was acceptable, maybe even interesting, years ago.
The fight sort of reveals the generational divide happening between the cast of VPR: While they're all the same age (ish), they're at a place in their lives where things begin to massively change. Some of them are in super stable, long-term relationships, and buying houses, and moving on… and some of them are in fights with SUR hostesses and sleeping with and crying over their exes. And the foibles of each separate group are exhausting to the other.
I have to admit, this episode felt a bit as if VPR were trying to relive its glory days… but! They're all getting a little too old for it!? If you watched episodes of their drunken nights in Mexico from the early seasons against this outing in Miami, it would be a stark contrast. But next week the antics continue, and the fighting likely will, too. I, for one, am rooting for some outright depravity! Though as Stassi put it when speaking of Kristen's non-breakup: "We're not 22. We can't do this shit. It's weird." That may be the prevailing mantra for this season. Maybe Scheana should get that tattooed on her other arm…
READ MORE: