Lights go dark. Bass-heavy music thrums. A screen in front of the room shows a colorful background. One by one, models strut to the end of the runway and then back. Their outfits, though all variations on a theme, run the gamut from urban street fashion to high-concept haute couture. The next time they do this, there will be one fewer outfit, one fewer model, one fewer duo of designers. By the end of the show's run, the sole model will hopefully be showing off the next big thing in fashion.
At least, that's what the team behind Next in Fashion hopes. They've gathered together eighteen designers who, while they may have accomplished great things, have yet to make a real name for themselves. In teams of two, each episode they must design a new look based on a theme and hope that hosts Tan France and Alexa Chung don't send them home.
Next in Fashion
RELEASE DATE:
1/29/2020
STREAMING:
Netflix
If you love 'Project Runway', Netflix's 'Next in Fashion' will offer a lot of the same attractions, but some of its differences are also detractions.
If it sounds a lot like Bravo's long-running reality competition Project Runway, that's because the setup is virtually identical. Designers sketch and sew and dress their models, trying to strike just the right balance between upholding their personal styles, stretching their boundaries, and appealing to the judges. Though they all have the common trait of being designers, they come from wildly different backgrounds and have wildly different aesthetics. If they can manage to balance that better than any of the other designers, they'll go home with $250,000 and a debut at the luxury retailer Net-a-Porter.
The big twist on the formula is that rather than individually, the designers are divided into teams of two. Some of the teams are longtime partners, well in sync and used to working together; others were strangers before they came on this show. This introduces an alternate dynamic to the show, allowing the episodes to focus on interpersonal drama rather than the designs themselves. They even do their confessionals in pairs. How I feel about the contestants themselves vary—some are likable and easy to root for, especially the sisterly relationship between established hip-hop designers Kiki and Farai, and the positively adorable Angel and Minju. Others are more contentious and struggle to truly collaborate, such as Hayley and Julian, who both have strong visions that can be difficult to reconcile.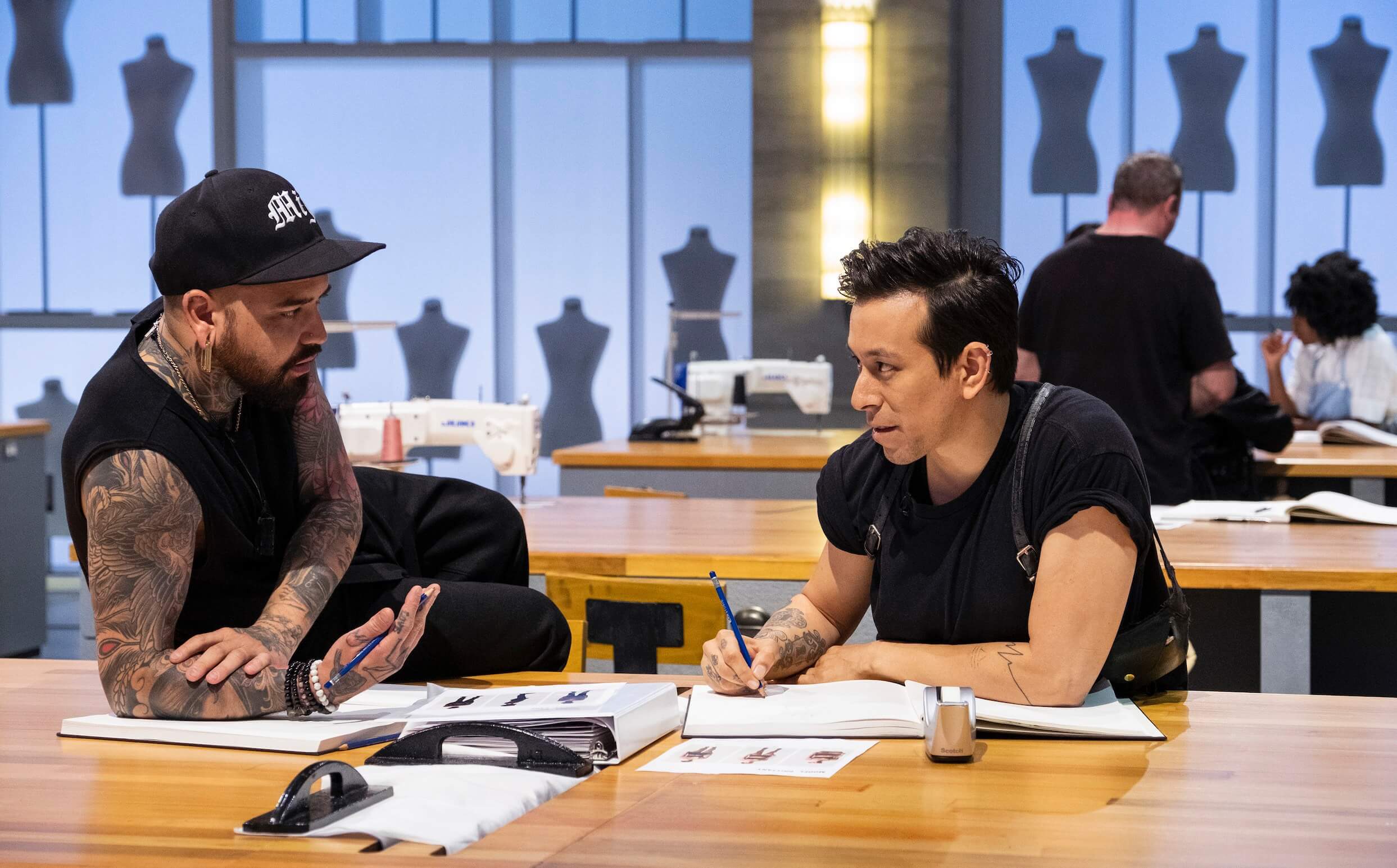 Of course, the contestants are going to bicker for the camera—this is U.S.-produced reality series after all. The teams trying to reconcile different ideas, priorities, and aesthetics adds some important tension, but I feel like that took too much time from the process of creating their clothes. Frequently, there's only the barest hint of what the looks will be before the model comes billowing out onto the catwalk in it. There are few scenes of the craft of creating the clothing—like what they want to consider for the design, the labor and challenges of patterning, sewing, and fitting, and transforming an idea into something three-dimensional and wearable.
The strongest moment comes not just from the tension or the moments of camaraderie, but when the different realities of the designers' lives come up. When one contestant shrugs his shoulders and says that if he lost, it would be "just another day," his teammate, an associate professor, tearfully explains that she works three jobs to make ends meet and to win would be life-changing. The socio-economic reality of being a workaday designer, rather than a big brand name, is comparable to a working actor searching for their big break than a Hollywood movie star.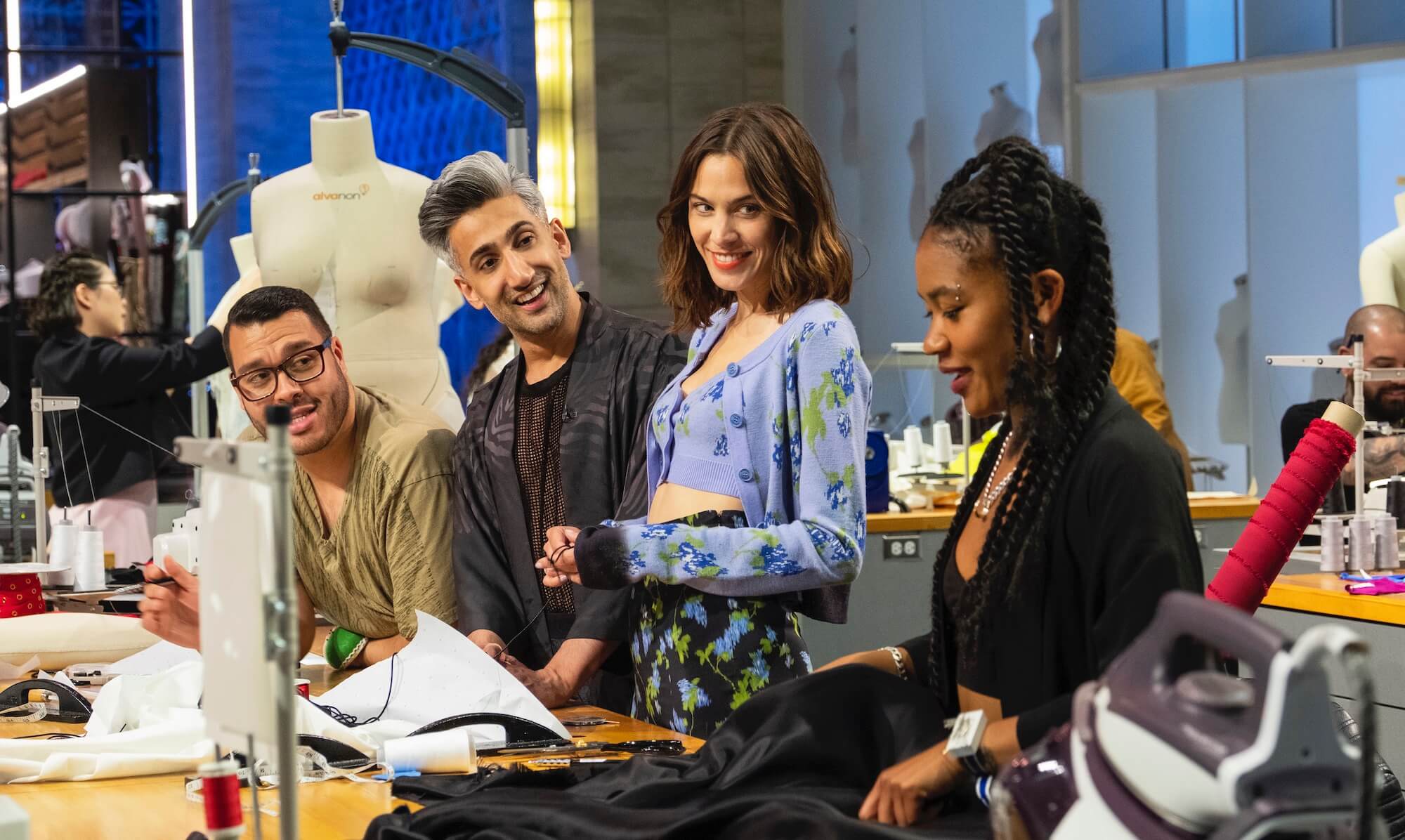 France and Chung's hosting style contributes to Next in Fashion's struggles. The two are fairly hands-off during the preparation, spectating and speculating rather than interacting and interviewing. There's an art to reality show hosting, and the best of the best do it with grace. France and Chung, charming as they may be, aren't quite there yet. In fact, I wouldn't guess just from the show that those two are designers in their own right, just that they're two pretty people who know a lot about fashion. The guest judges display much more technical knowledge and usually have more interesting things to say.
While I adore France as the fashion expert on Queer Eye, I felt distinctly less charmed with his role in Next in Fashion. His and Chung's banter felt too scripted and inauthentic, especially the end-of-episode stingers where they exhort the viewers to hit the "Next Episode" button. Having Netflix automatically begin to play the next episode is enough; I don't need the show to literally tell me to immediately watch the next episode.
Next in Fashion has plenty of highs and lows, settling into a comfortable middle ground. It's not the next big thing–Project Runway still exists, after all—but it'll keep the fashion-conscious and reality TV junkies happy.
Still not sure what to watch tonight? Here are our guides for the absolute best movies on Netflix, must-see Netflix original series, documentaries, docuseries, and movies. 
Looking for something more specific? Here are our Netflix guides for the best war movies, documentaries, anime, indie flicks, true crime, food shows, rom-coms, LGBT movies, alien movies, gangster movies, Westerns, film noir, and movies based on true stories streaming right now. There are also sad movies guaranteed to make you cry, weird movies to melt your brain, old movies when you need something classic, and standup specials when you really need to laugh. Or check out Flixable, a search engine for Netflix.