This article contains mentions of sexual assault.
There's a moment in Unbelievable that made my stomach drop as everything clicked into place during its third episode. You'll have that moment, too, thought it could happen anywhere throughout the Netflix series' eight episodes. On its surface, Unbelievable is a story about a staggering crime. But really, it's about the long, winding road to justice and the cost of that journey. The structure of the series initially creates a sense of doubt in the characters and viewers. But as the scope expands to reveal the big picture, it has a devastating effect. Unbelievable confronts harsh realities and is hard to watch at times, but it is essential viewing.
Unbelievable

RELEASE DATE:
9/13/2019
DIRECTORS:
Lisa Cholodenko, Michael Dinner, Susannah Grant
STREAMING:
Netflix
Based on real events, 'Unbelievable' covers the investigation into a serial rapist from the perspective of his first victim and the detectives working the case.
Based on T. Christian Miller and Ken Armstrong's Pulitzer-winning ProPublica article and This American Life episode "Anatomy of Doubt," Unbelievable traces two separate timelines that eventually dovetail. The series starts in 2008, with 16-year-old Marie Adler (Kaitlyn Dever) reporting a rape to police. Technically, it begins right before that, with one of Marie's foster mothers, Judith (Elizabeth Marvel), consoling her before the police show up. It's important to make that distinction, because the ways people treat victims is a major theme of the show. As Marie gives her statement, first to a uniformed officer and then to Detective Parker (Eric Lange), you'll note the matter-of-fact, clinical way they question her. Marie has been in the foster care system since she was 3, so she's used to the dehumanizing side of massive organizations that are supposed to work for her. The police think her story doesn't quite add up, and the relative lack of evidence drives a wedge between Marie and Detective Parker.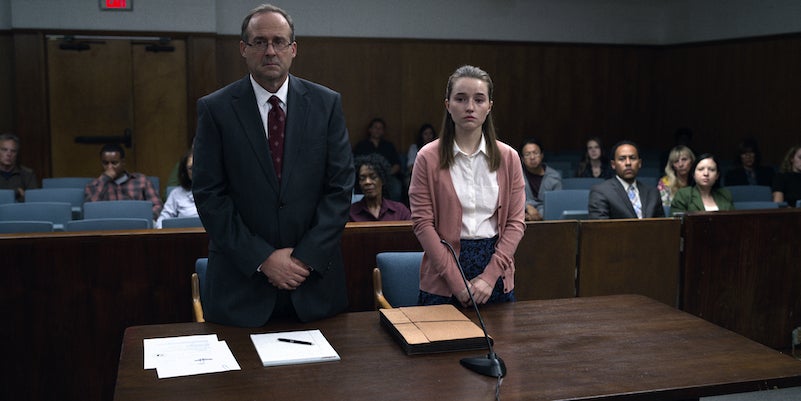 The first episode gets even darker from there. Parker and his partner question Marie to the point that she buckles and says her story is false. The episode ends with Marie standing on the ledge of a bridge. Over the course of the season, Marie's foster community ostracizes her while she's at her most fragile, and her personal life crumbles. Everybody—from law enforcement, to hospital staff, to the foster system, to her bosses—is so wrapped up in procedures and guidelines, they lose sight of Marie's humanity. At one point, somebody talks to the detectives to offer Marie financial and emotional health support, but they decline without a second thought.
Contrast this with the show's second timeline, set in Colorado in 2011, where Detective Karen Duvall (Merritt Wever) is investigating the rape of Amber (Danielle Macdonald). Duvall takes the complete opposite approach to Amber's case than Parker did with Marie; she's warm and humane where he was cold and robotic. The details of the assault and lack of evidence point to someone highly organized. Through a stroke of luck, Duvall finds a similar case in a nearby district and partners with Detective Grace Rasmussen (Toni Collette). Duvall is cordial and even-keeled, while Rasmussen is more outspoken. But the same sense of purpose guides them. Whereas Parker worked for the system, Duvall and Rasmussen work for the victims.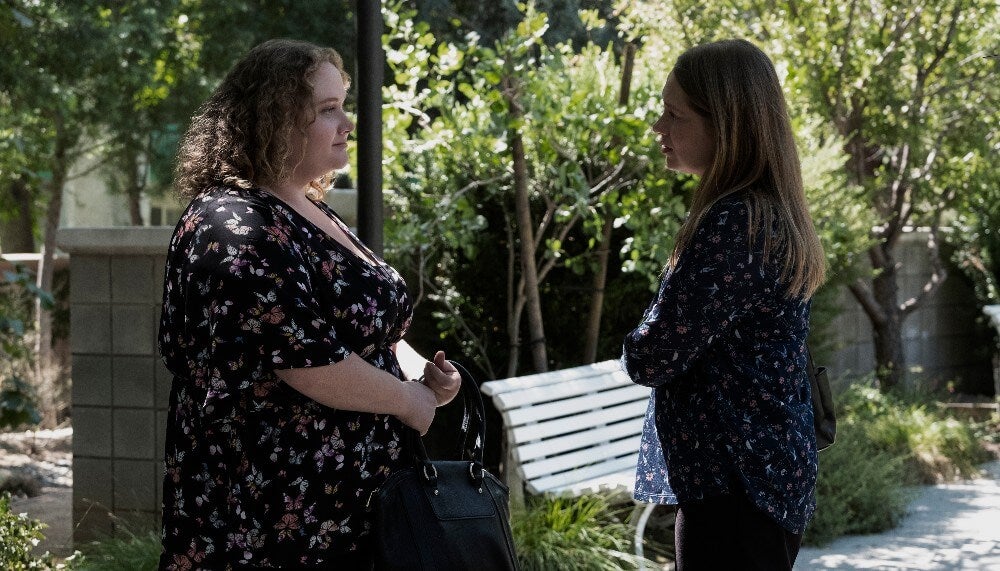 While the investigative side of Unbelievable is a gripping, tense procedural, it's Marie's story that gives the series its power. This is a show about victims and what it means to be one. It's about systems that aim to bring closure to a process, but not to the people caught in the process. What "the system" doesn't get, but people like Duvall and Rasmussen do, is that there is no such thing as closure for sexual assault survivors. The goal to catch rapists and prevent others from suffering what Marie, Amber, and too many others suffered is noble. But this mindset too often reduces victims to cogs in the machine, a means to an end. After the police mark Marie's case as a false report, a detective asks rhetorically, "One less rape in the world, that's ultimately a good thing, isn't it?"
Credit for the stellar writing and masterful balance of theme and plotting largely belongs to show creators Susannah Grant, Michael Chabon, and Ayelet Waldman. The direction by Lisa Cholodenko (The Kids Are All Right), Michael Dinner, and Grant is also meticulous. Scenes often linger on minor details and actors' faces, allowing everything to breathe. You can't rush healing, justice, or good storytelling. The exemplary work behind the camera is surpassed only by the cast. The way Dever balances Marie's jagged outer shell with her crumbling emotional health is devastating. Dever rightfully earned praise for her work in Booksmart, but this is her true star turn. Merritt and Collette are similarly excellent. They express their empathy in different ways, but it's always clear what drives Duvall and Rasmussen.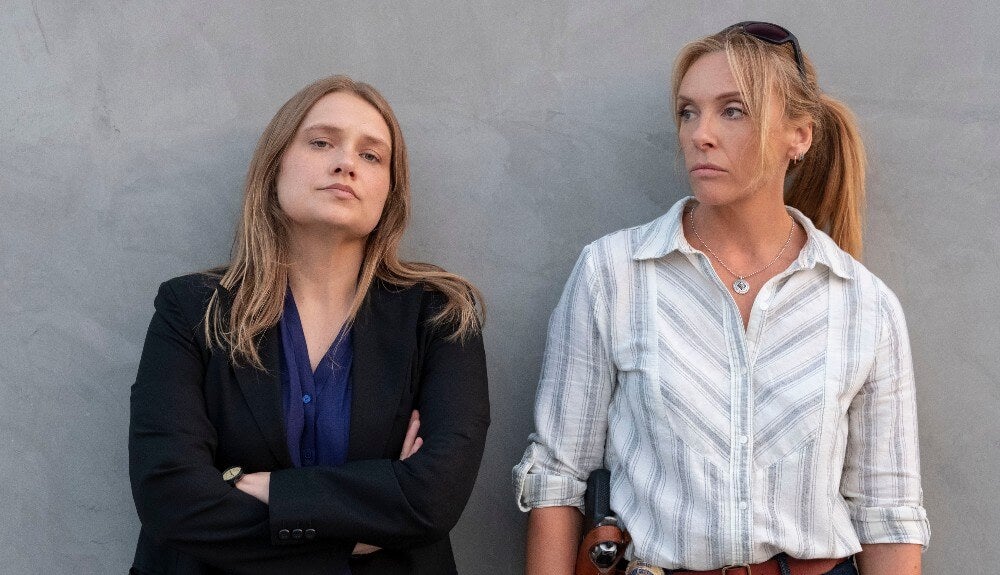 Unbelievable is at its best when it examines the tenuous nature of justice and what that means for both victim and investigator. There are infinite ways for the process to go wrong, and it's far too rare that things go right. The show illuminates the inherent contradiction of crime investigations: They have rules and procedures to follow, but that's not how life operates. I review a lot of Netflix releases, and Unbelievable is easily the best Netflix release I've seen this year. As a true crime narrative, it's as good as anything out there. As a reckoning of sorts, it's indispensable.  
Unbelievable tackles difficult subject matter, and it comes with a content warning for sexual violence. There isn't anything explicit, but the series frequently revisits Marie and Amber's assaults in quick flashes. While this makes for tough viewing, the callousness with which some characters—particularly Marie—are treated can be even tougher. But this only adds more nuance to an excellent show that encourages difficult conversations. Unbelievable has a lot to say, and we need to hear it.
For more information about sexual assault or to speak with someone about being sexually assaulted, contact the National Sexual Assault Telephone Hotline at 800.656.HOPE (4673) to be connected with a trained staff member from a sexual assault service provider in your area.
Still not sure what to watch tonight? Here are our guides for the absolute best movies on Netflix, must-see Netflix original series, documentaries, docuseries, and movies.
Looking for something more specific? Here are our Netflix guides for the best war movies, documentaries, anime, indie flicks, true crime, food shows, rom-coms, LGBT movies, alien movies, gangster movies, Westerns, film noir, and movies based on true stories streaming right now. There are also sad movies guaranteed to make you cry, weird movies to melt your brain, old movies when you need something classic, and standup specials when you really need to laugh. Or check out Flixable, a search engine for Netflix.