Tiffany Haddish's latest comedy special, Black Mitzvah, premiered on Netflix Dec. 3, 2019—Haddish's 40th birthday. It's fitting that the hourlong standup set alludes to the Jewish coming-of-age ceremony: Much like a 13-year-old celebrating their rite-of-passage in a synagogue, Black Mitzvah allows Haddish to reflect on her youth and celebrate her maturity.
Black Mitzvah
RELEASE DATE:
12/3/2019
CREATOR:
Tiffany Haddish
STREAMING:
Netflix
Haddish's reflections upon her recent success leaves something to be desired, but she mostly makes up for it with relentless enthusiasm, an optimistic message, and sheer likability.
The set kicks off with Haddish carried onto the stage on a chair while singing "Hava Nagila," which morphs into a fast-tempo rendition of "To Life" (from Fiddler on the Roof) that Haddish raps over. These have always been party songs, and Haddish's energy and upbeat charm gives her whole special a celebratory vibe.
"Black Mitzvah bitch! Mazel tov!" she shouts to the uproarious crowd. "That's right! That's right, I'm Jewish."
From there, Haddish explains that her father is an Eritrean Jew, although she was primarily raised in the United States by her mother, a Jehovah's Witness. Other than a bit toward the end about her "spiritual" side, there's not much talk of religion or heritage throughout the rest of her material, but as she insists several times (with tongue at least partially in cheek, of course), "I'm here to teach."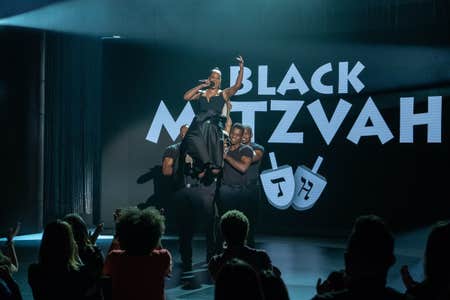 There's a lot one could learn from Haddish, because—as she has discussed at length elsewhere, including her memoir, The Last Black Unicorn, and on Netflix's My Next Guest with David Letterman—her younger years were an extraordinary challenge. She spent years in the foster care system following her mother's brain injury, and she was even homeless for a time in her 20s.
All of this is brought up, but Black Mitzvah never stops feeling like a party. It's surprisingly refreshing in the midst of a recent trend of comedy specials that put significant pauses on the jokes as comedians dive into deadly serious personal territory. Hannah Gadsby's Nanette, Patton Oswalt's Annihilation, and Gary Gulman's The Great Depresh are brilliant examples of comedy-as-catharsis, but at a certain point, it's easy to wish comics would skip to the part where they cheer up.
So as Haddish centers her special on being "a grown-ass woman" following so many years of struggle, her joy about her own success is often contagious. Yet while she certainly deserves to celebrate her rise to stardom in the past few years, including an Emmy and a Grammy, it doesn't always translate to funny material.
She references interactions with celebrities like Beyoncé, Oprah, Kevin Hart, and Sinbad, and while these tales of celebrity shoulder-brushing have funny moments (namely an incident involving Drake, and, more importantly, Drake's father), it sometimes feels like mere name-dropping. A bit about borrowing a dress from Beyoncé via Queen Bey's mother was loaded with comic potential. It's a shame the punchline amounts to little more than "Beyoncé's the best!"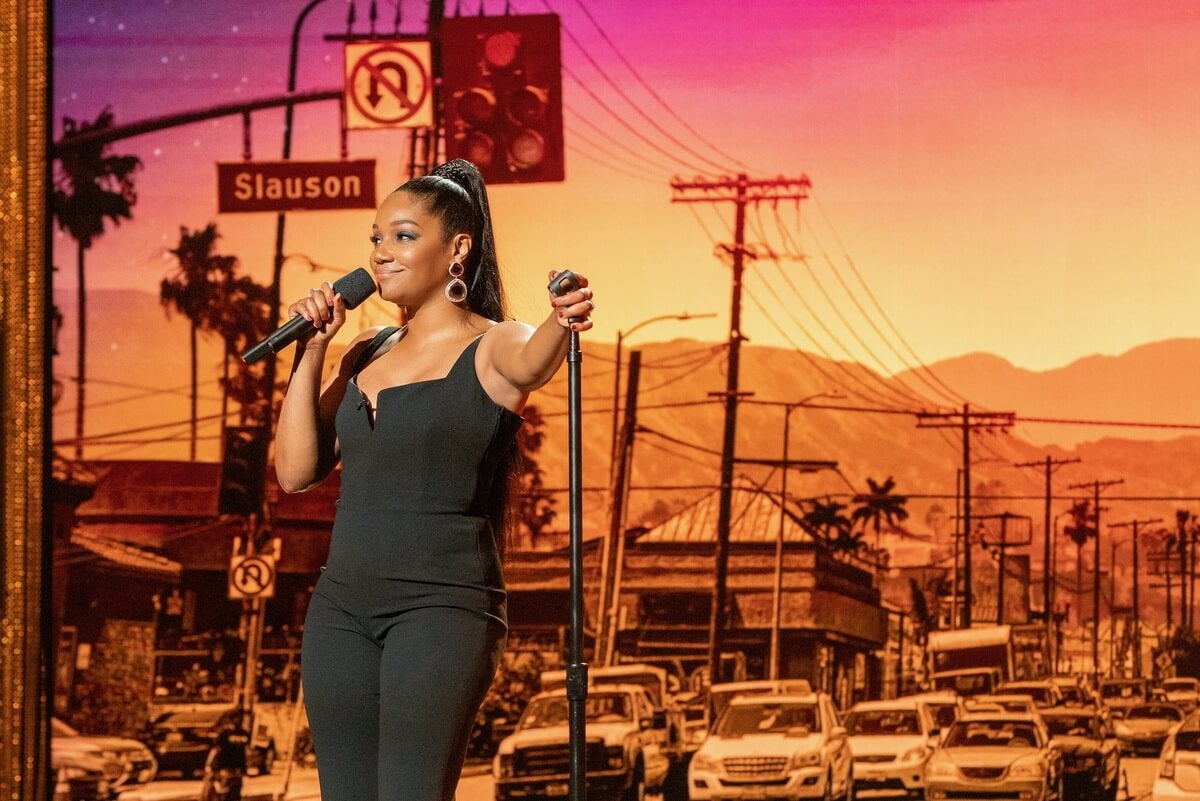 Haddish is funnier when she focuses less on her newfound stardom and turns her attention to more universal experiences like aging, sex (a hilariously detailed and wildly NSFW bit about genitalia is a highlight), and her past economic challenges.
She also shines when it comes to physical comedy. The best bit, which she saves for the end, involves an extended impression of a "lazy stripper." It could have been an easy ploy for hoots and hollers from the audience (and she gets plenty, make no mistake), but her sheer commitment to warping her typically cheery, expressive face into one of stone-faced disinterest exemplifies her gifts as a performer.
While Black Mitzvah never transcends beyond the conventions of a comedy special, it's almost commendable that Haddish doesn't try to do so. If she's "here to teach" anything, it's that no matter what we've gone through in the past, or what hardships we may currently be struggling with, life is worth celebrating. There's nothing wrong with that, especially if you're not looking for anything more than an hour's worth of fun.
Still not sure what to watch tonight? Here are our guides for the absolute best movies on Netflix, must-see Netflix original series, documentaries, docuseries, and movies. 
Looking for something more specific? Here are our Netflix guides for the best war movies, documentaries, anime, indie flicks, true crime, food shows, rom-coms, LGBT movies, alien movies, gangster movies, Westerns, film noir, and movies based on true stories streaming right now. There are also sad movies guaranteed to make you cry, weird movies to melt your brain, old movies when you need something classic, and standup specials when you really need to laugh. Or check out Flixable, a search engine for Netflix.