Hannah Gadsby's Emmy-winning Nanette dominated conversations about what is and isn't comedy in the summer of 2018. For follow-up Douglas, Gadsby decided to be more upfront. No alarms and no surprises.
Hannah Gadsby: Douglas
RELEASE DATE:
May 26, 2020
DIRECTOR:
Madeleine Parry
STREAMING:
Netflix
Gadsby's sequel to 'Nanette' plays with your expectations.
The comedian has the audience's "expectations" in mind and provides an outline early on of what the hour-long show will include, so there are no disorienting "not comedy" moments. That might seem a bit formal for standup, but it plays out more like sleight of hand. The success of Nanette elevated Gadsby in a way she might not have anticipated (and made her walk back a vow to quit comedy after more than a decade in the medium). But Douglas is about further illustrating Gadsby's way of thinking.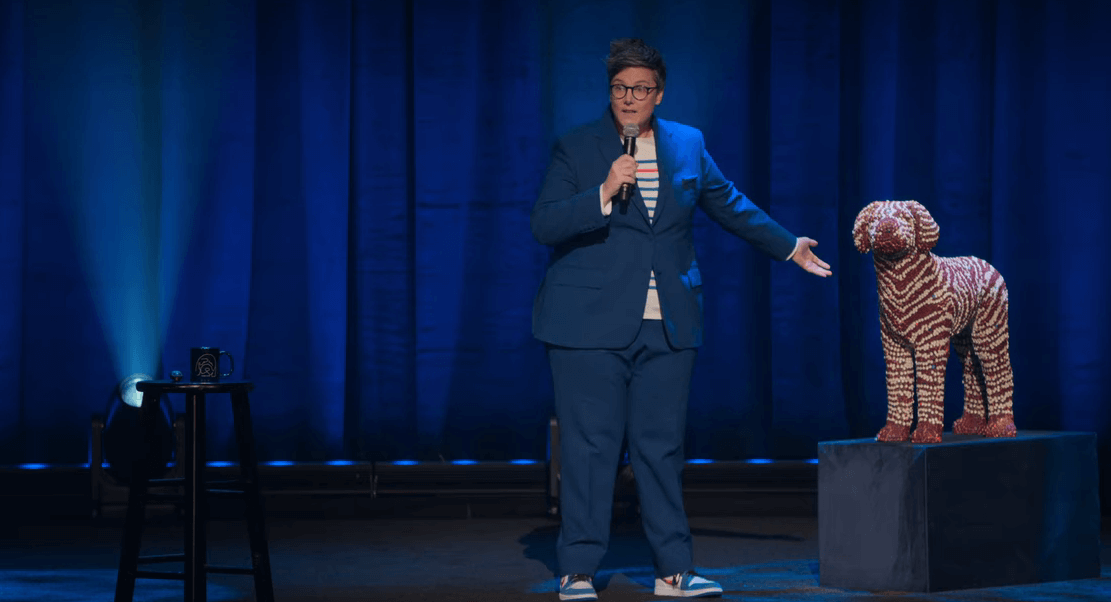 When Gadsby toured the show last summer, she was still working on material. Some of the live show's musings on her new Hollywood life were cut (perhaps to make room for that outline) but she kept a section on American words versus Australian words—the "observational" humor she's warned us about. That's buffered by an explanation of why a hidden piece of female anatomy is called "pouch of Douglas" and vitriol over the constant search for Waldo.
In the intro, she warns that she will be "hate-baiting" and chides the audience later when they take the bait. In Nanette, she spelled out the way tension and self-deprecation can be used to justify "just jokes" and stifle trauma. Here, Gadsby uses tension in a different way. She's still playing with format, but even though she's laid out the whole show, there's a tentativeness there, as if to say, "You still with me?"
---
---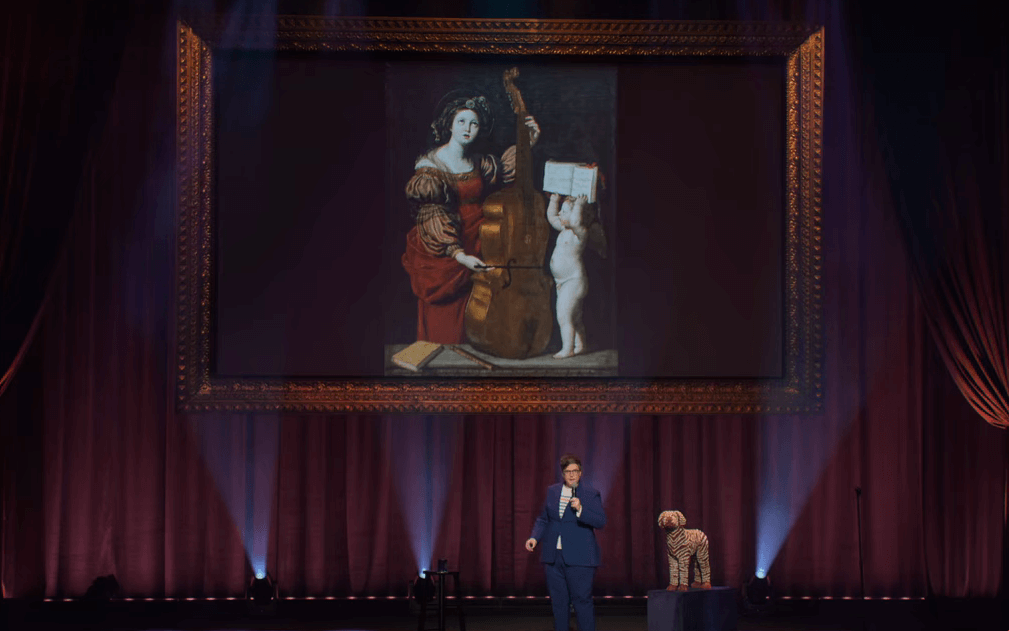 Can someone who didn't see Nanette enjoy Douglas? Of course. Gadsby makes it an accessible show, even if it's intertwined with its predecessor. She offers a "lecture" on Renaissance painting as a way to dress up criticisms of Nanette, but it's actually informative and humorous. Though Gadsby's given the audience a heads up, the way she announces "I have autism" sneaks up on you. She says the diagnosis allowed her to discover "a way to share my thinking," and it's clear Douglas is a vessel for it. More pointed is her dressing-down of anti-vaxxers, set up next to the admission that her audience is mostly "rich, white entitled women," a one-two punch that will certainly resonate in the pandemic discourse. And, she knows, draw more hate. Whether she's trying to shift their thinking is less defined.
Watching Nanette again two years later, knowing where it's going, it's no less powerful. And now there are even more comedians experimenting with the parameters of comedy. Douglas doesn't adhere to the same endgame (in fact, the final joke lands with a bit of a thud) but it lets us in on the process.
Still not sure what to watch tonight? Here are our guides for the absolute best movies on Netflix, must-see Netflix original series, documentaries, docuseries, and movies.
Looking for something more specific? Here are our Netflix guides for the best war movies, documentaries, anime, indie flicks, true crime, food shows, rom-coms, LGBT movies, alien movies, gangster movies, Westerns, film noir, and movies based on true stories streaming right now. There are also sad movies guaranteed to make you cry, weird movies to melt your brain, old movies when you need something classic, and standup specials when you really need to laugh. Or check out Flixable, a search engine for Netflix.