Anti-vaccination activists are seeing a rise in social media fame as a result of the coronavirus pandemic, a BuzzFeed investigation found.
The Daily Dot is committed to filtering the noise every day as COVID-19 seizes the internet's attention worldwide. We bring you stories on everything related to the viral pandemic, from the state response to social media fallout, and all the technical flubs, emerging social trends, and disinformation in between. READ MORE ->
BuzzFeed analyzed the social media activity of Taylor Winterstein, an Australian-Samoan anti-vaccination activist. According to BuzzFeed's screenshot of a post from March 6, Winterstein shared a photo on Facebook that had "Distraction" written across it, suggesting that the coronavirus pandemic is "the catalyst for worldwide adult mandatory vaccination." She posted it alongside questions, such as, "Do you know what the Govt is planning to roll out?"
While this post was not available on Wednesday when the Daily Dot ran a search for it, there are other posts on her Facebook page in which she makes similar claims about the disease and even touts what appears to be fake research.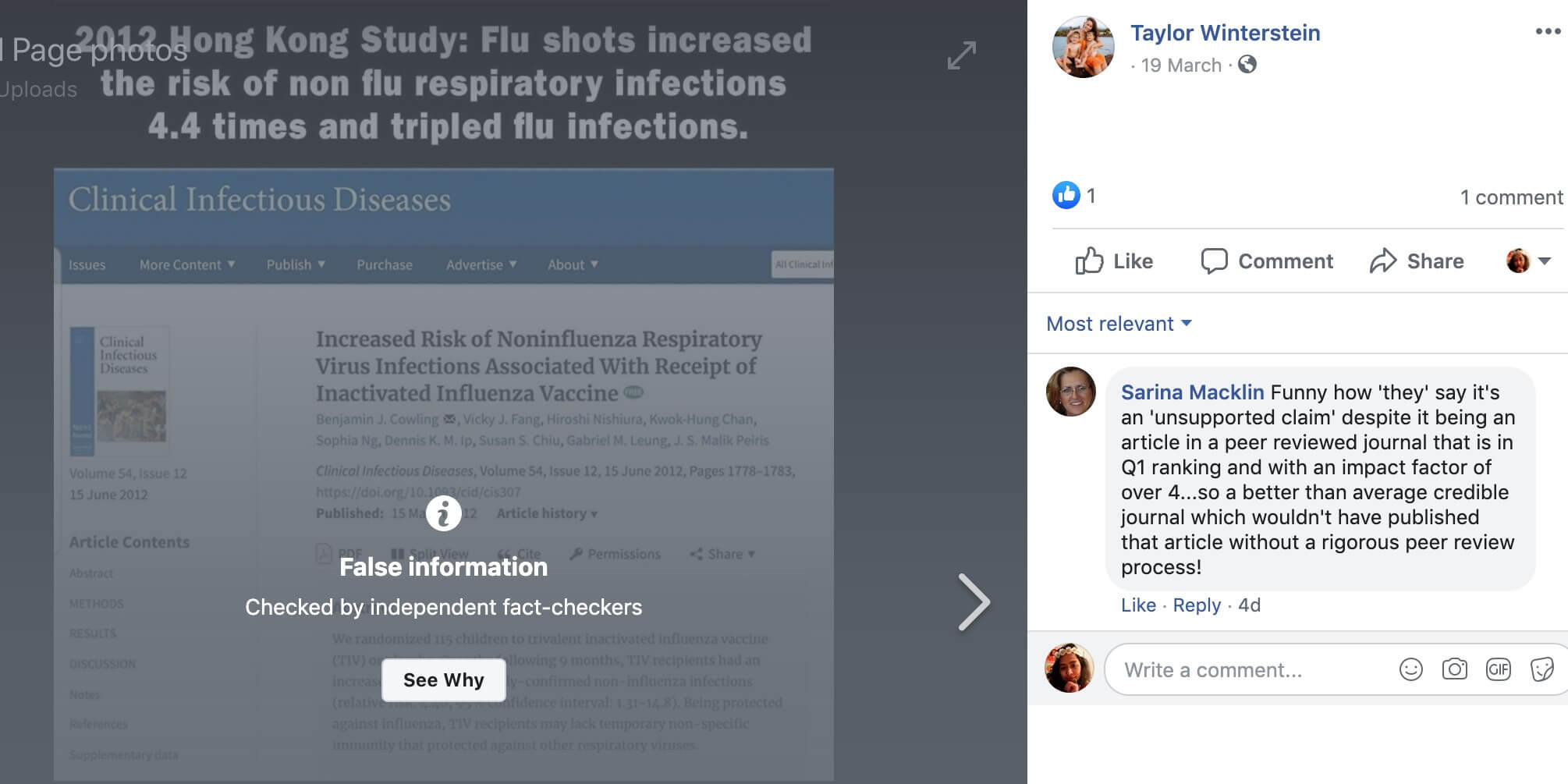 The Daily Dot was able to verify that the "research" is fake through Facebook's independent fact-checking system. At least two photos shared on Winterstein's page in March, which she branded as research, were plastered with a "factually inaccurate" label.
According to BuzzFeed, posts like Winterstein's became more popular under the current pandemic. There was an increase in engagement for these types of posts starting in February, which is when the pandemic really took off around the world. BuzzFeed reported that 12 anti-vaccination pages it monitored between February and May had their follower count double in this time.
The conspiracy that the coronavirus is leading to a global mandatory vaccine scheme is being touted among these pages, BuzzFeed reported.
Facebook in Australia outsources its fact-checkers, according to BuzzFeed. The fact-checkers can flag information as "false" while still allowing the user to keep the content on their page.
The current pandemic appears to have become a way for many anti-vaxxers to further their message. The response they are getting, as shown by BuzzFeed's investigation, is a testament to the idea the audience for this type of content is also growing.
Winterstein's Facebook page, however, has many negative reviews on it—from even before the BuzzFeed investigation was published. Commenters have slammed her for spreading misinformation.
A video she shared in April shows Bill Gates warning the world it is underprepared to handle a pandemic. The video claims Gates knew of the pandemic before it occurred.
"A coincidence? Or has Bill Gates known all along…" says part of the nine-minute video. "In order to understand the corruption, conflicts of interest and collateral damage that comes with the 2020 coronavirus PLANdemic… We have to start with BILL GATES."
The post generated only a few comments, but most were negative.
"Get a PhD in epidemiology, by then you'll be embarassed at the rubbish you're promoting," read one comment.
Another told Winterstein that she should "be ashamed" of herself.
"Because of ppl like yourself who are not doing the right thing and not staying home other [people] are still waiting to earn a living again but can't because of your actions," they wrote.
READ MORE:
H/T BuzzzFeed