Girls with Balls is a French horror film about a volleyball team lost in the woods, and to answer the most important question: Yes, they use the volleyballs as weapons. 
Girls with Balls
RELEASE DATE:
7/26/2019
DIRECTOR:
Olivier Afonso
STREAMING:
Netflix
This gory midnighter gets a few laughs in, even if it doesn't have much structure.
Directed by Olivier Afonso (who did makeup special effects for 2016's coming-of-age cannibal tale Raw) and co-written with Jean-Luc Cano (Life Is Strange), the film delves into well-tread territory: An RV carrying scrappy women's team the Falcons gets lost in a remote part of the French countryside, where the women encounter a group of backwoods weirdos who don't speak. It addresses another genre cliche: "Inbred hunters are old news," says one teammate right before they're hunted for sport. If only the film had dug into that idea a little more.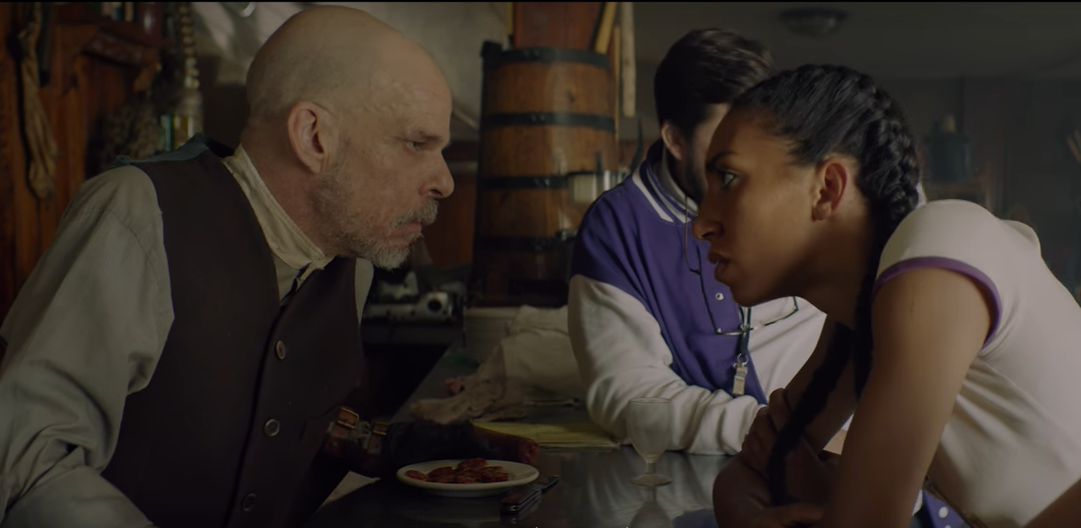 And so the chase begins, men vs. women, but the unfortunately-titled Girls with Balls adds in a little drama between team members to give it some emotional stakes—notably, headstrong troublemaker Morgane (Manon Azem) clashing with team captain Hazuki (Anne-Solenne Hatte). But we don't know much about the team before this encounter, and their bumbling coach (Victor Artus Solaro) does his best Force Majeure impression when things start getting bloody.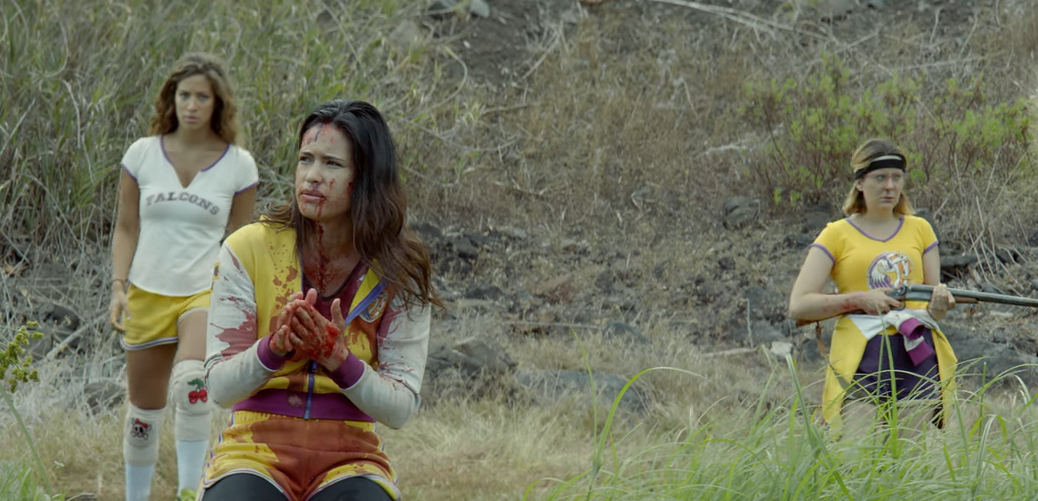 French film icon Denis Lavant, the leader of what appears to be a cannibal cult, conveys much with just his face in a wordless, humorous performance. But we don't get enough of him, and we don't know how these flesh-worshippers came together, or what the bloody symbol one of them paints on the Falcons' RV means. There is a fair amount of gore, but the film doesn't go overboard with it. (That said, a scene involving a cannibal chihuahua tips the movie in another direction.) 
Clocking in at just 80 minutes, Girls with Balls is a fun, schlocky ride that you can passively view, but you won't necessarily get invested in the characters. At times, it's also glaringly obvious two men wrote it. The film seems to want you to root for the women to find their collective power, and it's frustrating when they don't just mow down these dudes with ease. The men don't come off as particularly scary, and these women are supposed to be athletes. 
Netflix didn't do any promotion for the film—it doesn't even have an official Netflix trailer—so Girls with Balls might fly under the radar for genre fans. Or maybe it will end up becoming a cult hit. Either way, you get the sense that a lot of people—within the movie and without—needed to work a little harder here. 
https://www.youtube.com/watch?v=UcK6G3UnPrE
Still not sure what to watch tonight? Here are our guides for the absolute best movies on Netflix, must-see Netflix original series, documentaries, docuseries, and movies.
Looking for something more specific? Here are our Netflix guides for the best war movies, documentaries, anime, indie flicks, true crime, food shows, rom-coms, LGBT movies, alien movies, gangster movies, Westerns, film noir, and movies based on true stories streaming right now. There are also sad movies guaranteed to make you cry, weird movies to melt your brain, old movies when you need something classic, and standup specials when you really need to laugh. Or check out Flixable, a search engine for Netflix.