BoJack Horseman's swan song is approaching, but first, it's here to skewer one last Hollywood convention: the two-part finale.
BoJack Horseman: Season 6 Part 1
RELEASE DATE:
10/25/2019
CREATOR:
Raphael Bob-Waksberg
STREAMING:
Netflix
BoJack begins the painful work of recovery—but he's got to face the ghosts of his past.
Whether creator Raphael Bob-Waksberg had planned to end the animated black comedy after six seasons or Netflix pulled the plug abruptly, the first half of BoJack Horseman season 6 (the second half drops in January) seems committed to amplifying all of its hallmarks. Princess Carolyn's breathlessly alliterative banter stretches nearly past the point of comprehension, Mr. Peanutbutter's happy-go-lucky hijinks will make your eyes roll all the way to the back of your head, and Diane's gross digital media job grows more farcical—yet terrifyingly prescient—by the day. At the center of all the chaos remains the series' titular protagonist at his most quiet and reflective, trying to make sense of his newfound sobriety and right his many wrongs. It seems like BoJack might finally choose happiness—but not before facing a reckoning that could reshape his life.
After a flashback to the night of Sarah Lynn's death, season 6 picks up where season 5 left off, with BoJack checking into Pastiches Malibu Rehabilitation Center. It's predictably awful at first—particularly any programs involving physical activity—but BoJack eventually gets the hang of things and makes a good showing. Yet that's a problem in itself: BoJack is just "playing" rehab, rattling off self-deprecating one-liners in group time ("When wasn't the first time I drank?") while avoiding any real introspection. He's cynical about "an industry that profits off repeat customers" and still believes he deserves punishment, not healing. "I'm here because I made choices. Nobody made me drink," BoJack tells horse therapist Dr. Champ, proving that despite his surface-level progress, he still fails to understand the first step of recovery.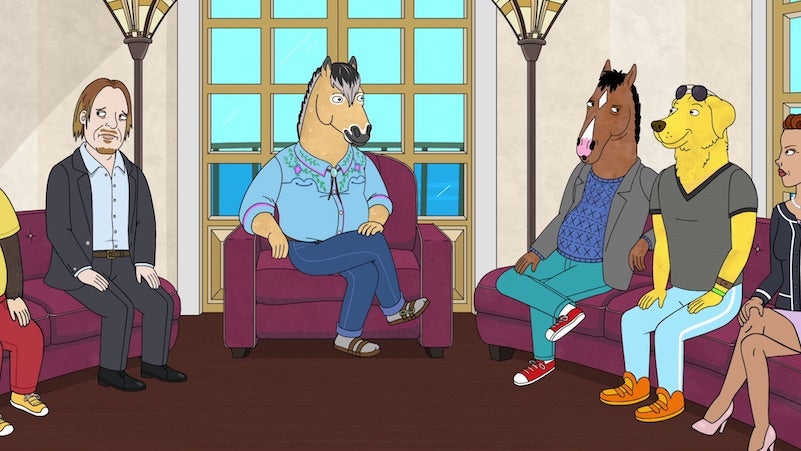 The one thing that finally moves BoJack to compassion and self-reflection is seeing how damaged the people around him are. Holding a younger repeat guest accountable inspires BoJack to check into Pastiches again—and again, and again, until his six-week stay turns into six months, during which he learns to do the actual work of recovery. He's still haunted by the ghosts of his past, and that won't change until he's addressed the people he's hurt and atoned for his behavior.
Meanwhile, BoJack's supporting characters are still dealing with the wreckage of their own lives. Princess Carolyn flounders under the stress of work and caring for her daughter, Untitled Princess Carolyn Project, while trying to project the facade of "having it all" like her working-mommy nemesis, Vanessa Gekko. She's still managing adult baby Mr. Peanutbutter, who finally comes clean to Pickles about his infidelity and is committed to making things right—even if it means letting Pickles sleep with somebody (or 32 somebodies) to level the playing field. Mr. Peanutbutter also inexplicably becomes the national face of depression after Princess Carolyn makes the "Sad Dog" meme go viral and embarks on a cross-country speaking tour with teen pop sensation Joey Pogo—who hits Mr. Peanutbutter with the bombshell that sometimes people who act happy are the most depressed.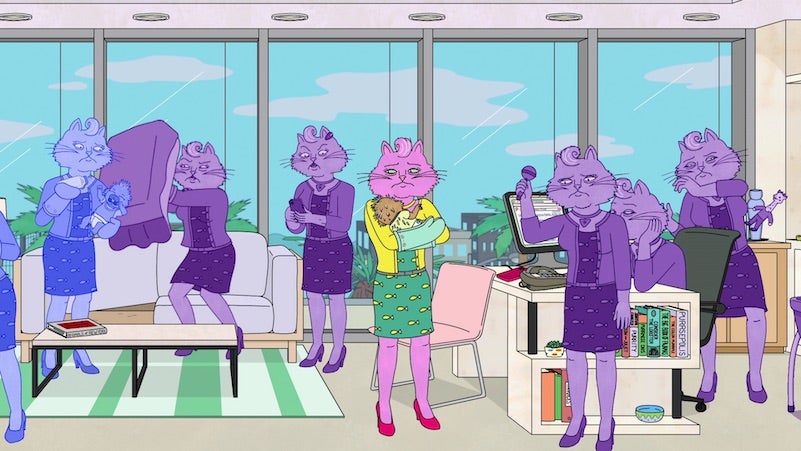 Sometimes people who act sad are depressed, too. In this case, it's Diane, who gets effectively iced out of a job after a media conglomerate buys GirlCroosh to prevent her from shooting exposés about any of its subsidiaries. So she moves to Chicago with her cameraman, Guy (Lakeith Stanfield), with plans for a new book called One Last Thing and Then I Swear to God I'll Shut Up About This Forever: Dispatches from the Front Lines of the War on Women: Arguments, Opinions, Reflections, Recollections, A Razor Tax… Guy is firm but loving, probably the first partner to see Diane's full potential and encourage her to flourish, rather than enable her self-destructive behavior. But she's got to overcome her own feelings of worthlessness and self-loathing before she can thrive.
Once again, BoJack season 6 offers plenty of zany B-plots to break up the heavyweight emotional proceedings. Todd breaks into a medical facility in Chicago to retrieve his kidney (which he sold to buy sock puppets) to donate to his mother; against all odds, the caper offers poignant insight into his fraught family life. Meanwhile, the assistants of Hollywoo unionize and go on strike, an amusing but mostly distracting subplot that sees the welcome return of Princess Carolyn's ex-assistant, Judah, who negotiates on behalf of the assistants. Season 6 loops in several other ancillary characters, including Hollyhock, Gina, and, yes, Esteemed Character Actress Margo Martindale. But for the most part, it isolates its main characters, developing their stories separately and setting them down separate paths that convene at the same point—a season-long collision course, with BoJack at the center.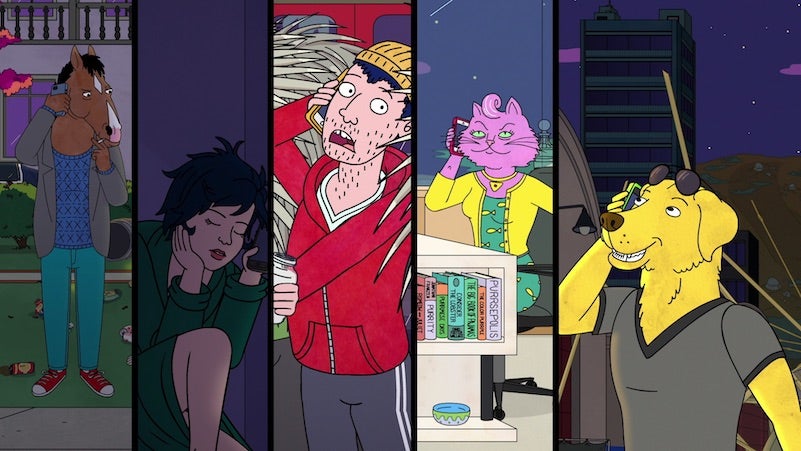 The problem with this meticulous stage-setting is that, ultimately, the first half of season 6 feels like a holdover and sets a perilously high bar for part two. After five gut-wrenching seasons, I'm not watching BoJack Horseman for side character hijinks or Hollywood satire. I'm watching to see if this self-hating, alcoholic, black hole of a horse will get his reckoning and emerge better for it. On a technical level, the first half of BoJack Horseman season 6 is another masterstroke of adult animation, stuffed with whiplash-inducing sight gags and zingers. Emotionally, it leaves me wanting more—which, in all fairness, is the point. I'm worried BoJack Horseman won't be able to pull off a grand finale that brings closure to its protagonist. I'm even more worried how I'll feel if it does.
Still not sure what to watch tonight? Here are our guides for the absolute best movies on Netflix, must-see Netflix original series, documentaries, docuseries, and movies.
Looking for something more specific? Here are our Netflix guides for the best war movies, documentaries, anime, indie flicks, true crime, food shows, rom-coms, LGBT movies, alien movies, gangster movies, Westerns, film noir, and movies based on true stories streaming right now. There are also sad movies guaranteed to make you cry, weird movies to melt your brain, old movies when you need something classic, and standup specials when you really need to laugh. Or check out Flixable, a search engine for Netflix.