It's happened: The collision of the United States Postal Service and "WAP."
These two institutions are currently under siege: the USPS by President Trump in an attempt to disrupt mail service before the election, and Cardi B and Megan Thee Stallion's "WAP" by pundits with no grasp of sexuality. But on TikTok—another entity Trump's going after—creators have found a way to honor both.
Inspired by a tweet that read "We must sexualize the USPS in order to save it," user sietesays used "WAP" and a mailbox to support that theory.
The song, which just hit No. 1 on the Billboard Hot 100, was used by others to drive people's attention to the issue.

The USPS did attempt to sexualize back in July with a busty Bugs Bunny stamp, but would it ever be bold enough to take this person's advice and start an OnlyFans?
More recently, the USPS received the fancam treatment on Twitter and TikTok as a show of support. The Lincoln Project, a Never-Trumper tweet-tank with dubious political ties, recently lifted a viral USPS fancam tweet, a sentence that only makes sense at this exact moment. While the Lincoln Project has been smug about its appropriation of content, the creator of the viral tweet—an 18-year-old artist—was serious about her message.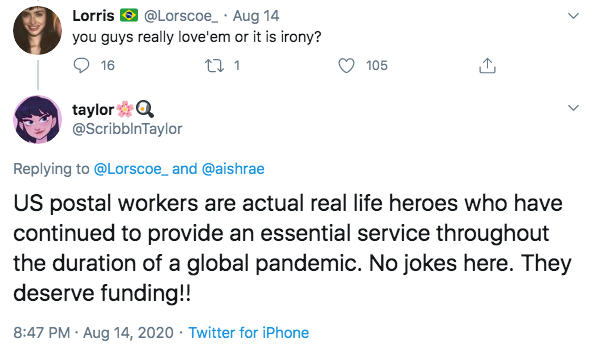 On TikTok, young people have found other creative ways to support the USPS, whether it's addressing subcultures like FrogTok and urging them to buy stamps, or advocating for small-business owners. Others have suggested more direct action.
The kids in America love the USPS, and a song by two women about wet-ass pussy is currently at the top of the charts. This can be a moment of change. Just be careful out there.