It was a time before YouTube and during the nascent days of the internet when New Jersey web designer Gary Brolsma fired up his webcam and hit record. He'd just experienced the audio-visual assault of an Albino Blacksheep video pairing an ASCII cat with the Moldovan pop banger "Dragostea Din Tei" by O-Zone. And the song had left him breathless for more.
After passionately lip-synching and dancing along, he threw the video to Newgrounds, a creative content-sharing platform similar to Albino Blacksheep. Back when the only things going viral were archaic gifs, gross freakout sites like Goatse and Lemon Party, and mocking Y2K fear-mongering, Brolsma's "Numa Numa" video was the innocuous positivity a rambunctious, unfocused internet needed.
A brief history of "Numa Numa"
Who is Gary Brolsma?
The video made its debut on Dec. 6, 2004, way back when Brolsma was just 18 years old and mostly exploring the web for fun. So determined was he to share "Numa Numa" with the world that he converted the video to Flash in order to bring it online. The original video has sadly been removed from Newgrounds, as has a corresponding "Numa Numa" section—a nod to the video's impact on the site—but his ebullient singing and dancing made the jump to YouTube some two years later when the video platform first began gaining prominence."Tom Fulp emailed me late November," Brolsma told the Daily Dot. "Newgrounds is beginning to remove videos that have copyrighted material and are focusing on videos and animations with original content, so unfortunately my video had to be taken down. It's very sad, but I completely understand why."
The song Brolsma dances to appears on an O-Zone album that's also out of print, though the band experienced a surge in popularity following "Numa Numa." O-Zone broke up a year later—all while Brolsma was learning to navigate his newfound internet celebrity.
"Numa Numa" in the spotlight
The video's hundreds of millions of views brought Brolsma to Good Morning America, The Tonight Show, and placed him at Number One on VH1's list of the Top 40 Internet Superstars, just beating out the Star Wars kid, Ghyslain Raza—a potentially good thing given the Quebec teen's reluctance to be in the spotlight and the bullying that negatively effected his mental health.
Brolsma too experienced his own viral fame backlash, similarly retreating from fame and shunning media inquiries before choosing to embrace the video that made him famous and taking control of where it took him. Raza, on the other hand, had less of such opportunity, given his age and the fact that it was leaked footage that vaunted him to stardom.
Raza experienced the worst the web had to offer, while Brolsma indeed found enough positivity from his fans to somewhat deflect the haters. This, at once, points to the benefits of age while also highlighting the mercurial nature of hitting it big on the heir apparent to television. The stars of 2004 didn't look like the Raza or Brolsma. They were standard fare: thin, white, and perfectly coiffed. Yet, as with the current web climate, anyone could be someone online.
It's a bit like Jon Sudano's rise to fame turning the backing tracks of such hits as Adele's "Hello" and Radiohead's "Creep" into intoxicating renditions of the Smash Mouth meme song "All-Star," though Sudano is more outspoken about body positivity. A New York Times article similarly notes that Brolsma has "never been ashamed" of his size.
"I don't like to pursue fame, because it's not who I am," Brolsma explains. "I enjoy living a quiet life, and I'm not ashamed or have any regret about posting ['Numa Numa']. I was simply going for a fun video and it was a surprise when it took off like it did."
Brolsma's "New Numa" contest
After seizing the opportunity to build a "Numa Numa" empire, Brolsma launched "New Numa," complete with him dancing to a custom tune, followed by a "New Numa" contest. He dabbled in collaborating with fellow viral stars and began focusing on making his own music, releasing 2008's Weird Tempo to a changing audience.
Weird Tempo harkens back to Lemon Demon, aka Neil Cicierega, the net-savvy nerd musician behind "The Ultimate Showdown," yet another viral Newgrounds sensation, which turns 12 this year.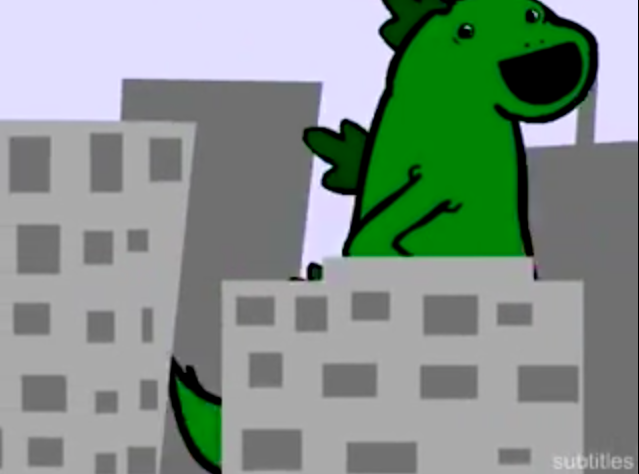 Cicierega has continued to adapt, though he remains a relatively unsung hero of the web's early years and, to newer audiences, that guy with the cool bots. Capturing and keeping viral fame is a near-Herculean task and the internet's overdrive into the stratosphere only served to shake Brolsma's grasp of it loose.
"It was much simpler all around," Brolsma laments. "I think today, it is way more common with social media that people can post strange videos of themselves. But every day, I see people come up with some wacky new videos. There's a ton more content and things being shared now, and even the policy changes you have to keep up with, so it becomes more difficult to produce content and more complicated to share and interact with."
Brolsma's YouTube channel has sat relatively dormant for months. "New Numa" is no longer live, though he did record a "Numa Numa 10-Year Reunion" two years ago. It's music that's been consistently central to Brolsma. He's working on an album and eying a late 2017/early 2018 release. As of this writing, many of his songs still need lyrics before they make it to the studio and to, say, streaming.
In fact, it's music that served as one of the biggest highlights of his "Numa Numa" fame.
"My favorite perk was getting to be part of Weezer's 'Pork and Beans' video," Brolsma says. "I grew up listening to their music and it was a really great experience. They were all super nice."
What means more to Brolsma, however, is how his video has brightened the lives of so many. Sure, he'll occasionally get recognized and take selfies with fans, but the longer-lasting connections are what he marvels at the most."I do get many emails and messages on Twitter. There are a few personal ones—people going through some rough times or deployed in the Army, etc.," Brolsma says. "And they explain that my video helped them smile and laugh, so reading those are nice."
In a trying year that's put the many facets of the web on blast, it's encouraging to see that some 13 years later a one-and-a-half minute clip filmed from a $5 webcam can still delight. "Numa Numa" may not be meant for the 2017 internet, but it's a damn good reminder that dancing like no one's watching is truly a timeless tradition.