If you've managed to avoid watching Rick and Morty until now, congratulations! Season four probably won't happen until 2019, so you have plenty of time to catch up. Of course, you don't have to be a neophyte to want to watch Rick and Morty: The show rewards multiple viewings by revealing tiny jokes you might have missed upon your first (or fourth) watch. There's just one problem: Rick and Morty isn't on Netflix and can be hard to watch if you don't have cable. Thanks to live TV streaming, there are ways to watch your favorite show without signing up for an expensive cable contract. Here are the best ways to watch Rick and Morty online. It'll have you screaming "wubba lubba dub dub." 
How to watch Rick and Morty online
Cost: $7.99-$11.99 or $39.99
Unlike Netflix or Amazon Prime, Hulu boasts the first two seasons of Rick and Morty. If you want to start at the beginning, you'll want to get either the $7.99 Hulu with Limited Commercials subscription or $11.99 Hulu with no Commercials. In case it's not obvious, the only difference between those two are those ads.  The third season is presumably coming shortly, but if you want to watch it right now, you're going to need to sign up for Hulu with Live TV and head to the on-demand section. Hulu with Live TV includes 50 hours of cloud DVR storage and over 50 channels of live entertainment programming. Worth noting: Hulu with Live TV comes with basic Hulu access, meaning you'll also be able to watch its collection of movies, shows, documentaries, anime, and must-see Hulu originals.
Devices: Hulu supports every major streaming device on the market: Roku, Apple TV, Google Chromecast, Amazon Fire devices, Xbox 360 and One, PlayStation 3 and 4, Android TV, iOS, Android, and your web browser.
READ MORE:
Cost: $35-$70 per month
When it comes to watching Rick and Morty live or on-demand, DirecTV Now is the cheapest option on the market. While technically Hulu streaming has it beaten at $7.99 per month, It currently offers only the first two seasons on-demand. DirecTV Now, on the other hand, gives you every episode Cartoon Network is currently streaming. DirecTV Now's $35 per month starter level gives you 60-plus channels to enjoy, plus an easy-to-use interface that's ideal for new cord-cutting. The only downside is the lack of cloud DVR, though the feature will be added shortly.
Devices: DirecTV Now is a solid service that works on almost every device, with the notable exception of PlayStation consoles. Amazon devices, Roku, Android TV, Apple TV, iOS and Android, browsers, and Chromecast can all stream DirecTV Now.
Cost: $20-40 per month
Sling TV is a budget competitor in the live TV streaming world, offering two packages of channels for $20 and $25 per month, respectively. (A combination of the two, Sling's Orange + Blue, is offered for $40 per month.) The good news is, no matter which package you pick it includes Cartoon Network. Sling provides access to Adult Swim's on-demand library, so you'll be able to watch any episodes the channel has streaming, or simply catch the show during its numerous reruns. Either way, Sling TV is a cheap way to watch Rick and Morty's adventures without breaking the bank.
Devices: Sling TV is available on a wide range of platforms—Roku, Amazon Fire devices, Apple TV, Chromecast, Android TV, Xiaomi, LG or Samsung smart TVs, iOS or Android, a computer, or an Xbox One—but like DirecTV Now, you won't find it on PlayStation. 
READ MORE: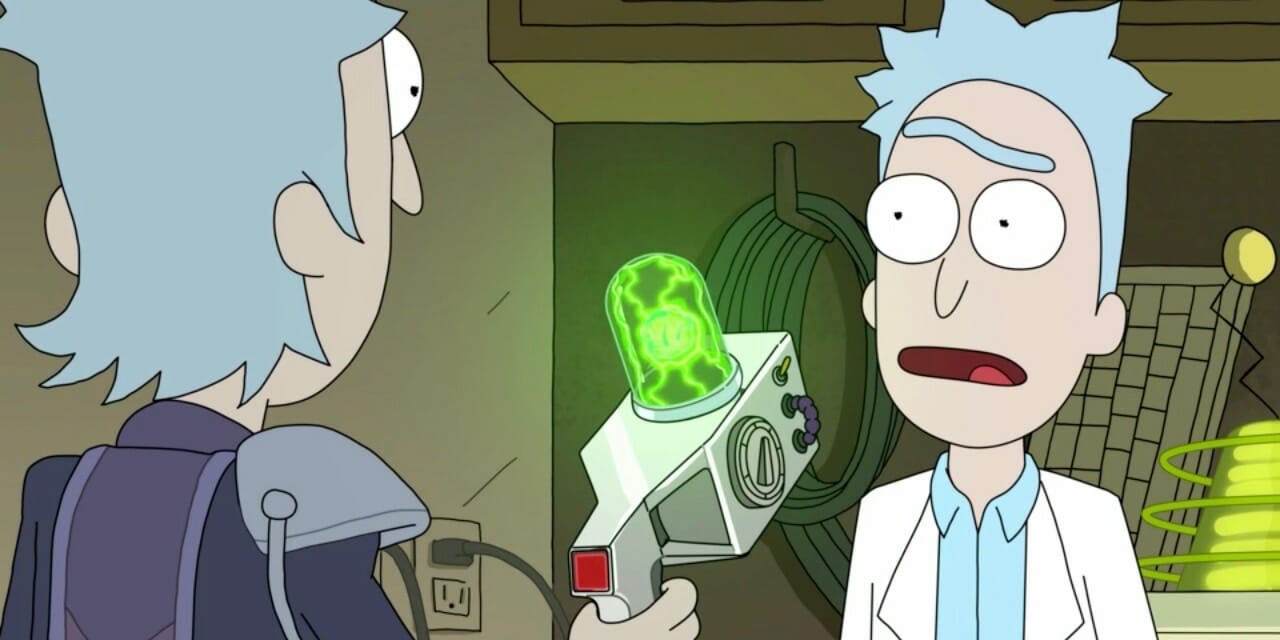 Editor's note: This article is regularly updated for relevance.