Warning: This article may contain spoilers and speculation from Rick and Morty season 4.
Fans won't have to wait too much longer for more Rick and Morty.
They already knew that Rick and Morty season 4 would premiere sometime in November, thanks to a video announcement released during WarnerMedia's upfronts—an annual TV industry showcase of what they have planned geared toward advertisers. But now, thanks to a brand new trailer that gives us plenty of semi-coherent teases (which is basically the norm for this show), fans now have an actual date: Nov. 10.
https://www.youtube.com/watch?v=Rw6BrzB1drs
---
In a bombshell announcement on May 10, 2018, co-creator Justin Roiland said you can look forward to 70—yes, 70!—more episodes of Rick and Morty.
More Rick and Morty coming. Looking forward to all the tweets asking where it is! #theydrawingit pic.twitter.com/KZild3B9rP

— Justin Roiland (@JustinRoiland) May 10, 2018
On July 19, the first look at Rick and Morty season four was unveiled at San Diego Comic-Con with an "Ominous Beeping Noise" clip. In the minute-long teaser, Morty and his dad can be seen trying to get an alien–who is voiced by none other than Taika Waititi–to take an app he developed offline. The alien then tries to escape to keep the app live.
In a June 2018 interview with Polygon, Roiland confirmed that production for Rick and Morty season 4 has begun. He also noted that thanks to Adult Swim's massive 70-episode deal, new seasons shouldn't take as long to arrive as in previous years because of the job security the deal created for those working on the show.
"We're super excited that, for the first time ever, we're locked in, we know what the future is, we have job security," Roiland explained. "Harmon is in great spirits, we have a great writer's room. We want the episodes to stay good, but we do also want to try to turn them around a little quicker now that we have this big order, I think it gives us the ability to be faster. We're not going to do these long breaks, these chasms in between seasons anymore. We're going to schedule vacation time and just keep the machine going. It's going to be really cool."
Rick and Morty season 4 release date
Rick and Morty's fourth season will start airing Nov. 10 at 11:30pm ET.
Prior to Adult Swim's reveal of the start date for Rick and Morty season 4, the speculation on when it would return had been widespread.
At the end of season 2, Mr. Poopy Butthole memorably broke the fourth wall in a post-credits scene where he speculated about just when Rick and Morty would return and ended up being far closer to his guess than any of us could've predicted. Although he didn't appear until the last moments of season 3, he's back with a wife and young child, and he even got his G-E-E-E-D.
"Ooh-wee, see you for season 4 in like, a really long time," he said. "I might even have a big, white Santa Claus beard. And a… couple of grandkids and all that kinda stuff."
https://www.youtube.com/watch?v=13SoPnUqGos
Ryan Ridley, who's written several Rick and Morty episodes, including season 1's "Lawnmower Dog" and season 3's "The Ricklantis Mixup," told Detroit Cast in December 2017 that we might not see Rick and Morty's fourth season for some time. Although he's personally not working on the show—he most recently wrote on Ghosted—he hasn't gotten any indication that the other writers have been working on the show. (Ridley begins to talk about Rick and Morty season 4 around the 30:50 mark.)
"As far as I know no one's working on the show and I'm certainly not, so I don't know what's going on," Ridley said. "I haven't heard anything. And yeah, they really take their time. I never understood why everybody—all parties, Dan, Justin, and Adult Swim—didn't get their shit together and make the show fast. I just don't get it. It doesn't make any sense to me. I'm sure they all have their reasons."
When asked by the hosts if that meant that a season 4 would never happen, Ridley clarified that it just might take a long time, based on his experience of putting the show together.
"I highly doubt there won't be, I'm just shocked that it's taking—we got done writing season 3 in November of last year and here we are 11 months later," he added. "And then I know how long the show takes to write, let alone animate, so it's just like, I'd be surprised if there was a fourth season on the air any sooner than 2019—in late 2019. It's crazy. I just, get your shit together you guys. Get it all together and put it in a backpack."
After Ridley's comments spread online in early January, Adult Swim told Variety it had "no timing to share on premiere or status of production."
Rick and Morty season 4 news
Rick and Morty season 4 has been mired by behind-the-scenes turbulence. Co-creator Dan Harmon revealed while responding to a hostile fan on Twitter that, in March 2018, the show still hadn't been officially ordered. (Harmon later clarified on Kevin Smith's SModcast podcast that the holdup was complicated contract negotiations.)
https://twitter.com/danharmon/status/974823597301616641
That was despite the fact that Rick and Morty is now a bonafide hit. Its popularity ballooned during season 3, bringing out the best and most creative parts of fandom, but revealing a darker underbelly, as some fans harassed and doxed the show's female writers (leading to the showrunners to disavow the "knobs" who harassed them). These toxic members of the fan community latched onto a belief in intellectual superiority because of watching the show, and badgered McDonald's employees after the very limited and ill-planned McDonald's promotion resulted in many not getting their own packet of Szechuan sauce. (McDonald's rectified the situation this spring.)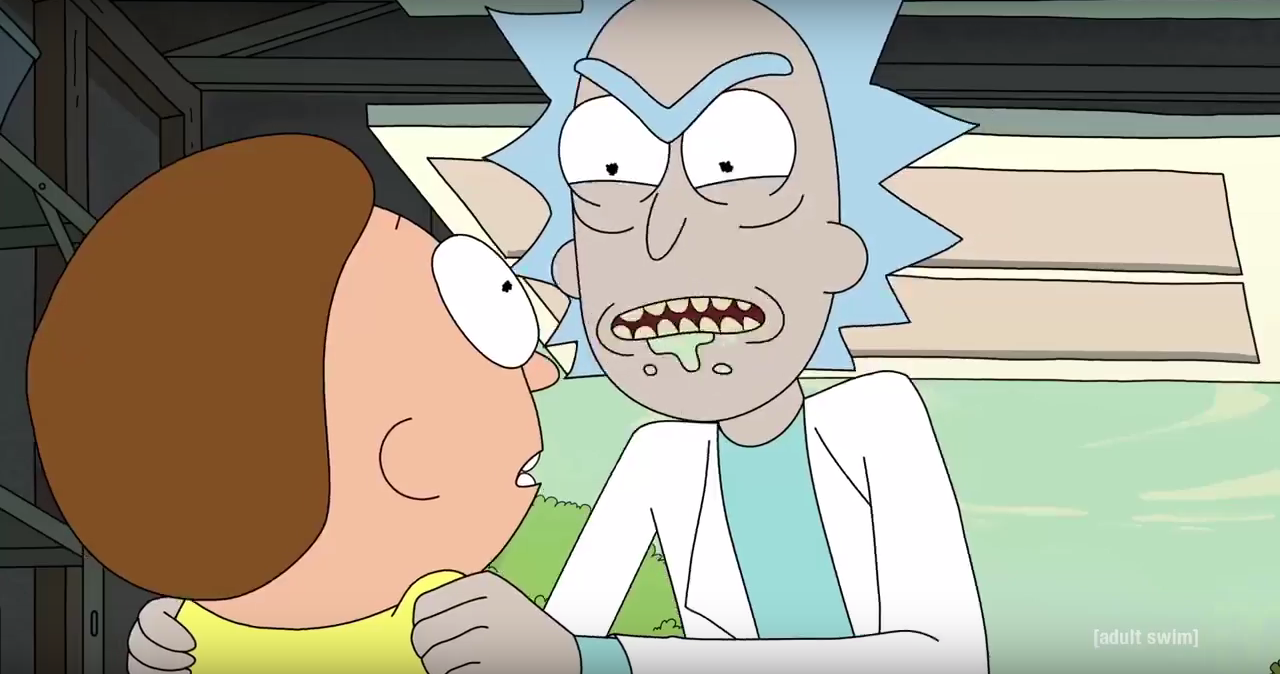 Harmon himself has also gotten tied up in controversy. In the wake of the #MeToo movement, Harmon apologized for sexually harassing a female writer on his previous sitcom, Community.
So, all signs are pointing to a long wait for more. But one thing is certain when a huge pile of new episodes finally arrive: The internet will be buzzing.
Rick and Morty season 4 episode count
In the first season 4 trailer, Adult Swim promised five all-new episodes of Rick and Morty starting Nov. 10, but it's unclear if that will be the entirety of season 4 or if Adult Swim is splitting the season into two or more parts.
---
Historically, Rick and Morty has been on the lower end when it comes to episodes per season: Season 1 had 11 episodes, and seasons 2 and 3 were 10 episodes each. Season 4, if co-creator Dan Harmon has his way, could potentially be bigger.
Except, as he told Entertainment Weekly in September 2017, what he hopes doesn't always turn out. He and Justin Roiland originally planned for season 3 to be longer, but the show ran into some problems along the way.
"I would like to think I've learned enough from my mistakes in season 3, that we could definitely do 14 now, but then I have to say, 'Yeah but you're the guy who says we can do 14 who turned out to be wrong so we're not listening to you now,'" Harmon explained. "The nice healthy way to approach this is I want to prove it with the first 10 of season 4 — prove it to ourselves, to production, to the network—that it's so easy that we'll earn additional episodes."
That certainly turned out to be the case, given Roiland's May 10 announcement.
READ MORE:
Rick and Morty season 4 fan theories
For some fans, the season 3 finale, "The Rickchurian Mortydate," felt like a bit of a letdown compared to the rest of the season. Whether it's denial or something much greater bubbling beneath the surface, one fan speculated soon after the season finale aired that we might be getting one more episode—right around Christmas.
The theory—which isn't supported by much but is intriguing enough to pique one's interest—posits that the secret Rick and Morty episode exists based in part on a hint from Harmon. He appeared on an episode of the Film Theorists' show, which went live days before the finale, and told host MatPat that Evil Morty—who had returned in "The Ricklantis Mixup"—would appear in the season finale (starts at 14:25). And as far as fans could tell, that didn't happen.
Some fans are also taking Mr. Poopy Butthole's allusion to the "big, white Santa Claus beard" he'll have when Rick and Morty returns to mean that he'll be donning a Santa Claus outfit for a Christmas special. The redditor who posted the theory believed that a Rick and Morty season finale would've included Evil Morty and Phoenixperson after setting them both up earlier in the season.
Then again, the Szechuan sauce mention in the season 3 premiere was probably supposed to be a throwaway line and look at what's happened since then.
Rick and Morty season 4 trailer
Adult Swim released the first trailer for Rick and Morty's fourth season on Oct. 6, and while it's light on any overarching plot, it's got plenty of the touchstones we'd expect from Rick and Morty such as Morty getting in trouble, aliens chasing them down, Rick kicking ass, and even a surprise appearance from Mr. Poopy Butthole holding his own in a lecture hall.
https://www.youtube.com/watch?v=Rw6BrzB1drs