Apex Legends is a really, really good game. So good in fact that the only bad thing I can say about it (aside from the dire need for a report player option) is that I wish there were more characters to choose from. Thankfully, we may not have to wait long. With Apex Legends season 1 looming on the horizon, we've got news about one, maybe two new characters hitting the roster. Here's everything we know about Octane, Apex Legends' newest possible character.
Apex Legends: Who is Octane?
Octane is one of two new Apex Legends characters, who was previously leaked by data miners scouring through the game's PC files. Since that initial leak, some more information has dropped about him, although none of it has been confirmed by developer Respawn Entertainment, so take it with a grain of salt.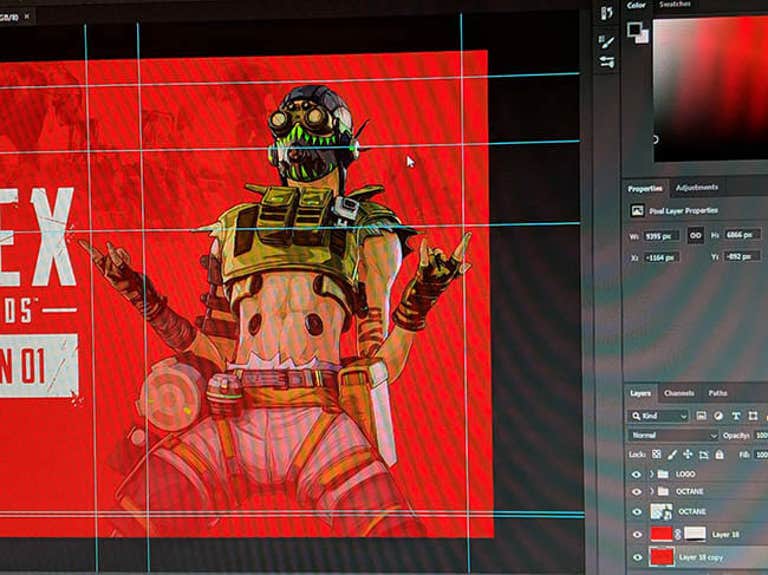 Keeping in line with Apex's theme of an ongoing high-stakes "sports" tournament, Octane is clearly an adrenaline junkie, if the leaked images of him are to be believed. With a mask that makes him look like a Mad Max: Fury Road extra and some robotic legs that indicate either a history of injuries or self-mutilation. We don't really know any official backstory for Octane, but thus far Respawn has been pretty good at giving each Legend a relatively compelling history.
READ MORE:
Apex Legends: What are Octane's abilities?
Thanks to a leak from Instagram user @childz_pl4y, we've seen a possible (though unconfirmed) list of Octane's special abilities he can use in combat.
Passive Ability: Swift Mend, which heals Octane slowly over time so long as he isn't taking damage.
Tactical Ability: Adrenaline Junkie, which lets Octane move 30 percent faster for six seconds and takes away 10 percent of his health, but makes him immune to slowing effects like poison or grenades.
Ultimate: Launch Pad, which does exactly what it sounds like. You and other players can use the pad to leap high through the air. This one should feel a lot like Pathfinder's zip line, but perhaps with a bit more flair.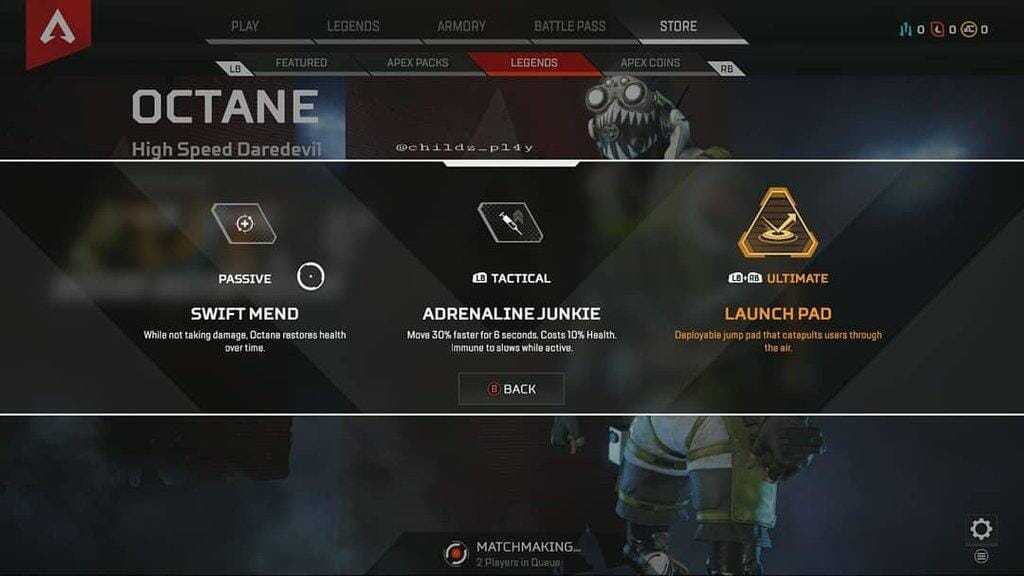 What else do we know about Octane?
It looks like Octane's callouts and icon have been discovered among the game's files, according to @ApexLeaksNews.

READ MORE:
When does Octane release in Apex Legends?
According to @ApexLeaksNews, Octane will release alongside a new weapon (the L-STAR LMG) at the start of season 1 sometime in March. ApexLeaksNews says they'll actually come as a bundle, which indicates that you'll most likely have to pay for Octane the same way you did for Mirage and Caustic, or play an extraordinary amount of Apex Legends to unlock enough Legends Points.
Stay tuned for more information on Apex Legends season 1 and how Octane will fit into the mix.