Getting to first place in Apex Legends is no small task, but thankfully you don't have to sacrifice your FPS (frames per second) rate to get there. If you're playing on PC, there are a few key changes you can make to your settings to get an improved FPS rate. Consoles players, sorry, but you're essentially locked in at 60 FPS. PC players, check out our tips below for improving Apex Legends FPS settings.
Apex Legends FPS: How to get around the FPS cap
Apex Legends players have figured out that you can get around the FPS cap (an already impressive 144 FPS) by turning V-sync to "dynamic," but this comes with some other problems like input lag. So if we want to avoid this, we'll do it with a newer method that's been discovered.
Make sure

Apex Legends

is closed.

Open up the Origin launcher.

Go to your game library and left-click on

Apex Legends

.

Click the settings cog icon.

Go to "Game Properties."

Go to the "Advanced Launch Options" tab.

And just like a regular PC command line, enter: +fps_max unlimited
Apex Legends FPS: Increase FPS by enabling V-sync
OK, yes, I know what I just wrote told you to stay away from V-sync, but hear me out. If you enable V-sync, it will remove the FPS cap and make sure the highest minimum FPS rate increases.
Check out YouTuber ImSpeedyGonzalez for a rundown on how to achieve this:
You'll note that the idea here is to minimize the graphical quality for FPS. While you'll have an objectively smoother experience, this might impact your ability to rely on draw distance (how far your PC can render an object in the distance) to spot enemies and generally tell what the heck you're looking at from afar.
Apex Legends FPS: Turning off Ambient Occlusion Quality
According to a great report from PC Gamer, Ambient Occlusion Quality (the tech used to make shadows more natural) can impact your PC's performance while playing Apex Legends. Turn it off, and you'll get a 15 percent performance improvement. Make sure to check out the article for other (very) minor improvement options.
If you lower other settings, you'll also improve your Apex Legends FPS rate by a marginal amount. These include:
Anti-aliasing

Texture Streaming Budget

Texture Filtering

Ambient Occlusion Quality

Sun Shadow Coverage and Detail

Spot Shadow Detail

Volumetric Lighting

Dynamic Spot Shadows

Model Detail

Effects Detail

Impact Marks

Ragdolls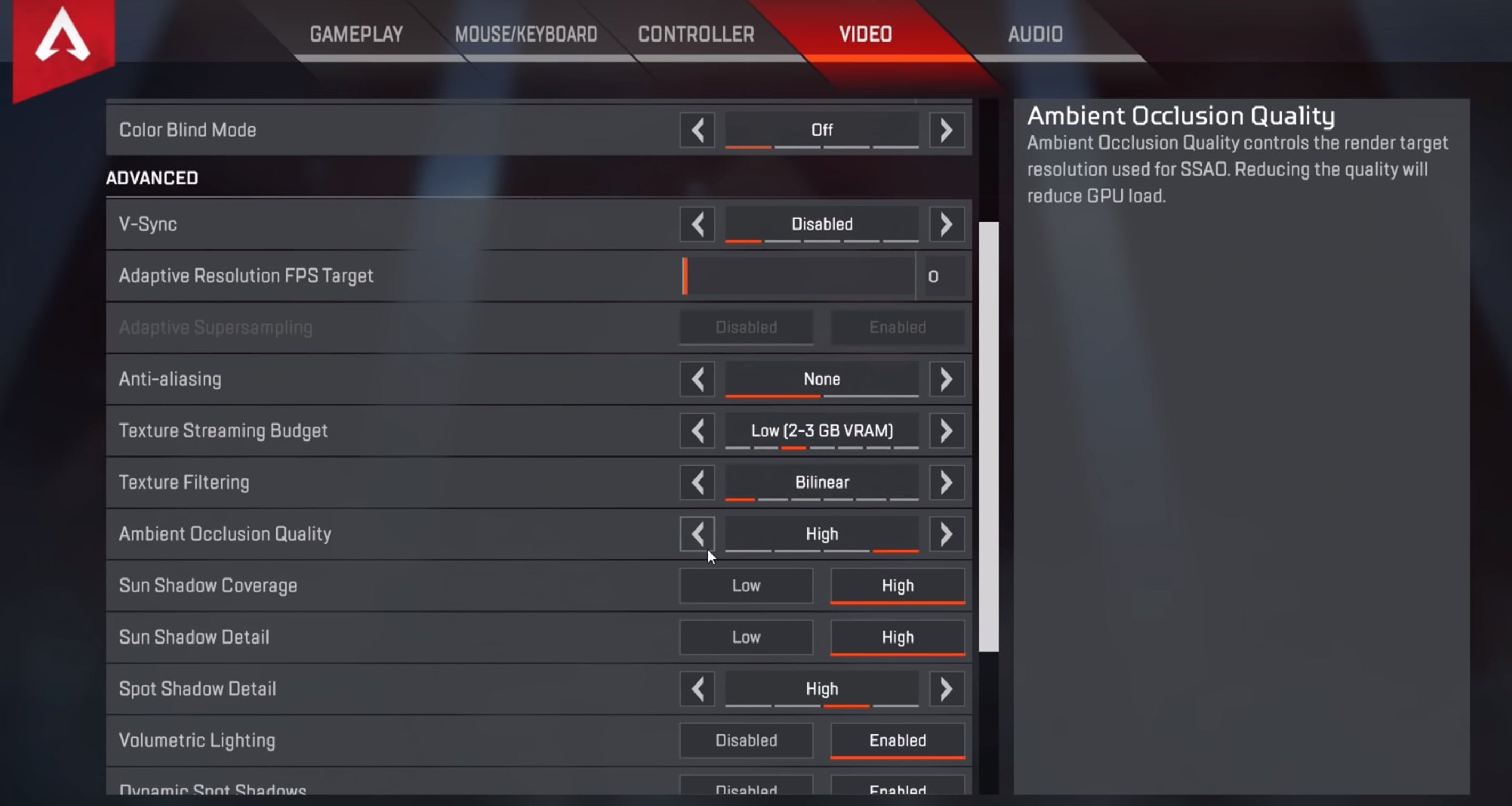 Other options for increasing FPS in Apex Legends
If you're desperate (or just running a desperately low-powered PC), you can alter two additional options, but it will come at the cost of your ability to play the game on the same level as everyone else.
First, you can alter the Field of View. This will shave off a portion of each side of your character's POV, but it could in theory boost your performance.
Second, you could alter your resolution. This is a big one, as it will directly impact how clearly you can see anything in the game, including enemies who may have already got the jump on you. It'll directly reduce the load Apex Legends is putting on your PC though. Try putting the game in windowed mode too and see if that helps.
Looking for more help in Apex Legends? Here are some tips on how to win in Apex Legends, how to get Apex Coins, Tokens, and Crafting Materials, and how to keep Apex Legends from crashing.