Wary of a new chapter in our grueling sci-fi/fantasy fandom culture wars, many Lord of the Rings fans are sharing a racist tweet about the upcoming Amazon Studios adaptation. Posted by an anonymous anime account (of course), it's a classic of the genre: Someone saying their childhood has been "ruined" by diverse casting choices. Specifically, they're mad about "elves of color" in the new show.
There's a twist, though. The screencapped headline isn't actually real, and it was probably created to inspire outrage. Basically, a lot of Lord of the Rings fans just fell for a plausible but easily-debunked hoax.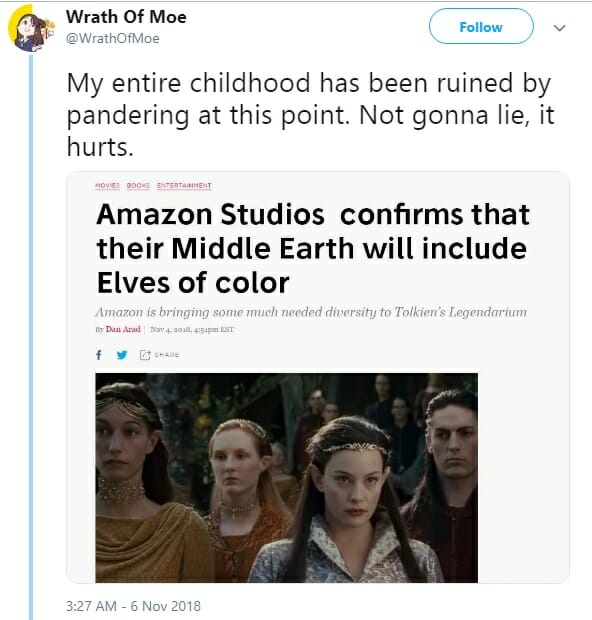 Googling the headline yields zero results, and the article's author, Dan Arad, doesn't seem to exist. That makes sense, because Amazon hasn't issued any kind of statement about casting choices for its Lord of the Rings series. If it had, it would already be all over every geek culture outlet on the internet.
This hoax relies on a temptingly viral headline, provoking reactions from both sides of the debate over diversity in fantasy fiction. Racists see the phrase "elves of color" and start yelling about the white purity of Lord of the Rings (ew), while progressives quote-retweet the post with snappy comebacks. Either way, the original poster gets the attention they craved. (Which is why we're not wild about covering it here, but given the virality of the post in question, it desperately needed to be debunked.)
After figuring out the post was fake, our first port of call was obviously 4chan, the home of politically divisive hoaxes. Happily, this post doesn't seem to be part of a widespread troll campaign. Whoever created the screencap shared it on several messageboards, where commenters either reacted with predictable racism, or pointed out that it was a hoax.
To set the record straight, Amazon has only confirmed two things about the show so far. We know they spent $250 million on the TV rights, and that the showrunners are J.D. Payne & Patrick McKay, whose previous claim to fame was writing an early draft of Star Trek Beyond. (Yes, seriously.) Amazon hasn't even announced what the show will be about, although it's more likely to be a spinoff than another direct adaptation of the LOTR trilogy.
On the topic of casting choices, you should probably brace yourselves for this kind of controversy to resurface. While Peter Jackson's Tolkein movies were overwhelmingly white, it would be a PR disaster for Amazon to launch an all-white fantasy series in the 2020s. That kind of casting is unethical and exclusionary, and comments about "European fantasy" settings just don't cut it any more. Even if LOTR was a straight historical fantasy drama, it would be inaccurate to envision medieval Europe as an all-white environment. With diverse fantasy shows like The Dragon Prince and The Witcher paving the way (and, hell, even the Warcraft movie), we fully expect to see some elves of color in Amazon's Lord of the Rings.