Netflix's The Dragon Prince arrives with high expectations. Created by some of the key figures behind Avatar: The Last Airbender (writer Aaron Ehasz and director Giancarlo Volpe, along with video game director Justin Richmond), the animated series wears its influences on its sleeve, opening with an Avatar-esque prologue explaining six forms of elemental magic. That sets the scene for a charming but rather derivative adventure story, a familiar spin on the quasi-European fantasy worlds of Warcraft and Lord of the Rings.
In other words, the kind of setting that Avatar was created to subvert.
In the three episodes made available to critics, we're plunged into a war between elves and humans, with a dragon egg as the One Ring-esque maguffin. Our three heroes are the dorky human prince Callum (Jack DeSena, aka Sokka from Avatar), his little brother Ezran (Sasha Rojen), and a young elf named Rayla (Paula Burrows). While Callum and Ezran seem like regular kids (albeit kids who live in a palace), Rayla is already embroiled in the war. When she arrives on the scene, she's part of an elite squad of assassins sent to kill the human king. She's also the absolute worst part of the show—not because she's poorly conceived, but because her voice actor is atrocious.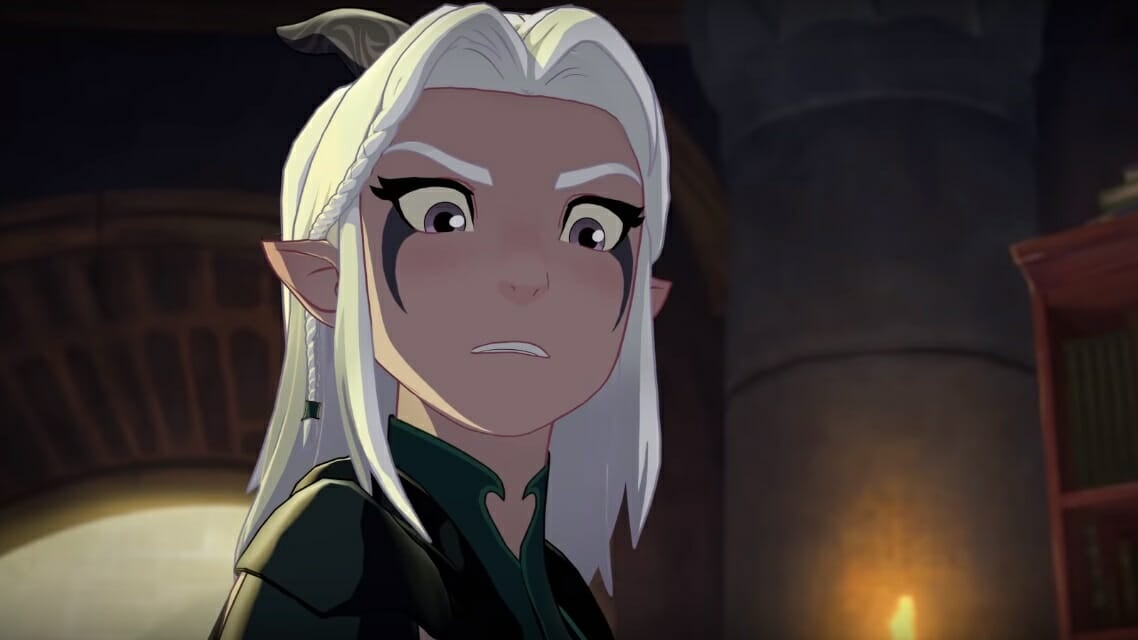 For some reason, The Dragon Prince's creators decided to give the humans American accents while the elves are either Scottish or English. The other elf performances range from dubious to acceptable, but Rayla has the worst Scottish accent I've heard since Mel Gibson in Braveheart. It brings to mind the "you had one job" meme. If the creators wanted elves to have to have Scottish accents, why not cast someone who can actually do one? Paula Burrows' accent is the vocal equivalent of Americans trying to copy Scottish Twitter, and it's painfully distracting. She delivers a collection of vowels that have never naturally emerged from a human mouth—appropriately enough for an elf, I suppose.
The Dragon Prince puts a fresh spin on classic fantasy
Accents aside, The Dragon Prince has the right cross-generational appeal to engage with kids and adults alike. It combines goofy humor with a solid basis for longterm storytelling and character development, and the character designs show a deep affection for the genre. (Think Voltron's clean lines and luminous highlights, transposed onto a vaguely medieval fairytale aesthetic.) And while the premise treads a familiar path, there's an effort to correct the genre's usual lack of racial diversity.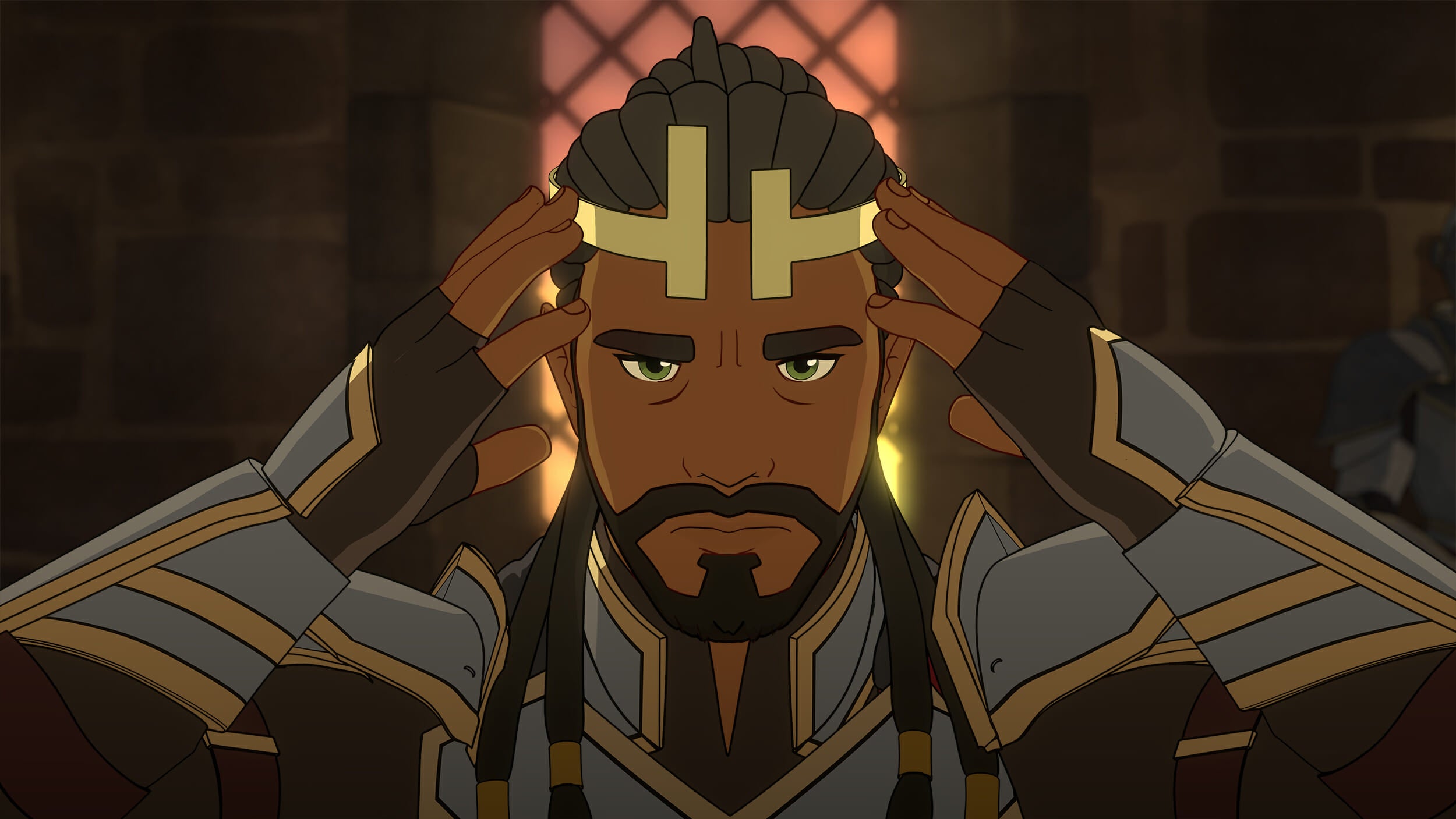 Rather than following the Game of Thrones route of making Fake Europeans white and Exotic Foreigners brown (side note to fantasy writers: please stop doing this), The Dragon Prince offers a human society with similar demographics to a typical American TV show. It's nowhere near as diverse as Avatar, but for classic fantasy, it's a step up from what we might have seen five years ago. If only I could say the same for the show's gender balance. Alongside a full cast of male knights, kings, and wizards, we only get two female characters (Rayla and a lovable gothic witch), and very few women in background roles. Hopefully that will change in later episodes.
As you can probably tell, it's hard to avoid drawing comparisons with Avatar. It may also be a little unfair. Unlike Avatar or Steven Universe, The Dragon Prince isn't really trying to do anything new. A more apt comparison would be Voltron, another show that embraces tried-and-tested genre guidelines with a contemporary twist.
If you're the kind of person who likes the idea of a swords-and-sorcery cartoon with a sincere tone and plenty of magical intrigue, The Dragon Prince fits the bill. And I must admit, I am indeed one of those people. Despite Rayla's appalling accent and the dearth of female characters, something in my nerdy little hindbrain is thrilled to hear an over-explained prologue about elvish history. The same goes for people in cool armor dueling on rooftops, or finding secret passageways to mysterious dungeons. These old tropes keep coming back because they work, and as long as The Dragon Prince introduces some actual dragons, I'm onboard.
Season 1 of The Dragon Prince arrives on Netflix on Sept. 14.
Still not sure what to watch tonight? Here are our guides for the absolute best movies on Netflix, must-see Netflix original series, documentaries, docuseries, and movies.
Need more ideas? Here are our Netflix guides for the best war movies, documentaries, anime, indie flicks, true crime, food shows, rom-coms, LGBT movies, gangster movies, Westerns, film noir, and movies based on true stories streaming right now. There are also sad movies guaranteed to make you cry, weird movies to melt your brain, old movies when you need something classic, and standup specials when you really need to laugh. Or check out Flixable, a search engine for Netflix.