No matter how vast the story of Game of Thrones and A Song of Ice and Fire may get over several seasons and books, you can always follow along with the fictional Game of Thrones maps made famous by the show's fascinating world.
We catch glimpses of the Game of Thrones map at the start of every single Game of Thrones episode, which takes you to just about every town and settlement you'll see during that hour of television along with a few staples. As the now-iconic theme song gets stuck in your head, you're getting a Westerosi geography lesson. The map of the known world—which encompasses Westeros and beyond the Wall, Essos (from the nine Free Cities and the ruins of Valyria to Meereen and Asshai and beyond), nearby islands, and the largely unexplored regions of Sothoryos and Ulthos—is practically ubiquitous with Game of Thrones.
What is the Game of Thrones map?
Sure, it's important to know (in a general sense) where things are. But a Game of Thrones houses map can provide a scope of just how big the world Martin created is. You can't just arrive halfway across the continent in almost no time at all—until you can, anyway. But they're not just fun nods for long-time book fans—GOT maps are also strategically vital.
Aegon the Conqueror planned out his conquest of Westeros on a painted table in Dragonstone, and more than three hundred years later, both Stannis Baratheon and Daenerys Targaryen would have a similar use for it. Countless lords used paper maps with painted pieces to relay where enemy houses resided ahead of a major battle. In season 7, Cersei Lannister, now queen, commissioned a detailed map of Westeros on the ground that she could observe and walk across. Even the season 8 teaser trailer, which contained no new footage, featured a map of Westeros with wooden pieces representing the Starks, Targaryens, and Lannisters being consumed by ice and fire.
For those looking to dive in further, you won't be able to by watching the show alone. The glimpses of the map we see in the opening credits aren't very conducive for theorizing or plotting. They probably won't help sort out the show's issues with time in more recent seasons—save the length of the Wall, George R.R. Martin deliberately did not reveal distances or travel times in Westeros—but it gives us all a better idea of just where things are happening. Fortunately for us, there are plenty of ways to discover Game of Thrones maps for ourselves.
Where to find the Game of Thrones map online
1) HBO's Game of Thrones viewer's guide
HBO recognized that there is a lot of information that Game of Thrones casually reveals on a regular basis, and for some fans, it can be a bit much to keep track of. Fortunately, HBO has an official interactive guide that you explore and customize no matter how far along into the show. You can explore character biographies and family trees, see a synopsis, and view a map of the known world that's available in English, Spanish, and Hodor. (Yes, really.) Depending on what episode you're viewing the map from—the most recent one is from the season 7 finale—you'll also be able to read entries specific to that particular episode.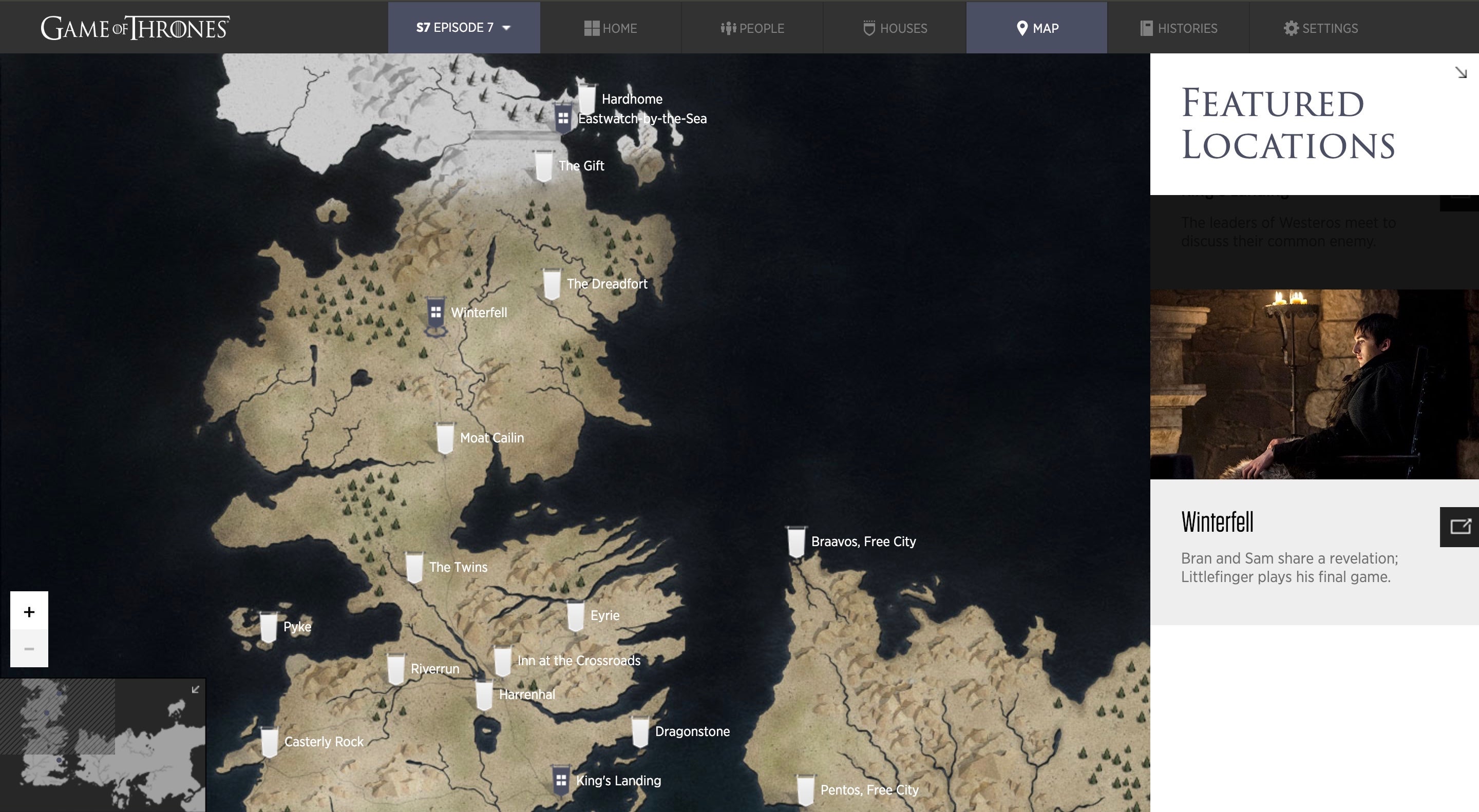 READ MORE:
2) A Song of Ice and Fire (via Random House Books)
If you can't get enough of Game of Thrones, I'd highly recommend checking out A Song of Ice and Fire, Martin's high-fantasy series on which Game of Thrones is based. Five books are available to date with a sixth on its way (eventually). They're rich in detail, they include several subplots and characters that never made it to the show like far more Stark direwolf and warging action, Victarion Greyjoy, Arianne Martell, and a secret marriage pact aligning House Martell with House Targaryen.
At the front of these books are detailed maps that reveal many of Westeros' most important towns and regions. A Game of Thrones and A Cast of Kings only contained a look at Westeros, but as the series expanded in A Storm of Swords, A Feast for Crows, and A Dance With Dragons, so did the number of maps published in Martin's books.
If you can't get your hands on any of the books in ASOIAF, you can view the maps on Random House's website.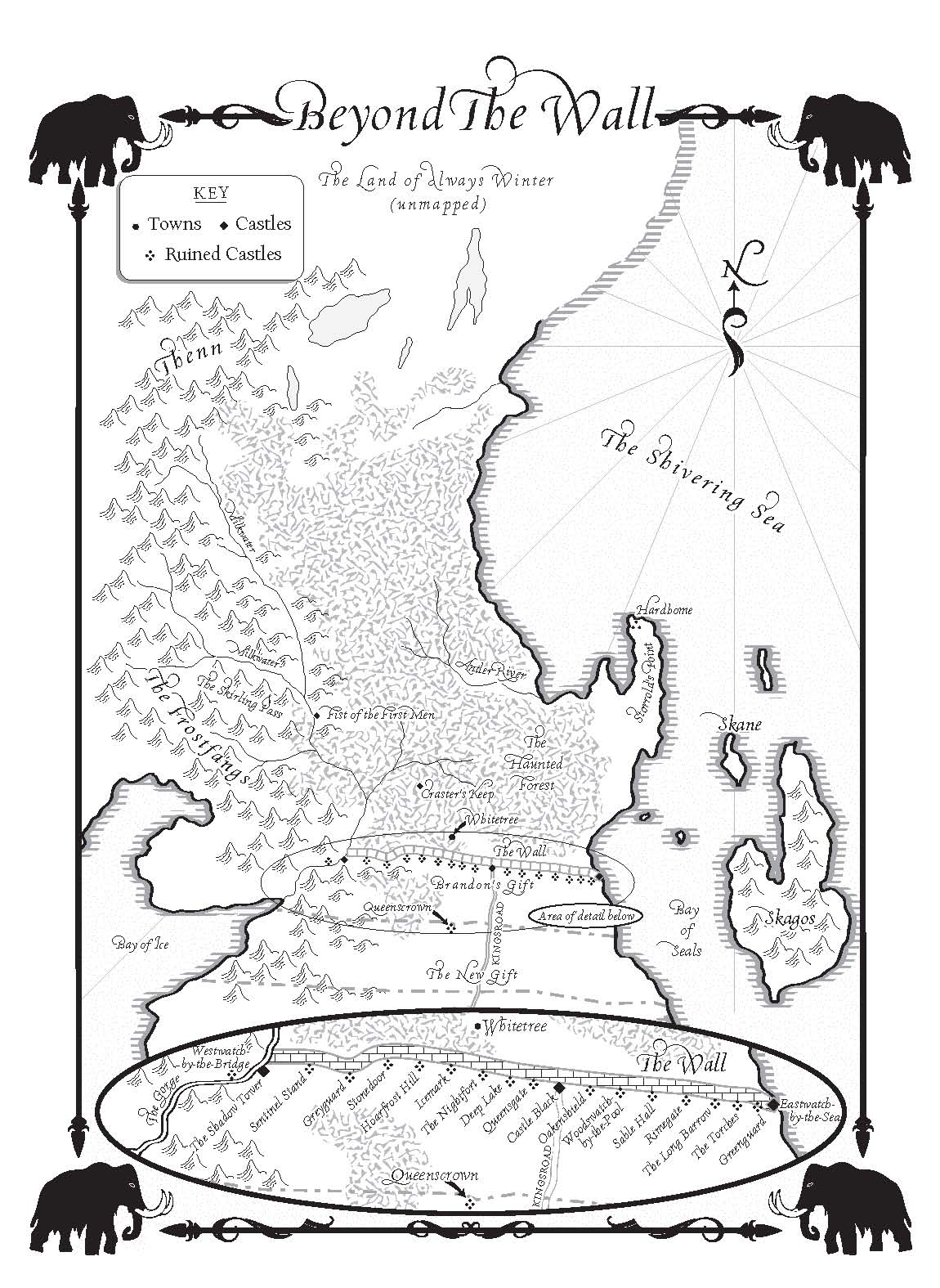 3) ASOIAF-adjacent books like The World of Ice and Fire and The Lands of Ice and Fire
Similarly, The World of Ice and Fire is a book that Martin co-wrote with Westeros.org's Elio García and Linda Antonsson. It's part history book and part encyclopedia of the known world, all about the smaller scale that the known world contains. The second half of the book, which looks at each of the Seven Kingdoms of Westeros and their long histories, allows you to view each town and castle with a much smaller scope. This is especially helpful when it's too hard to remember dozens of houses and family names.
But The Lands of Ice and Fire gives you the kind of detail that's hard to come by in even more detailed maps. Here, you'll find city maps of King's Landing and Braavos, not to mention a map to frame and hang on your wall.
While neither are online, either option (or both of them) offer a physical and more tangible version of something we largely only get from screens.
4) Etsy
If you want something out of the ordinary (or a physical copy of your own), Etsy will be your best bet. A Google Maps-designed version that went viral a few years ago was once on Etsy. A simple search on Etsy brought back dozens of options of all shapes and sizes that you can click on to view or buy.
You can easily find wooden maps, canvas maps, antique-inspired maps, watercolor maps, a map of Westeros that looks like New York's MTA or the London Underground. There are more cartoon-friendly maps. The only limits how much detail you want to see in your map and, if you want to purchase one, your wallet.
5) George R.R. Martin's A World of Ice and Fire app
Want a little more interactive book-focused experience? The official World of Ice and Fire app has you covered. It operates similarly to HBO's guide (albeit in mobile form) in that maps are just one of the areas of the series you can explore, but instead of episodes, you filter out information depending on how far along in ASOIAF you are. (So if you haven't gotten to something like the Red Wedding yet, you can configure the settings to reflect that.)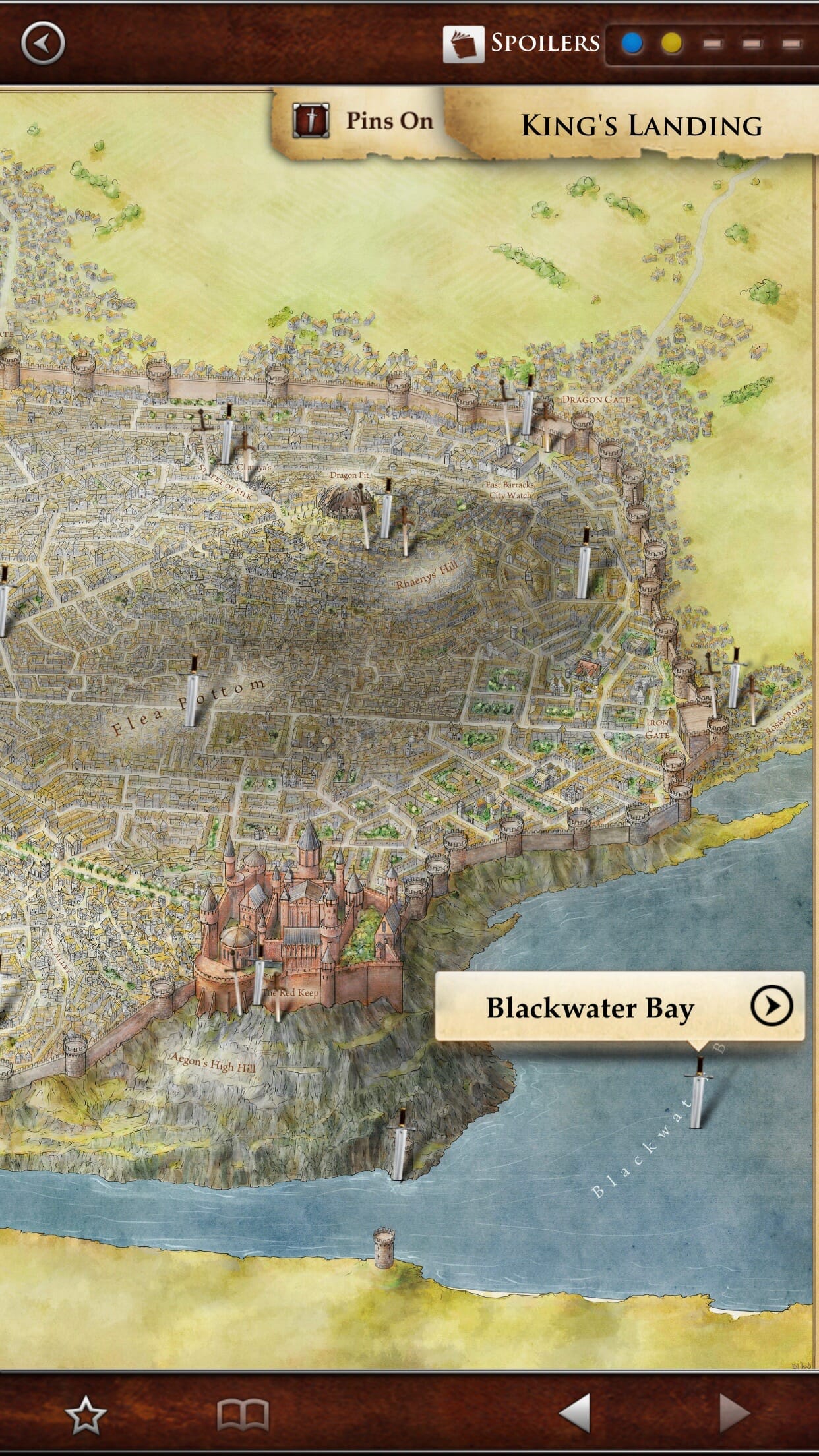 The app, which is available for iOS and Android, is free to download, but you'll need to pay to access InfoPacks. The InfoPack for A Game of Thrones is $1.99 and each subsequent book's data is $0.99 apiece, but you can get all five InfoPacks available for $4.99. (Buying them together is cheaper than the first book in the series in ebook format.) You can not only explore towns in Westeros with sword pins to mark various locations, but there's also a detailed map of King's Landing with several areas that fans will recognize.
6) Quarter Maester
Created using Google API, Quarter Maester allows you to really dissect into character's journeys. Once you finagle your spoiler scope—you can toggle between the show and the book to determine how you want to view it—you can view just how far a character has traveled from their first appearance to their latest one.
READ MORE:
7) The Game Revealed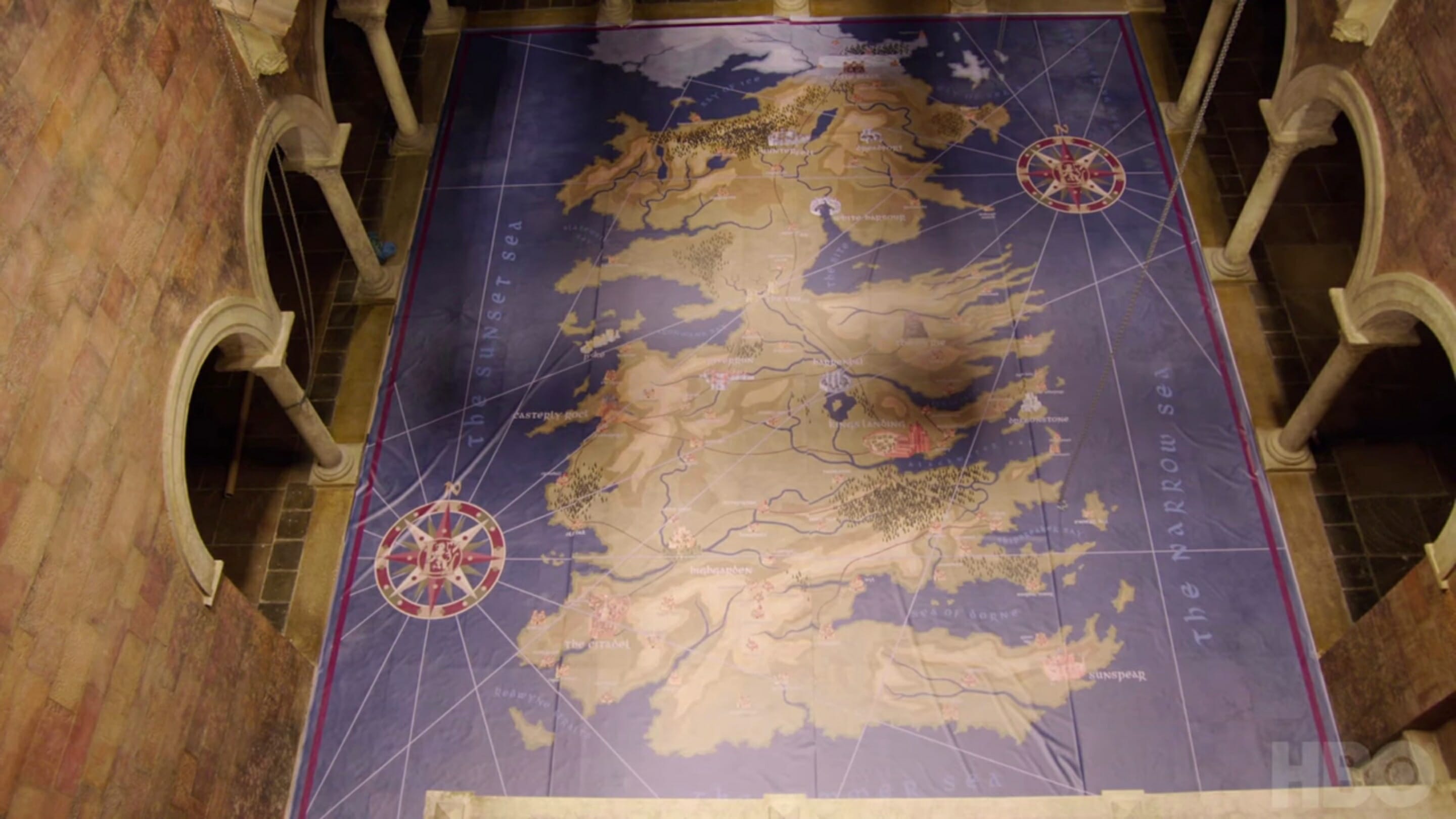 Throughout Game of Thrones' seventh season, HBO had an online series called The Game Revealed that went behind-the-scenes of each episode and featured interviews with the cast and crew. There were plenty of fascinating tidbits from the series, including a closer look at how the crew created Cersei's gigantic map of Westeros in the season 7 premiere. If you noticed similarities to the show's opening credits in the design, you're not imagining things. It was an intentional move. And although it's one of the harder maps to view, you can't ignore the level of detail in the execution.
Editor's note: This article is regularly updated for relevance.
---
NOW HEAR THIS:
How linguist David J. Peterson created the Dothraki and Valyrian languages for Game of Thrones
Introducing 2 GIRLS 1 PODCAST, a weekly comedy show where Alli Goldberg and Jen Jamula (two actors who perform bizarre internet content on stage) have hilarious and humanizing conversations with Bronies, top Reddit mods, professional ticklers, video game archaeologists, dating app engineers, adult babies, cuddling specialists, vampires, Jedi, living dolls, and more.
Subscribe to 2 GIRLS 1 PODCAST in your favorite podcast app.
---