It appears that numerous Twitter users who changed their passwords in the early moments of the bitcoin hack on Wednesday evening have been locked out of their accounts.
Several Twitter users have mentioned still being locked out of their accounts, nearly a full day after the social media giant said employee tools were used to access a number of high-profile accounts.
The hack impacted accounts for former Vice President Joe Biden, former President Barack Obama, Elon Musk, Bill Gates, Michael Bloomberg, and more. The accounts tweeted out similar bitcoin scams.
In the midst of this, Twitter locked down verified accounts from tweeting in an apparent attempt to stop the spread of the scam.
However, several people on alternate accounts, or who run corporate accounts, have mentioned they are still locked out of those accounts—and a common thread seems to be that they took a step to change their password after initial reports of the hack began to come out.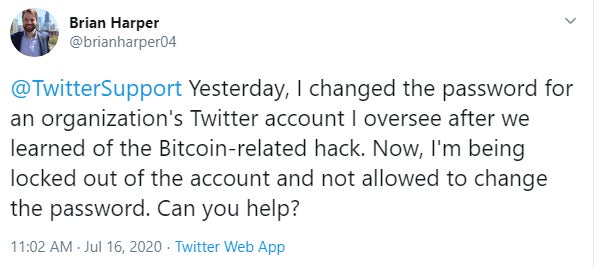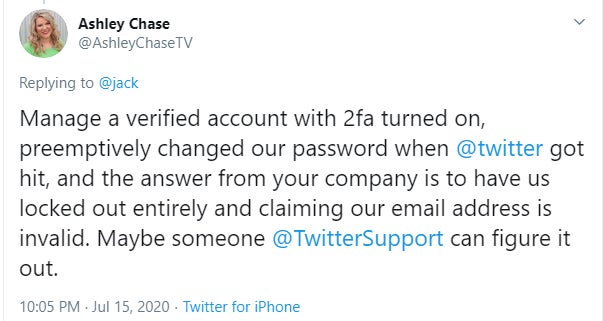 Charlie Proctor, editor-in-chief at Royal Central, told the Daily Dot that when he saw verified accounts being hacked on Wednesday, he thought it would be "good practice to change my Twitter password," hoping that it "was the right thing to do."
However, Proctor was soon locked out of his account.
"I have reported this to Twitter, and as of yet have received no response. I understand they are busy, but some clarity on the situation would be helpful," Proctor told the Daily Dot. "Every person I have spoken to had changed their password. That seems to be the common denominator."
After noticing several users mention similar situations to this, the Daily Dot reached out Twitter for more information, including questions regarding many people mentioning they had changed passwords earlier in the day before eventually being locked out.
The social media giant referred us to its string of tweets about Wednesday evening's incident.
In one of those tweets, Twitter said there are still accounts who are locked—but it does not address the seemingly common thread of changing their password earlier in the day.
"We have locked accounts that were compromised and will restore access to the original account owner only when we are certain we can do so securely," Twitter's support account wrote.
It's unclear when the locked accounts will be available again.
Changing a password during a hacking situation is typically a best practice. However, Twitter said its internal tools were compromised by the hack, meaning that likely wouldn't have prevented intrusions.
Update 3:22pm CT: On Thursday afternoon, Twitter posted a number of updates regarding passwords. The social media giant said there was no evidence the hackers accessed passwords and that it locked accounts that had "attempted to change the account's password during the past 30 days."
Twitter said the move was "out of an abundance of caution," and that some accounts are remaining locked. The company said a locked account does not necessarily mean that it was compromised or accessed, but it was "still investigating and will inform those who were affected."
READ MORE: