Numerous high-profile Twitter accounts appear to have been hacked on Wednesday as part of a large-scale Bitcoin scam.
Twitter users began noticing suspicious tweets from major cryptocurrency exchanges promoting a website called "CryptoForHealth."
"We have partnered with CryptoForHealth and are giving back 5000 BTC to the community," the tweets state.
The website, which now displays a phishing attack warning from Cloudflare, was sent out by exchanges including Coinbase and CoinDesk as well as Gemini and Binance.
The accounts of Bill Gates and Elon Musk were also taken over and used to promote a fake Bitcoin scam as well.
"I'm feeling generous because of Covid-19," Musk's compromised account tweeted. "I'll double any BTC payment sent to my BTC address for the next hour. Good luck, and stay safe out there!"
While many incidents in which numerous accounts are simultaneously hacked are often linked to breaches at third-party tweeting apps, the hack on Wednesday is rumored to have targeted Twitter itself.
Even accounts reportedly using two-factor authentication were taken over, suggesting a much more serious breach.
While the hack first started in the world of finance, other major accounts were commandeered soon after. The Twitter pages for both Apple and Uber were witnessed tweeting out the Bitcoin scam as well.
Other major individuals affected by the scam even include Kanye West.
Analysis of the Bitcoin wallet used by the hackers at the time of publication shows that it has received roughly $102,748 or 11.15894392 BTC.
After the initial rush of accounts, many other figures also fell prey.
2020 Democratic nominee Joe Biden was also included in the scam.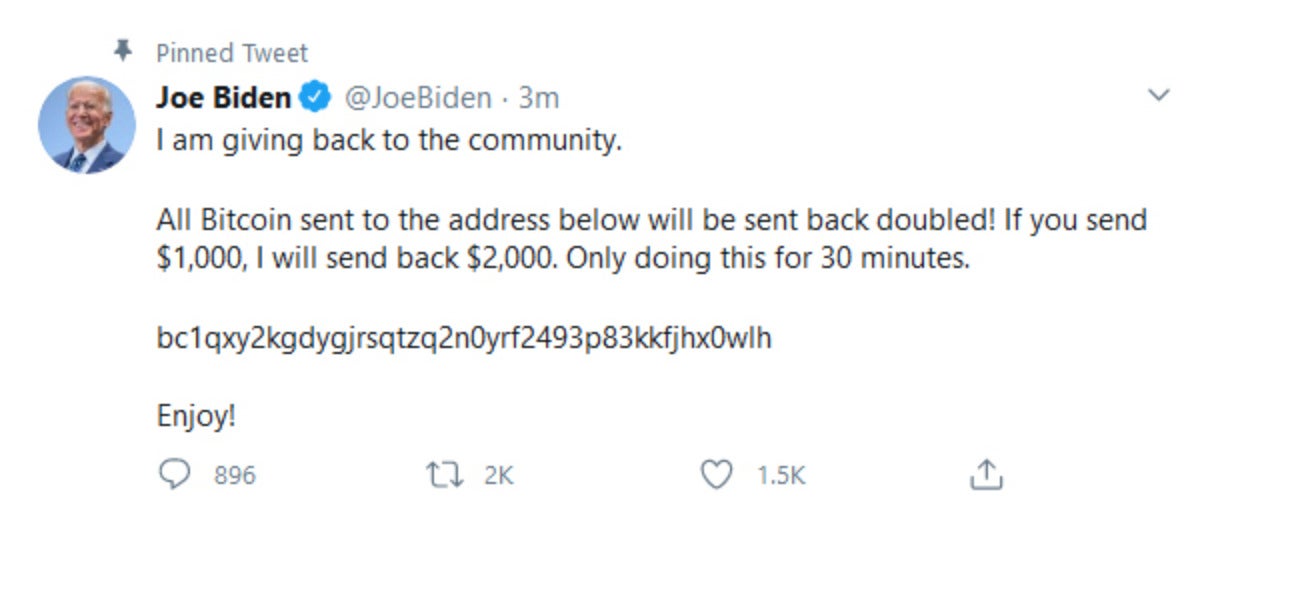 Amazon CEO Jeff Bezos, Michael Bloomberg, former President Barack Obama, and Wiz Khalifa, among others have also been compromised.
Twitter has already begun removing the tweets, however. In a brief statement, the company said that: "We are aware of a security incident impacting accounts on Twitter. We are investigating and taking steps to fix it."
This story is updating.
READ MORE: