A Predator drone was spotted flying over Minneapolis on Friday as protests continue following the death of George Floyd.
The drone, as first reported by Vice, was noticed by an online flight watching community that utilizes software for tracking domestic aircraft.
Jason Paladino, a reporter with The Project on Government Oversight, noted that the unmanned aerial vehicle (UAV) appeared to belong to Customs and Border Protection (CBP).
"CBP Predator Drone CPB104 circling over Minneapolis at 20K feet," Paladino tweeted. "Took off from Grand Forks Air Force Base."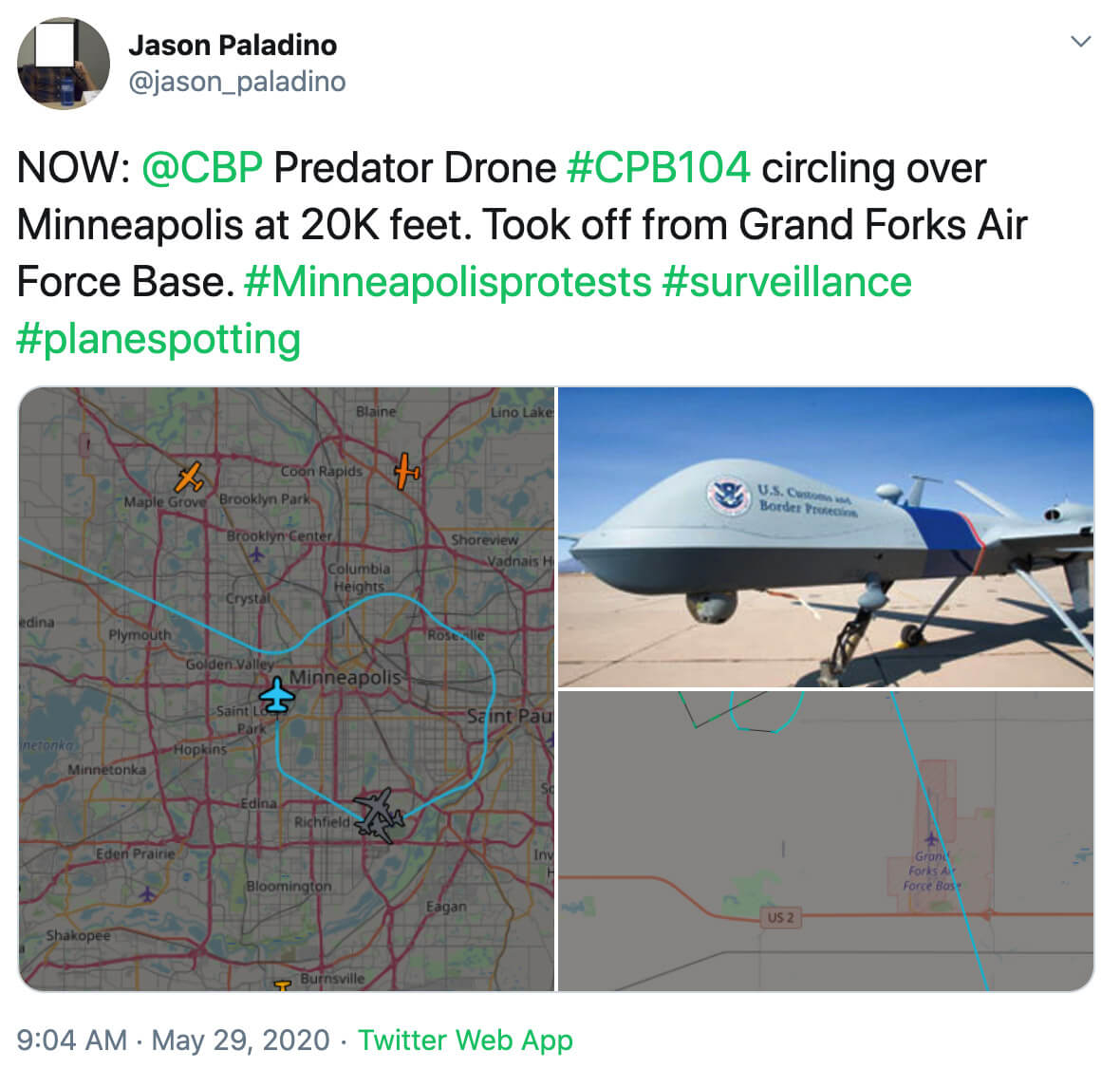 Paladino also pointed out that previous flight paths for the drone show that it had been conducting surveillance on the border with Canada prior to being used over Minneapolis.
The city descended into chaos after a Black man was killed by a white police officer who was filmed kneeling on his neck.
The Minneapolis police officer responsible for Floyd's death, Derek Chauvin, has since been charged with third-degree murder and manslaughter.
Originally designed for surveilling and assassinating terrorists overseas, the CBP's unarmed version of the military drone flew in a hexagonal pattern around the city at 20,000 feet before traveling directly over it.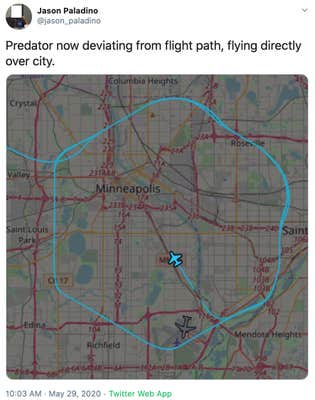 The drone, which Paladino believed to be a MQ-9 Predator B model, was eventually seen leaving the area around mid-day.
It remains unclear if similar flights will be made in the near future.
CBP did not immediately return a request for comment from the Daily Dot. We'll update this story if we hear back.
This is not the first time that such surveillance operations have been conducted over a domestic protest.
The FBI used a surveillance aircraft in 2015 to monitor the city of Baltimore following the death of Freddie Gray.
Update 5:45pm CT, May 29: A CBP spokesperson told the Daily Dot the drone was sent to "aid in situational awareness at the request of our federal law enforcement partners in Minneapolis" but after arriving in the area "the requesting agency determined that the aircraft was no longer needed for operational awareness and departed back to Grand Forks."
READ MORE:
H/T Vice