Update June 2, 9:50am CT: In a blog on Monday, TikTok wrote about the "actionable steps we are taking to foster an inclusive environment on our platform," including "investing in our technology and moderation strategies to better handle potentially violative content."
The company also addressed the "technical glitch" that "made it temporarily appear as if posts uploaded using #BlackLivesMatter and #GeorgeFloyd would receive 0 views."
"This was a display issue only that widely affected hashtags at large, and powerful videos with the #BlackLivesMatter hashtag continued to be uploaded, viewed, and engaged with—in fact, videos with these hashtags have currently generated well over 2 billion views, which is a testament to their importance to and resonance among our community," TikTok wrote. "Nevertheless, we understand that many assumed this bug to be an intentional act to suppress the experiences and invalidate the emotions felt by the Black community. And we know we have work to do to regain and repair that trust."
Original story below:
The national unrest over the police killing of George Floyd has given rise to a pair of viral conspiracy theories that two online platforms are suppressing mention of "Black Lives Matter" and "George Floyd."
Both companies—Cash App and TikTok—say that its issue was caused by a technical glitch.
That hasn't stopped either claim from continuing to circulate.
Yesterday morning, a Twitter user claimed that payments via Cash App that included "Black Lives Matter" in the notes were automatically being canceled and refunded.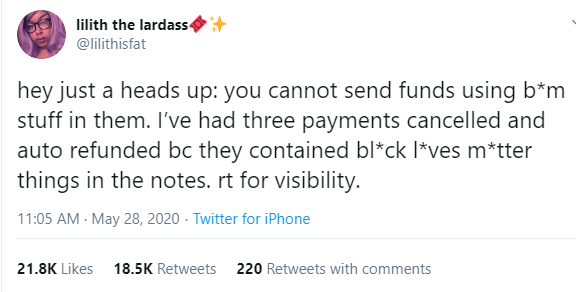 They later clarified that it was Cash App.

As the tweet went viral, Cash App's verified support account responded to say that it was a technical, rather than intentional, issue.
"We're currently experiencing connection issues which is causing payments to fail for some customers," @CashSupport tweeted. "We're working on a solution, and as soon as this has been resolved, we'd recommend you retry the payment."
The company also referred people to a page on its website where it reports problems affecting functionality. Incidents were reported there on both May 28, the date of the tweet, and May 29.
Until earlier this morning, Cash App's main Twitter account also noted it was "experiencing issues" in its bio.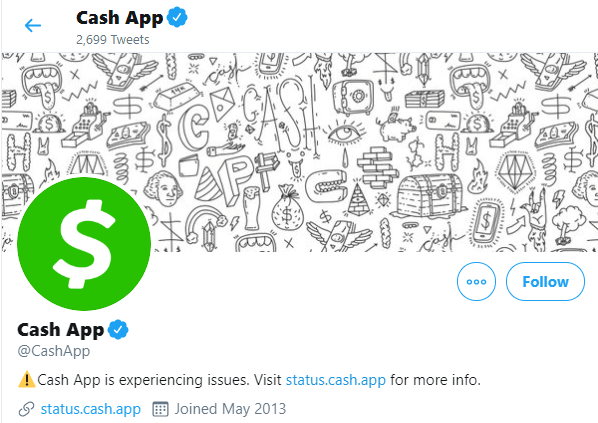 Most on the thread didn't buy the company's explanation, however. "What's wrong with B*m?" tweeted one. "Wow, nice cover," said another.

A few did defend Cash App. One woman said that she'd also had issues on payments that didn't reference Black Lives Matter.
Nevertheless, the claim continues circulating. As of this morning, the original tweet had nearly 19,000 retweets and more than 20,000 likes. Nearly all comments were dragging the company.
Cash App may take a small measure of comfort in the fact that it isn't alone in such woes.
Later yesterday, a Twitter user claimed that TikTok was blocking tags related to Black Lives Matter and George Floyd.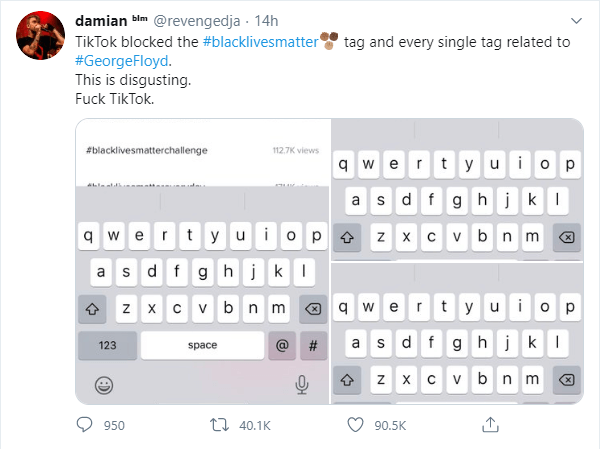 The tweet quickly went viral. As of this writing, it is approaching 45,000 retweets and 100,000 likes. Many who commented claim that TikTok, a Chinese company, is suppressing such content because of racism towards Blacks in that country.
Early this morning, TikTok's verified support account replied to the tweet, saying that a technical issue was affecting random words, such as "cat" and "hello," and was not caused by intentional action on its part.
"Our team is investigating and working quickly to address the issue," @TikTokSupport added.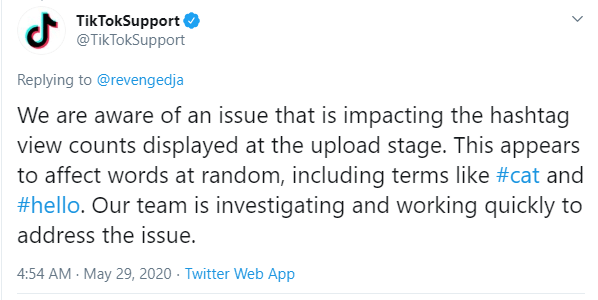 A company spokesperson directed the Daily Dot to this tweet, as well as a thread by New York Times reporter Taylor Lorenz saying the claim that TikTok was suppressing the hashtags was false.
Multiple searches for both hashtags this morning confirmed that assessment. According to the site count, to date, nearly 190 million people have viewed TikToks tagged #GeorgeFloyd. More than a half-billion have viewed TikToks including the #BlackLivesMatter tag.
But like the rumor about Cash App, people continue accusing TikTok of suppressing the hashtags.
"Just like that. I'm off that app. If you don't support black people I don't support you. An explanation is needed," tweeted one this morning, hours after the claim had been debunked numerous times. "Lol how convenient," said another.
Just goes to show that a conspiracy theory can circle the internet twice while the truth is still typing its response.
READ MORE: