Dirty Delete is a weekly column that goes deep into the social media history of politicians that runs on Thursdays in the Daily Dot's web_crawlr newsletter. If you want to get this column a day before we publish it, subscribe to web_crawlr, where you'll get the daily scoop of internet culture delivered straight to your inbox.
Analysis
Rep. Paul Gosar (R-Ariz.) is an extremists' extremist.
He's been linked to white supremacists and far-right militias. Earlier this week, news broke that one of his staffers is superfan of neo-Nazi Nick Fuentes and once pledged to "defend the white race."
Gosar's web presence reflects his reputation as one of the furthest-right members of Congress.
He once tweeted that antifascism "is literally fascism." Might want to check the dictionary on that one, Mr. Gosar.
On another occasion, Gosar called for the feds to investigate Wells Fargo for refusing to serve QAnon conspiracy theorist and Fuentes acolyte Lauren Witzke, likening the bank's decision to a bakery refusing to make a "gay cake."
During the Capitol riot, Gosar referred to the violent assault on democracy as getting "carried away here" and tried to blame "antifa."
That's an interesting contortion considering that Ali Alexander said he and Gosar "schemed" to have that same "mob" put "maximum pressure on Congress while they were voting."
Gosar positions himself as a law and order politician. (Unsurprisingly, he really likes to blame immigrants for crime.)
Yet he recently called for abolishing the Bureau of Alcohol, Tobacco and Firearms with a meme referencing its "illegal gun registry"—you know, where it traces guns used in crimes.
Given that he's a dentist, it makes some sense that Gosar is a huge fan of drilling. He even once proposed repealing the National Park Service's authority to refuse to allow drilling in public parks, including the Everglades.
On his video series "Mineral Monday," Gosar recently promoted an act that would clear the way for private industry to mine and drill on public lands and the Continental Shelf.
The climate change denier didn't mention that the bill would also reduce royalties we get from oil and gas companies who drill on federal lands and "undercut bedrock environmental laws that address the impacts of climate change on our environment and give people a voice in how their public lands are managed," according to the National Parks Conservation Association.
And yet somehow he's on the House Committee on Natural Resources.
Gosar is on Facebook, Twitter, Instagram, Gab, Truth Social, and Telegram.
Dirtiest Delete
One might expect that Gosar's dirtiest delete would be that anime video of him killing Rep. Alexandria Ocasio Cortez (D-N.Y.) and attacking President Joe Biden.
That was a terrible post (which also got him censured by Congress).
But Gosar's biggest offense is when he falsely claimed the Uvalde school shooter was trans, a lie that originated on 4chan.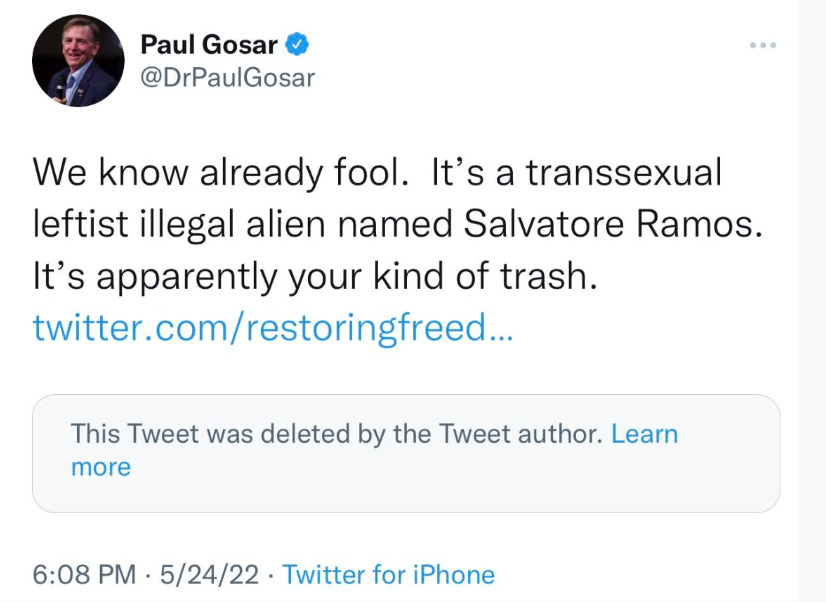 Like what you are reading?
Sign up to receive web_crawlr, a daily newsletter
from the Daily Dot, in your inbox each morning.