Nicholas Fuentes' white nationalist "Groyper" army is fueding with both former President Donald Trump's lawyer Rudy Giuliani and Steve Bannon ally Raheem Kassam over blame for the Capitol riot.
The two, who represent a more mainstream sect of the far-right, are trying to pin it all on Fuentes and his followers, colloquially known as Groypers.
"That riot was set up by 'antifa,' by another group called Groyper, Groyper which is a right-wing group but a right-wing group that has a gripe with Trump because he supports Israel," Giuliani stated two weeks back on One America News Network (OAN).
Similar sentiment has been expressed by Giuliani on Steve Bannon's podcast, co-hosted by former Breitbart editor Raheem Kassam.
Fuentes and followers such as QAnon supporter Lauren Witzke, who won a GOP primary for a Delaware Senate seat, are now waging war against Kassam and Giuliani for blaming them for the Capitol siege.
The spat between the groups started when Kassam slide onto Wizke's Twitter direct messages upset over one of her tweets.
Witzke then began asking about Kassam's legal status in the United States, which devolved into the Bannon ally threatening to take legal action against her.
"Raheem Kassam threatened to sue me after he & Guliani (in an act of groveling cowardice on live TV) FALSELY blamed @NickJFuentes & a group of young conservatives for organizing the rally at the Capitol. He then tried to belittle my run for senate. Business as usual w/ Con Inc," Witzke tweeted with screenshots of their exchange.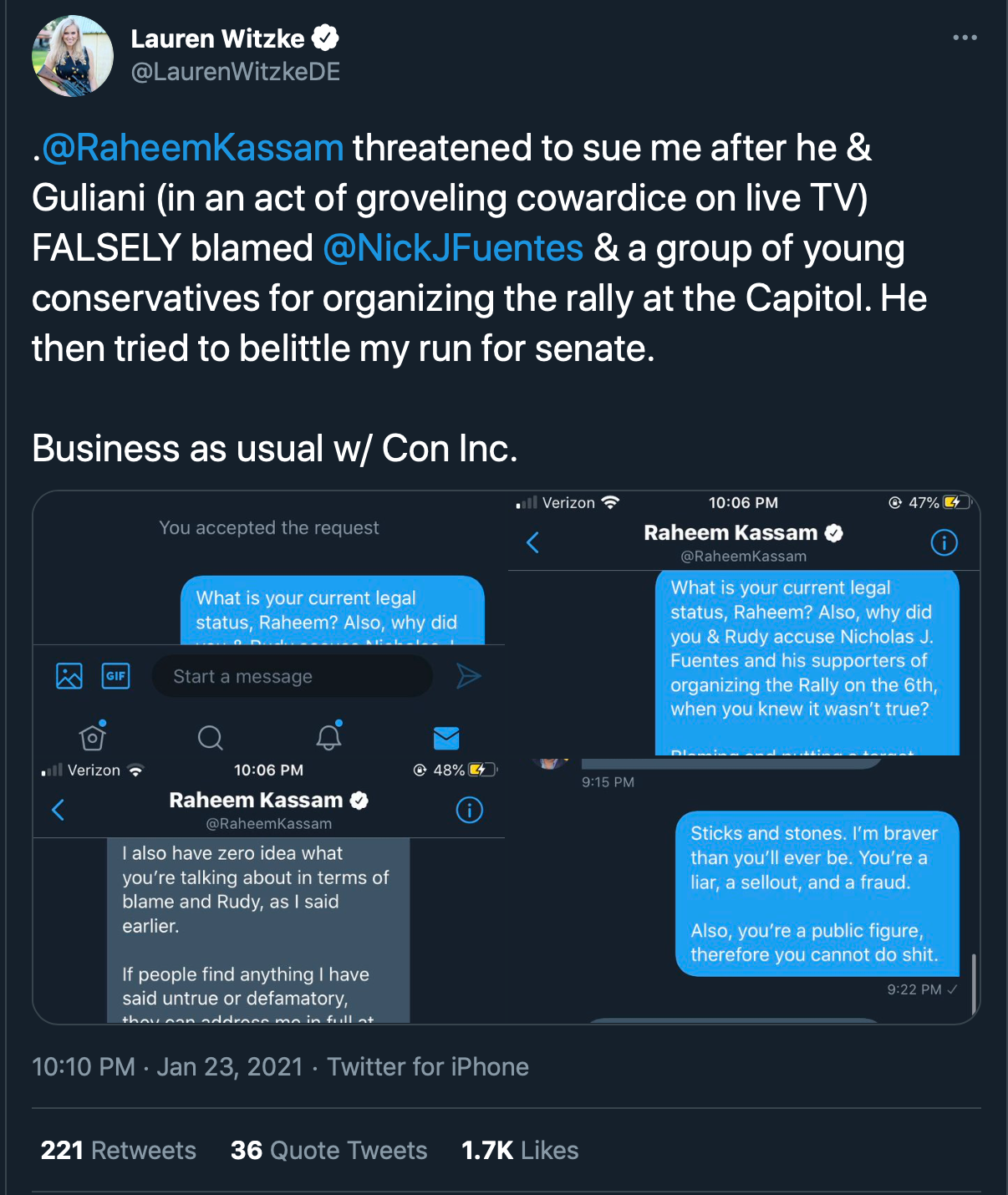 According to the direct messages sent by Kassam, he told Witzke if she continues to push claims he isn't a United States citizen, he will have to take the matter to a "court of law."
The Bannon ally further fired back by talking aim at Witzke's failed Senate bid.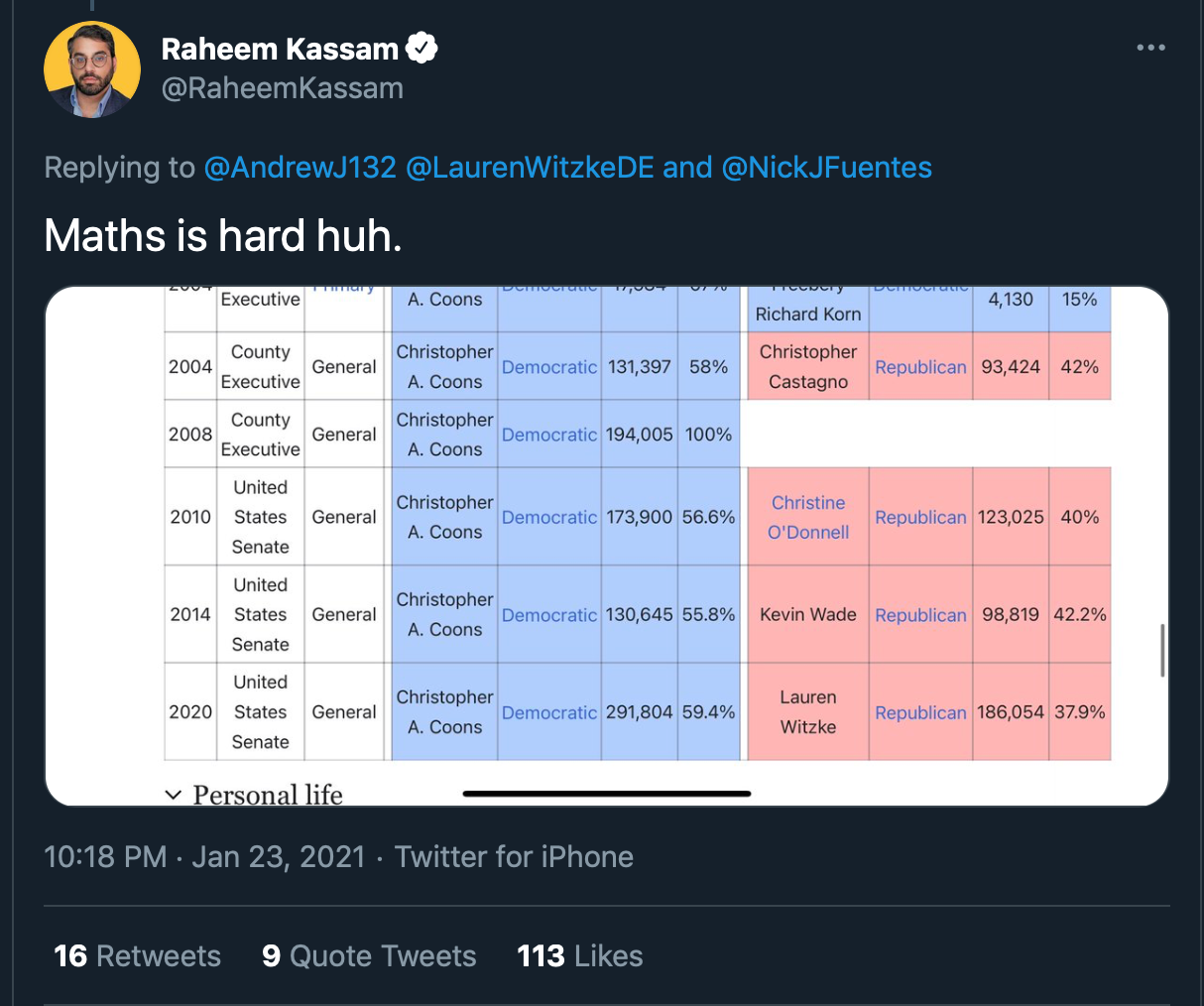 To which the QAnon and Groyper supporter replied, "At least I'm eligible to run for public office."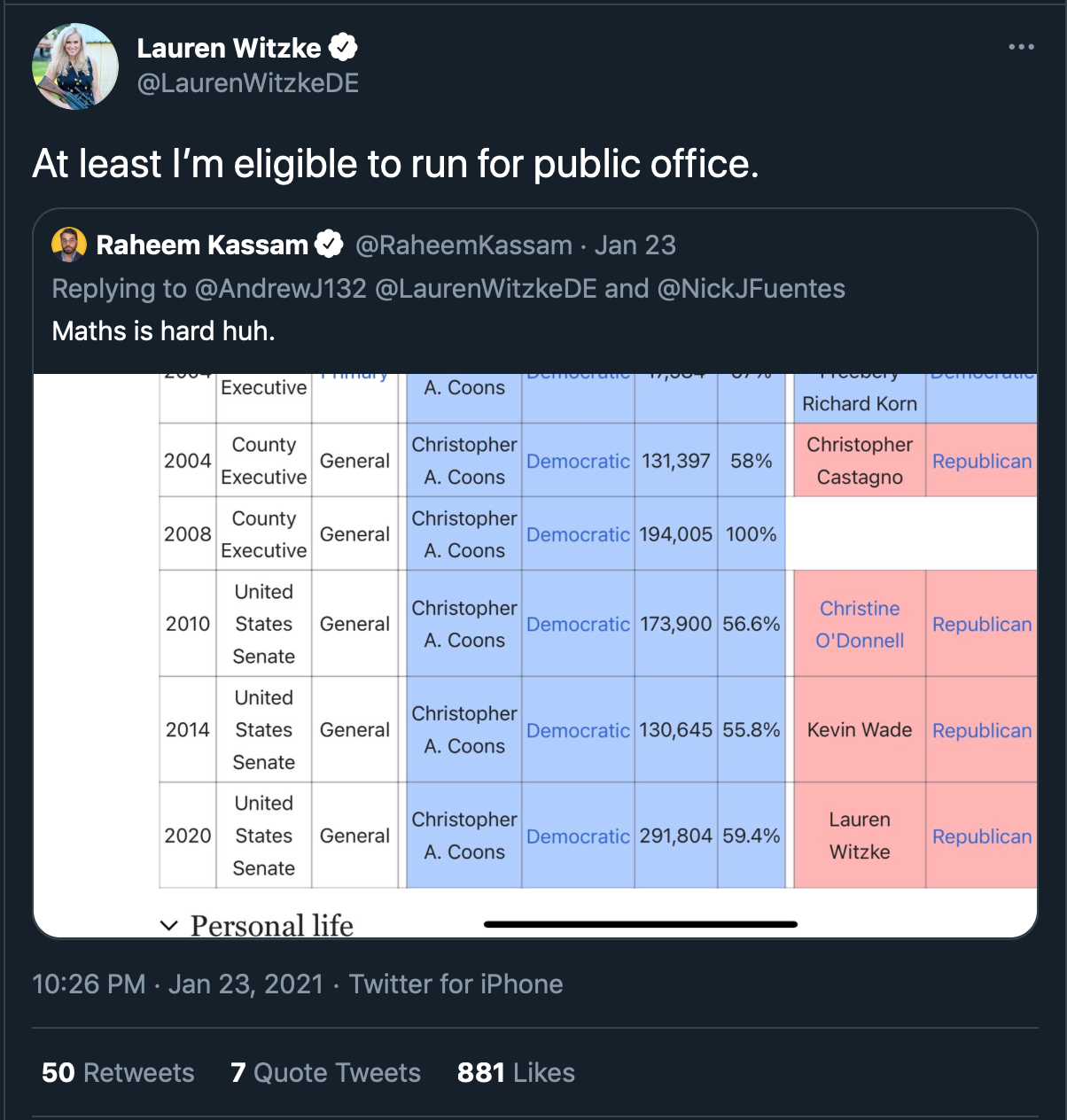 The war of words continued to grow increasingly petty, with both groups' allies getting involved. Fuentes retweeted many of Witzke's attacks on Kassam and vise versa.
Fuentes further took aim at Kassam on Telegram.
"After LYING about the Groypers on the Steve Bannon show, Raheem Kassam attacks America First Senate candidate Lauren Witzke. This guy was such a disaster in the UK that he had to exit British politics and come to America to ride the coattails of Steve Bannon," Fuentes wrote.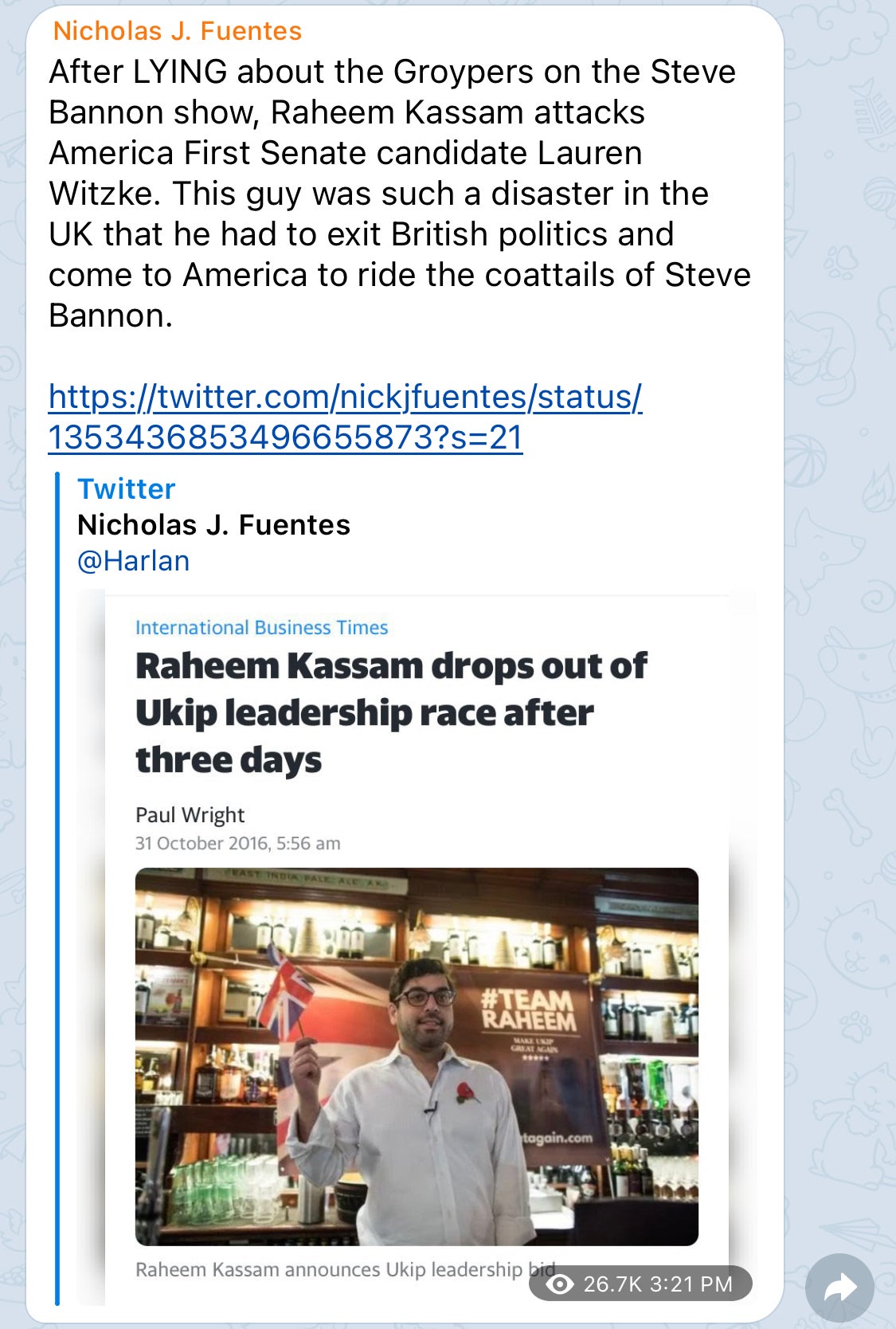 This highlights an increasing divide between extreme MAGA world pundits and the far-right following the Capitol riot. The Groypers argue that they had no part in the Capitol riot; but many of Nick Fuentes' followers were present at the Capitol that day. Fuentes was present as well.
There is no evidence, though, to support that Fuentes himself entered the Capitol building on Jan. 6. He was seen on the Capitol grounds that day with fellow activists. Fuentes has firmly denied ever entering the Capitol, going as far to threaten defamation suits against anyone who argues the contrary.
A tweet sent out on the day of the Capitol siege that went viral alleged Fuentes, alongside his friend and fellow streamer Baked Alaska, "live-streamed from Pelosi's office after storming the capitol." Yet, that claim features a photo that doesn't appear to be Fuentes.
During that stream by Baked Alaska, this reporter covering the Capitol riot continually saw Fuentes outside the building in a suit and tie, not in a puffer vest, as the photo depicts. Baked Alaska was later charged for taking part in raiding the Capitol.
As for Fuentes, on his nightly show, he has said that he plans on taking legal action against those who attempt to place blame for the riot on his white nationalist group of Groypers.
A request for comment to Fuentes on if he plans on taking legal action against Giuliani or Kassam went unreturned.
---
Read more of the Daily Dot's tech and politics coverage