Update 11:57am CT, July 23: After the Daily Dot's story on @WohlPolitics, Twitter suspended the account.
…
Jacob Wohl is the gaffe gift that keeps giving.
Whether he's using his mom's phone to try and frame then-Special Counsel Robert Mueller with an inane lie about a sexual assault allegation, trying pretty much the same plot on Mayor Pete Buttigieg a few months later, or palling around with Laura "has iPhone, can journalism" Loomer, he and his merry gang of incompetent misfits are a geyser of hilarity in a harsh, cold world.
Naturally, few were surprised to learn of Wohl's Twitter suspension in February. Turns out not even Jack Dorsey is willing to overlook a FRONT-PAGE USA Today interview in which you dish about your plans to interfere in the 2020 election with a slew of fake Twitter accounts. Seriously, this kid takes incompetence to that extra place.
This weekend, Wohl appears to have quietly reactivated one of his accounts, @WohlPolitics. A Twitter spokesperson confirmed to the Daily Dot that Wohl is permanently banned. So if it is him, he is in violation of the ban.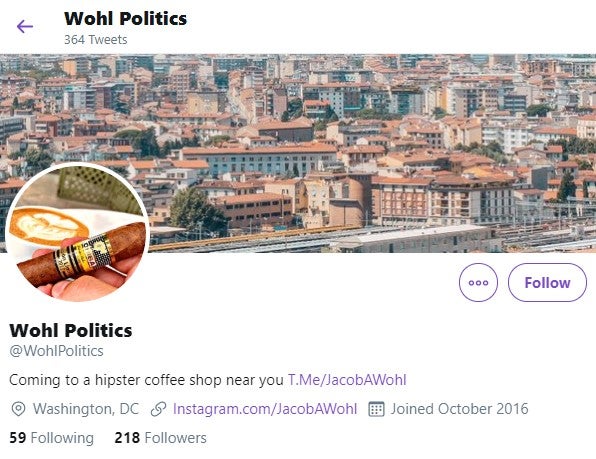 @WohlPolitics joined the world on October 7, 2016 with a series of dunks on Hillary Clinton and high-fives for WikiLeaks. Just as quickly as it appeared, on November 7, 2016, it went dark.
For two-and-a-half years it remained silent.
Then, out of nowhere, on July 21, it reemerged from dormancy to oh-so-casually retweet some transphobic garbage.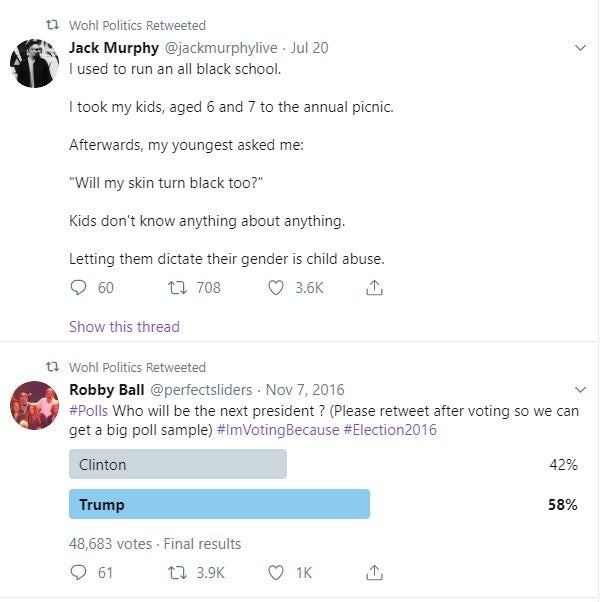 It is not entirely clear who is running the account. The admin did not immediately reply to a reporter asking whether it was being run by the same individual who used to go by @jacobawohl.
It is possible that @WohlPolitics is not the Jacob Wohl who we busted running, well, attempting to run, five fake intelligence firms.
But let's examine the receipts.
The account follows precisely the collection of right-wing peeps that one might imagine. Among the account's 218 followers there are the predictable deplorable-, MAGA-, and Trump-centric bios and handles.
Also following the account are David Wohl, father of Jacob, and Ernie Varitimos, a former regular on Wohl's now-discontinued Washington Reporter podcast who also had some involvement with Bolt Intel, one of Wohl's five "intelligence" companies. The account follows them back.
An astute observer would also note that the Twitter bio reads, "Coming to a hipster coffee shop near you," a reference to Wohl's favorite meme.
The bio also links to Wohl's Telegram channel and unverified Instagram. An Instagram story posted there by Wohl yesterday links back to the Twitter account.
The account's conduct provides further evidence of its authenticity. Such moves like calling the British people "soft," claiming that conservative men are going to see Top Gun 2 because of "controversy marketing" or something, and a lengthy, ill-informed diatribe about how homelessness has nothing to do with a lack of affordable housing, all feels like classic Wohl.
https://twitter.com/WohlPolitics/status/1152838744870985729
Whoever it is, they're having a field day retweeting themselves, calling Canada a "failed state," and pretending like the only crime Julian Assange is accused of is "publishing news stories." (Psst: It's also rape.)
Can it have only been five months?
READ MORE: 
Got five minutes? We'd love to hear from you. Help shape our journalism and be entered to win an Amazon gift card by filling out our 2019 reader survey.